Rooting in Motion: Temecula & Fullerton, CA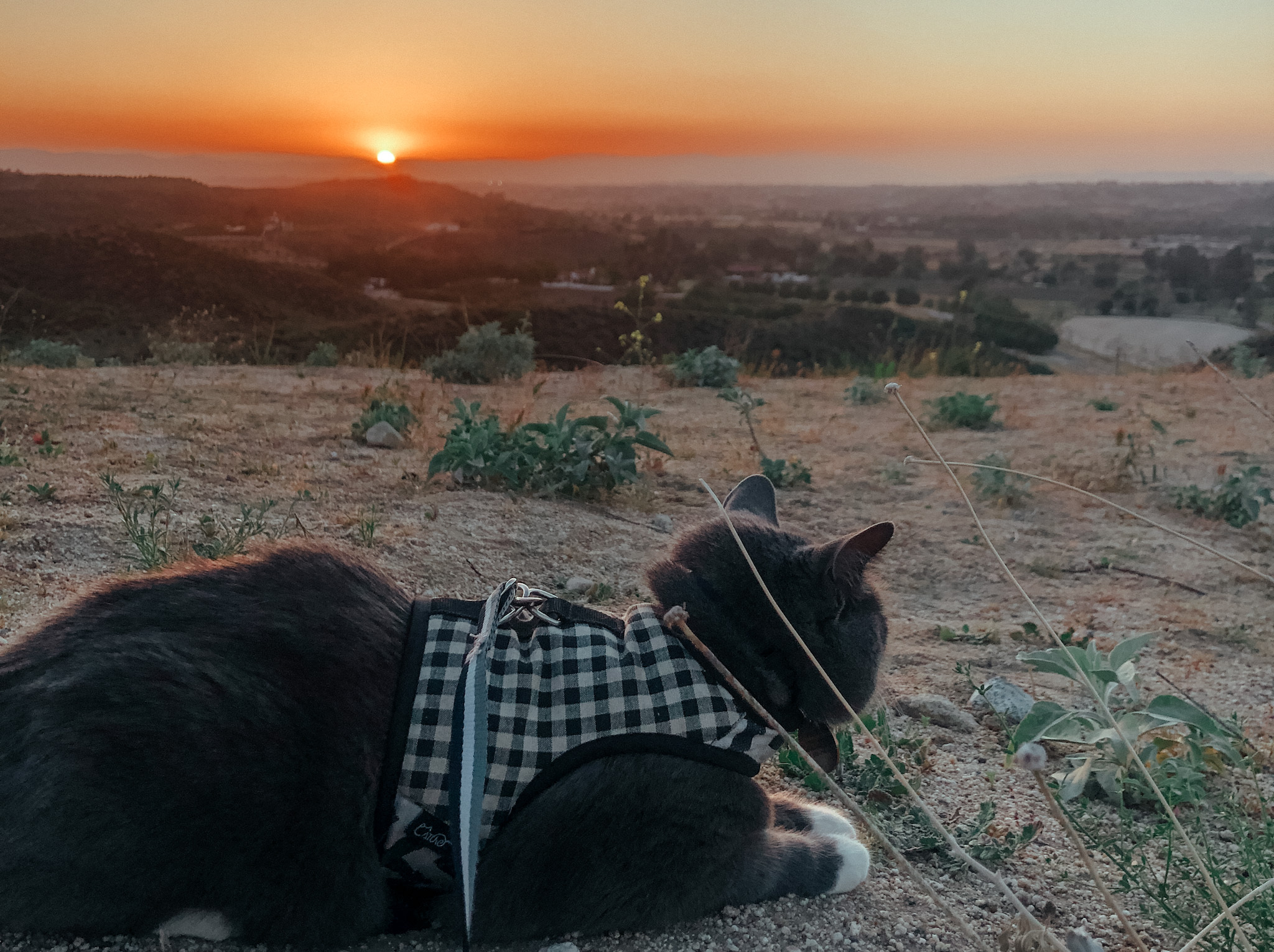 Wow, what a cool couple of days last weekend in Temecula and Fullerton, CA!
In this Rooting in Motion article, I'm talking about Harvest Hosts, journeying outside after COVID vaccinations, and pet considerations in the heat. But first...
At the bottom of all my story here, I've left instructions for how to research and get in touch with your local Indigenous communities. I'm making it a point to find out the basics of Indigenous roots of each place we stay in, with the goal of un-settling my own view of land and how it came to be "settled." BUT it would be super exhausting for me to try to do in-depth research or to create a relationship with the original stewards of every place we pass through, so I'm counting on you. See a place you live in? Do more research, make a donation, give land back, get in relationship. OR just use those steps to do the work in your home town NOW. Thanks :)
And if you're a nomad yourself, check out this Rooting Ritual you can do to unsettle/decolonize for yourself.
Indigenous Roots
Modern day Temecula, California, is the land of many different "bands" of indigenous peoples, all identifying as branches of the Payómkawichum people. You can read about the Pechanga band of Indians' eviction from Temecula here. Spanish, then Euro-American conquests brought the same Missions, murder, and removal to these Native people.
What is now Fullerton, California is actually home to several nations: the Kizh (Keech) Nation, Tongva Nation, and Acjachemen Nation. Again, if you live here, you can get in touch with these nations to confirm whose land you are settled on! Again, the story is so similar. Spanish settlers came in and established Missions, stripping the Indigenous people of their ways of life and removing their children to "Indian schools," where they forbade them from using their language and practicing their customs. They were raised in Whiteness, rather than in their own culture, which was deemed "lesser than." To assist with rematriation (landback) efforts and to support, you can donate the the Tongva nation here, and donate to the Kizh Nation here. If you own land, you can talk to the local Tribe about how to give your land back (you would still live there).
Harvest Hosts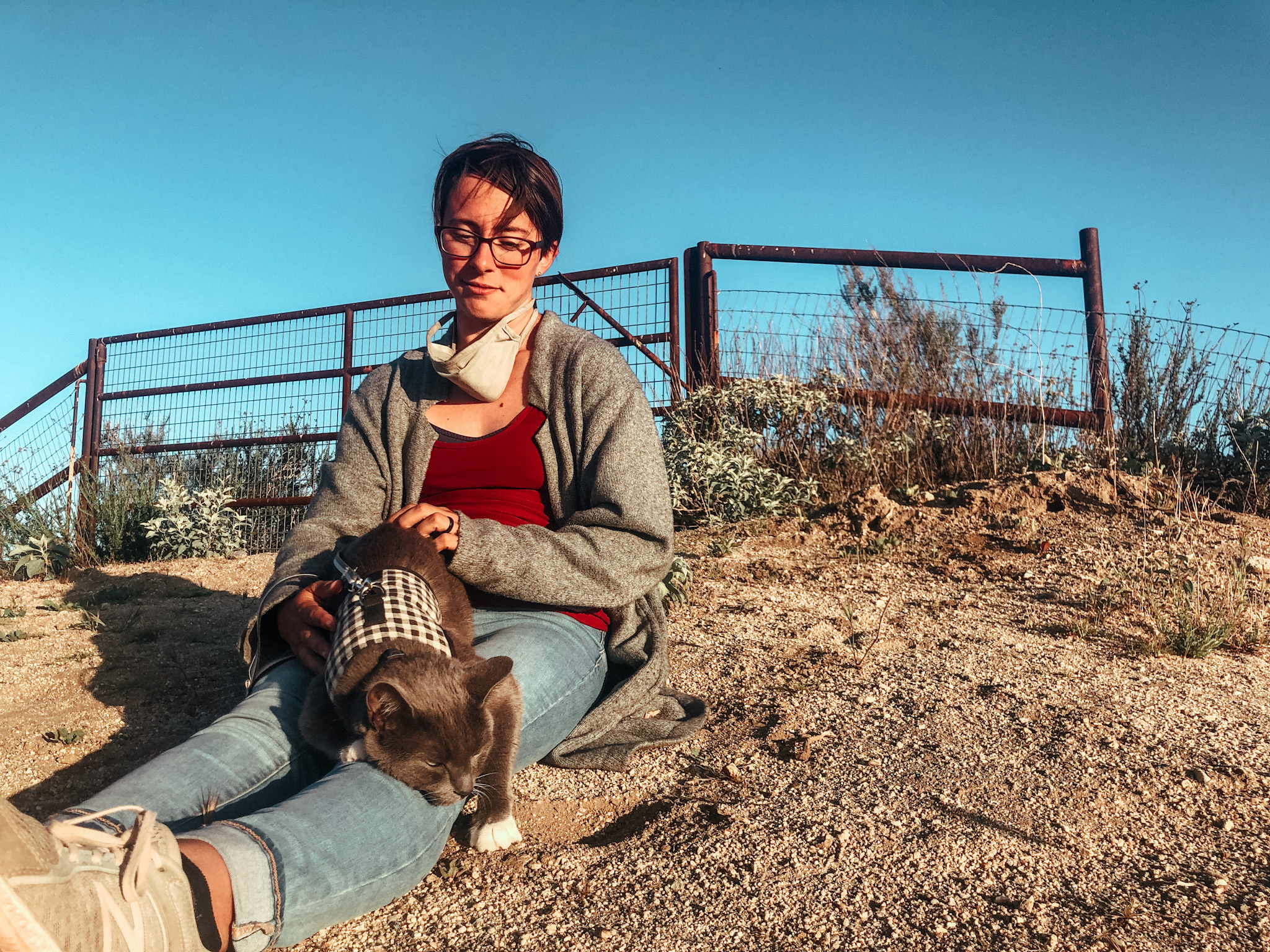 Diego followed us up this hill to watch the sunset and sat on my lap the whole time!!
On this trip, we made our first stop at a "Harvest Host" location, a Temecula winery. Harvest Hosts is a super cool service for free nationwide camping - it's only $99 a year for the Classic membership (we only pay $67 because we were early members)! You can use my referral code to sign up, here. You get 15% off, and we get $15.
How it works:
You search for a host location using the app or website.

At least 24 hours ahead of time (sometimes more according to host-specific details) you call/text/email to reserve a spot.

You camp for free, with the expectation that you will patronize the establishment (min $20).

On our way toward Fullerton (near LA), we stopped for a night at Sweet Oaks Winery, paid $50 for a wine tasting (ended up also buying a delightful bottle of olive oil) and got a sweet free camping spot right next to the vineyards, with a sunset/sunrise viewing spot just a short hike up the hill. We made friends who were on vacation in their camper, and overall had a fantastic time with the hosts and the RV neighbors!
Our "post" COVID outing
With my grandparents, fully vaccinated and making their debut out into the world, at Les Amis to listen to the Ron Kobayashi Trio.
In Fullerton, we visited my grandparents who we haven't seen since Christmas 2019! They were officially fully vaccinated, and we got to accompany them out to their friends' jazz band performance at a local Lebanese restaurant - their very first outing into the world in over a year!
The grandparents thought they might be boring us with their daily home tequila tastings, watching Columbo on Sunday nights with popcorn for dinner, and talking about politics and my mother's childhood...but it was JUST our speed. 10/10 would visit again.
Cats in the Car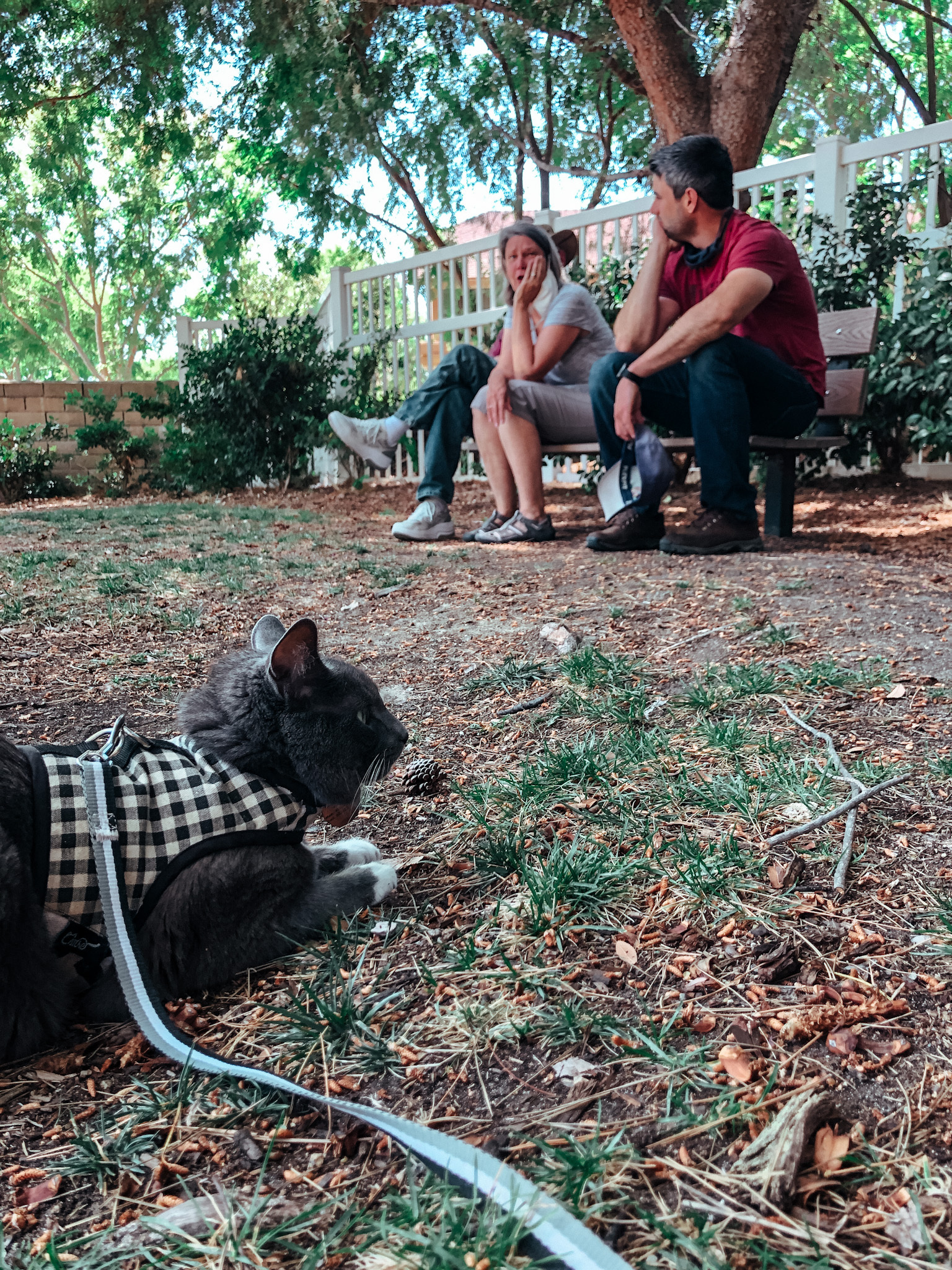 Another successful walk to the park in my grandparents' development, to give their very shy cat, Spot, a chance to come out.
Try as we might to avoid the heat (that's why we're on this little detour from Phoenix - we had to escape 90-100-degree weather between our own COVID vaccinations), we hit a wave of 90s in Fullerton.
As you might imagine, it gets pretty hot in a metal box mid-day, despite the two Maxxair fans we have installed. Until we get air conditioning/heat, we have to run away from super hot and super cold places! Luckily, sleeping in the desert is comfortable overnight, but the hot days require some other options for Diego.
On this particular weekend in Fullerton, our grandparents were kind enough to let us bring Diego in the house during the day where it was much cooler. Then, we all took a walk to the park and sat in the shade for an hour or so, hoping that Spot, their cat, would come out from under the bed to take care of her food and litterbox needs. She didn't. But we tried!
For anyone else looking to install Maxxair fans - they are NOT air conditioning! I definitely thought they were, and they work OK but are not sufficient for desert heat.
---
Steps to connecting with your local Native community (source: According to Weeze Podcast, Giving Land Back to Indigenous People, with Nazshonnii Brown):
Find out where you live, on native-land.ca.

Do your own research on the history of your land, which tribes occupied it, and what peoples are there currently.

Contact the Indigenous tribes who may have occupied that land (according to native-land.ca) and ask permission to enter into conversation. Something simple like, "Hi, I've learned about [X] from [website, museum, etc] and I have a few questions about confirming the Indigenous people to attribute this land to, and how to help with current re-matriation efforts or anything else that serves you. If you are willing and have the time I'd love to hear how to best offer support."

Be in relationship, and don't make it about you. If you're invited into community, bring coffee and tobacco as a gift for the elder making the greeting with you (source: Corinne Rice-Grey Cloud)

Instead of donating towards this post, go make a donation to the Tribe whose land your are settled on.
Enjoy this post?

Buy Beth Zabiegalski a coffee