Storm Over the Ocean.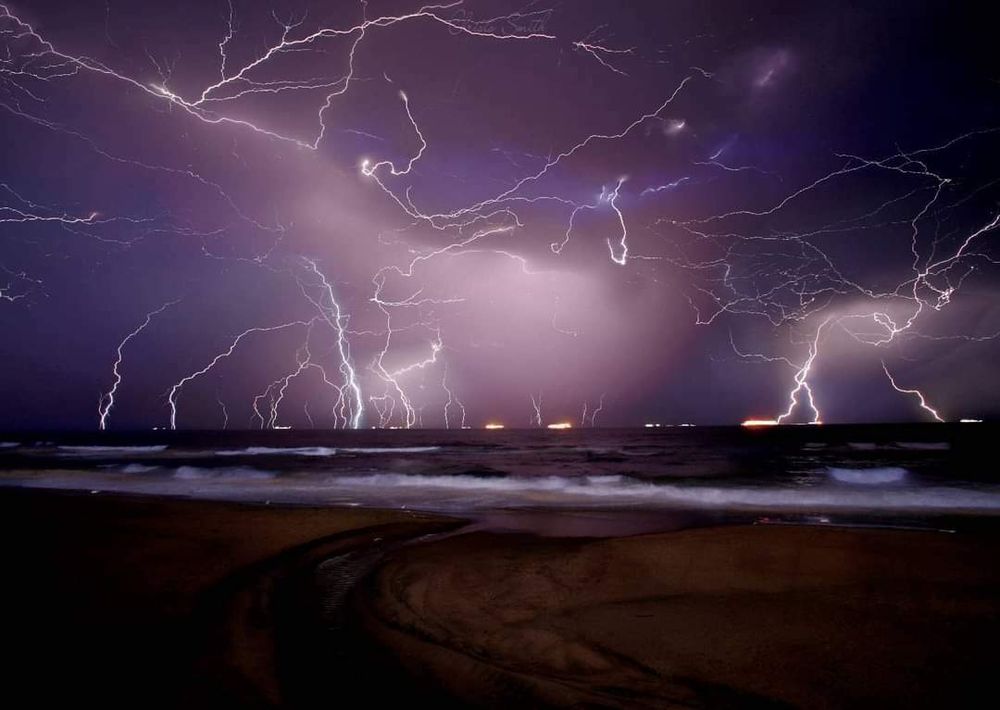 So, about the other night's storm...
I had finished taking my previous photos and posted them, but the storm raged on, so I headed down to the promenade in Umhlanga Rocks and shot the same storm as it was moving out over the ocean. It was truly a spectacular scene. The ocean constantly being lit up for split seconds at a time as the lightning flashed in the clouds.
Suddenly, out the corner of my eye I saw a strike of lightning and heard the familiar "tick" sound as an indication that it was right next to me. At the exact same time I felt a sharp pressure on the side of my head and I figured that I was struck by lightning and that this was it: time to meet my maker. Not quite as painful as I had imagined however...
Turns out that a Christmas Beetle had flown into my head at the exact moment that the lightning struck right next to me. Needless to say, I got the fright of my life. I heard the roar of the thunder, and I saw the little Christmas Beetle make it's way into the darkness.
As frightening (and funny) as the experience was, it also taught me a very valuable lesson; every moment of life is a gift, and our lives are actually so fragile. I feel that we should try and live our lives to the fullest. Experience as much as we can; the good, the not so good, and everything in between. It's all part of the beauty of life... Live your life. Experience it all. And always make time to appreciate the beauty around you...
Anyway, this is the photo that I captured... I hope that you like it.
This is a composite image created from some of the images that I captured, which have then been overlayed to create the single image.
South Africa is such an incredible and beautiful country.
I am Proudly South African.

Enjoy this post?

Buy ChristoSmith a coffee