2nd Goal Unlocked
Last week, with the help of all of you, I was able to finish my second goal. When I say I was shocked, I was shocked. The support I have received from everyone has been unbelieve to me.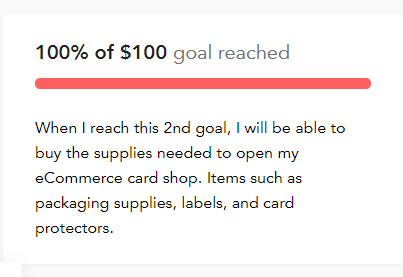 Since last week I've been ordering the supplies I need to be able to open up my first ecommerce shop. I will be starting with an ebay account and a TCG account. I'm still in the processing of figuring those out, but I am excited. I will be listing different cards for sale on each site. I haven't decided yet which one I like better, so I will be trying out both of them and seeing how it goes.
I can't wait to have those shops set up and showing you all!
Thank you for everything, you will never understand how much I appreciate all of you.
Dante
Enjoy this post?

Buy Dante's Card Dungeon a coffee