RaceOnOz - GT Sport: Round 4 Preview
Nurburgring Nordschleife Preview
Once again we saw team BHR boys CaptainRisky21 and ERT_Noodles secure a convincing one, two finish again at Bathurst last week. It means BHR receive a welcomed points boost in the teams championship as they are hot on the heels of leaders Next Level Racing (NLR)
This week we goto hell aka "The Green Hell' or maybe you know it as the Nurburgring Nordschleife. It will be a six lap race but due to the size and length of the circuit it will take atleast 45mins to complete.
This will be a huge test of endurance, strategy and mental toughness as the RaceOnOz teams take the battle to the track.
Points After Round 3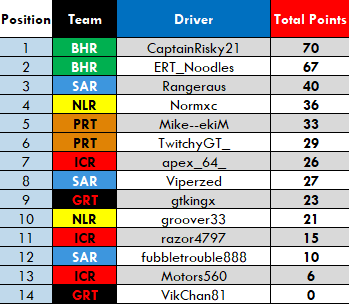 Top 5 Prediction
CaptainRisky21 [BHR]

ERT_Noodles [BHR]

Rangeraus [SAR]

Mike--ekiM [PRT]

TwitchyGT_ [PRT]
Thanks again for supporting Demo 1 Garage. Your generosity has enabled us to pay the bills this month and even fast track planned improvements for the channel. Every little bit counts and i hope to continue to provide top quality simracing.
Thanks - Josh Gahan
Enjoy this post?

Buy Demo1Garage a coffee