RaceOnOz Sunday Night GT Sport - Preview
<iframe width="560" height="315" src="https://www.youtube.com/embed/R_j3hZksrdQ" frameborder="0" allow="accelerometer; autoplay; clipboard-write; encrypted-media; gyroscope; picture-in-picture" allowfullscreen></iframe
In just a couple of hours the third round of the Sunday Night GT Sport league, run by RaceOnOz will get underway.
Last week our top 5 looked like so:
CaptainRisky21

ERT_Noodles

TwitchyGT (PEN)

Mike--ekiM

Normxc
We also had some post race penalties awarded:
Pit Lane Cuts (5sec penalty)
Track Limit Extensions (5sec penalty)
Twitchy's 5sec penalty ultimately resulted in his demotion from 2nd to 3rd
Current DIV 1 Points
After Round 2: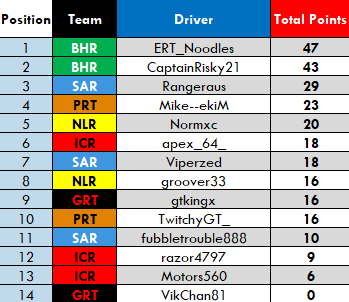 Our Predictions for the top 5 this week
CaptainRisky21

TwitchyGT

Rangeraus

ERT_Noodles

Viperzed
Thanks again for supporting Demo 1 Garage, i will be playing around with content like this in the coming weeks, as i want to expand on the watching experience and also give my biggest supporters like you, value for money. If you have any ideas or advice you'd like to see please don't hesitate to contact me via email or direct message [email protected]
Enjoy this post?

Buy Demo1Garage a coffee