Just Fly and Achieve What You Deserve!
Teaching came later in my life. Maybe, I made sure it came late. To even have the luxury of offering any kind of advice or pass knowledge to people younger than me felt like a big responsibility. And I still think it is a big responsibility. I wanted to make sure that all my studies were done and I lived enough life before I stand in front of people. I was 32 years old when I began teaching postgraduate students at the Mongolian National University of Arts and Culture.
In some ways, I was fearful not because I didn't feel competent, mainly due to my past experiences with few teachers. In general, I was lucky with teachers but few teachers really affected me and their influence was far reaching. From every teacher I learned a great deal but I also learned not to be like some of them. But when you are barely 18 and your guide at art school is one person, it is very limiting experience. And the consecutive experience of ownership and forced kinship is something I struggled with. I was not sure what else I owed to my former art teacher after I graduated. Personally, I didn't sign up to a lifetime contract to please my teacher, be always on her side and never disagree. Unfortunately, this strange tradition of forming classmates as clan members beyond graduation is still continuing in Mongolia. Any classmate defies this tradition is ridiculed, ostracized and made not welcome to that specific group of people, former classmates, in some cases former best friends.
My experience in the UK was the total opposite. I was not punished or pointed at for being distant with my peers or just being individual, because all postgraduate students were quite busy, studying and working. Even my housemates saw each other only on weekends. I felt the total freedom of hanging out with others or choose not to. There was no "must attend events". And I am not fond of drinking that much or be close to drunk people. My teachers were all strong, highly educated and extremely intelligent women. They are: Curator and Lecturer Jill Morgan, Artist and Lecturer Dr Elizabeth Stirling and Artist and Lecturer Dr Åsa Andersson. They did their job so well so that I sometimes cried after the feedback sessions. Because truth hurts but they were incredibly useful in pushing myself further. Now I can say that those critical sessions became the building block of my current teaching tactics. As a teacher, I don't like to generalise or leave things blurry when it comes to offering advice or critiquing someone's work. I try to be as clear as possible with my views and opinions and be true with my mentees. I believe that my mentee deserves honesty, integrity and empowerment from me. I do not wish to misguide or give a false sense of achievement to anyone when there is actually no progress. But if they do make a progress, I offer carefully phrased compliments backed with explanations on why.
As my career at the above mentioned university ended due to a very low pay and unreasonable demands outside my job description, I established my own little organisation called Vanjil Art Institute in 2013, named after my grandfather, someone who is equally preferred to be free and lived his life his way. Through this small organisation, I began to mentor emerging artists, curators and lately photographers. I am not after number. I am not going to engrave that number on my headstone. It truly doesn't matter. I am not eyeing to get a medal of some sort. What truly matters is that I do act ethically, responsibly, try to be the best version of myself and offer the most critical, useful and well timed knowledge and advice to my mentees. Beyond that my mentee can forget about me as there is no expectancy or forced teacher-student relationship. It would be nice to be kept in touch but it is not a condition. All I keep wishing for my mentees is "Just Fly and Achieve What You Deserve!"
Photograph: I am teaching "Concept Development Methodologies" while 8 months pregnant to a group of local photographers. The 2 day workshop was co-organised with Gamma Photo Agency. 16, 23 April 2016, Gamma Art Gallery. Photographer: Tsatsralt Sereeter.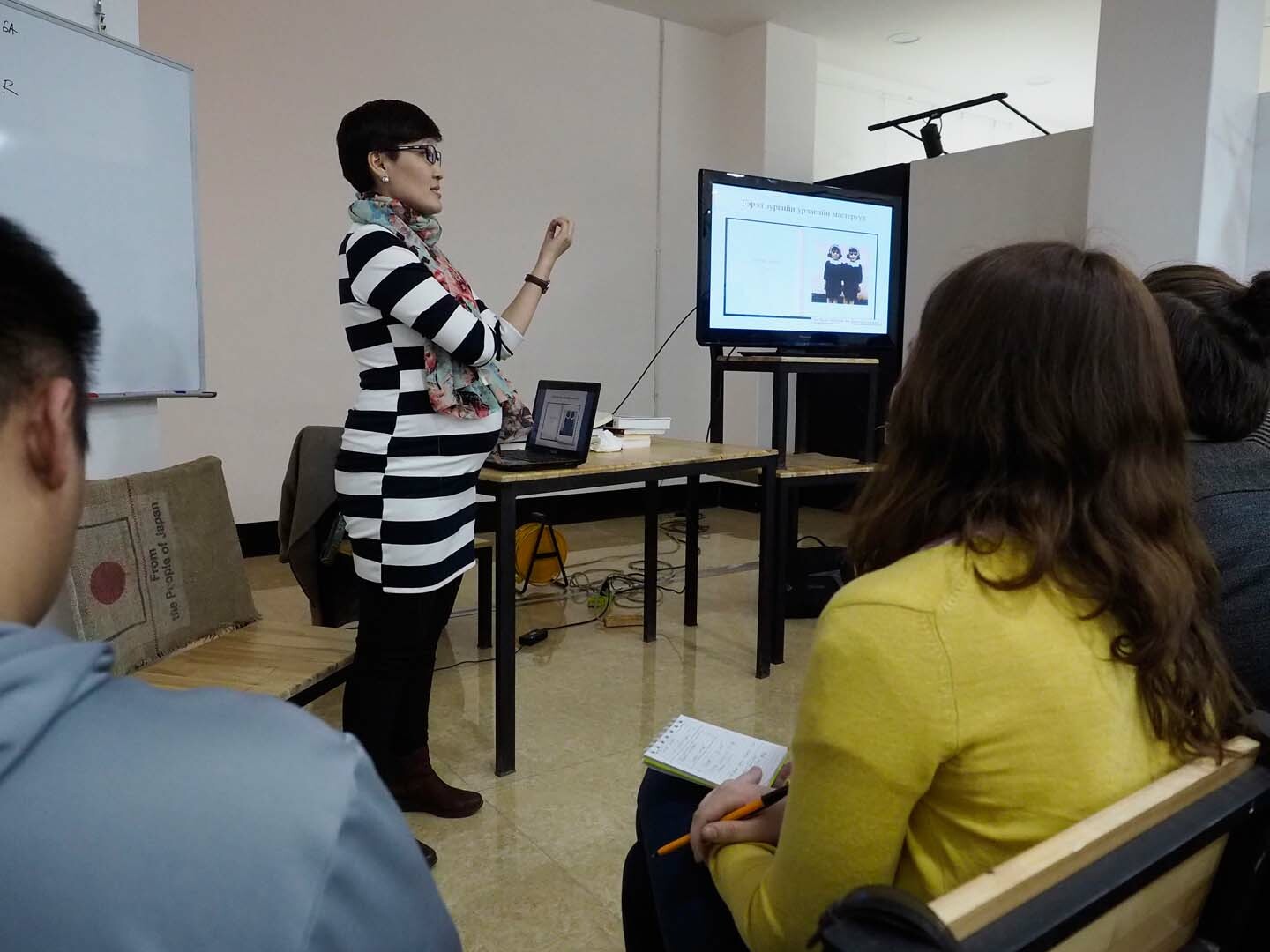 Enjoy this post?

Buy Dr Tsendpurev Tsegmid a coffee