6.21 Market Recap: Short Covering or is this the start of something more?
Well From A period we had a massive opening drive up we never got under our 3735 level and ran all the way to 3767.5. B period continued the trend up and we kept pushing higher highs and higher lows in C period as well reaching as high as 3781 in C period. D period opened and we quickly saw a Poor High Double top set up which meant the demand has been exhausted and quick sellers can step in to short for a few points down. Although we put in a Double top we could not take out the C low which meant it could rotate back up and repair the Poor High. E period opened and that is when we saw our first inventory correction of the Day by E low taking out the D,C,B lows this correction however could not break 60 and returned back up to where the volume was trading throughout the whole day at the time (64-67). F period continued the correction deeper by taking out the E low and opening no where near the highs of previous periods F got down to 3756 before returning back to the bigger volume area. G and H then took the inventory and corrected to Upside taking the upper stops but leaving the Poor high intact. The shape of the profile was beginning to look like a P which is considered to be short covering Profile. so maybe they didn't have the Juice to fix the poor High. I opened and we took out H lows but there was no drive to take out G low. The Volume continued to fill now between (60-70) area. I said in MicroEfutures.com trade room "if we can get over 75 we will go fix the poor high." J Period opened couldn't take out I high and corrected inventory down to G low but only took G low by one tick which was right at the end of 60 area. K period Opened and we didn't take out the J low. We rotated up took out the 75 level and pushed through the H high where they sold into the strength at 3780. L Opened and we repaired our Poor High/ Double Top leaving a taper above 3782.50. With the shape of profile being a P when M period opened we didn't take out L High and rotated back to (3764-3770).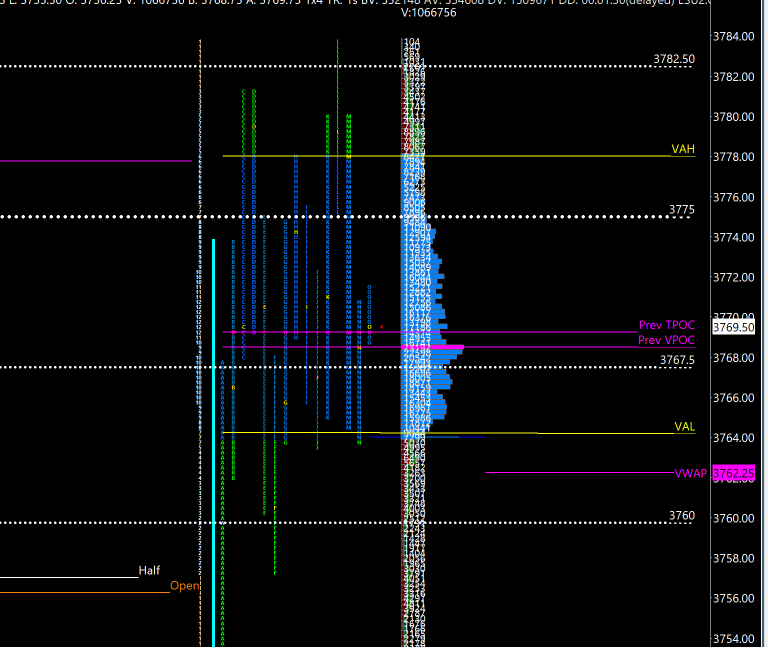 What am I looking for tonight/tomorrow?
As Stated we made a P profile which is a Short covering Profile. We were in a 2 day balance last week and between the 3 day weekend we broke over 3700 and accepted. As shorts covering they say tends to weaken a market we have to think of bigger picture. The first to buy are shorts who need to cover from lower prices. This attracts the Momentum buyers who are willing to chase price and take the ride up on the backs of the shorts. Tonight and tomorrow we will still be using Friday's range as T2 settlement. We will want to stay on the north side of 3735-3737 in my opinion to see if this buying has legs, If not we may go down and retest 3722, 3711, 3700.

Enjoy this post?

Buy Eric a pizza