CPI, Retail Sales, and Earnings season..Morning Prep 7.11
As we saw in last week's price activity we may be seeing a seasonality shift for now but wouldn't bet the farm on the Long side until we can clear 3940-3950 and even then I wouldn't bet the house as we are not home run hitters but price action party animals. With that being said we may have a shift in flow as summer season is upon us. This week in economic data has some big numbers coming out with CPI Wednesday, Jobless claims (per usual) and Retail Sales coming out.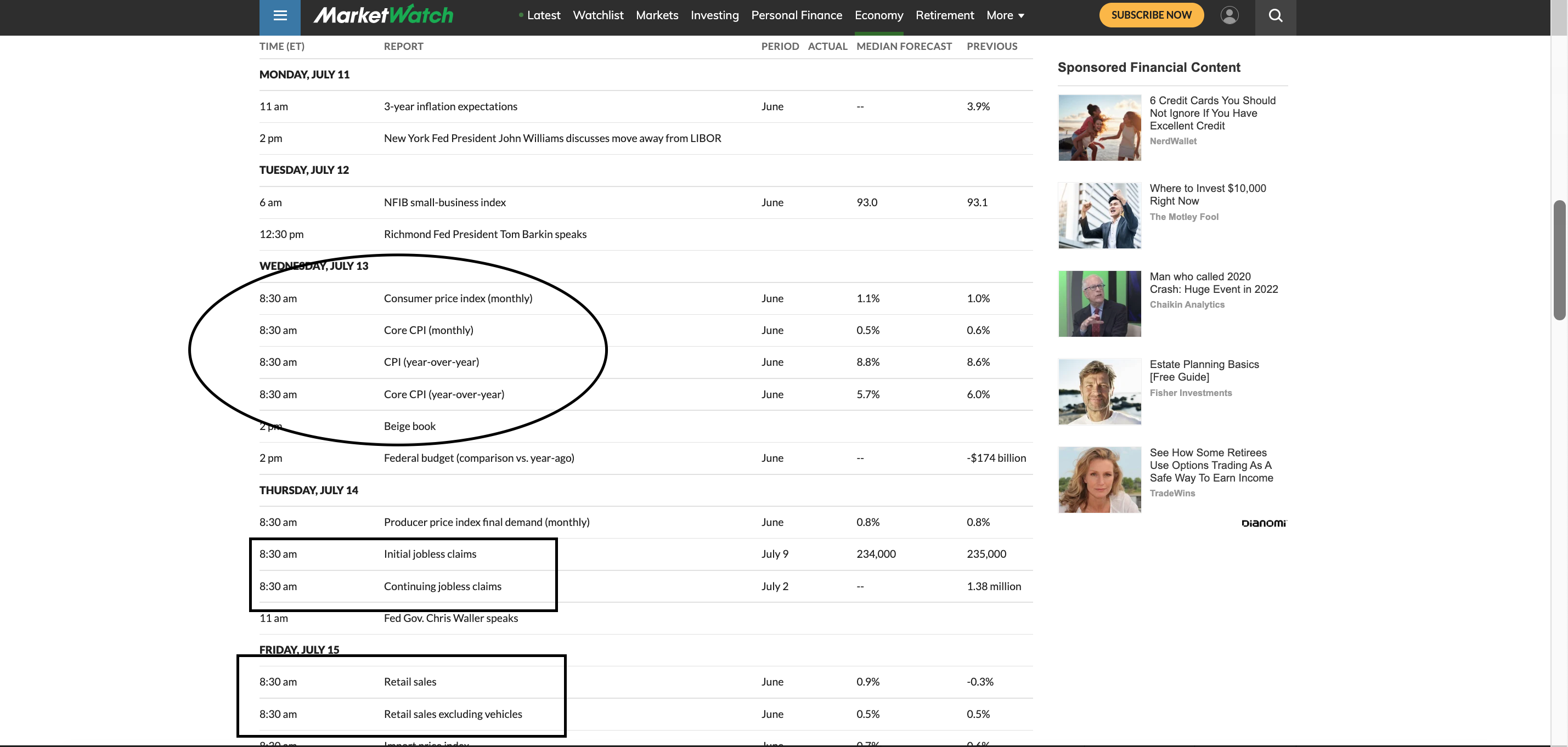 Market Recap
Last week poked our heads over 3900 and tested up to 3920 area. We would like to stay above the 3900 level as a great starting point for maybe some higher prices in the market. We broke out of 5 day balance from last week and if we were to hit target it would be 3940 area. Now failing to hit target could mean we return back to balance or we come back in to balance and break the low side of it. Our balance is between 3742-3830. So if we come back into balance we will be right at Monthly VWAP which is roughly 3836 and Monthly POC 3828. A retest of balance can bring in more buyers if we firm up the inside balance and not break the lower side.
Week Ahead
I would be looking for the lows to hold of balance if we can stay above 3840-3850 We may go get the full target of 3940. Remember we have big time numbers coming out with CPI and Retail sales plus sprinkle in the start of earnings season where we could see not so nice earnings do to the market conditions we are in. Our Line in the sand I believe is 3820-3838 (Month POC and VWAP) if we stay above we may move higher. A break below that we can go back down and retest what is below 3800.

Morning Prep: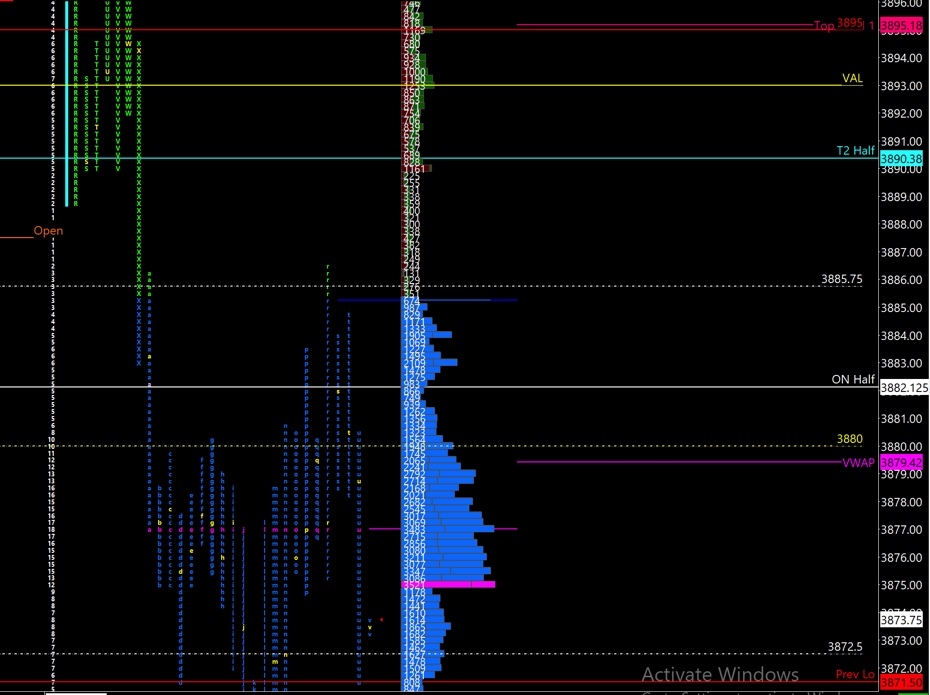 Where are the T2 High/Low? We are in T2 range so can be a choppy trading session but we are at the lows of T2 (maybe some margin call selling if we break)
Where are the Previous Days Highs/Lows, Half Back, Value High and Value Low? We are at the Lows of Friday and just reversed
Where is Volume POC from previous session? Where is TPOC? VPOC and TPOC are above us around the close of Friday which is roughly 3905.50
Where did we close previously are we above or below the close? We are below the close which would mean we are now net short from Friday's session
Has Overnight (Globex) corrected inventory? Early globex inventory was corrected when we traded under 3873. Inventory to the downside was then corrected up to 3885 but we could not fill globex single prints that are 3886.75 -3888.50
Are we pushing near the Highs/Lows of the overnight session? We are at the lows of the overnight session
What shape are the Profiles P shape (short covering), b (Long Liquidation/ Position Building? Globex has the similarities to a double distribution profile which could tell us if we can't transact in the upper distribution then more downside to come
Are we above VWAP or below it? Below VWAP at 3879.50
Plan for the day:
As we broke our 5 day balance our target was 3940. We wanted to stay over 3900 and Friday's High 3922 to have a little more conviction in friday's move. Globex was unable to transact over 3900 which can tell us that Friday's move did not bring in any real buying but just shorts covering. We are moving around through the June Month end Break down singles that are (3880.75-3895). Maybe if we can clean up this area and get back over 3895 we can go retest the highs of Friday and get full target of balance break. The downside pressure is still there as we came back under the 3900. If sellers take control they would want to break us under 3870 and the T2 low of 3866.50 where we could see margin call selling and tag the top of balance around 3830.
Key levels: 3830, 3842, 3866.50, 3870, 3880.75, 3886.75 -3888.50, 3895, 3900, 3922, 3940
Enjoy this post?

Buy Eric a pizza