Bob Saget Dead At Age 65. Autopsy Complete 'No Evidence of Drug Use or Foul Play'
On Sunday January 9, 2022 in Orlando, FL, Robert 'Bob' Lane Saget was found unresponsive in his Ritz-Carlton hotel room. Saget, actor and comedian was 65 years old. He was born and raised in Philadelphia and leaves a wife and three children behind.
Saget was in the middle of his cross-country comedy tour with atleast a half of dozen live shows lined up for 2022.
News of Saget's death hit the airwaves yesterday.
Aren't you glad to know the stars can get an immediate autopsy even in these pandemic times. Mr. Saget's was performed this morning and authorties say there is no evidence of drug use or foul play.
"The cause and manner of death are pending further studies and investigation which may take up to 10-12 weeks to complete," Stephany said. "Our condolences go out to Mr. Saget's loved ones during this difficult time."
The Saget family gave a statement to PEOPLE saying,
"We are devastated to confirm that our beloved Bob passed away today," the Saget family told PEOPLE in a statement on Sunday evening. "He was everything to us and we want you to know how much he loved his fans, performing live and bringing people from all walks of life together with laughter. Though we ask for privacy at this time, we invite you to join us in remembering the love and laughter that Bob brought to the world."
Much like Betty White, here one minute on top of the world, gone within hours of posting their last words on Social Media.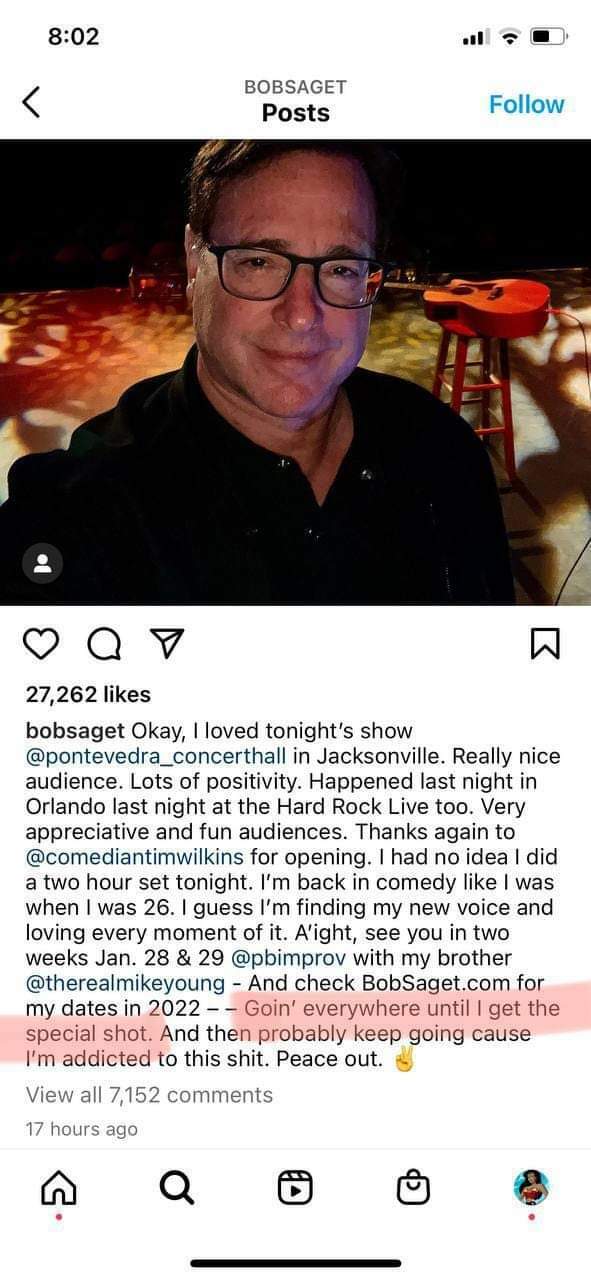 Was it the shot? Was it simply his time? Is he part of the pedophile list they are getting out of the way? None of these questions will we ever have a straight answer to, in my opinion. But you must admit it is quite interesting the timing of it all.
Erica Parrótt/Eluminate/These Are The Times
https://www.youtube.com/c/ericaparrottthesearethetimes
MAKE SURE TO FOLLOW, IT'S FREE!!📣
For more ways to support you can share this post with those you love, (share at bottom right.) Supporting or joining as a memeber unlocks past, present and future post, while supporting all of my channels future. Thank you!
Direct connect to paypal: https://bio.link/ericapar You can also click below and support this post by buying me a coffee.
Enjoy this post?

Buy Erica Parrott a coffee