⛰️Energy Reading For Week of May 23rd-29th 2022♊️
Good Tuesday to you all!
I know this week's energy reading is a bit later than normal, and that is because this week I only have questions for us all. Questions that hopefully allow you to explore some areas in your life with more depth and clarity.
FYI, Tarot is not a game. And for anyone who thinks it is, I kindly ask that you remove yourself from me.
I am often approached and asked, "How do you begin to deep dive into yourself?"
It begins with asking yourself questions that only you can answer. The questions you ask are just as important as the answers you gain. Like my uncle always says, "To gain an honest answer, one must ask the right question." And my friends, we are sitting in a beautiful time, it's the perfect time to restructure so many ideas, beliefs, and traditions. Especially the ones that weren't fulfilling to begin with, even though they seemed to 'work'.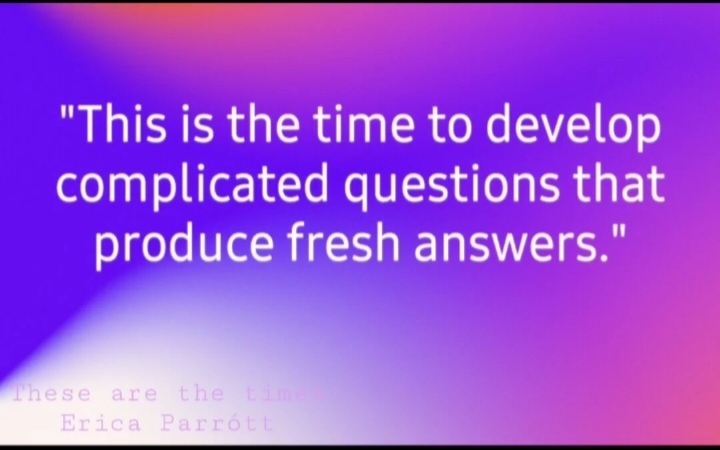 This week we have some really cool Sun and Moon energy pairs in our midst and they are perfect for diving deep. With the Sun in Gemini all week, the stage is perfect for soaring on the wings of curiosity. Yes, we are still in a Mercury Retrograde, so continue to breathe and implement paitence. The energy pairs that are being presented this week are lining us all up for some amazing breakthroughs, if we will allow them to happen. This next fact is hard to remember most days, but we all were created to seek beyond the comfort of reason. It's who you are. It is part of your makeup. I know, for years you have been told,"You wouldn't understand." Or "That's above your level of knowledge." Today, I am hear to tell you that, that is a lie of all lies. You have the power to understand ANYTHING you CHOOSE to understand.
I hope you will allow yourself to do just that. What have you been wrapping up in your life since the Full Moon? What are you making room for?
Keep in mind, that on Monday, May 30, 2022 we will see May's New Moon in Gemini.
Often times we get so excited for where we are heading that we become frustrated in our present. Meditation allows you to slow down, and to lock into your situation. No rushing required. How does a war leader lay out the perfect plan for advancement? They allow themselves to slow down long enough to gain a bird's eye view of every possible outcome. But guess what, they are no different than you or I. Every human holds these capibilities. The question is, have you nurtured your gifts, mind, and heart in a way that allows them to come forth without conscious thought? If not, there is no time like the present to begin.
Allow yourself to remember, that there are zero shortcuts in this life. When you stay too long in thoughts of your past or where you hope to be, you miss things in your present. Often times, vital moments that only delay your forward progress. When you are becoming something you have never been before, it is always good to mindfully practice paitence with yourself.
To become what you long to be, you must remain committed to your path through loving determination. We all will become a novice time and time again as we live out our experiences. Praise yourself where you should; How are you showing up consistently in your life (or in your relationships) that proves your dedication to your choosen path? Let yourself bask in the goals you have met, and the ones you are diligently working towards. Structure your days as needed, and shed anything that is not getting you to your purpose in a fulfilling way.
If you have been struggling on how to start your own personal questions for deep diving, I encourage you to take the following questions with you into your personal meditations and introspection time.
Pathwork/Meditation:

Allow yourself to rise above any chaos or confusion in order to gain a bird's eye view. This view is where you will see your best path forward.


In Meditation, invision yourself ascending a mountain. As you climb every winged thing is present; bats, birds, dragonflies. As you make your way up the mountain, what subtle message does the wind whisper to you?

Once you reach the top of the mountain allow yourself to look 3 years into the future. Where do your options lead? Which path is best for you today?
Remember, your head is a house of worship and should be treated as such. You were created with a unique intelligence, but only you can engage it. Here's to your deepest introspection yet!
It is a nice when things outside of our being can lend to our grounding, peace, etc. But what happens when those things disappear? Will you be able to stay grounded if they perished? We now sit in the season where many are beginning to understand, there is nothing outside of you that will ever be able to fully ground, discipline, or structure your life in the fashion it needs to be. You and you alone hold these keys. It requires spending time learning just how your keys work, and properly engaging your keys to unlock your fulfilled authentic life.
Blessed Be!
Erica Parrótt/Eluminate/These Are The Times
ARE YOU FOLLOWING? Following is free! And it adds you to my email list, so we can stay in touch!
If you like what These Are The Times does, you can support by "buying a coffee". You can continually support by becoming a member. Support or a monthly memebership unlocks past, present and all future post for you to enjoy as my way of saying thank you! Sharing is support too! You can share this blog's link by using the arrow located below.
If you wish you contact further please email: <87>[email protected]
Empower your way through your human experience you hold the key to your release.
Link in on my IG for affirmations and ecouragement. https://bio.link/ericapar
Enjoy this post?

Buy Erica Parrott a coffee