Full Moon In Cancer It Could Be A Tearjerker
Happy Wolf Moon to you all! This year, I wonder what the black community will allow the world to get them stirred up about racial? I mean even major astrological events are lining up to major Black leader's dates! The moon will be accompanied by a bright star from the Gemini constellation.
Even though the moon will appear full for three days, Sunday evening through Wednesday morning, the Full Moon in Cancer will truly be full on Monday January 17, 2022 at 6:48pm. Which is also MLK Jr. Day. The first full moon of the year is referred to as the Wolf Moon, but it is also known as the Center Moon, Cold Moon or Spirit Moon.
The moon is also referred to as the Spirit Moon because many attach a spiritual meaning to the year's first full moon. It marks a time when many set their goals and intentions for the upcoming months and year.
What Can You expect?
To astronomers, a full moon is just when the Sun and the Moon are at opposite points of the sky, causing the tides to magnify. But to astrologers, the magic of a full moon lies not in the rise of water on the earth, but the rise in anything hidden that's ready to be healed. Spoiler, there might be some tears. But never fear, because as deeply emotional as this full moon may be, it is also filled with many opportunities to help you sort through and release your emotional baggage and bring some serious deep-cleansing to your psyche. Self-care is your best ally to navigate through this super special full moon.
With a full moon in the sign of Cancer, we've reached the midpoint of another 29.5 day lunar cycle, the first of 2022. Similar to all full moons, it is time to take a pause, turn inward and reflect. The monthly full moon is prime for contemplation, as often the days around it are robust with change, insights, epiphanies and decisions. Often, circumstances out of our control pop up during this time, triggering us to examine our own thoughts and feelings and their influence on the reality we exist in.
STRONGLY RECCOMMEND...
If you have any surgical procedures coming up, of any kind, if you can, WAIT...until after this moon phase passes. Things will take longer heal during this phase and there is no need to add to the pressure if you can help it. If you cannot wait for the procedure, make sure you take all precautions and the time to heal...correctly. Do not miss any medications that may accompany your after care.
This is also a time pay some extra time and attention to your stomach, ovary, lymph system, breast, vagina, breastbone. All of these areas are subject to being sensitive at this time. Do your part in making sure you keep them functioning at their best.

"It is time to nurture yourself the way you always wanted to be cared for."
Pluto's amplifying energy will be a support in the mix as well. You know that now-or-never feeling you often get? That is what Pluto brings to the table. Stepping into your power and truly shinning will be inevitable if you allow it!
Mercury will also be going retrograde on January 14th and this can bring on confusing circumstances or information. Remember, this full moon is more about reflection and stillness, and less about action. Patience is vital not only with yourself, but with others.
Now is the time to nurture yourself the way you always longed to be cared for. The energy of Cancer opens the door to dive into our feelings, self nurture, work with our inner child and to learn to create the emotional safety needed to operate at our full potential. It is a time to connect more deeply with those you can be vulnerable with, including your family, blood or otherwise.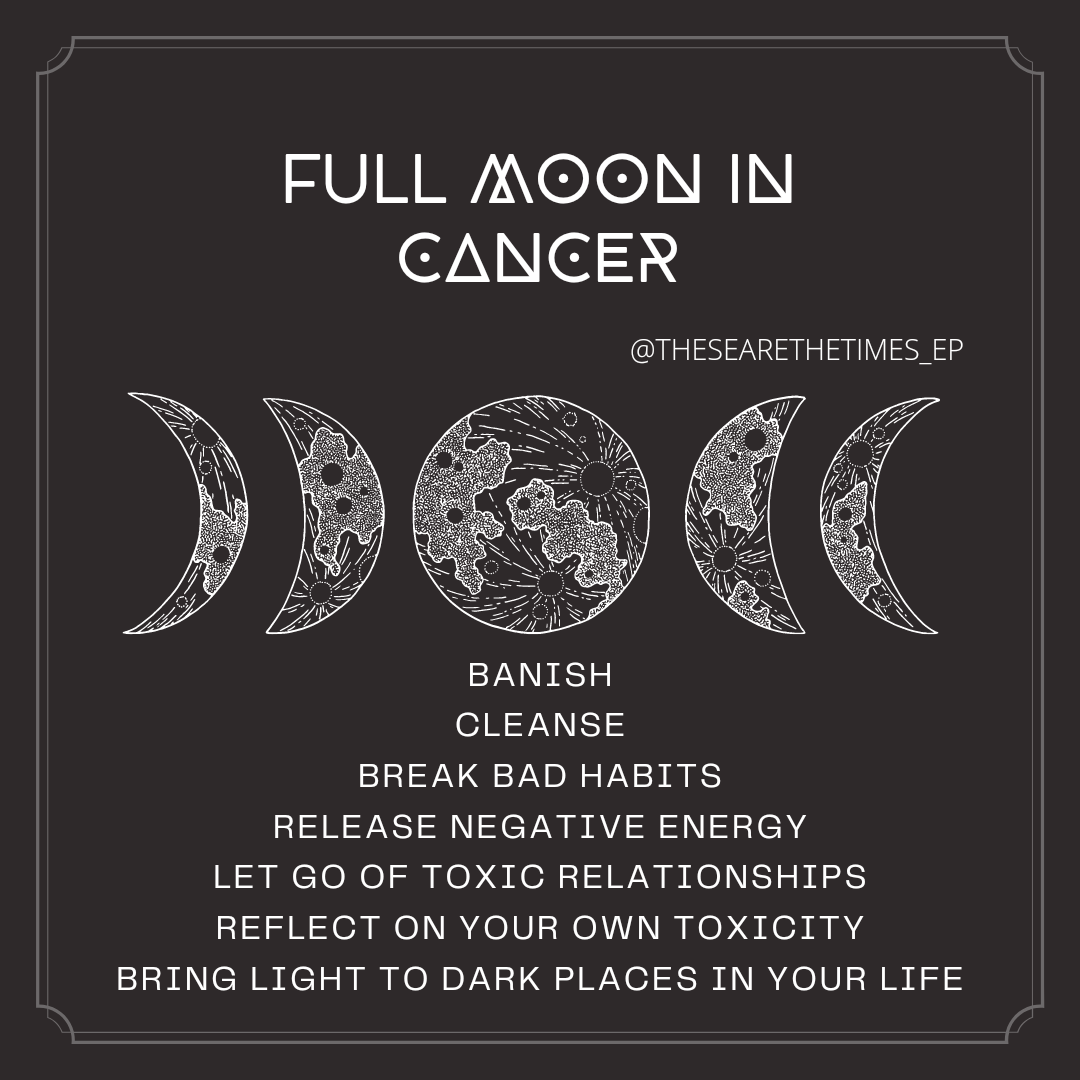 HOW TO UTILIZE FULL MOON ENERGY TO THE MAX:
Banish

Cleanse

Break Bad Habits

Make Full Moon Water for protection or Cleansing

Release Negative Energy

Let Go of Toxic Relationships

Reflect On your Own Toxicity

Bring Light To Dark Places In Your Life
Erica Parrótt/Eluminate
**Mini readings now available!!** Indepth Birth RIGHTS reading now available! comment SHOW ME MORE YOUR FIRST DIVE IS FREE!
Want to support my channels on a monthly basis? then feel free to pick a level and join! New members receive one free detailed reading from one of the 3 categories each month: Love/Career/Financal
Following is free, supporting or a monthly memebership unlocks past, present and all future post for you to enjoy! Empower your way through your human experience and let's see what you discover. Share this post and click below to support if you enjoyed this message.
Enjoy this post?

Buy Erica Parrott a coffee