MIND/BODY/SOUL COLLECTIVE READING 5.8.22-5.14.22
Good Monday to you all!
Well, tomorrow Mercury goes into Full Retrograde! Are you ready and grounded? Are you feeling a little stagnant? Well, may this Mind, Body, and Soul reading allow you to hone in and bring you clarity on how to better navigate the coming week's energy.
We each are co-creators in this experience. Everything in this life is planting a seed. May your seeds be ones of increase.
THE SPREAD: Earth/Earth/Air
Page of Pentacles/Partnerships

8 of Pentacles/Trust

2 of Swords/Anger
(Mind)Page of Pentacles: "I can be practical and realistic and still run out to meet my dreams." (Astrology: Taurus/Virgo/Capricorn Element: Earth)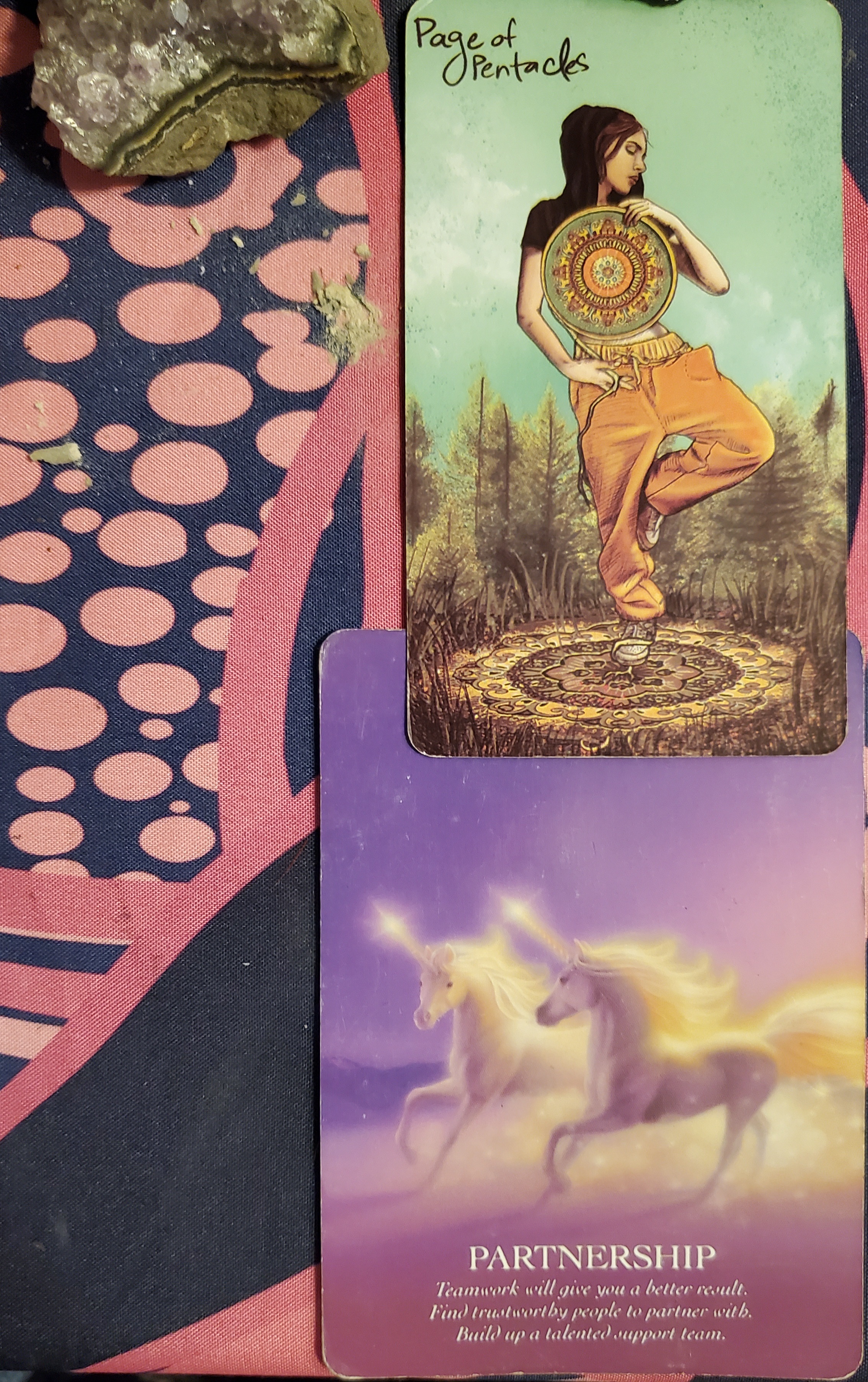 Are you allowing yourself to take new paths in life? Or do you allow your current situation to take the driver seat?
When Pentacles show up, there is usually a struggle of the material world and consciousness. The Page is a symbol of new beginnings, financial growth linked to your career. Don't be surprised if you make that decision to finally step away from one career and start truly brand new.
With Mercury retrograde in play everything can feel hasty, but you already know that any decision that is excuted quickly during these weeks, you have already been toying with doing. This card comes to remind you that no matter what is going on in your life, pursuing your dreams are a must.
If you are a parent you are being called to live your life to the fullest. Why? So that your children can learn how to do the same through balanced routine. You can talk a good game, or you can show up and play a good game. The choice is yours and your actions put your words into full gear. Nothing is a hinderance unless you say it is so.
Partnerships will lend better results. You may have tried doing it all on your own, but you need a team. In the past you trusted others out of convience, and that proved to be the wrong move. Building a trustworthy and talented team of people will aid your endeavors well. Think of it like this, just because they have a pulse doesn't mean they are the right fit for your team. Use discernment and remember you are a star, everyone wants you on their team, but every team is not for you.
Questions For Introspection:
3x3; What would you like to see happen in your life in the next 3 weeks, 3 months, and 3 years from now? Plan your trajectory and set sail.
(Body) 8 of Pentacles: "With loving determination, I perservere, and become the person I long to be." (Astrology: Taurus, Virgo, Capricorn Element: Earth)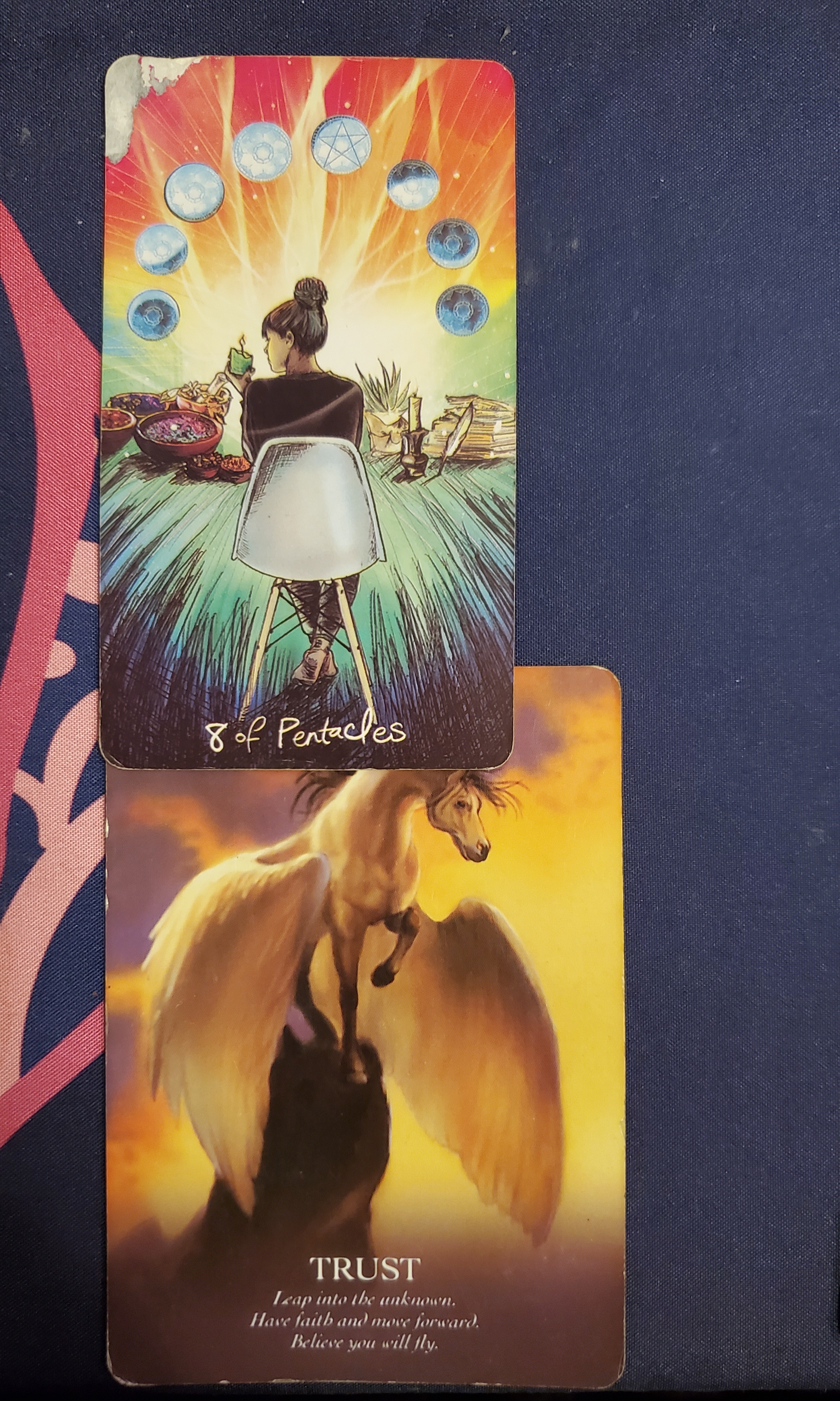 Pentacles are all over the place today, and this one coupled with the number of never ending abundance. Determination is the only way any of us will achieve our dreams in this life. This card is a symbol to pursue your soul's truest purpose.
Determination is best paired with patience and grounding. Changes can happen quickly when this card is present. Heck you may even find yourself quickly becoming the expert on a certain matter. Go with it. What truly determines who is an expert or a student?
Keep your body in good shape during these next coming weeks. The foods you eat matter and you have a lot in store and will need all the positive energy you can get to aid your journey.
Trust the unknown to meet you in the best of ways. All you've done up to now has not been in vain. If you will keep moving forward while remaining firm in your faith you will soon see the person you have been working so long to become manifest.
Your body needs you to trust in yourself more now than ever. Let your hair down and allow yourself to shake free from past shame, guilt or feelings of being less than. Take only what you have learned from your past and allow the rest to be closed out for good. Release your emotions and the energy surrounding anything that is of the past.
Questions For Introspection:
What are you mastering right now?

What skill would help you get to the next level?

How are you showing up consistently in your life and relationships that proves your dedication to your chosen path?
(Soul) 2 of Swords: "When blinded by the unknown, I trust myself to find the light." (Astrology: Gemini, Libra, Aquarius Element: Air)
What memory or thoughts are keeping you at a crossroads? You feel like you have been here before, yet you are tempted to do the same thing. What if you did something different this time around? How would that look? How would that feel?
The suit of swords points to ones mental state. Are the thoughts of the past not allowing for full flow of your present? With this card being represented by 2 it is safe to say that whatever the conflict is, it is more than just you involved. The root of 2 is all about your relationships outside of yourself.
Anger has been playing in your yard for quite sometime and right now you are being reminded that your soul cannot surivive on anger. This is an emotion that blocks everything. Nothing can grow or die out. Anger doesn't allow you to honestly evaluate or focus.
In order to increase you are being asked to let it go. What are you still holding onto anger about? It is time to safely express your anger. Honoring every emotion is sacred. Positive thinking doesn't mean you won't be met with challenges, it simply means you understand this challenge is not permenant. Positive thinking allows you to remain very aware while still moving through each moment honestly feeling, expressing and shedding if necessary. Find ways to use anger as a positive force.
Remember, even when you are justified in retaliation, once you act that is a seed planted that you will reap. Let go and let GOD. I promise once you see the energy you retain and the forward progress you acheive in not responding, you will be asking yourself "Why have I not been doing this before now?"
Questions For Introspection:
What are the pros and cons of your choices? Now add a lenses to each of want, needs, and nice-to-haves, what happens when you add these lenses?
May you each be blessed as you embark on this full week ahead! Know that I do miss you all on Social Media and we will soon be together again on all my pages. But right now, SM is not what is important. My family, my book and my renewing is what must come first until further notice.
There will be new blogs coming out this week, so if you know someone who is not following this site, please share the link with them.
Thank you for your love, and thank you for taking time out for yourself today!
Blessed Be,
Erica Parrótt/Eluminate/These Are The Times
ARE YOU FOLLOWING? Following is free! And it adds you to my email list, so we can stay in touch!
If you like what These Are The Times does, you can support by "buying a coffee". You can continually support by becoming a member. Support or a monthly memebership unlocks past, present and all future post for you to enjoy as my way of saying thank you!
If you wish you contact further please email: <162>[email protected]
Empower your way through your human experience you hold the key to your release.
Link in on my IG for affirmations and ecouragement. There is a new WEEKLY LIVE ON FB & IG every WEDNESDAY NIGHT! Want to learn more about the benefits of CBD and THC? Join Dr. Stankylab and myself LIVE 8p/IG & 10p/FB EVERY WEDNESDAY! Follow on SM for more details and ways to win free products while expanding your knowledge! https://bio.link/ericapar
Enjoy this post?

Buy Erica Parrott a coffee