Monday 12.13.21. News Quick Hits
Good morning to you all. Hoping that your Monday is a great one. With so much going on in a single day, I find that quick hits has become a great way to TRY and keep caught up with what has happened. It is never good to assume that because you know something, that everyone else does. I have found through doing the videos on YouTube and posting blogs of this sort here, many are unaware of some of the topics I choose in my highlight reels. With 1.5 weeks of jail time remaining on my YouTube channel, let us continue on here and see what all last week held for us.
On Thursday, actor Jussie Smollett was found guilty of five counts of disorderly conduct, which carry a maximum sentence of three years in prison. Will he receive actual jail time? That is yet to be determined. Even though these are low level felonies, will the judge make an example of this hollywood star?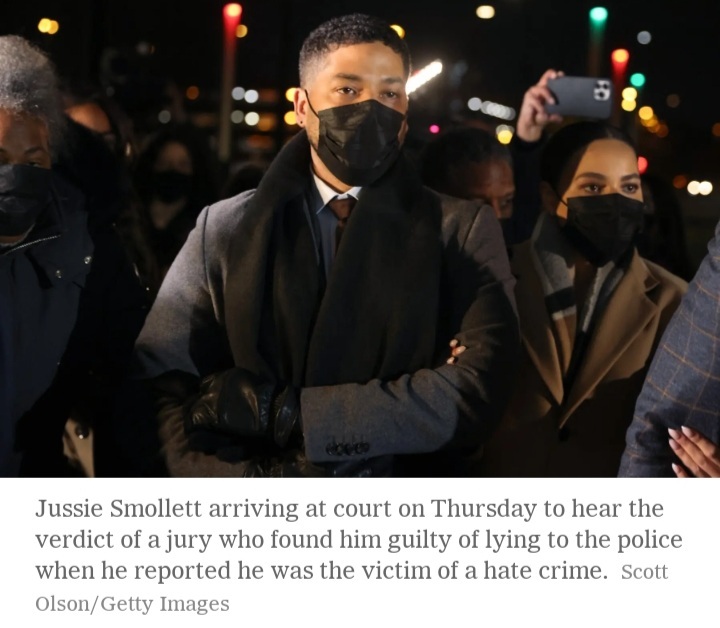 Wisconsin is still a mess with all the election scandals still being made public, while buried at the same time. Let's see if we can change that.
Mark Z. and His presence in Wisconsin Elections:
https://uncoverdc.com/2021/12/07/gableman-hearing-zuckerberg-infiltrates-wisconsin-election-in-five-key-cities/
Wisconsin Voter Roll Anomalies Presented at the WI Campaigns & Election Committee Hearing:
Veteran software and database engineer Jeff O'Donnell shared his analysis of Wisconsin's August 2021 voter file at the Wisconsin Campaigns & Election Committee hearing today. He found "significant red flags" and "highly suspicious issues," including:
• Although Wisconsin's population is 5.8M with approximately 4.5M eligible to vote, there are more than 7M separate voter records, suggesting that voters are placed on inactive status rather than being removed.
• Approximately 3.3M Wisconsinites voted in the 2020 election, representing 93.7% of the state's 3.5M active voters.
• 121,251 active WI voters have been registered for 110 - 119 years; in total, more than 500K active and inactive voters have a January 1, 1918 registration date. O'Donnell points out that while that date may have been used as a placeholder when information was missing, 500K is an alarmingly high number.
• According to the WI LAB audit report, 957,977 voters registered as new voters in 2020; 45,665 of these new voters registered with a driver's license that did not match DMV records.
• 205,355 active voters have a registration application date of November 3, 2020.
• 10% of voters in the WI voter file (22% of all active voters) registered between May 3, 2020 and November 3, 2020.
• 31,872 of the voters who registered during the 6 months leading up to the 2020 election are now listed as inactive.
• In total, 42K voters who voted in the 2020 election are now listed inactive; O'Donnell points out that, even factoring in changes of address, 42K is an "excessive" number of deactivations for recently active voters.
•The WI registration database API allows users to "switch voters to active at any time as needed."
"In conclusion, the irregularities and red flags found by both this report and the Valentine report indicate a huge potential for nefarious actors to access the WI registration system and… manipulate any voter's status. There needs to be an investigation by competent outside database experts to explain the causes of the specific anomalies… and examine the system log files for evidence of external intrusion. The investigation also needs to determine if third party voter organizations have been granted access to the system to create, manipulate, or improperly utilize voter records."
News Host Are Making the Spotlight:
Chris Cuomo fired for heling his brother fight sex-pest claims and faces his own sexual misconduct accusations
CNN Producer John Griffin arrested for grooming minors for sex (worked with C. Cuomo).
Don Lemon being accused of unethical behavior in regards to conversations held in 2019 with Smollett
19 Hours ago, Chris Wallace announced his leaving Fox News to join CNN...this ought to get very interesting.
More excess spending:
The House approved $1.25 billion dollars to market and advertise the vaccine.
Pfizer is now profiting off Omicron, and asking people to take a third booster while hiding behind their liability shield.
When/if the $1.25 billion marketing budget gets going, Pfizer will rake in loads of cash while WE get jabbed with the marketing bill.
Congress benefits because many of them hold stock in Pfizer.
Deeper Look Into Build Better Build:
They are going to hit your wallets in many ways and reading through the many pages you will see how. Here is one hit many may not be aware of.
Section 138504 of President Biden's Build Better Act (page #2299):
Increase tax on tobacco and impose tax on nicotine.
Cigarette tax increase from 5 cents a cigarette to 10 cents per cigarette.
Tax on cigars raised to match cigarettes.
Snuff tax raised from $1.51 per pound to $26.84 per pound.
Chewing tobacco tax raised from ~50 cents per pound to $10.70 per pound.
Pipe tobacco tax raised from ~2 cents per pound to $49.56 per pound.
Extracted/manufactured nicotine will be taxed at the equivalent of cigarettes per 1,810 mg of nicotine.
December Weather: #broughttoyoubyHARRP? #orclimatechange #orthemoon #whoknowsanymore
Hawaii saw snow week before last that also lead to flash flooding. This past week the weather continued to shock and awe for this wild month known as December. Question, have you ever heard of a Tornado that has been on the ground for over 4 hours or more, going through 4 states? It appears when this whirlwind began the same tornado traveled through parts of Arkansa, Missouri, Tennessee, and Kentucky. Before all the cyclones ended, Illinois and Mississippi could be added to the list. These stroms have left many dead and much devastation in its path. Numbers are still rising as the wreckage is being sifted through. Prayers to all those touched by these winds.
Pfizer and Freedom of Informaton:
A minimum of 20,010 days (54 years and 10 months). That is how long the FDA proposes to take, at a rate of 500 pages per month, to produce only a portion of the documents in its file for the COVID-19 Pfizer vaccine that PHMPT requested pursuant to the Freedom of Information Act (the "FOIA Request") and 21 C.F.R. § 601.51(e).
https://aaronsiri.substack.com/p/fda-doubles-down-asks-federal-judge?r=8ocly&utmcampaign=post&utmmedium=web&utm_source=copyhttps://aaronsiri.substack.com/p/fda-doubles-down-asks-federal-judge?r=8ocly&utmcampaign=post&utmmedium=web&utm_source=copy
Maxwell Trial:
We have to rely 100% on MSM to let us know what is going on in the Maxwell trial. Two days ago the prosecution rested its case after 4 accusers testified. After 10 days, prosecutors rest their case...really? Call me crazy, but I somehow feel Jussie Smollett will get more jail time than Maxwell. Only a hunch, and one we will have to wait until they let us know, if this hunch is correct or not.
Of course, this is not everything that last week contained, but this should get you on your way. Knowledge is power, keep those minds sharp my friends.
Erica Parrótt/Eluminate
https://www.youtube.com/c/ericaparrottthesearethetimes
FREE TO FOLLOW📣For more ways to support you can share the link to this and other post, join as a member to continually support research time and travel.
Direct connect to paypal: https://bio.link/ericapar You can also click below and support this post by buying me a coffee.
Extra, Extra!!
Pre-Sale begins in January for my new book It Takes Real Stones. You do not want to miss getting your signed copy reserved! Stay tuned and thank you all for the support and love during the making of this release.
Enjoy this post?

Buy Erica Parrott a coffee