Smoke-N-Know Week 6 Recaps & Links: Ingesting-Vapes, Flower, Edibles
This past Wednesday we 420ed on 420!! And if you joined us on Facebook, you got to see how we flow on even when technology has different plans.
Week 6 on SNK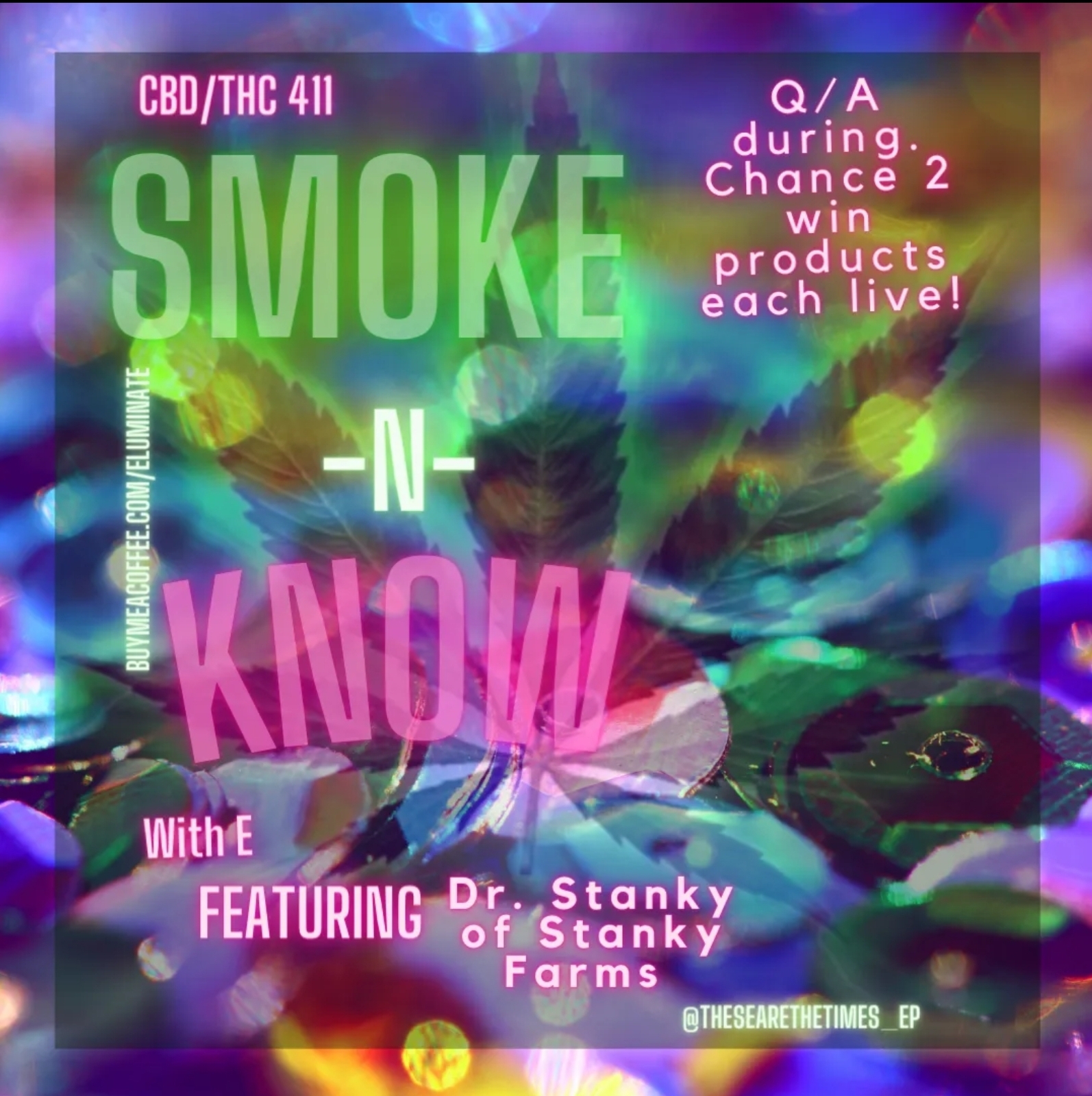 We discussed the different methods of consumption. In week 3, we discussed the ECS and the CB2 receptors with a lot of questions from our viewers!! Some questions like consuming with high blood pressure and heart illnesses came up.
Questions covered in the LIVE:
🤔How should I consume my medicine?
🙄Why do Edibles effect me differently than smoking?
🤔Are Vapes safe?
😰Can I overdose with marijuana or marijuana derived products?
🤪How do I know I've taken enough?
🤷🏽‍♀️What the heck is a tincture? And how do I use it?
IF you missed us LIVE, have no fear. You can still catch up on all of these topics and more! A shoutout to WD! Thank you for opening the shows with song and for sharing about your journey and how THC/CBD has helped your life.
IG LIVE: https://www.instagram.com/tv/CcmAxFkBeRt/?igshid=YmMyMTA2M2Y=
FB LIVE: https://m.facebook.com/story.php?story_fbid=313454470929853&id=1745810501
DR Stanky FB-"The show goes on" https://m.facebook.com/story.php?story_fbid=10158854726391478&id=649941477&sfnsn=mo
Links cited: Always do your own research!
https://www.healthline.com/health/sativa-vs-indica
https://www.cnet.com/health/nutrition/cbd-products-explained/
https://www.healthline.com/health/vaping-vs-smoking-weed
Join the 𝕊𝕞𝕠𝕜𝕖-ℕ-𝕂𝕟𝕠𝕨 group on FB to always stay in the know: https://www.facebook.com/groups/1168862017249463/?ref=share
When you shop 𝙎𝙩𝙖𝙣𝙠𝙮𝙛𝙖𝙧𝙢𝙨.𝙘𝙤𝙢 use my 𝙘𝙤𝙙𝙚 𝙖𝙣𝙙 𝙨𝙖𝙫𝙚! 𝙀𝙋𝙏𝙄𝙈𝙀𝙎
Next week- We revisit our gardens!!!! We'll see you there or in the SNK group on FB!!
𝗗𝗶𝘀𝗰𝗹𝗮𝗶𝗺𝗲𝗿!! ᴅɪꜰꜰᴇʀᴇɴᴛ ᴄᴀɴɴᴀʙɪɴᴏɪᴅꜱ ᴡɪʟʟ ꜱᴛɪᴍᴜʟᴀᴛᴇ ʀᴇᴄᴇᴘᴛᴏʀꜱ ᴅɪꜰꜰᴇʀᴇɴᴛʟʏ. ᴛʜᴇ ᴋᴇʏ ɪꜱ ꜰɪɴᴅɪɴɢ ᴛʜᴀᴛ ᴏɴᴇ ᴛʜᴀᴛ ʜᴇʟᴘꜱ ʏᴏᴜ ʙᴀʟᴀɴᴄᴇ. ꜱᴍᴏᴋᴇʀꜱ ᴜꜱᴜᴀʟʟʏ ᴋɴᴏᴡ ᴡʜᴀᴛ ꜱᴛʀᴀɪɴ ᴡᴏʀᴋꜱ ʙᴇꜱᴛ ꜰᴏʀ ᴛʜᴇᴍ. ʙʏ ʟᴏᴏᴋɪɴɢ ᴀᴛ ᴀ ꜱᴛʀᴀɪɴꜱ ᴘʀᴏꜰɪʟᴇ ʏᴏᴜ ᴄᴀɴ ꜱᴇᴇ ʜᴏᴡ ᴍᴜᴄʜ ᴏꜰ ᴇᴀᴄʜ ᴄᴀɴɴᴀʙɪɴᴏɪᴅ ɪꜱ ɪɴ ᴛʜᴇ ꜱᴛʀᴀɪɴ. ᴛʜᴇꜱᴇ ᴄᴀɴ ʙᴇ ᴇᴀꜱɪʟʏ ꜰᴏᴜɴᴅ ᴏɴʟɪɴᴇ. ᴛʜᴇɴ ʏᴏᴜ ᴄᴀɴ ᴄᴏᴍᴘᴀʀᴇ ᴘʀᴏꜰɪʟᴇꜱ ᴏꜰ ꜱᴛʀᴀɪɴꜱ ᴛᴏ ꜱᴇᴇ ʜᴏᴡ ᴛʜᴇʏ ᴍᴀʏ ᴡᴏʀᴋ ᴡɪᴛʜ ʏᴏᴜʀ ꜱʏꜱᴛᴇᴍ.
ꜰᴏʀ ᴛʜᴇ ɴᴏɴ ꜱᴍᴏᴋᴇʀꜱ ᴏʀ ᴄᴀɴɴᴀʙɪꜱ ᴄᴏɴꜱᴜᴍᴇʀ, ᴛʜᴇʀᴇ'ꜱ ᴛᴏᴘɪᴄᴀʟ ᴀᴘᴘʟɪᴄᴀᴛɪᴏɴ. ᴡʜʏ ᴅᴏᴇꜱ ᴛʜᴀᴛ ᴡᴏʀᴋ? ᴡᴇʟʟ ᴄʙ1 ᴀɴᴅ ᴄʙ2 ʀᴇᴄᴇᴘᴛᴏʀꜱ ᴀʀᴇ ᴀʟꜱᴏ ɪɴ ᴛʜᴇ ꜱᴋɪɴ.
Erica Parrótt/Eluminate/These Are The Times
ARE YOU FOLLOWING? Following is free! And it adds you to my email list, so we can stay in touch!
If you like what These Are The Times does, you can support by "buying a coffee". You can continually support by becoming a member. Support or a monthly memebership unlocks past, present and all future post for you to enjoy as my way of saying thank you!
If you wish you contact further please email: <94>[email protected]
Empower your way through your human experience you hold the key to your release.
Link in on my IG for affirmations and ecouragement. There is a new WEEKLY LIVE ON FB & IG every WEDNESDAY NIGHT! Want to learn more about the benefits of CBD and THC? Join Dr. Stankylab and myself LIVE 8p/IG & 10p/FB EVERY WEDNESDAY! Follow on SM for more details and ways to win free products while expanding your knowledge! https://bio.link/ericapar
Enjoy this post?

Buy Erica Parrott a coffee