What Does That Symbol Stand For?
Have you ever been told to avoid one thing about a situation or something, only to later find out that there is also something else about that same thing that is also true and not so bad?
Today we are going to explore the PENTAGRAM...you know that five-pointed star that is enclosed in a circle. Yes, today let's go back to when it first hit the scene...stick with me and I bet you learn something new, something that may spark you to go do your own further research. I'm going to give you keys, highlights if you will that will help you when starting out your journey. I have found with us humans, most of us are intrigued by so many different things, but few will take the time to stop and actually verify or even deepen their own understanding of a subject or matter. Why is that? Well because we also have to live, we each have daily responsibilities to ourselves and others that come first. We are all in the rat race of aquire the all mighty dollar to live, so in essence everything else comes last...including our own growing and learning.
Until you take time to understand how something came to be, you will always have a "fear" or "stigma" about it. And if you rely only on information someone has given you and never take time to look at it for yourself, well then you are the only one missing out and closed off. So hopefully today we can start to change that cycle. "Learning is living, and if you aren't learning you might as well be dead." Words a very wise woman once told me.
So let's look at when and what the PENTAGRAM represented when it first hit the scene..
PENTAGRAM: IS A FIVE-POINTED STAR IMAGE, OFTEN WITH THE LINES INTERLACED. TYPICALLY THE STAR IS ENCLOSED WITHIN A CIRCLE. IN WICCA/WITCHCRAFT IT IS A SYMBOL OF PROTECTION. THE STAR IS UPRIGHT, WITH A SINGLE POINT ON TOP. THE TOP OF THE STAR REPRESENTS PURE SPIRIT AND EACH OF THE OTHER POINTS SYMBOLIZE ONE OF THE FOUR ELEMENTS OF CREATION: EARTH, AIR, FIRE, AND WATER. THE CIRCLE REPRESENTS SACRED SPACE. THE CIRCLE IS ALSO A SYMBOL OF BINDING, AND IN THIS REGARD THE PENTAGRAM BINDS EVIL AWAY FROM THE WEARER.

Thus the start as a whole symbolizes spirit bringing the elements into order and balance, the opposite of chaos.
But Erica that doesn't sound anything like what I've been told, what the what?? All I have to say is, TRUST BUT VERIFY. Go do your own research, and quit believing everything you hear. That's how you end up saying "I didn't see that coming." But furthermore EVERYTHING IN THIS LIFE HAS MORE THAN ONE MEANING. Learn your history all around, not just what you think directly affects you. It all affects you so my advice is clue yourself in.
Now, lets look at when this above concept first was known to be taught. Hope you're sitting down..475 B.C. taught by Empedocles a philospher from Italy. So basically anyone after that above date borrowed and tweaked to their needs. They liked what they saw and revised it for their own use. Hmmmm sound familiar? Should because we still do it today, with music, clothes, make-up and so on. The earliest sighting of one of these symbols enclosed in a circle shows up on a ring that the Pythagorean sect in southern Italy wore. This was around 525 B.C.
Now, when did the five-pointed star start being seen without the circle enclosing it? Well it was somewhere around 700 B.C. you could find them in Italy. But it has also been found in Greece about a half a century earlier.
I love history, but this little nugget that I'm about to give you was my favorite research piece of them all. The Freemasonry use the five-pointed star, but it can't be documented as being used by them before 1735. And did you know this pentagram symbol didn't even appear in northern Eurpoe until the really late half of the MIDDLE AGES? Yep, go dig into it for yourself.
Mind blowing isn't it? The symbol everyone has used to envoke fear, never even started out as that....who knew?!?!?!? Well I have for many years, because I like to know what's really going on around me. So yes I have taken my 36 years of living to tear into the inner depths of most religions, cultures and trends. Because my good people, we aren't the first, we're just the first with this level of technology at our disposal. But if you don't use what has been given to you, you can't expect more to come your way.
If you only take time to understand from your own level of knowing and seeing, then no you can never expect anything within yourself or the World to change. Like I always say, "it starts at home."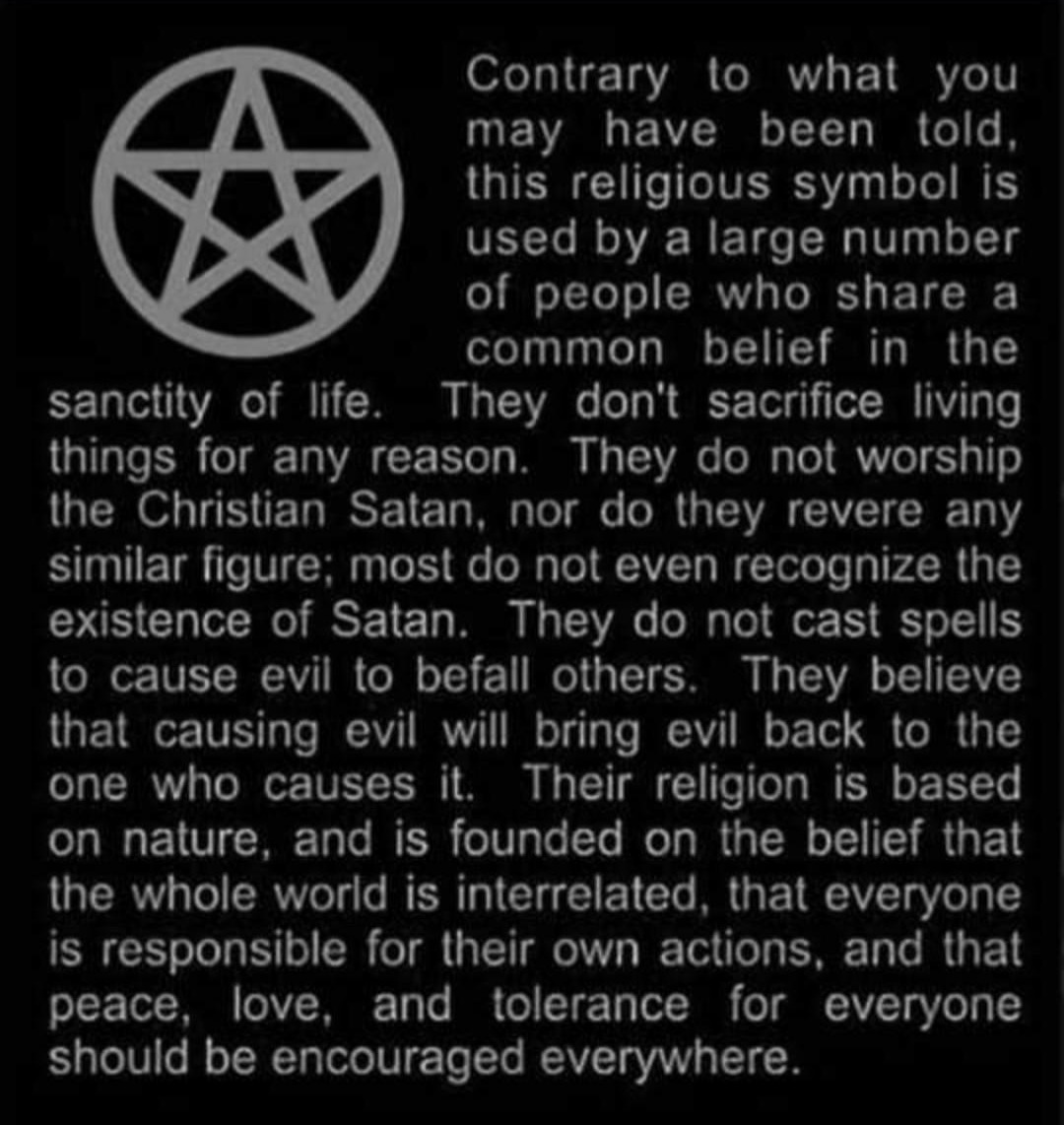 Enjoy this post?

Buy Erica Parrott a coffee