Drawer Runners
Hi members, past supporters, and followers on buymeacoffee.
I've had a few people ask me for advice on fitting drawers recently. There's a new build video below, of a new birch ply job of ours, converted from instagram stories this week. It shows the drawer box and drawer front installation process, plus tips from other woodworkers.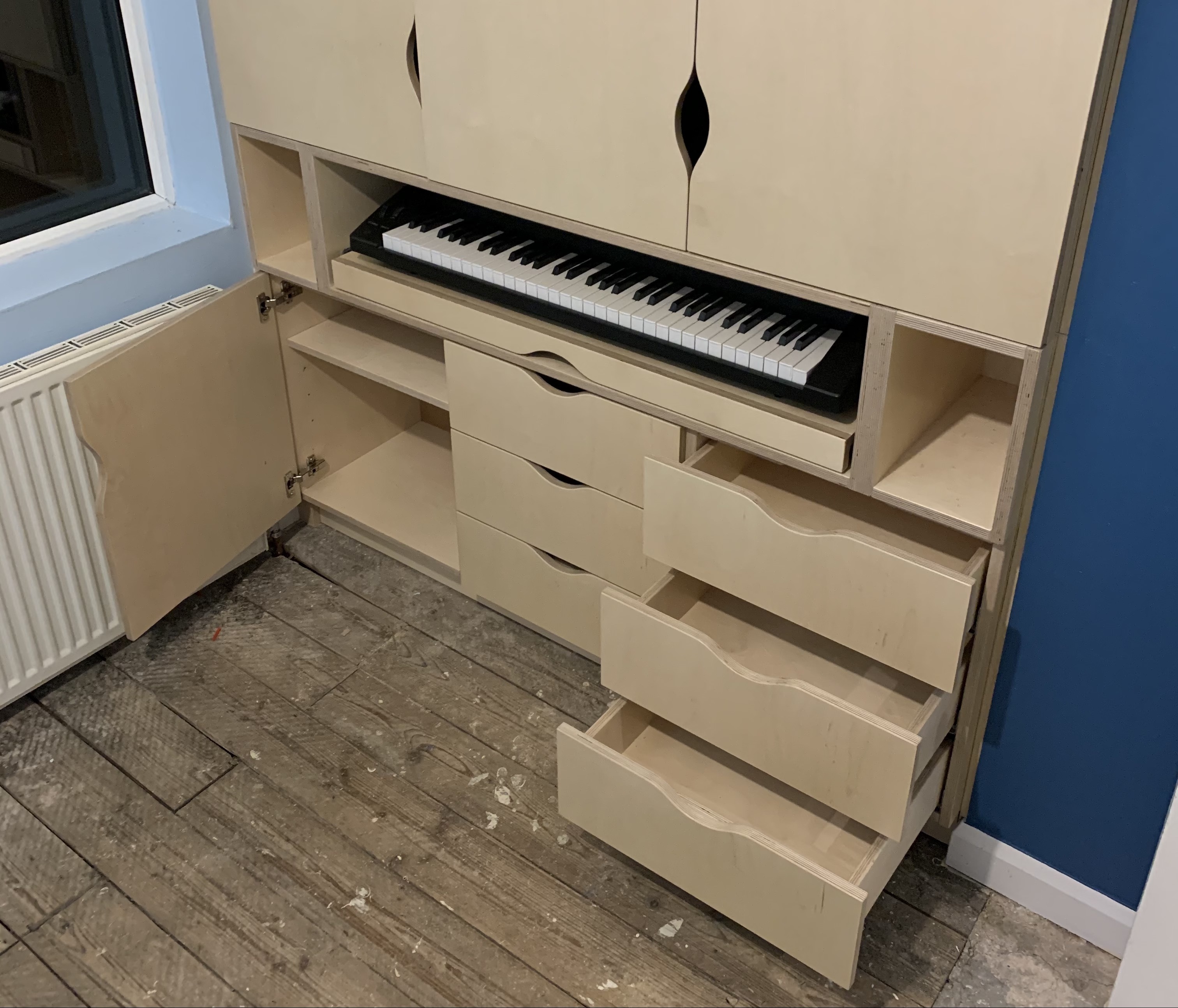 There are SO many ways to make and fit drawers! As shown in the video, like many fitted furniture makers we use soft close undermount full extension drawer runners (is there a shorter way of fully describing them? I'm not sure there is). Specifically the Movento range from Blum. They're not cheap but they hide discretely under the drawer box, run smoothly, and give you a lot of onboard adjustment.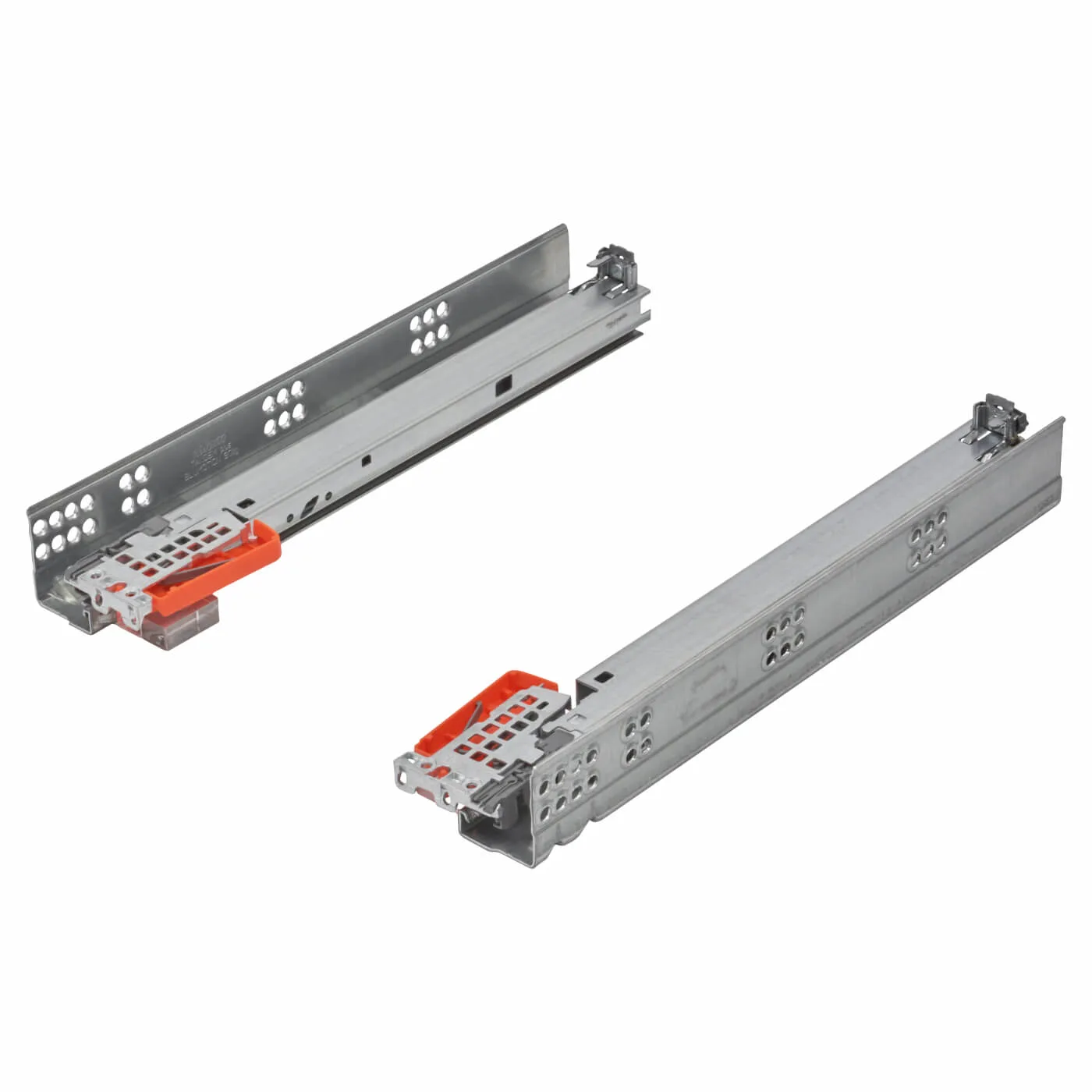 I could debate the pros and cons of Blum Movento, Grass Dynapro, Unihopper and numerous other alternatives... but I won't. I've detailed why I decided to stick with Blum in this previous post.
Movento vs Tandem
I'll just shed a bit of light on Blum Movento vs Blum Tandem. Movento is the newer range. There are no plans to discontinue Tandem though.
In Movento the 3 sliding parts that allow full extension include gearing that prevents the central part slipping too far forward or back and clunking as it's picked up again as can happen with Tandem. The weight carrying capacity of Movento is a little higher (40kg and 60kg variants, vs Tandem's 30kg and 50kg). Movento is generally a bit smoother. Movento provides additional side to side and depth adjustment. And the Movento range is the one they are adding more options to. Like Tip-on (push to open) with soft close combined.
The Tandem range has lower grade versions, like single extension runners, and ones that dispense with the adjustment clips and just locate into drilled holes under the runner sides. So it's seen by Blum as the range more for higher volume furniture producers.
Instructional Resources for Fitting
When it comes to fitting these things, you don't have to figure it out on your own:
Building Drawer Boxes to Suit
Take a look here for a simple description of building a drawer box correctly sized to suit Movento runners. It doesn't go into the detail of materials and joints, but be aware that like most runners of this type, they only take a maximum 16mm side board thickness - a standard thickness in Europe.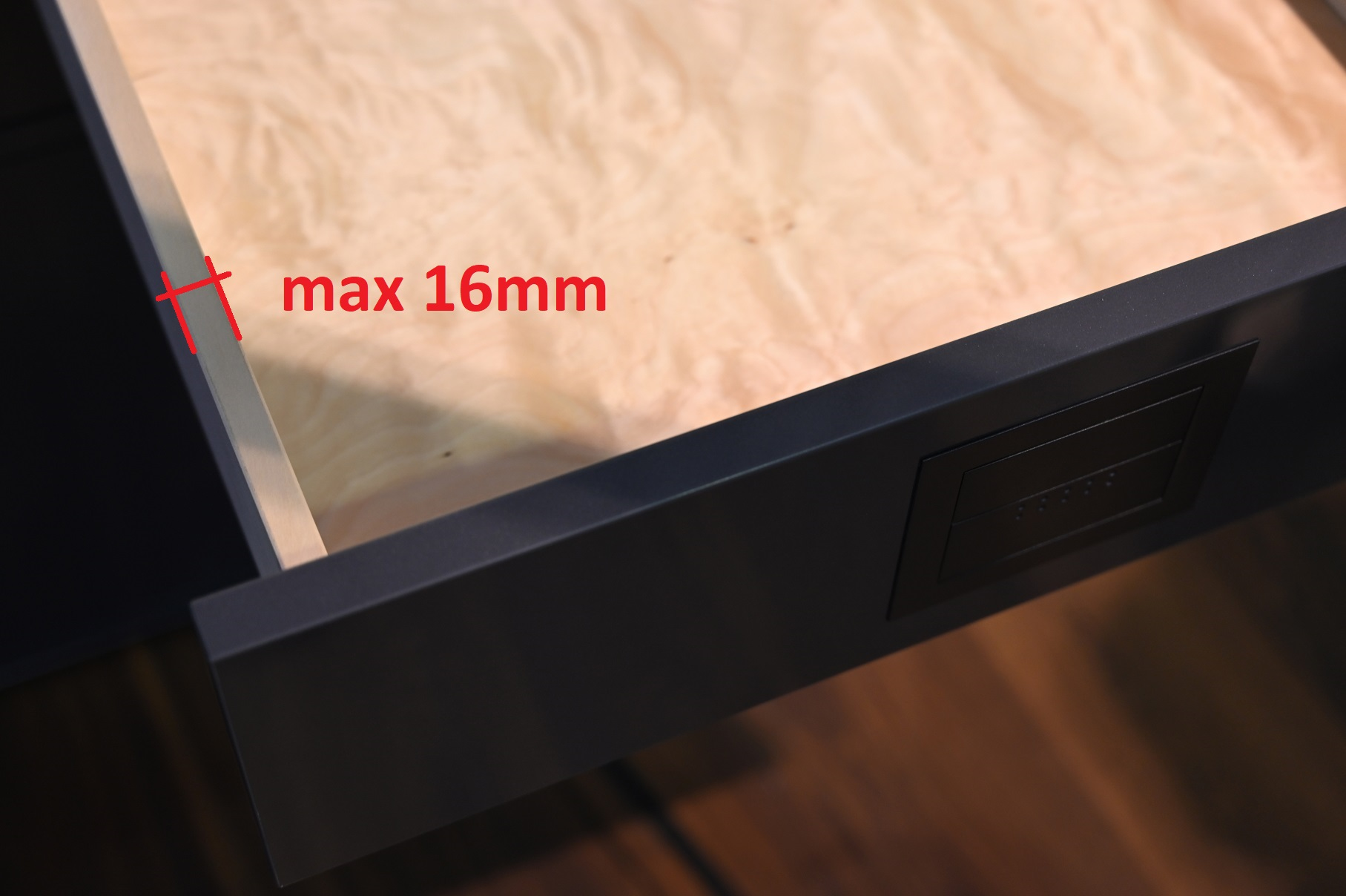 You can also build from 18mm board and route down the thickness of the lower part where it goes onto the runner. Currently we build our drawers boxes from 15mm birch ply with a 6mm base set in a groove, and 2 5x30mm dominoes in each corner joint - glued and clamped, sanded and sprayed.
I usually like to steer customers towards internal drawers which we keep very simple - no frontage, no fancy scooped handle, just a 50mm gap to grab the edge! Looks clean and simple, and it's a more natural looking touch to add to melamine wardrobes. We've standardised this kind of drawer box at 150mm high.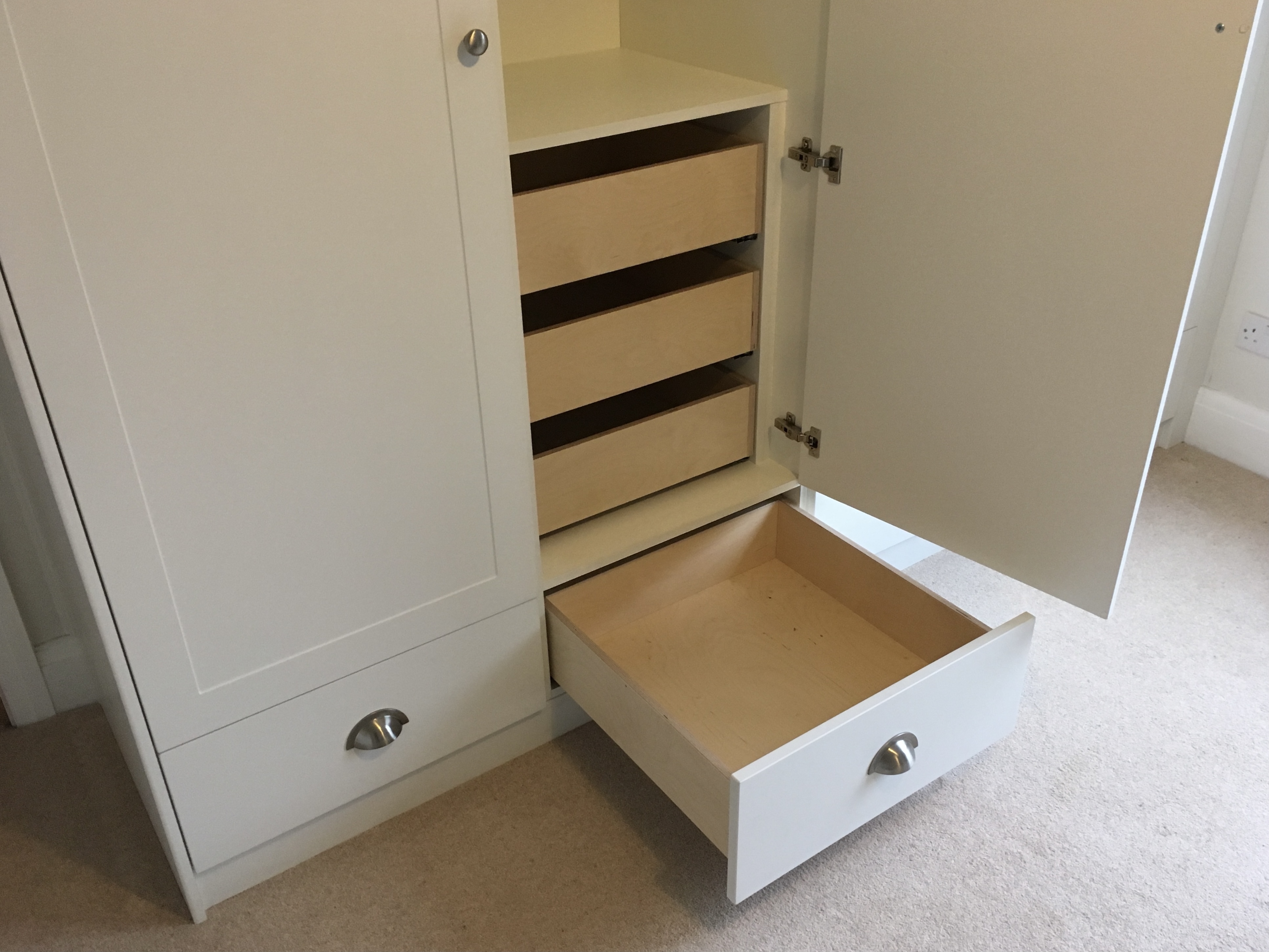 When we finally get a working edge-bander we'll offer more cost effective drawers in melamine but for now the lacquered birch drawer box is a distinctive option we like offering.
There are runners of this sort that can take 18mm sides (from Unihopper from example). And Blum are just now releasing a Tandem runner made for 18mm board thickness in the UK. But not Movento (they judge that there is more demand for this in the Tandem range aimed at lower value/high volume furniture).
Although I expect to embrace 18mm melamine drawer boxes for some jobs on cost grounds in future, I do feel that 18mm is a bit thick and clunky for drawer boxes especially when they are small.
Birch Ply Build Video with Drawers
Talking of small drawer boxes... the project in this week's video had a few small ones, and we applied frontages to them. I hadn't done frontages for a while! So I shared how I located and attached them (from 5:42 in the video) and this prompted others on instagram to share their methods (from 11:23), which I then re-shared to the community.
This is the power of Instagram! I'm getting between 2.5k and 3k views on my instagram stories, so there are a lot of other woodworkers engaging, and it's great when they share their tips in return.
So look out for alternative methods described towards the end of this video. Best watched on a device held vertically. And don't worry, I'm still taking other footage for less choppy YouTube videos to be produced in future!
Enjoy this post?

Buy Alastair Johnson a coffee