2022: A Rough Year So Far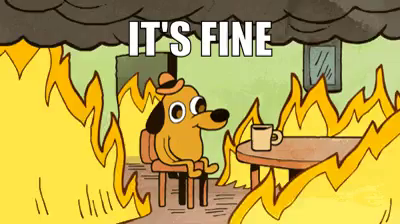 As much as 2020 and 2021 were tough years, 2022 has so far been much tougher for me personally.
I started the year off turning 40 in early January and several days later tested positive for COVID-19 (most likely got it from a co-worker). Thankfully I'm fully vaccinated and my symptoms were relatively mild. Having to isolate at home for two weeks without making any money sucked though.
Once I was over COVID I decided to get out and do some geocaching, and ended up scratching my right cornea. It's healing, but damn it was painful for a few days!
The latest turd on this pile of shit that is 2022 is that I lost my job bartending. The brewery I had been working for since August, Ambler Beer Company, had sold its assets to Well Crafted Beer Co (out of Lansdale, PA) in late 2021. The ownership of Well Crafted provided a letter to all employees of Ambler Beer Company stating that our jobs were secure. Fast forward about two months and after completing training with Well Crafted, and providing my preferred availability, the General Manager fired me two days before the Ambler location was to reopen. She claimed it was due to my availability; she never discussed any concerns she had with my availability during the month she had known about it. I'm pretty sure she felt challenged and threatened when I asked several questions about their company policies, and this was her way of retaliating. I reached out to the company ownership and they essentially said fuck off we support our leadership team. Needless to say, I don't suggest anyone buying beer from Well Crafted.
Thanks for sticking with me while I ranted a bit. Hopefully your 2022 has been better than mine.
Enjoy this post?

Buy Robert a coffee