Eleanor of Aquitaine
Eleanor of Aquitaine
A most revered woman of the middle ages. A duchess in her own right with power and influence. Her life was long and at times fraught with danger. She would go onto become queen of France and later England and became one of the most prominent women in history. We now look at the astonishing life of Eleanor of Aquitane.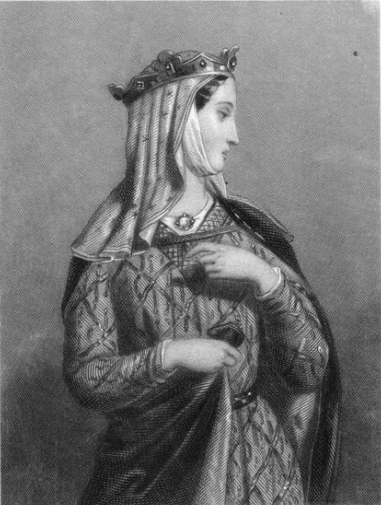 It's been estimated that Eleanor was born around 1122. Although not much is known about where she was born, quite possibly France. After her mother passed away, it would leave Eleanor pretty much to her own devices, as her mother would certainly have overseen her upbringing. But without this guidance, Eleanor developed her own set of qualities. One of self-reliance plus a decisive nature which was most likely taken from the book of her maternal grandfather and paternal grandmother—two very much larger-than-life characters.
What we do know is Eleanor was one of three children. Her father William X, Duke of Aquitaine and her mother, Aenor de Châtellerault.
Eleanor's grandfather was William IX; he was a man who found it hard to resist other women. One, in particular, was called Dangereuse de l'Isle Bouchard, an apt name. Yet a woman who would elope with William. You see, William was a charmer, and his wit conveyed to others was often described as brilliant and charming. Yet, the couple cared little for what the world might say about their relationship. I guess their claim to fame was these two were solely responsible for bringing together Eleanor's parents.
Life back then was dominated by religion, and Eleanor could not escape the daily mass services. On certain occasions, Eleanor would be taken to the Church of St. Radegonde, where the patron saint of Poitiers was buried. Although she never showed fear within the vault and was taught that Radegonde was a friend who she could look to in times of trouble.
It has been said Eleanor was well educated in her early years with considerable skills from needlework through to a study of the heavens. She became adept very quickly and showed great awareness of her surroundings. A lively extroverted lady, she would grow into an intelligent and strong-willed character. Sadness would fall on Poitiers in 1130; her mother died along with her brother William, who was just four years old. As of now, Eleanor would become heir presumptive to her father's lands, Aquitane. Her only legitimate sibling was her sister Petronilla.
Duke William X set off from court in 1137 with his daughters by his side. The idea was to travel to Bordeaux, where he would leave them in the capable hands of the archbishop before he would continue his journey to the Shrine of Saint James of Compostela. When William arrived at Compostella, he became ill; he was carried into the cathedral but died on 19 April. And Eleanor had become the duchess of Aquitaine.
Eleanor was hot property now, and her father had stated in his Will that she must be cared for within a protective environment. King Louis VI was given this task along with finding Eleanor a suitable marriage. The secret nature of Williams Will meant that his men now had to get back to Bordeaux as quickly as possible and take Eleanor to Paris and inform the King.
The King of France had an unusual nickname in that of Louis the Fat. He was struggling with ill health, including dysentery, which it seemed he was unlikely to recover from. However, on the other hand, his son was also named Louis and had become heir apparent after his elder brother had died in a riding accident.
It was here that Eleanor, now 15, first set eyes on Louis 16; you could say it was love at first sight! Louis was transfixed in the beauty of Eleanor, which led to infatuation and a love that would last for many years. A decade later, Louis still had the same feelings and acted foolishly and boyishly. King Louis had a plan, he saw the youngsters had something exceptional between them, and it seemed like perfect sense to marry them and to top that, he would then bring the mighty Aquitane under crown control. It was a win-win situation for all concerned!
Time to get the ball rolling, the couple were betrothed within hours of his plan, and Abbot Suger would be the man to conduct the wedding. Bordeaux was the setting for this most exciting event, yet the climax would surpass anything else seen in the day. Both Eleanor and Louis knelt before the archbishop and other notable clergies. The young couple would now rise not only as man and wife but as the duke and duchess of Aquitaine. In the early days of August, Eleanor took great pride in giving Louis a gift. A goblet carved from a single piece of rock crystal, once owned by her father and his father before that. Eleanor knew nothing else about this treasure, which today is the only time remaining item from the period of Eleanor and can be found in the Louvre, Paris.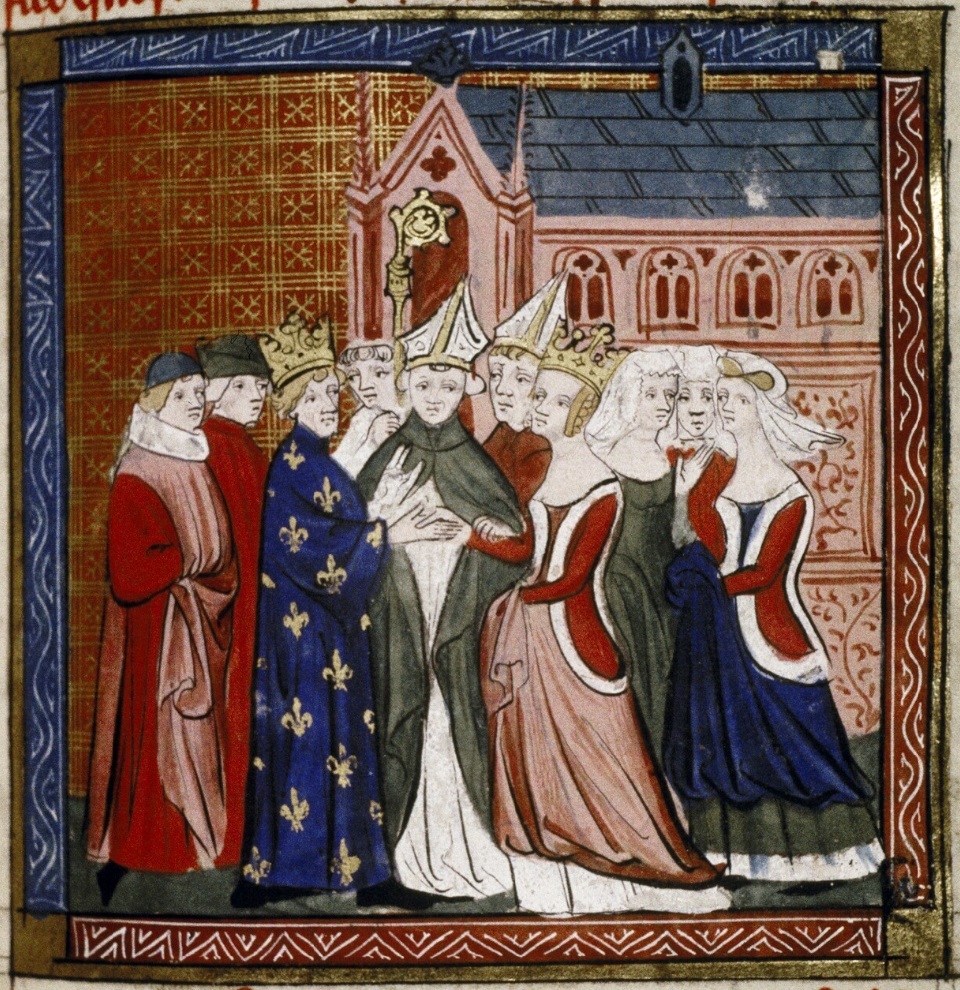 But some bad news was to follow; Louis had been told the King and his father had died. At Christmas that year, both Louis and his wife Eleanor were crowned King and Queen of France. The couple were inseparable, although Eleanor did have some enemies, but none that could touch her. Louis saw to that, and he doted on his queen, although it's said her behaviour at times was a bit unruly. But that aside Louis would continue to make her life as tolerable as possible and spend plenty of money to ensure her lasting happiness.
In 1141, troubles were beginning to flare up between Louis and Count Theobald, the elder brother of King Stephen of England. Theobald wanted Ralph I, Count of Vermandois, to abandon his wife Eleanor of Champagne, who was Theobald's sister and marry Petronilla of Aquitane. And Although Eleanor supported the marriage, Louis was incensed. The argument would escalate to conflict and one that continued over the next two years.
Eventually, enough was enough for Louis; he'd made up his mind and set out on a mission to Champagne. He arrived at the Castle Vitry-sur-Marne, a castle belonging to Theobald. Here he would set it alight; however the flames spread, local villagers who lived in huts fled the scene to what they thought was the safety of the Church for refuge. But the fire spread; it eventually ignited the roof, then collapsed. Around a thousand innocent people died that day. The shrieks of terror made Louis cry uncontrollably; his heartache of this memory would be seared into his mind forever.
Louis was horrified; this had to stop, and his desire was now to make peace with Theobald and agree to the wedding of Raoul and Petronella. Theobald did regain his lands, and for now, it was peaceful once again. However, Ralph and Petronilla were excommunicated by Pope Innocent II, who said the marriage should be deemed illegitimate, overriding three bishops who had already annulled Ralph's prior marriage.
In June 1144, the royal couple set out to a new church at Saint-Denis. While there, they would meet and talk with Bernard of Clairvaux, a man who had influence with the Pope. But Eleanor demanded the ex-communication of her sister to Ralph lifted. Louis, in agreement, said by doing this, he would also make some concessions. Bernard was having non of this; his temper got the better of him, and in no uncertain terms, he told Eleanor she should not interfere with matters of the state.
Eleanor broke down; her distress was clear to see; she was apologetic for her behaviour but claimed her vocal outburst was due to stress and her pressures to have a child and heir for her husband. Her only previous pregnancy ended when she miscarried in 1138. Bernard took pity and gently replied to Eleanor.
"My child, seek those things which make for peace. Cease to stir up the King against the Church, and urge upon him a better course of action. If you will promise to do this, I in return promise to entreat the merciful Lord to grant you offspring."
Within weeks, France had returned to a peaceful country. And by April 1145, Eleanor had given birth to a child, a daughter, Marie. Although delighted with his new child, Louis still felt much pain and anguish over his attack and massacre at Vitry. If only he could atone for this fateful day in his life. There was only one cause of action open, and it would mean a trip to the holy land to enable him to repent his sins. But then Pope Eugene III asked Louis to do him a favour and go instead to the middle east and rescue the crusade states from disaster. These were four Roman Catholic realms, each based with the Middle East; they had been there almost 200 years. And had been created by Latin Catholics and born initially out of political curiosity.
Louis had never been a man with much tenacity or strength to become a true military leader. His lack of discipline and help in maintaining morale was not high on his CV of achievements. Initially, Louis and Eleanor were treated well and stayed en route with the Byzantine Emperor, Manuel. Louis was, of course, admired as for Eleanor; she was compared to a mythical queen of the amazons. Quite a statement to make!
Later, events spiralled out of control for Louis and his troops. They were told the German army of King Conrad III had won a significant battle, when in reality, days later, the remains of the military staggered towards Louis and his French camp. A decision was made to gather together and make a further attempt, but being so disorganised didn't help their cause. While attempting to cross the Phrygian mountains, the army became detached, the unarmed pilgrims and supplies placed at the rear were Louis weakest point, and this section would be tailed off.
Louis would go back to assist but ordered the front of the troop led by Geoffrey de Rancon to stay where they were. But Rancon disobeyed the order and continued. The Turks spotted the split and made a move on the rear of Louis's army in haste. They were attacked and violently slaughtered; Louis had only a handful of men to try and protect their supplies, and they were not able to withstand such an attack. Some tried to escape but were quickly tracked down and killed.
The Turks discarded much of the supplies; as for Louis, he managed to escape. It was a disastrous turn of events for Louis; Rancon was blamed for not obeying his orders. Although Rancon had been brought to the force by Eleanor, some took it upon themselves to blame Eleanor for the massacre and her ignorance, in which she may have told Rancon to continue marching. Suspicion and responsibility were difficult to pin down, and a war of blame would continue.
The arguments continued, and discontent between Eleanor and Louis caused much frustration, the once loving couple were now struggling and showed a lack of disparity which it seems had been on the cards for quite some time. It has been suggested the Eleanor had been having an affair, and the rumours were growing stronger. It was rumoured that her Uncle Raymond, the younger son of William IX, Duke of Aquitaine, was the one. However, this seems unlikely; Eleanor requested to stay with him while Louis planned his next move, now to Jerusalem on a pilgrimage. Louis obviously spotted something between them and was having none of it. He took hold of Eleanor, and the couple continued on their journey.
This forceful handling of the situation left Eleanor feeling humiliated. She managed to remain calm but kept a low profile for the remainder of the trip. For now, they had more than enough to worry about as further problems were just around the corner. Louis and his by now dwindling army suffered more setbacks as they marched on. Both Damascus and Jerusalem would remain in Muslim hands; Louis had tried to take Damascus but failed. And it was now time to return home. His army was feeble, and even Eleanors own knights were struggling with his leadership. The couples return did little in resurrecting their marriage; they now had some significant differences and some big choices to make.
The relationship was so toxic that the purported affair with her uncle Raymond was clearly a thorn of conversation for Louis. It's been suggested that Raymond wanted to take Eleanor from under Louis's nose, and Eleanor agreed to the plan. However, this was no fairy story, and happy endings were rare in medieval times. Due to the frailties of the marriage, both Eleanor and Louis would depart on different ships for the cruise home. The intention was to sail to Rome before making their way back to Paris.
Yet, they were attacked by Byzantine forces. Both ships split apart. For a couple of months, people thought the couple were dead. Miraculously Eleanor turned up unscathed in Palermo, Sicily. But she landed back on land to sad news; Muslim forces in the holy land had executed her uncle. As for Louis, he had surfaced in Calabria; Eleanor would now set off to meet up with him. But not before Eleanor requested an annulment of her marriage to Pope Eugene, but he declined and told her, you've made your bed, now go sleep in it!
However, the couple did attempt to get back together upon meeting up. The Pope had arranged a room for them, it was here that Eleanor conceived her second child, but once again a daughter, she was called Alix of France. The birth didn't stem the downward trend between the two, and it was pretty much on the floor; the spark they once had was dimming. For Louis, his biggest danger now was having no male heir, which was a distinct possibility. The end was near, and the couple, although still a little reluctant, eventually agreed to an annulment; this happened on 11 March 1152, and the Pope confirmed it on 21 March. Their daughters were declared legitimate, Louis was awarded custody, Eleanor had all her lands reinstated.
As Eleanor was travelling back home, kidnap threats started to surface with the intention to take her and her lands. As soon as she returned, she had sent a group of envoys to speak with Henry, Duke of Normandy, who would become the King of England. Her request was to have this man's hand in marriage, and just eight weeks after her annulment, the pair of them married, the ceremony was conducted quietly without the grandeur and pomp that would surely have befitted this couple. On 25 October 1154, Henry became King of England and Eleanor, his Queen. The coronation took place at Canterbury on 19 December.
Her lack of boys with Louis certainly didn't harm her chances with Henry. Over the coming years, she had five sons and three daughters. It has been said the pair were not the most courteous of couples, and arguments were common, yet although boisterous in court, with eight children, it seems they were also the same in the bedroom. Unlike Louis, Henry took mistresses, and his philandering lifestyle gained him other children throughout their marriage. That aside, Henry also attempted to gain authority in Eleanor's homeland of Aquitaine, but the locals had none of this; they would only listen to Eleanor, their duchess.
Although Henry and Eleanor had their internal battles, yet another scandal would surface, a new woman was coming into the life of Henry, and this would change everything. Rosamund Clifford would become a royal sweetheart of Henrys, and he would take her as his mistress. But the secretive nature of this affair would soon come to the attention of Eleanor. Henry and Rosamund would spend hours together within a maze he had created at his park of Woodstock in Oxfordshire.
If rumours are correct, on one occasion, Eleanor took it upon herself to pay a visit, where Rosamund was hiding within the winding corridors. Eleanor confronted Rosamund and gave her two choices, the first to be stabbed as she was carrying a dagger, alternatively be poisoned. Maybe she could have given a third option just to run away! Rosamund chose the poison and died. Yet other rumours persisted, and speculation grew that Eleanor placed Rosamund in a bathtub and had an older woman cut Rosamund's arms. Eleanor won the argument as for Rosamund she was buried at Godstow Nunnery in Oxfordshire.
Eleanor's marriage now with Henry was at an end; there was simply no way back after this. By 1167 Eleanor had decided to move back to France. Upon arrival, she agreed to a separation from Henry. As for Henry, well, he was just glad to get rid, but he did provide an escort back to her castle, where he left his commander Earl Patrick to oversee her safety and protection. But Patrick was killed in a conflict within the area; Eleanor then captured his nephew and held him hostage. The ransom and release of the boy would only occur if Eleanor were given back her lands which they were, and she would retake overall control.
Love was in the air at Eleanor's court, and it has been described as a happy place of affection, tenderness, and friendship, all of which were high on the agenda. It was, after all, Eleanor's court, and she could shape it however she wanted. Yet the debate continues to this day, was it a reality or nothing more than a myth? It's been written that Eleanor, along with other ladies, would sit and listen to the arguments between lovers before acting as a jury to give them a clear and possibly new route in which to take their relationship. It's a bit like a modern-day marriage guidance scheme. There is no reliable evidence for any of this, yet it would make for a harmonious court, and if it is true, one that would quite possibly have helped Eleanor overcome her doubts of love and marriage.
In March 1173, The young Henry felt a bit left out of things; his father Henry had given him little power or any note of authority. Young Henry had seen and heard enough, and he would start a revolt; the French King Louis advised him on what actions to take in Paris before young henry headed to Aquitaine, where his brothers Richard and Geoffrey were staying with their mother. After protracted discussions, He managed to talk them into his plans to overthrow their father and King of England. A plot to remove King Henry was now underway, and Eleanor warned them to be ready in her wisdom.
But Henry got word of the plot and set about halting it in its tracks. His army was now in full battle mode and taking castle after castle across the land. Louis had no answers, and Eleanor started to worry. She knew she had to leave the relative safety of Poitiers and did so; in November, Eleanor rode away, but a band of Henry's knights came from nowhere and surrounded her party; she was helpless and arrested. These two mighty leaders would now face full-on in a confrontation. It's said Henry glared at her like a lion, and she stared back with piercing eyes.
Henry accused her of treason, but Eleanor retorted by saying,
"blame not me if now your sons fight against you. you thought to make a king and keep him in swaddling clothes, had you given young henry some small portion of land which you hold in your tight fist, some real authority, and had been more generous you would have found him a loyal supporter."
Eleanor was placed on a ship and sent to England. Upon arrival, she would spend the next 16 years of her life in prison across various locations throughout the country. Over time, Eleanor had minimal opportunity to see her sons while under lock and key.
But they were still on the warpath and heading full-on for Henry. However, Henry was just too strong and too well organised; he repeatedly forced his sons back. Eventually, On 11 June 1583, young henry now realised his attempts were pointless; he could not overcome this man, his father and King. To make matters worse, he had contracted dysentery, which would bring about his sudden demise. Young henry pleaded with his father now, overcome with remorse and guilt at his behaviour and wanting mercy for his mother, Eleanor. Henry II sent word to Eleanor about her son, his plea and death.
Eleanor would gain some semblance of normality again when Henry slackened the terms of her imprisonment. She was summoned to Normandy in 1183, where she would stay for the next six months. Although still under supervision, Eleanor had a small amount of freedom now, and at least she was back in her homeland. She would spend time travelling with Henry, but on her arm was a custodian just in case she had any ideas to drift silently away.
Henry II would die on 6 July 1189; her son Richard I was the undisputed heir to the throne. This news brought so much joy to Eleanor. The first task of Richard was to have his mother released. She would ride to Westminster to receive oaths on behalf of the King. And would now rule England in Richards name. Eleanor had come full circle and styled herself now as the Queen of England. When Richard arrived on 13 August 1189, crowds came to welcome him with an enthusiasm that had been missing for some time.
Over the coming years, Richard would be away from the country and fighting in the third crusades. Although Eleanor remained at his court, she didn't rule at the time; it was done by a regency council, although Eleanor did have a significant say in how things should be influenced and directed. Upon his return from the crusades, Richard had been kidnapped, the perpetrator Henry VI, Holy Roman Emperor, demanded a ransom. This would spur on Eleanor, who played a crucial role in getting this done, and Richard was eventually released and free to return.
Eleanor outlived Richard, who died in 1199. The reign would be passed to her youngest son John. Yet, the coming months would prove to be just as destabilising as her life had been in the past. A truce between King Phillip II and John allowed Eleanor to return to France to search for a princess who was to be married to the son of Philip, just 12 years old at the time. Eleanor, now in her twilight years, aged 77, would find this task a little tiring, to say the least. But just outside Poitiers, she was ambushed; Hugh IX of Lusignan demanded lands to be returned to him, which were taken by Henry II. It was possibly an easy agreement as she just wanted to be on her way; after resting, she continued her journey and would arrive in Castile at the end of January 1200.
Eleanor spoke with her daughter, also called Eleanor, the queen of Castille; she had two unmarried daughters, the youngest, Blanche, was selected. They would set off for Bordeaux, where they would celebrate easter together. Eleanor was becoming very tired; her stamina was gone, and long gone were the days when she could march and travel without exhaustion. She continued with Blanche to Normandy but then gave Blanche over to the trusted archbishop, who would continue the journey.
War would once again break out between Phillip and John; at this point, Eleanor had been trapped in the castle of Mirabeau. But John marched on the castle, overcame the army and rescued his mother. It was now Eleanor would travel to Fontevraud there she would find solace and peace by taking the veil as a nun.
Eleanors life had been remarkable, yet now she lay peacefully; her end came in 1204. Eleanor was interred by her husband's side Henry and her son Richard.
Eleanor is, without a doubt, one of the most fascinating characters from history. A woman and pedigree that was indisputable from an early age, she first acquired the Duchy of Aquitaine and became one of the most sought after ladies of the day. She would marry two Kings, be a mother to a further two Kings and produce ten children. Eleanor was a formidable woman; her leadership, political awareness and strength of character would hold her in good stead. She enhanced the grandeur of her birth by the honesty of her life, the purity of her morals, the flower of her virtues, and in the conduct of her blameless life, she surpassed almost all the queens of the world.
Enjoy this post?

Buy HRS a coffee