Bucket List to Achieve 30 things in 3 years
It takes courage to make your dreams become something better than mere wishful thinking.
Since the beginning of my Undergraduation at the University of Delhi, I have been trying to break out of my shell.
I am learning the skills and studying extensively about those fields that pretty much were non-existent for me, say about three years ago. To no surprise obviously, I come from a very humble middle-class family, brought up in a semi-rural State of India, where women are mostly restricted to the role of domestic caregivers.
The limits and blocks on a woman's path to pursue an ambitious career are a part of the global truth- gender inequality. Yet I was a bit on the fortunate side because my mother has been a woman of courage. She stood by me and my sister throughout our schooling, determined to not let us make the same compromises that she did in her youth. Mumma has supported me throughout. This year, I graduated (online) with a first division Major in English Literature and a Minor in Journalism. Plus, I have been recently placed at a corporate job ( don't know how that would turn out to be ) which apparently sets my financial requirements on a self-dependent mode.
Nonetheless, challenges are aplenty on my way to achieving the life I want. Due to my socio-economic disadvantage, there is but a little to no cushioning at my back to fall on, just in case my dreams don't come true. Mark here- I have not joined the company yet and if you think getting a "job" could be the dream of a small-town girl- heck no!
So, no matter what- I am going to work my ass off to get to my desired destination.
My journey to glory is not that defined. I'm glad that it's not. Because the uncertain it remains, the adventurous the expedition will be! As I navigate my way through the thick and thin, I am offering you a ride-along opportunity.
But why should you join me or observe my journey when there are thousands of influencers or internet figures who offer "life-changing" advice to get you motivated and turn your "dreams" into reality?
Here's a small list I have to persuade you (and Myself too)
I am not rich or an ultra-talented person who was "born to succeed". I am a very simple girl, turning 22 this September. So, just consider that I am at 0. You will get to observe my real-time journey from 0 to 1 and 1 to n.
You might learn from blunders, that I might make in the journey, as a youth in the current world. You will watch me closely making the attempt to recover. (It's not like having to hear out a distant figure on the internet telling you about the tactics that helped them 10 years ago!)

If I succeed in achieving my goals, you would learn about what it takes to build a career out of scratch. If I lose, you know what mistakes you need to refrain from.

I get to document my regrets and pain points in the path so that you might not fall for the same guilt or FOMO. Let's see if sacrifices are actually worth it or not!
Wait Wait! Do I have any plan on my mind or am I just blurting out drunk, tagging any random journey to be my "path to dream life"? Well, happily or crazily enough I have made a bucket list to achieve 30 things in 3 years! Yeah- 30 things before I turn 25.
AMBITIOUS Ahan? Take a look and decide for yourself.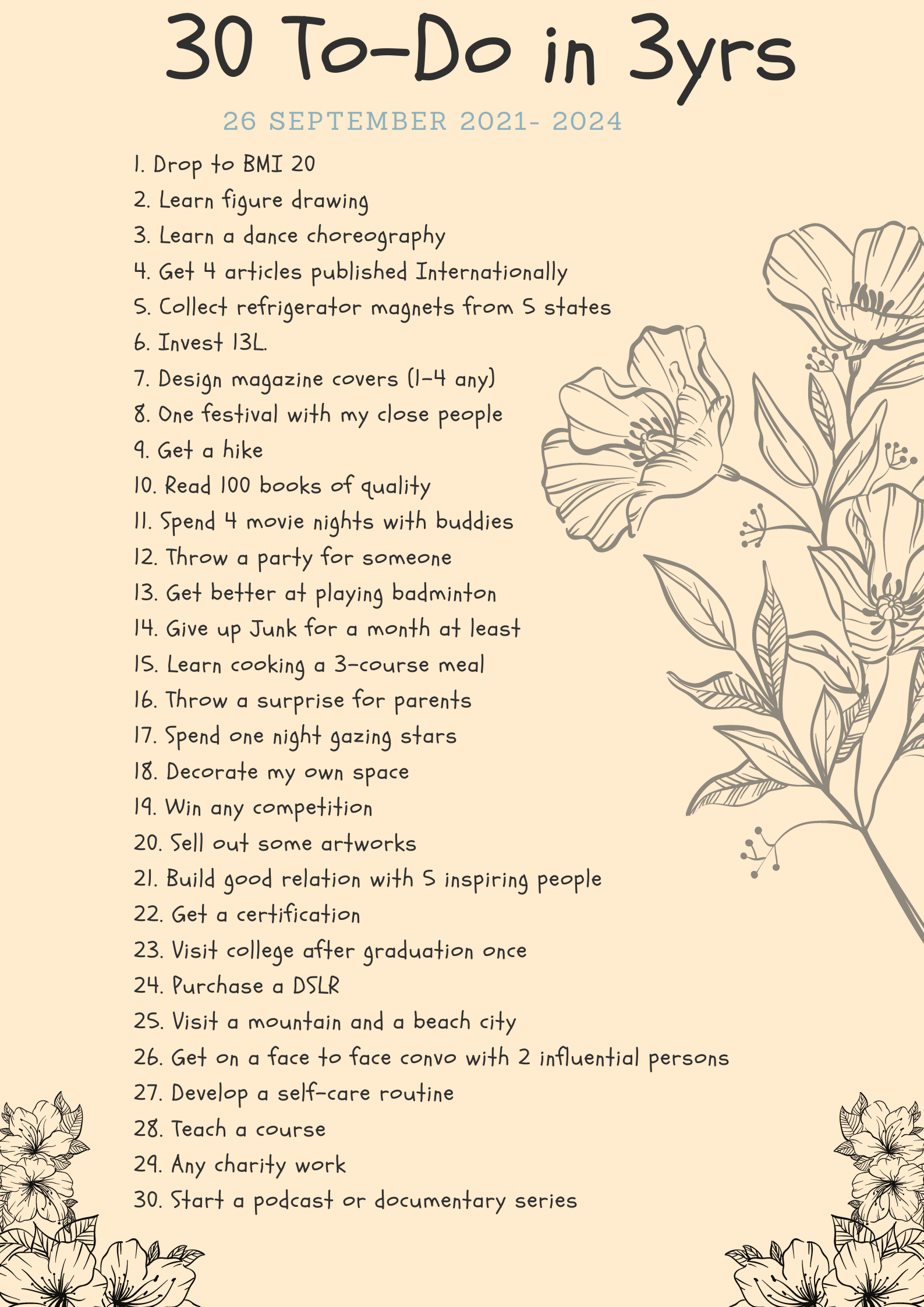 SO WOULD YOU LIKE TO WATCH ME STRIVING TOWARDS THESE DREAMS?
Yeah? Well, I'll need a pen to tick them off my list as I keep securing one after the other on my Thirty Things through Three (TTtT) bucket.
Join me by Buying me a Pen and watch this girl through her roller-coaster ride!
Enjoy this post?

Buy InsperiorsArt a pen