2021 Top 10 Images
Hello everyone,
It's been a while since I've made post on here. I can't promise that I will continue to post here, but I felt like this was a good time write something.
Near the end of each year, I go through the hundreds of images I shot and do my best to pick out my favorite images. It's a great way to see my progress and growth as a photographer. Every year, I try to become a better and more disciplined photographer. More often than not, my photos from that specific year are better than the previous. While "better" may be subjective and some people may prefer older images than some newer ones, it's important for me to see that progress. I never really go out to make images for others. While I am humbled that others like my work enough to display on their wall, I never go out with that in mind. (Although that's different story if I have client that has a specific need.) But if I'm just going out myself, I like to create images that are meaningful to me.
With that said, here are my top 10 images of the year. This can be difficult to do as this list could change month to month. I've looked over previous years and am kind of scratching my head at my top images, but I think this year is different. I've produced some of my all time favorite images this year. It's a group that I hope to be proud of 10 years down the line.
#10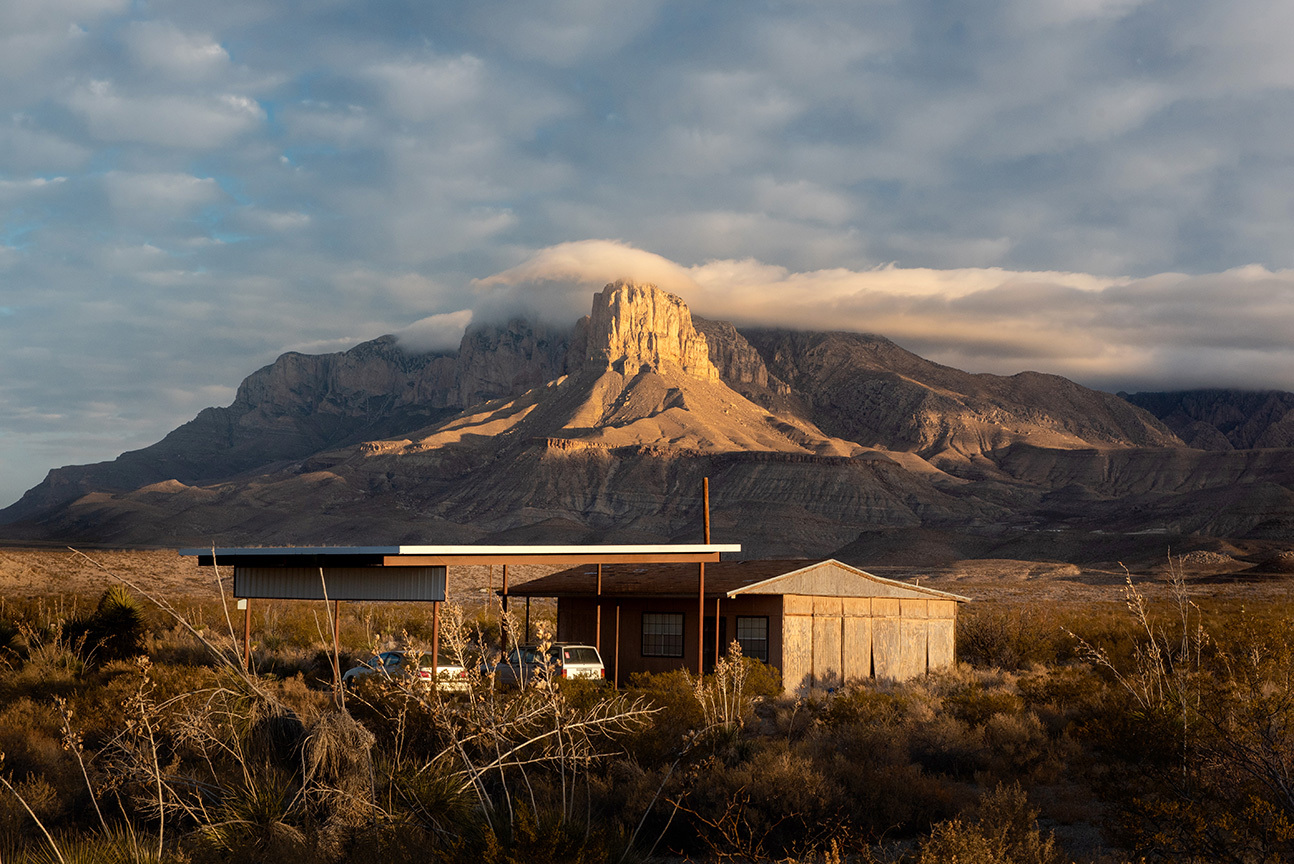 Near the western edge of Texas, and along the southern border of New Mexico, sits Guadalupe National Park. It's a park I had no knowledge of prior to the visit. It seemed to be much more of an extreme hiking park rather than a big touristy place to sight see. However, that doesn't mean it's not a place to visit, even if you aren't an avid hiker. The first couple of days involved clear blue skies, which is usually not great in landscape photography. However, the third morning was a different story. There was finally some clouds in the sky! Towering over the landscape sits, El Capitan. While it's not the tallest peak in the mountain range, it's certainly the most unique. It was quite fascinating watching the clouds roll over the mountain.
Just outside the parks sits this small house. It's really the only house in the area and I'm not even sure if anyone still lives here. There's evidence of life with a couple of cars parked there, but that just adds to the mystery of image. It looks worn out and run down from the strong winds this park receives. The winds here are intense, with sustained winds of 30mph and gusts over 70mph. I'm not a meteorologist, so I won't get into the science of it. I just know that it was crazy windy in certain spots the entire time.
To get this shot, I waited until the peak of El Capitan was illuminated while the surrounding area was in shade. Without that light, the image wouldn't work as well. For me the image kind of represents time. The mountain, standing tall and strong, was here long before the house was ever here and will be here long after the house is gone.
#9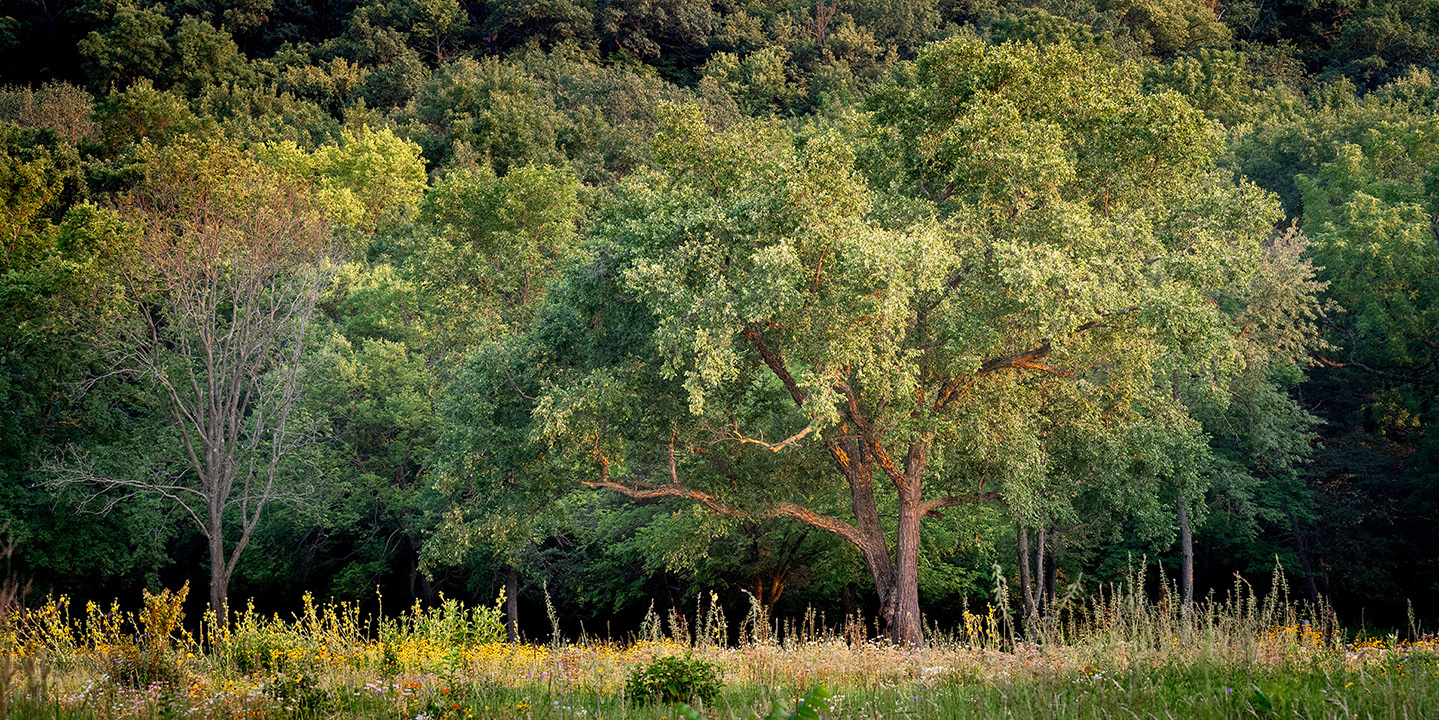 This image was taken in Perrot State Park. I am always drawn to trees for some reason. I can't quite say why, but I just am. I first noticed this tree earlier in the year and put in on my list of places to photograph. So when my girlfriend and I camped here one night, I set out to photograph it. Luckily the light was just right. It was later in the evening and the sun was lower on the horizon which helped to show off the texture of the tree bark. The panoramic crop also seems to help construct the image.
What I like about this image, is that it's a bit more subtle. It's not a photo that instantly grabs your attention. It's an image that you kind of have to look at for a bit to appreciate it. I also think it works much better as a print than viewing on a phone or even on a computer.
#8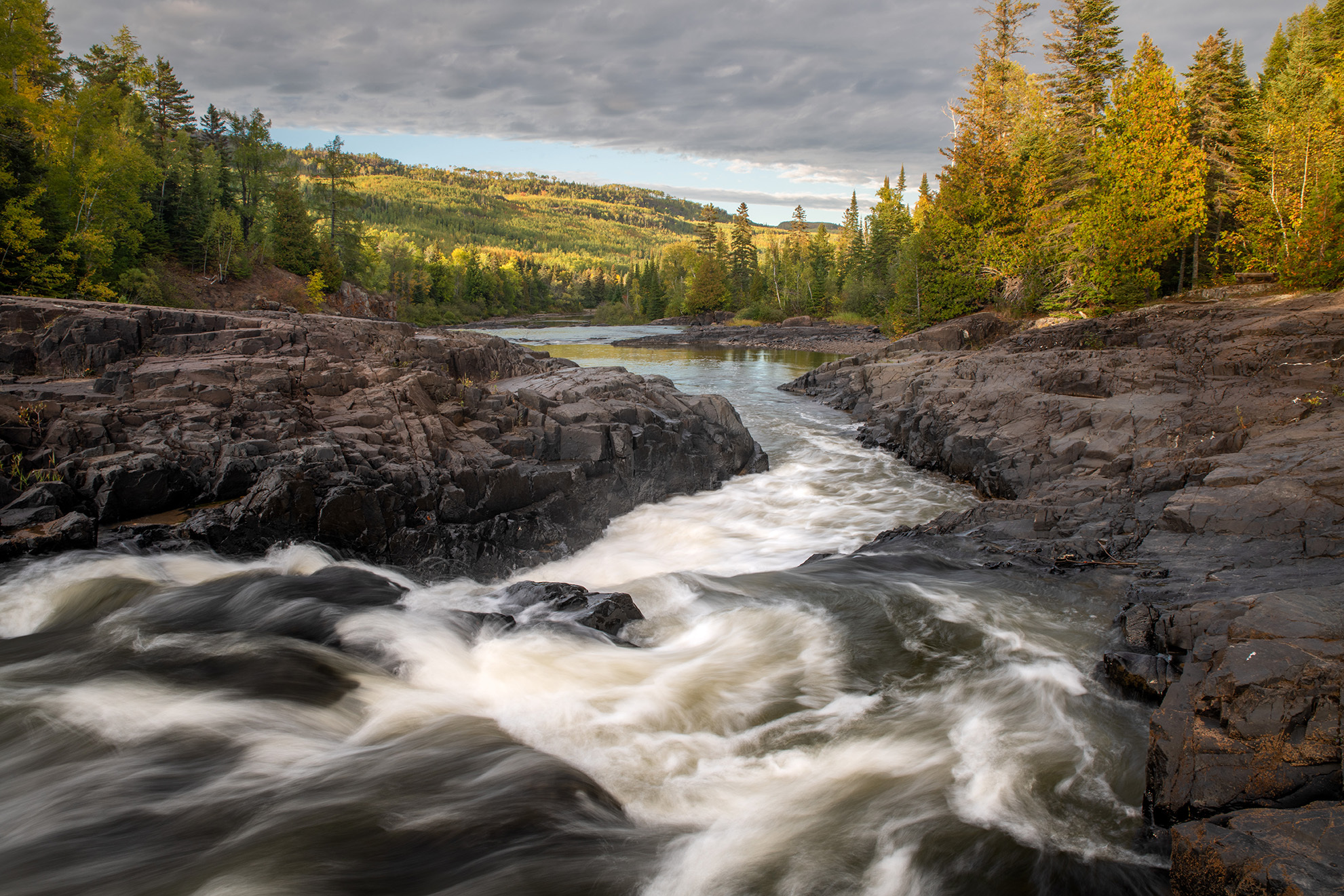 During the last couple weeks of September, my girlfriend and I took our time driving up and down the north shore of Minnesota. We took our RV and camped where ever we could find a spot. Both of us had never been there, but have heard great things about it. I was blown away by what I saw. My jaw was on the floor the entire time. It might be one of the most beautiful places I've had the pleasure of visiting. The best part is that there were hardly any crowds. It's my kind of place. The shoreline is both rugged and serene, full of beautiful shorelines and sheer cliffs. Just off the coast features dense forests, and an abundance of waterfalls. At the border of Canada sits Grand Portage State Park. It features the highest waterfall in Minnesota. The image above is not that waterfall. Instead, this is called Middle Falls.
The left hand side and the sunlit hillside is Ontario, Canada, while the right hand side of the image is Minnesota. It's so quiet up there and the air is crisp and clean. It perfectly encapsulates this part of the state. It's about a 6 mile round trip hike, but is worth it. We ended up doing this hike twice. The first night we arrived a tad too late and missed the sunset. So we made the trek again the next day. This time we left a little earlier. For most of the day, the skies were cloudy but the forecast called for partly cloudy skies near sunset. Luckily the forecast was true and the sun lit up the Canadian hillside.
#7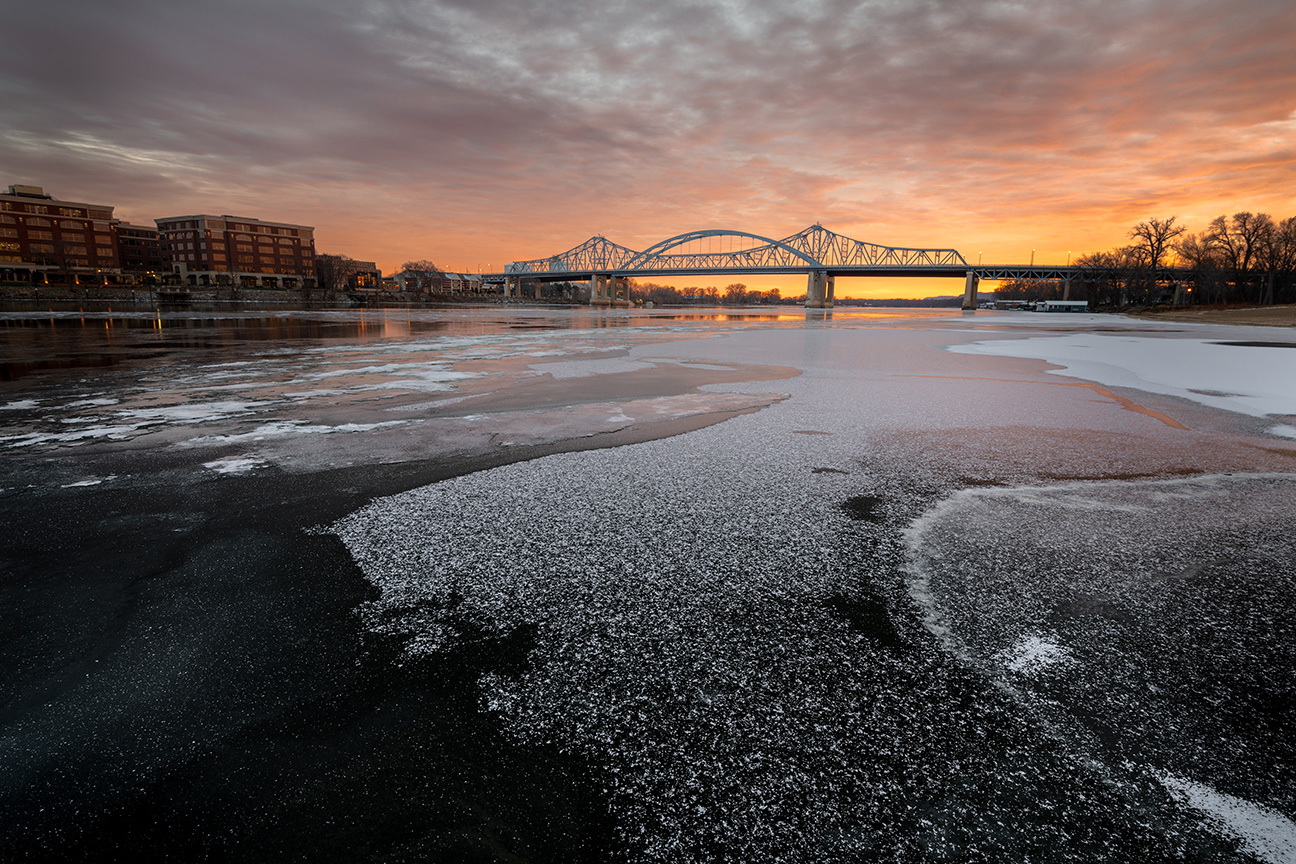 This is my most recent image in the top 10 list. It can be difficult to place recent images. Sometimes I rate them too high and sometimes I overlook the images. It's just too new to not have a biased opinion on it. However, I tried to be as objective as possible and rank them properly. Again, things could change, but this is my current rank.
That being said, I do really like this image and it's one of my favorite images of the bridge that I've taken. It can be difficult to get an original image of the bridge that hasn't been done before. However, the winter can bring new opportunities. The Mississippi had a paper thing sheet of ice in spots. (Note: I was not standing on the ice in this image. There's a small strip of land that stick out that I was standing on.)
What I really love most about the image is the leading line caused from the snow, guiding you through the image. I used a polarizer which helped to darken the ice, deepening the black tones. This helped to bring a bit more contrast between the ice and the flakes of snow. I was crossing my fingers that the sky would have some color and it did not disappoint. While I've seen more colorful skies, this sunset was a bit more subtle which helped to enhance the image instead of distract from it.
#6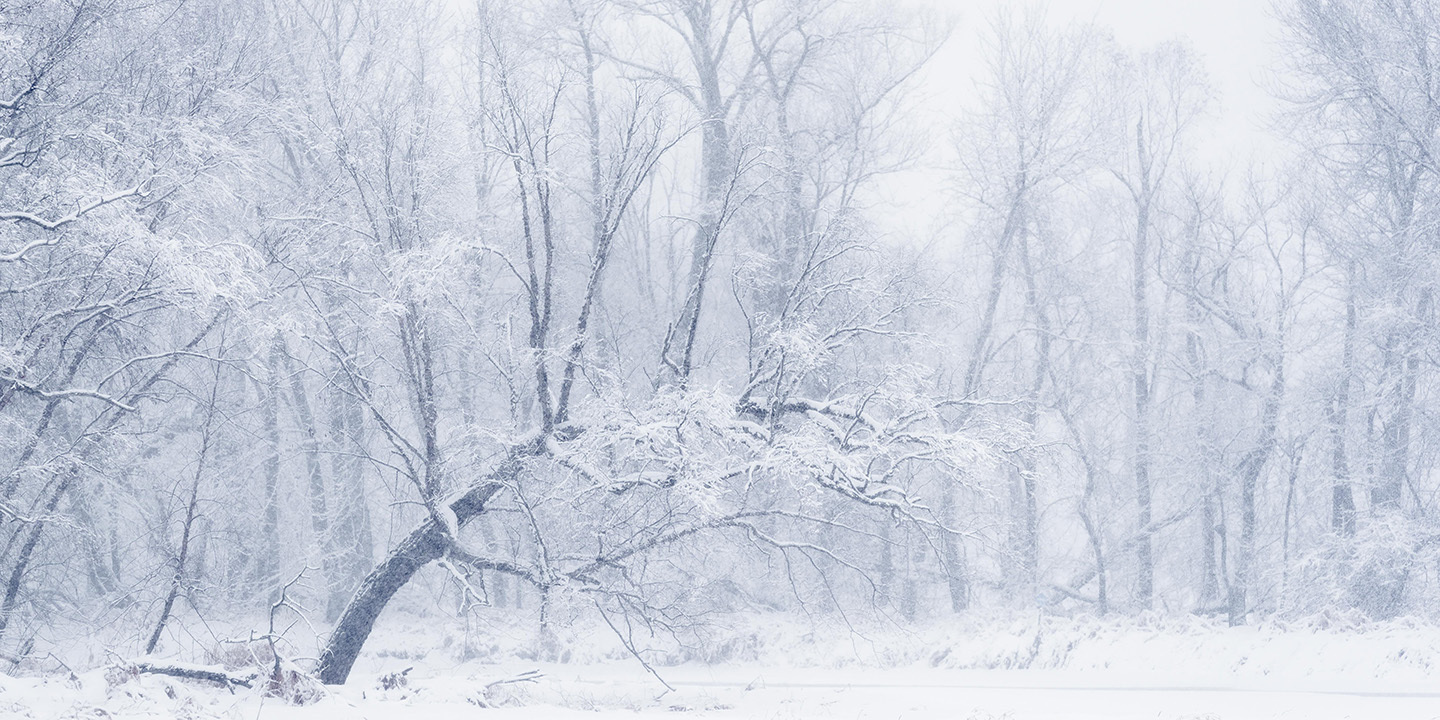 Like my number 9 image above, this one is a bit more subtle and the more I look at it, the more I like it. I photographed this image on one of the last snowfalls of last winter. I went out that day while it was still snowing which is something I rarely do. But I was glad I did.
I drove down to Goose Island and this tree immediately caught my attention. Usually thats a sign for me to pull over and take the image. During normal times, the curved tree would get lost in chaos. The overgrown vegetation and scattered trees would take away from the subject. The horizontal line of the tree helps to break up all the vertical lines behind it. With snow falling, it helped to simplify the scene, allowing for the curved tree to stand out from the background.
The image feels cold and stark, but not in a depressing way if that make sense? It almost feels like the tree is frozen in time and it's just waiting for the thaw so it can stand upright again. Like image number 9, I feel like this image needs to be printed to be fully appreciated.
#5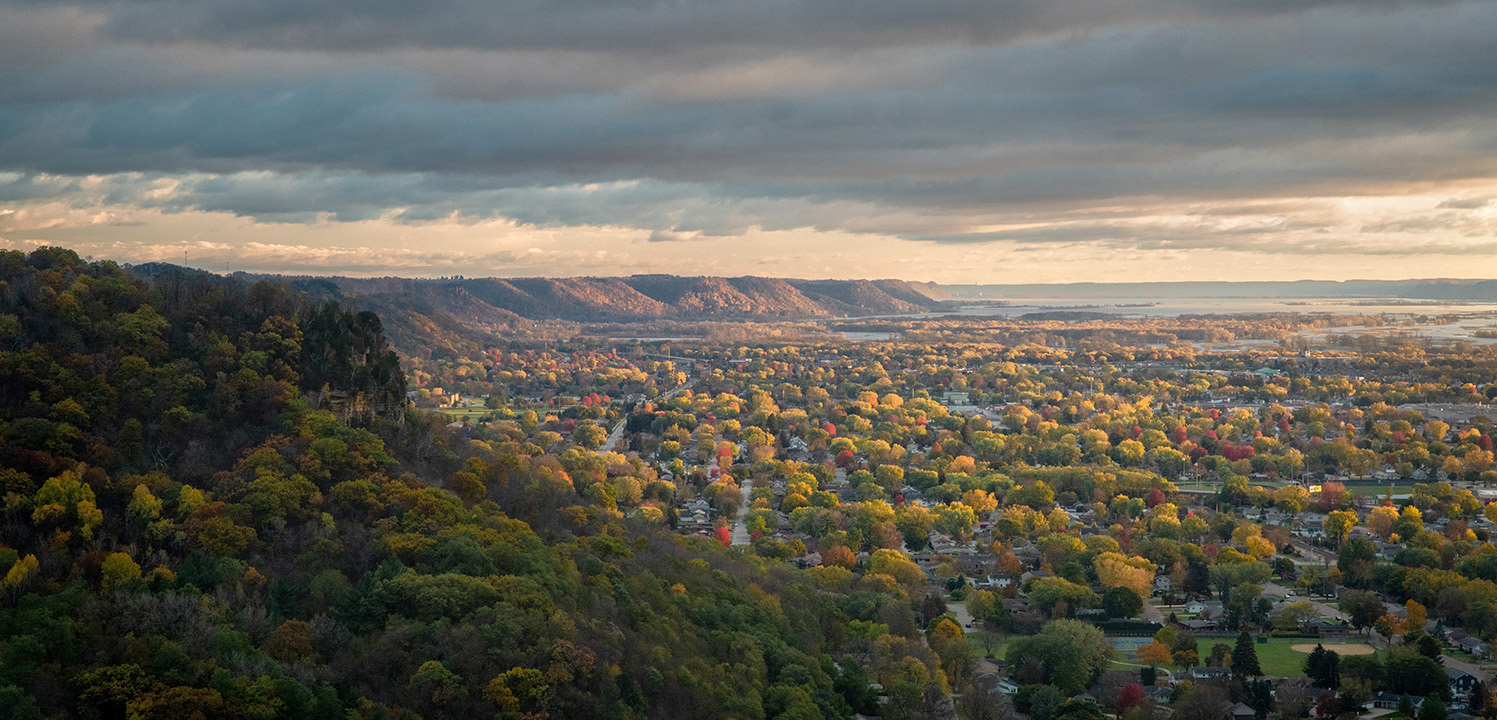 Coming in at number five is this panoramic image featuring the south side of La Crosse. This is also a recent image. The thing I remember most about this day was the light. It was some of the best light I have witnessed in a long time. The skies were cloudy for most of the day, but every now and then the sun would peak through, highlighting certain aspects of the city. I was having a fun time on Grandad Bluff this day and pointing my camera towards the light. I ended up getting a good handful of images, but none of them surpassed this one. It was also the last photo I took that evening. Shortly after I took the photo, the sun hid behind the clouds.
I love how the light just skims the tops of the trees, highlighting the scattered golden hues of the leaves. Off in the distance, you can see various bluffs that line from the city down to Genoa. Cliffwood Bluff is off to the left in the shade, not only giving a sense of scale, but also giving a bit of weight to image. It reminds me why I like this town so much.
#4
About thirty minutes south of the Canadian border in Minnesota sits Hollow Rock. It's a fairly well known location along the north shore and it has been photographed numerous times by fellow landscape photographers and tourists. Prior to arriving at this location, I kind of had one shot in mind. However, once I arrived I had to change my plans for a couple of reasons. First of all, there were two other photographers so I had to be cognizant of them. Secondly, I was having issues with the shoreline. I couldn't quite make sense of it all and the shoreline seemed to take away from Hollow Rock.
So I decided to get my feet a little wet. Once in the water, I lowered my camera as close to the water as possible. I wanted to give the feeling like you were in the water and this rock was the only thing around you, even thought shoreline is just off to the left. With the sky having little cloud cover, I made sure to feature more of the water, eliminating some empty space. Finding the right shutter speed required a little trial and error, but I decided on using 1/8 of a second. I did not want to have a perfectly flat water, but wanted to break up some of the texture just a bit. The end result has an almost silky smooth feel.
#3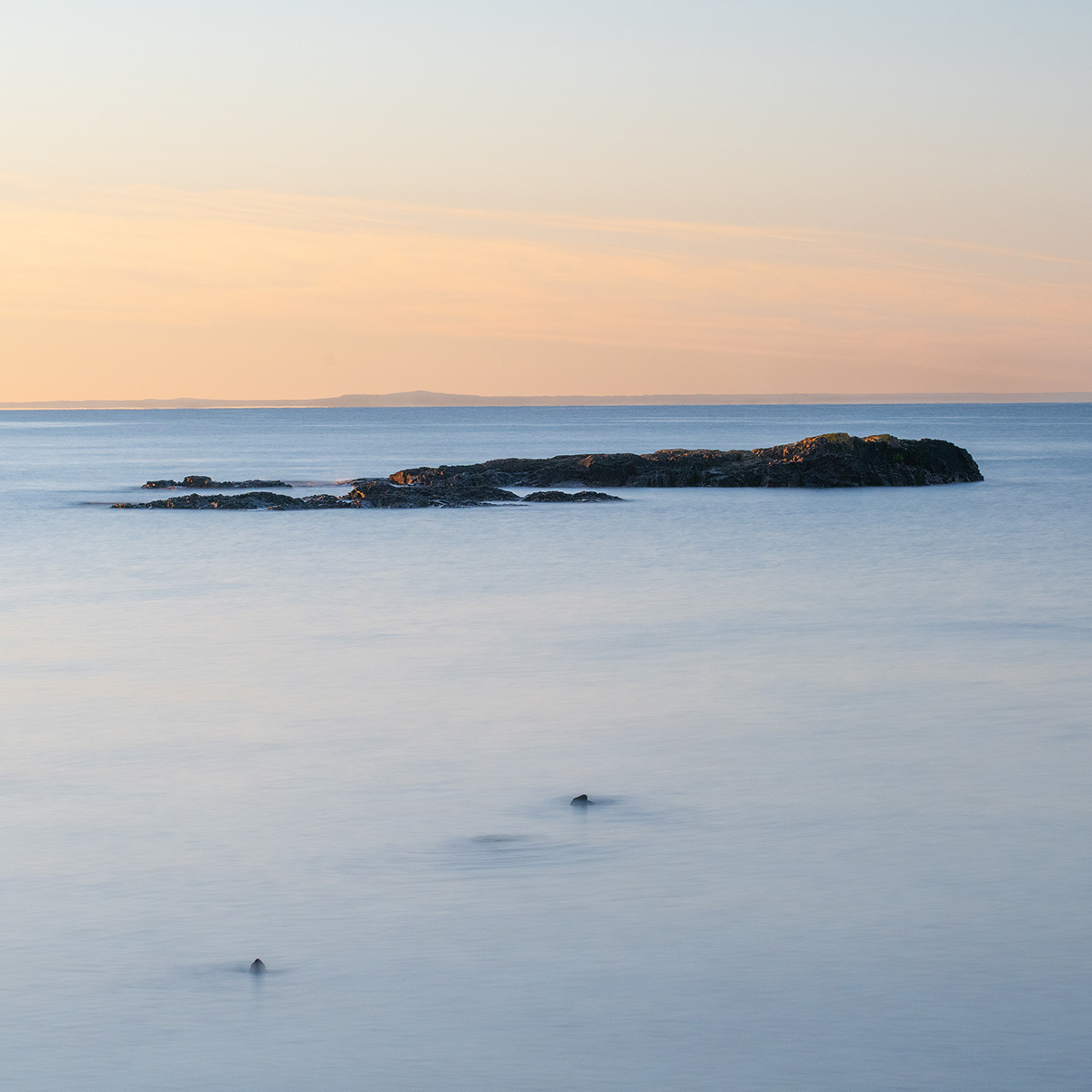 Coming in at #3 is this photo from the north shore. I honestly could have placed a few more images from the north shore on this list, but wanted to break it up a bit. Also some of the images I took are similar to each other so I tried to find the best of the best.
This image was kind of overlooked on the trip. Most of the photos I took featured waterfalls, lighthouses, and the shoreline. This one is quite different. I took this image on our first stop at Split Rock Lighthouse. I had high expectations since I've wanted to photograph this park for a couple of years now. We arrived in the morning with plenty of time before sunrise. Unfortunately, the skies in the direction of the lighthouse were clear. I was little bummed, but instead of putting my head down I looked for other compositions. Just off the shoreline, I noticed this small strip of land. The sky above had soft warm glow which contrasted nicely with the blue tones in the water. While the lake was fairly calm, I wanted to smooth out the water a bit. So I attached a 10 stop ND filter along with a polarizer to give a bit of contrast and lengthen the shutter. Like the image above, I played around with a few shutter speeds and found that a 4 second shutter speed worked the best. The smoothness of the water contrasts nicely against the textured rocks.
A couple things I like about this image, are the colors, the two small rocks that act as stepping stones, guiding you through the image, and the faint small strip of land along the horizon. It's very subtle, but it almost mirrors the shape of the rock, bringing a bit more balance to the scene.
#2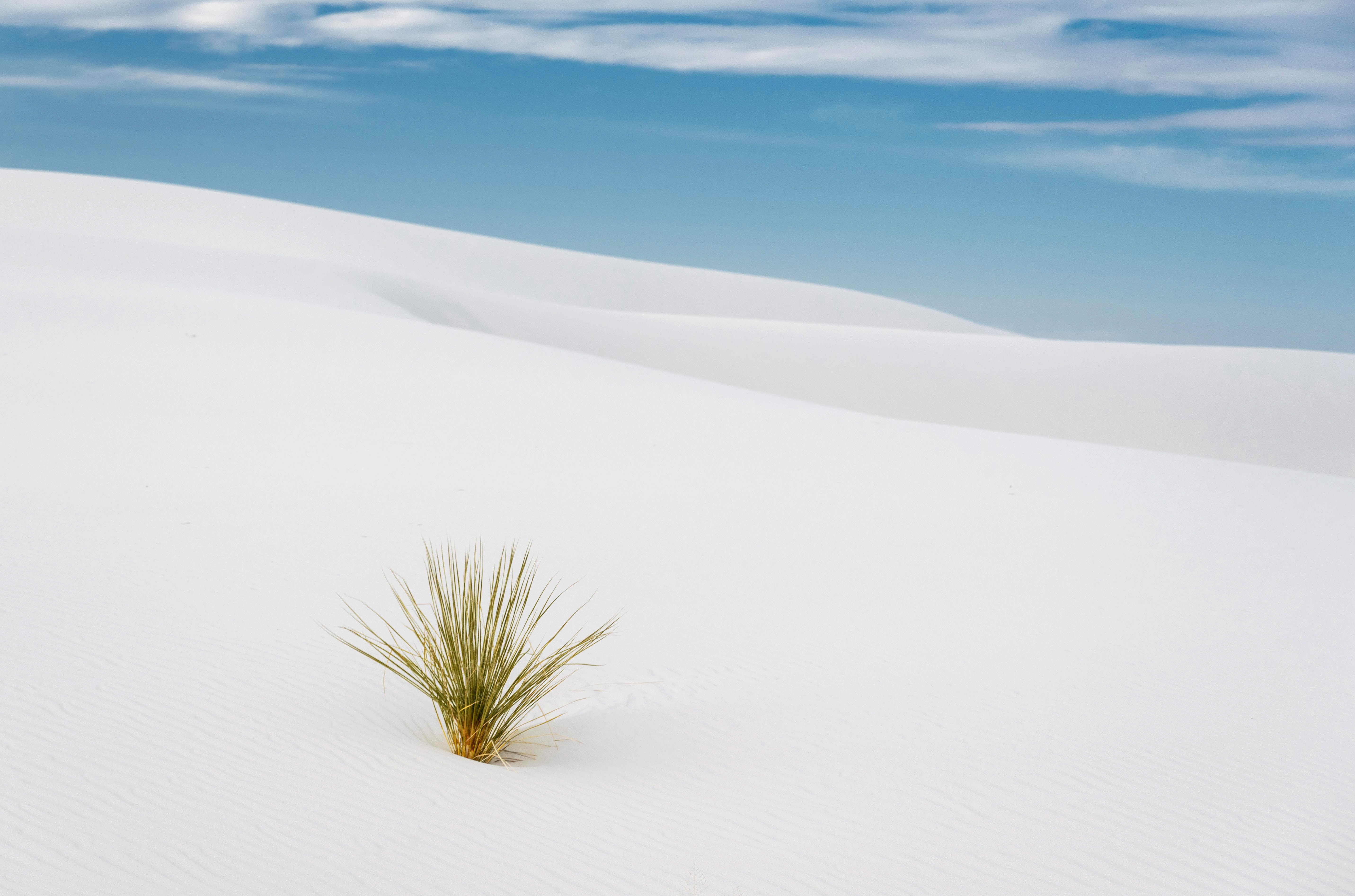 The runner up goes to this scene in White Sands National Park. After our visit in Guadalupe National Park, we ventured west towards White Sands National Park. There is not place I've been to quite like White Sands. In fact, it would be difficult to find a place like it on Earth. White Sands National Park consists 275 square miles of gypsum dunes, making it the largest gathering of gypsum in the world. Words really can't describe the feeling of being there.
Driving through the park on a sunny day, the gypsum glows nearly pure white. It can appear as if you are in the middle of a snowy field so it's a bit strange when you step outside and it's warm out. This is also the only place where I have experienced pure silence. My girlfriend and I spent three days here. One of those days was spent hiking across the dunes. Halfway through the hike, I remember stopping and hearing nothing. There were no birds chirping, no people talking, no sound of any vehicle, and no wind. I've never experience pure silence like that in my entire life. It was a little eerie, but was also really calming. It's just one of the reasons why I enjoy this place so much.
Throughout the park, you will find yucca plants scattered all over. I was really hoping to find a lone plant by itself. The hardest part was finding one that didn't have footprints along the dunes. Luckily I found this one about 100 yards away from the parking lot. I don't think I could have found a more perfect setting. The dunes were untouched, the yucca plant was the correct size, and the overlapping dunes provided just enough texture to break up the scene. The blue skies also provide a nice contrast between the stark white gypsum. It's a very minimalistic scene and its the style of photography that I absolutely love to look at and do.
#1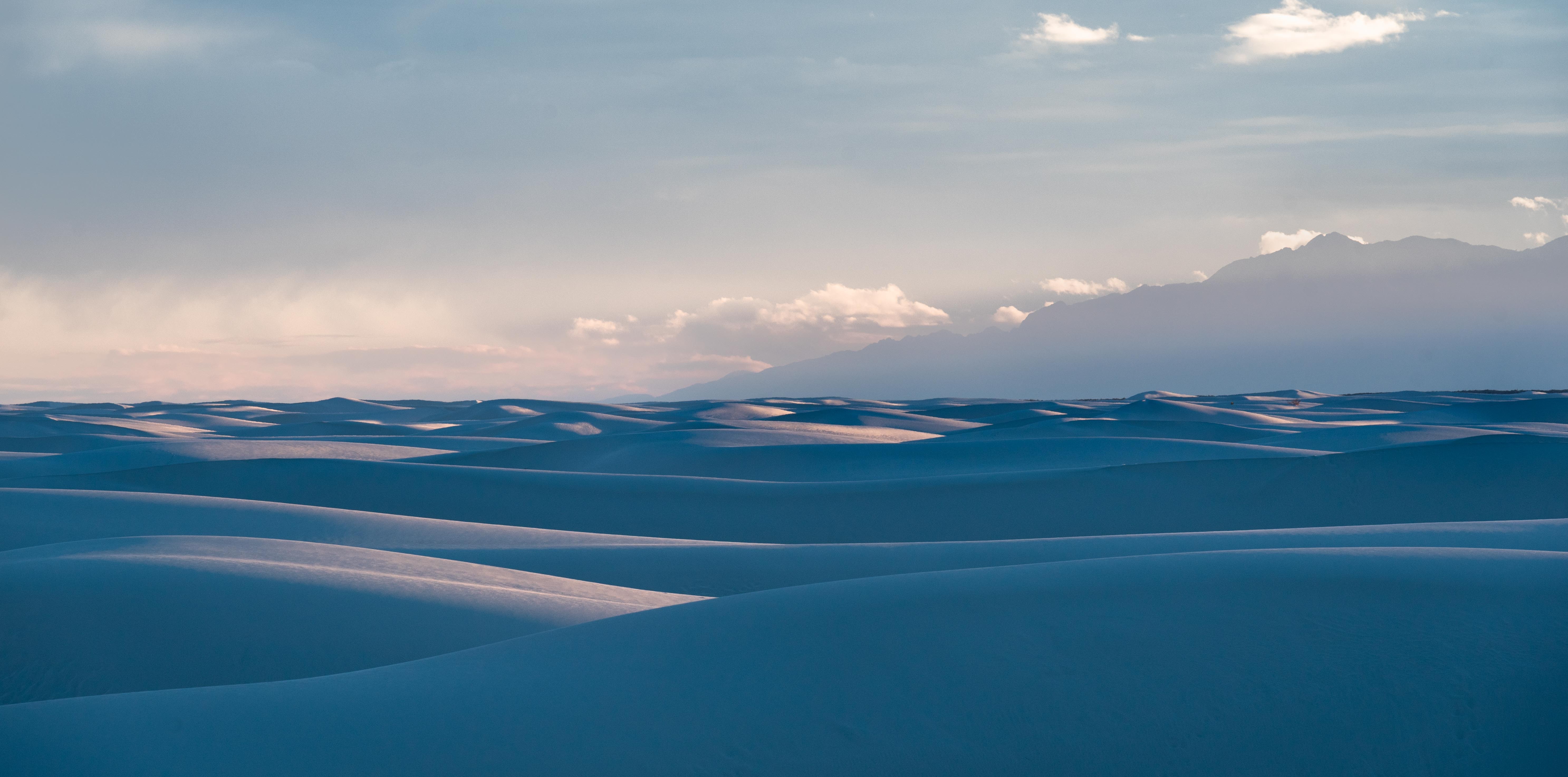 And my number one image goes to this panoramic scene in White Sands National Park. I had the time of my life photographing this park. It can be incredibly challenging to photograph this park. It's wide open and expansive. Your initial reaction is to shoot wide to try and capture everything. However, when shooting wide, it's easy to lose the scale and depth of the park. While you can still use a wide angle lens in this park, you just have to be selective in how you use it. I found it was much easier to use a longer lens. The tighter crops compress the dunes and brings a sense of scale to the park that you can't get with a wide angle lens.
This image is my favorite image I've take ever and it may be difficult to surpass and I'll be happy whether or not I can. As the sun sets behind the mountains, the light kisses the ridges of the dunes, creating a nice contrast of light and shadow. There's a dreamy, mystic, and surreal feel to this image. The seemingly endless field of dunes, brings a sense of awe and wonder. It's difficult for me to praise my own work, and much easier to critique my work. Not because I don't have confidence in my work, but because I always look for something wrong in the image and compare myself to other more seasoned landscape photographers. But I don't think I would change a thing with this one image.
---
---
---
There it is! My top images of the year. Thanks for sticking around and reading this post. If you like what you read and want to support my work, consider buying me cup of coffee, or feel free to check out my online store.
https://www.jasonrayphotography.com/shop
Thank you,
Jason Stuempges
Enjoy this post?

Buy JasonRayPhotography a coffee