New years resolutions! 2020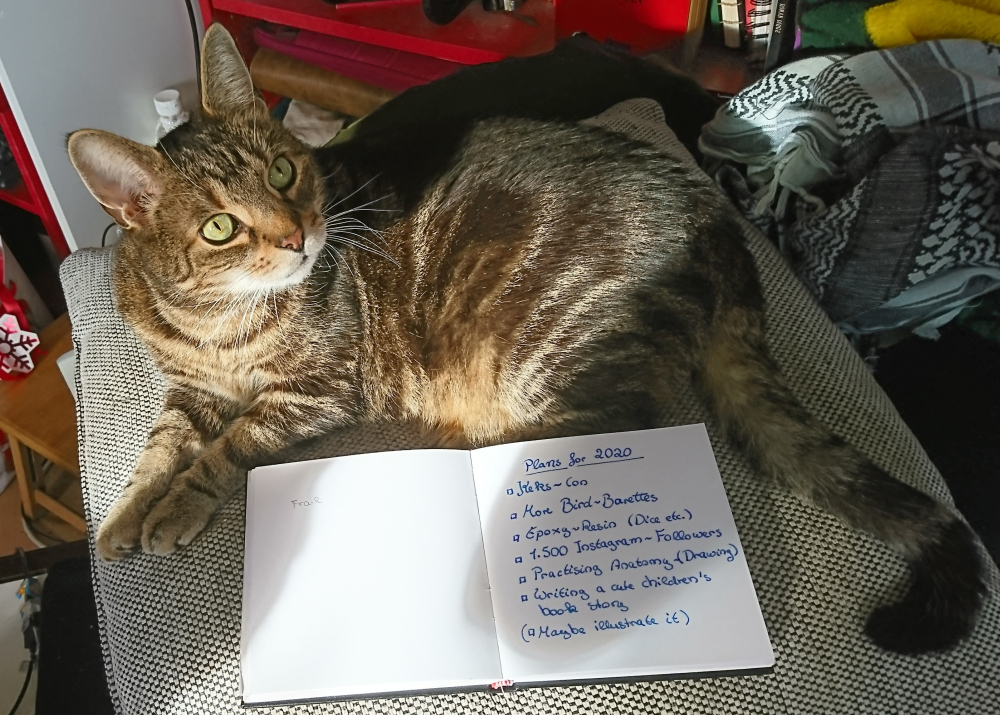 Wheee! It's still January so I guess it's not too late for some New Years Resolutions and some information about art-related stuff I am planning to do especially in the first half of the year:
1) Keks Con --- 28.-29. March I will be at the Keks Con in Hannover, to showcase my art, sell stuff and hopefully get to know some nice people
2) I sold pretty a lot of barettes last year and it's so much fun that I plan to go on with it. The birds will be for a bird-related project, allthough I am not sure if I'll search for another one since I feel the NABU got quite a decent amount of money now and it's maybe time for some other project to shine.
3) I had to stop my epoxy-resin fun-project because it was just to cold in my house for quite a while. Winter sucks! But I plan to start again as soon as the temperatures are stable again.
4) I know it's not only on me, but I really have the dream of getting 2.500 Instagram Followers... (and yeah... I know... I wrote it wrong on the paper... I still cannot believe I got 2.000 Followers to be honest. :-P). Whatever... When I reach it, I will do a raffle with free artworks for sure!

5) I really need some more anatomy skills... this has been my new years resolution for nearly EVERY of the last ten years, but it's really hard for me. I am quite sure I will participate in the DRAW-EVERYTHING-JUNE on Deviantart this year, just like I did last year. It helps me a lot! --- Additionally I am thinking about doing the Inktober and Goretober... but it depends on the prompts which one I will chose.

6) I have a little childrens-book-story in mind that I want to finish soon. And once that happens I am (7)) thinking about doing some nice and cute illustrations for it.
_____________________________________________________________________________________Und nochmal auf deutsch:
Wheee!Es ist immer noch Januar, deswegen finde ich, es ist auch noch nicht zu spät euch über einige meiner Neujahrsvorsätze zu informieren... zumindest über diejenigen, die meine Kunst betreffen.
1) Ich habe vor am 28.-29. März auf der KeksCon in Hannover als Aussteller zu sein, um meine Kunst zu präsentieren, ein oder zwei Dinge zu verkaufen und hoffentlich auch ein paar nette Leute kennen zu lernen. Besucht mich gerne! :-D

2) Da ich im letzten Jahr einige der Vogelhaarspangen, die ich hier gezeigt habe, dachte ich mir, ich fahre damit fort, suche mir allerdings eventuell ein anderes Projekt, da ich finde der NABU hat jetzt einiges an Spenden erhalten und vielleicht ist es Zeit für ein anderes Projekt im Rampenlicht zu stehen.
3) Im Winter waren die Temperaturen in meiner Wohnung nicht mehr für Epoxidharz geeignet. Sobald es etwas wärmer wird will ich allerdings unbedingt damit fortfahren und habe so einiges an Material und Formen bereits gekauft.
4) Klar liegt das nicht nur an mir, aber ich wäre echt glücklich, wenn ich es dieses Jahr auf 2.500 Instagram-Follower schaffen würde. (Ja... in dem Büchlein steht 1.500... ich muss ehrlich sagen, dass ich es noch immer nicht glauben kann, dass ich die 2.000 überschritten habe) --- Wenn ich es jedenfalls schaffe, wird es auf jeden Fall wieder einen Wettbewerb mit Freibildern und Co geben.

5) Ich brauche dringend noch mehr Anatomiekenntnisse, wenn es ums Zeichnen geht. Eigentlich war das innerhalb der letzten zehn Jahre mein Neujahrsvorsatz, wenn ich ehrlich bin, aber es fällt mir auch wirklich schwer. Ich bin recht sicher, dass ich dieses Jahr erneut an der "Draw Everything June"Challenge auf Deviantart teilnehmen werde. Die hat mir eigentlich immer Spaß gemacht. --- Zusätzlich habe ich den Inktober und den Goretober ein wenig ins Auge gefasst. Kommt aber auch auf die Prompts an ob und für welche Challenge ich mich entscheide.
6) Ich habe eine kleine süße Kindergeschichte im Kopf und möchte die schnell aufschreiben. Wenn das passiert ist bin ich am überlegen, ob ich ihr (7)) ein paar niedliche Bilder widme und ein kleines Vorlesewerk draus mache. --- Zugegeben hab ich mir sowas aber schon oft vorgenommen und bin leider immer an irgendeinem Punkt des Projektes gescheitert.

Enjoy this post?

Buy Julia Johanna Mersmann a coffee