Pay It Forward Book Exchange
You have an idea, you do some research, you buy the book, you learn from it and grow yourself not only in knowledge but in mindset and spirit. Then what do you do?
Do you just put the book on your bookshelf so it can just sit there and look pretty?
Do you give to someone else to read?
Do you sell it?
Do you store it somewhere in your garage or attic only to find it years later?
I have a HUGE range of books – mainly personal development books because as you may already know ( and if you don't, you do now) that I really love to learn and grow.
I try to not have a lot of materialistic things, and I do love a physical book but with them sitting on my bookshelf it just add's to the items I own and don't use anymore.
Which is where I came up with the idea of the "Pay it forward Book Exchange".
The Idea behind this is to help others in a way that is easy and thoughtful. I have books that are sitting there – not doing a damn thing. So why not "Pay it forward" with my books and put them to use and pass onto others who will find value in them who in turn would be able to pay it forward and pass the book onto someone else to gain value from once they have finished with it – so that the book itself can be used hundreds of times – saving people money from buying books and from having a load of materialistic items just sitting around.
Not everyone can afford a book, some people may not see the value of a book until recommended on by someone else.
This is where the "Pay it forward Book Exchange" comes to life
I have a book that I have read, learnt from, gained value from and expanded my mindset with.
I find someone ( usually on IG through my IG stories ( @its_amymckinnon), but I have put these books in Hostel shelfs over the years for others to find too) who would find value in the book.
I write a small blurb in the front of the book to explain about the "Pay it forward Book Exchange" and ask the person to pass onto someone else who will gain value from it once they have read it and finished it.
And so on… the cycle will continue.
This is my way of helping others in a way that is unique and special. To connect people through mutual interests, to make friends, to make connections, to learn and grow each other and to level each other up.
The book costs nothing for the other people, I am the one who purchased it in the first place. So they gain more then they lost/spent from even just receiving the book.
So in turn – Ive done my part in helping other people.
I hope one day to find some of these books again throughout the world ( yes they have gone global), I also hope to make better connections with others who reach out to me who have been lucky enough to get given or found one of the books that I had payed forward to other people.
If you so happen to be one of those lucky people – send me a DM on Instagram (@its_amymckinnon) or share a photo or video of it on your Instagram story and tag me into it so I can see who it has gone to, where in the world you are and what you love about the idea of the "Pay it forward Book Exchange" or what you love about the book you have.
And if you havnt yet got once yet, but are interested in getting your hands on one … follow me on Instagram and keep an eye on my stories – If you find one that you will find value in then let me know and one could be on its way to you.
Or
Keep an eye out for them at any hostel or book exchange you may come accross in this world.
– Amy (Kiwiastray)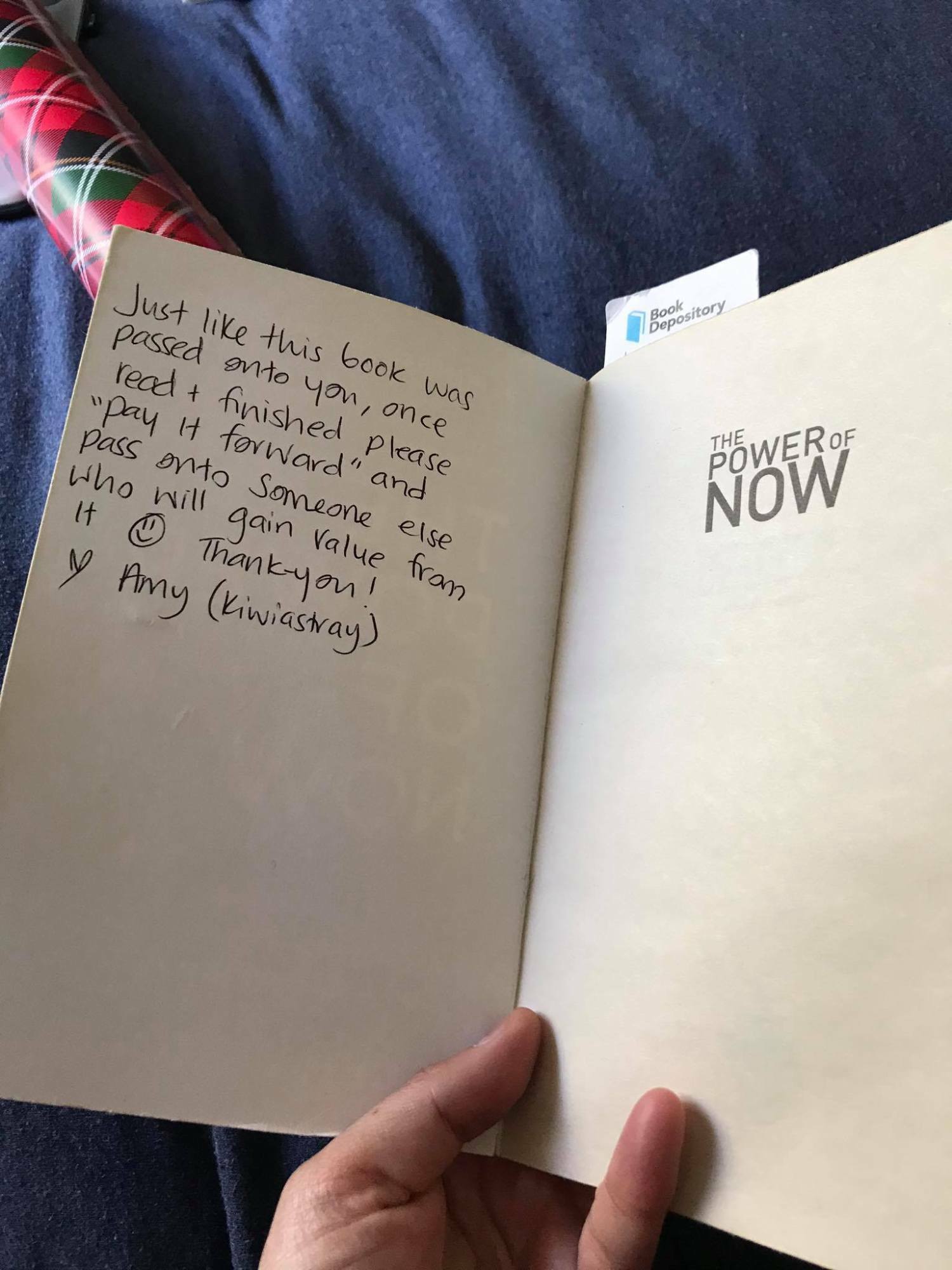 Enjoy this post?

Buy Amy Mckinnon a coffee