Kleague gw37 Sorare gw314
Penultimate Gw here with all games on Sunday this week. Same as always:
Be sure to use your best judgment and DYOR and follow the key - if they are in the team I'm betting they would play but not 100% certainty.
Suspensions:

Ulsan - Amano and Jung Seunghyun

Jeonbuk - Hong Jeong-ho

Suwon Bluewings - Jeong Seung-won
Key:
100% (with confidence but I'm not the manager)
s % (selection doubt - not sure will play but in the lineup)

Two names (not sure who will start)
Inj % (inj doubt - risky play but prob worth it)

Inj rep (inj replacement - both risky plays)

U22 % (u22 player could come off early)
Examples:

Veldwijk inj 90% = Veldwijk isn't completely fit but I'm pretty sure he will play

U22 90% Chu Sang-hoon (Yoon bit-garam) = fairly certain U22 will be Chu but expect Yoon to come on for him in the first half or HT

Kim Dong-woo/ KIM Geon-ung = I don't know who will play if I have to choose probably the first name.

Lee Jeong-hyup s75% = think Lee will be selected but it's the coaches choice and I'm not that sure
Gangwon vs Ulsan
Result prediction 1-1 There will be nerves and Ulsan will be happy with a draw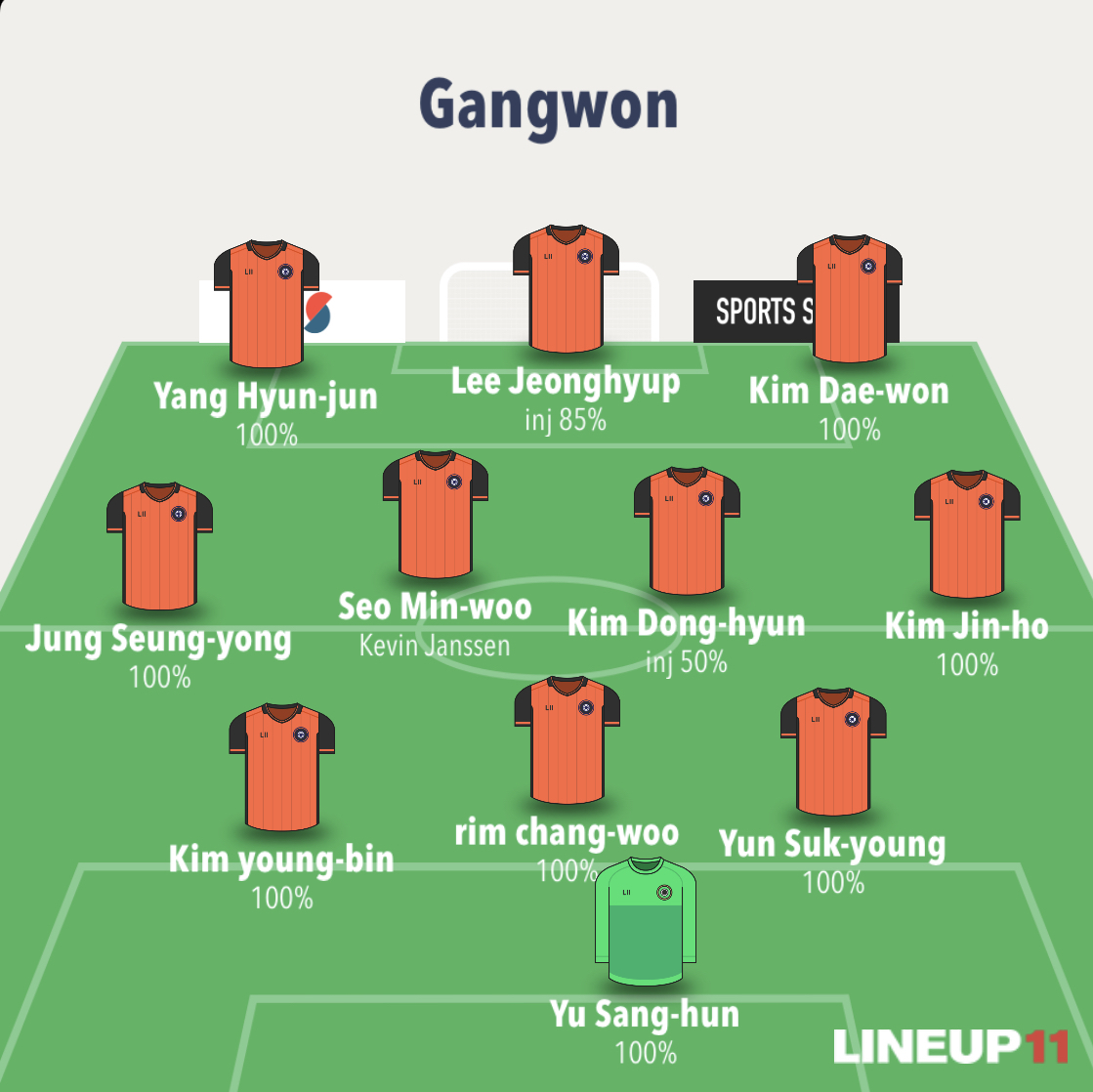 Set pieces: Rim Chang-woo/Kim Dae-won (corner) Kim Dae-won (free kick) Kim Dae-won Pk
Lineup confidence 85% Kim Dong-hyun remains an uncertainly means likely to miss out and we should see Janssen and Seo start again. Lee Jeong-hyup is available and will likely start with the manager not trusting Balsa it seems. Go Mu-yol will see minutes from the bench again.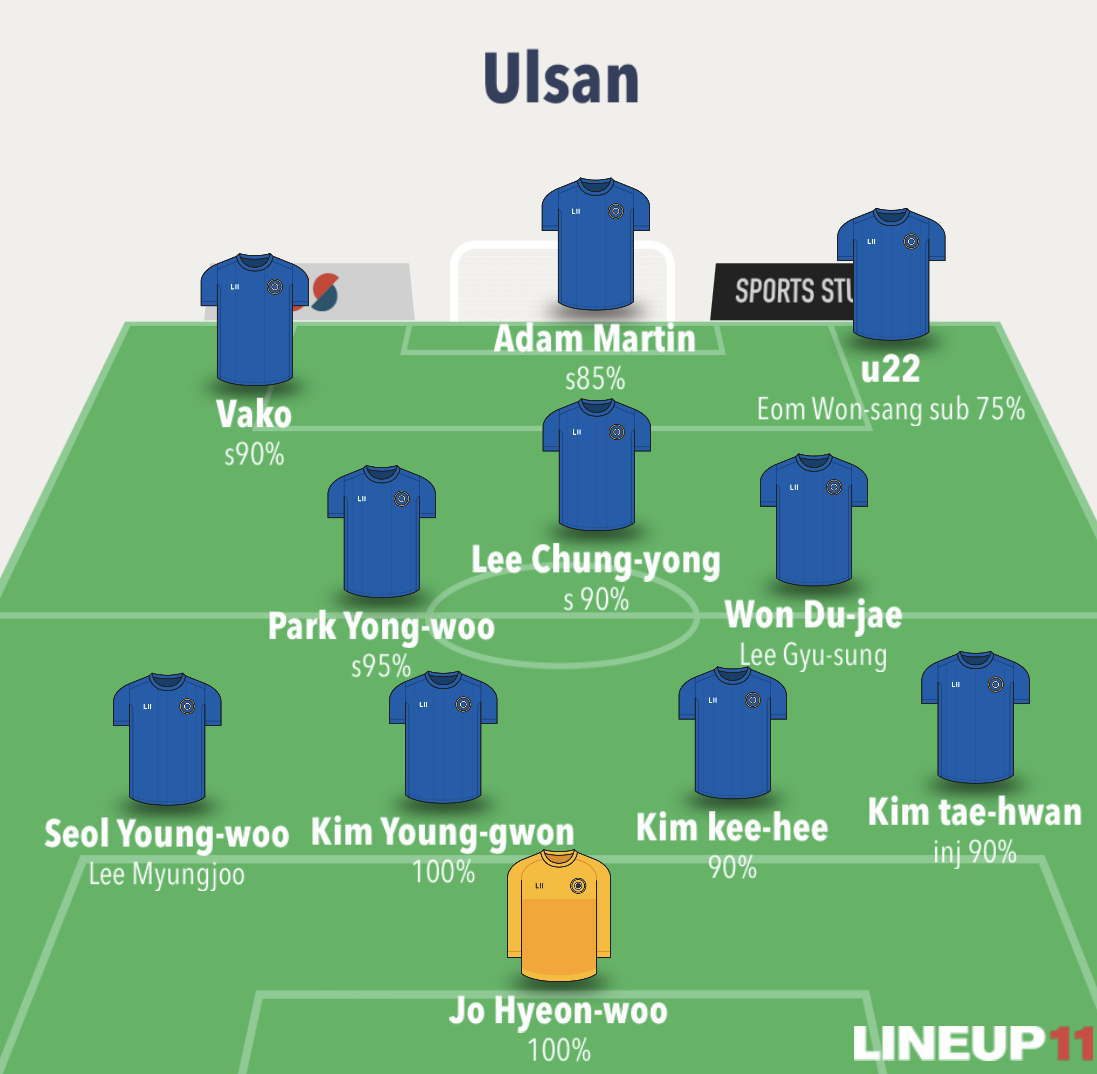 Set pieces: Vako/Amano (Corners) Amano (free kick) Amano/Adam (pk)
Lineup confidence 85% Amano suspended again along with Jung Seung-hyun so Kim Kee-hee the most likely to start ahead of Lim Jong-eun but it's 60-40 really. Other than that we should see a similar team with Kim Tae-hwan coming off with what looked like cramp and Seol and Lee Myung-joo competing for starts - 2 of the 3 will start but hard to say who. Adam and Lee Gyu-sung probably most likely to start as well of the other choices.
Jeju vs Jeonbuk
Score prediction: 2-0 wouldn't be surprised to see a Jeonbuk collapse they were on their knees in that Gangwon second half - league may be over by the kick off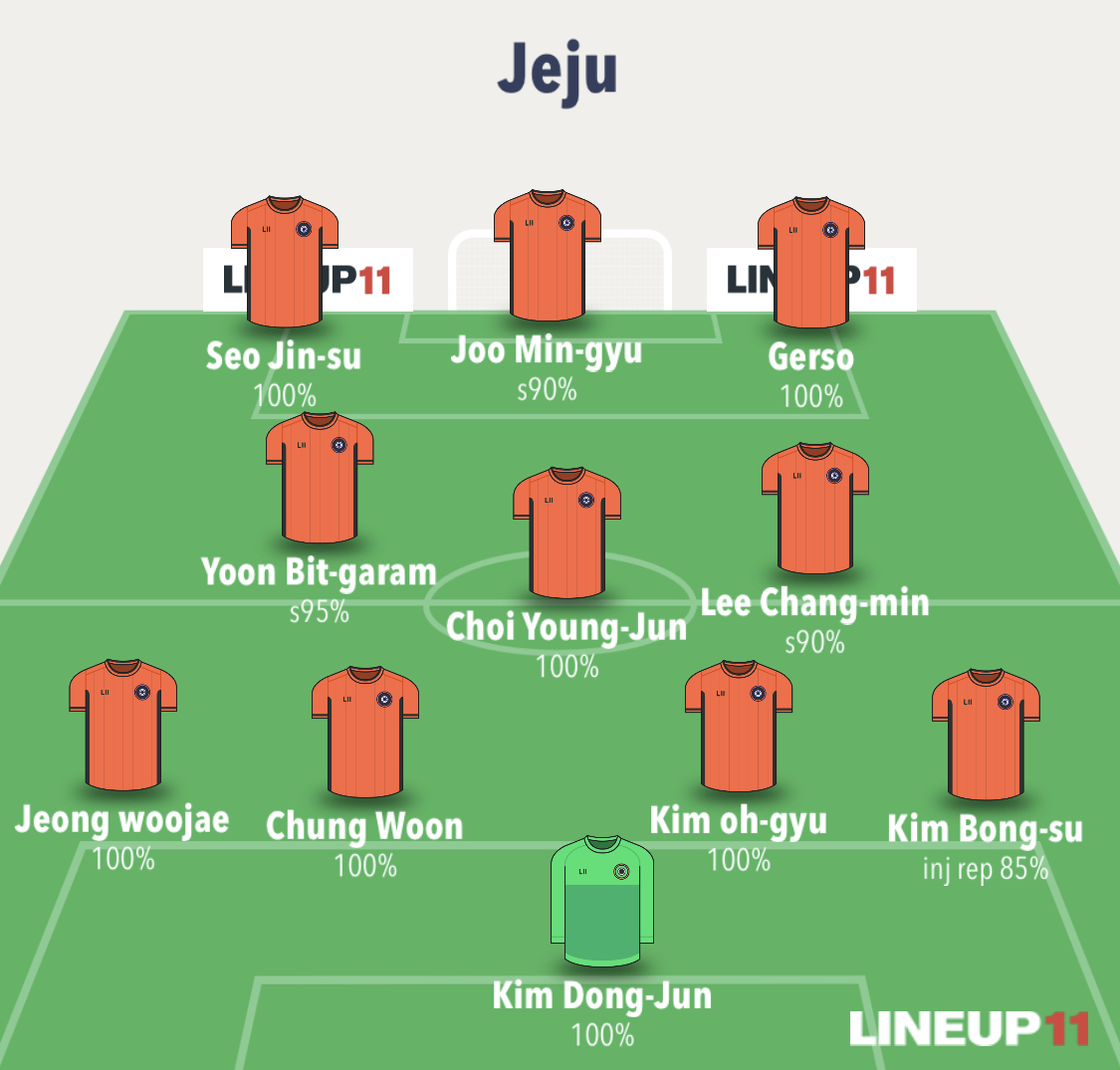 Lineup confidence 85% Choi Young-jun to return here with it hard to know how the manager responds to the poor defeat against Incheon we could see 3-4-3 and Kim Bong-su playing CB again which would make the midfield 3 of Yoon, Choi and Lee unlikely to start. Joo Min-gyu needs to start this game ahead of Jin Seong-wook.
Set pieces: Lee Changmin/ Yoon (Corners) Yoon/ Lee Changmin (free kick) Joo Minkyu (pk)
Lineup confidence 65% Injuries and fatigue a major problem predicting this team. On top of that the formation change may mean we see one less winger BARROW or SONG and one more defender YUN or KOO. Song Min-kyu could easily start here with slightly fresher legs than the likes of Kim Moon-hwan and Paik Seung-ho who both looked exhausted last game so doubts for me. Song needed treatment last game but seems to be fine with no injury update on it. Kim Jin-su is expected to be back as well. Maeng and Han Kyo-won ruled out while Barrow returns from suspension. By kick off Jeonbuk may have already lost the title so lineup is a bit volatile and U22 player uncertain with Park debuting last game.
Set pieces: Paik Seung-ho (Corners) Paik (free kick) Paik/Cho (pk)
Incheon vs Pohang
Score prediction: 1-1 never write Incheon off is the lesson of the season but think both settle for a point here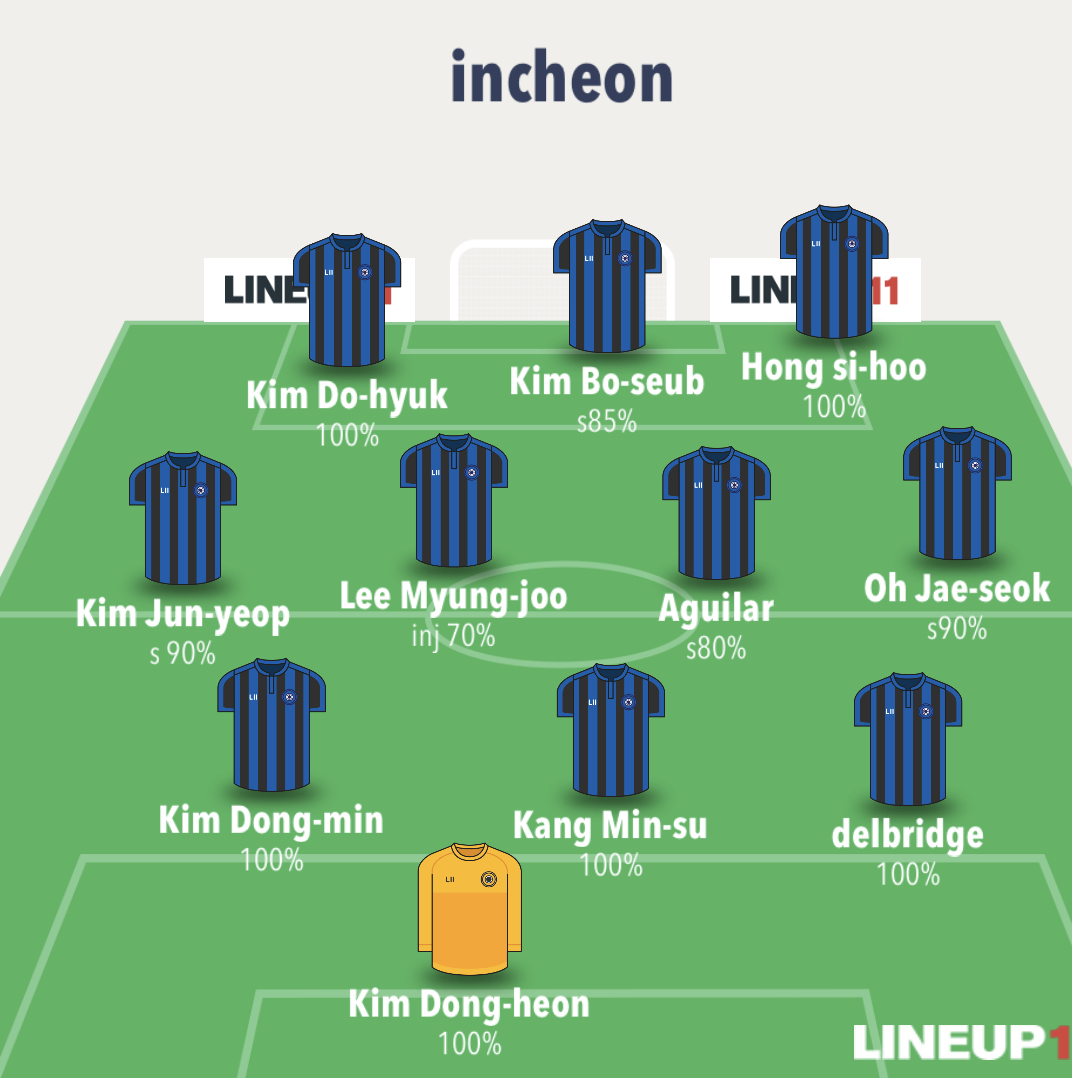 Lineup confidence 70% Back 3 the easiest to predict here while Jung Hyuk and Aguilar are playing their last home game so latter should start with Kim Min-seog has a chance of starting again instead of Kim Bo-seub. Lee Myung-joo was supposed to close to a return midweek with the media saying he's on standby so may return here but Lee Dong-su could keep his place after scoring. Wing back hard to predict but Oh Jae-seok most likely to play.
Set pieces: Aguilar/Lee Myung-joo (corner) Aguilar (free kick) HernandesPk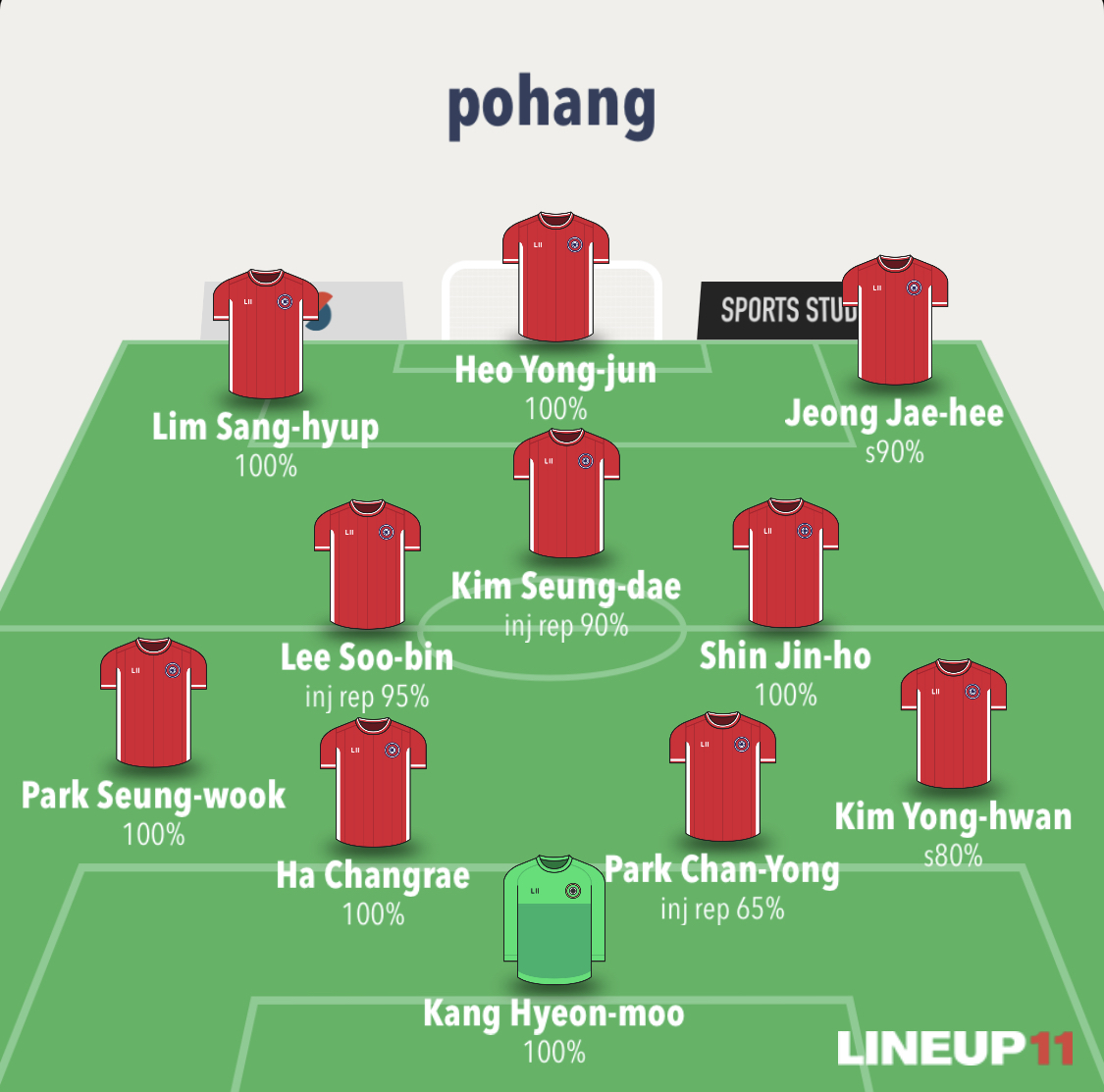 Set pieces: Shin Jin-ho (Corners) Shin (free kick) Lim Sang-hyup (pk)
Lineup confidence 75% Grant close to a return but a doubt while Ko young-jun likely to be out with an injury. Lee Soobin needed for the u22 rule which should move Park Seung-wook back into the fullback with Shin Kwang-hoon not seriously injured and may be on the bench here.
Suwon Bluewings vs Suwon Fc
Result prediction 2-2 Bluewings home form has been awful and think Suwon Fc can spoil even their slimmest of hopes of avoiding the playoffs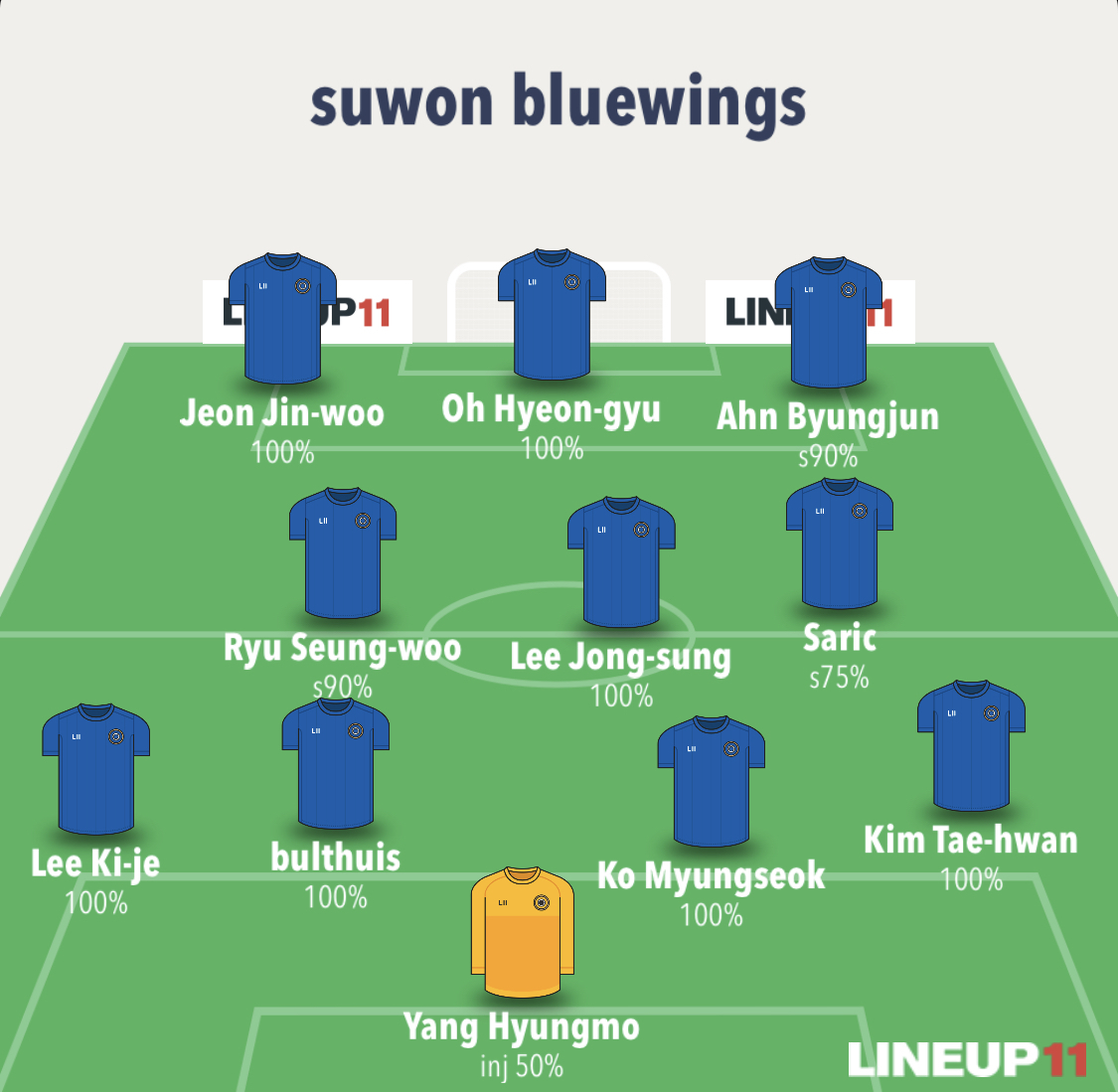 Set pieces Saric/Lee Ki-je Corners, Lee Ki-je Free kicks, Oh Hyun-gyu PK
Lineup confidence 90% Yang or No in nets with Yang the no.1 if fit enough - no update since last Friday when he had rejoined training but had some pain and has since missed the last 2 games so 50/50. Lee Jong-sung and Oh Hyeon-gyu are back while Jeong Seung-won is suspended so Saric in line to start with the team needing to win we should see an attacking lineup.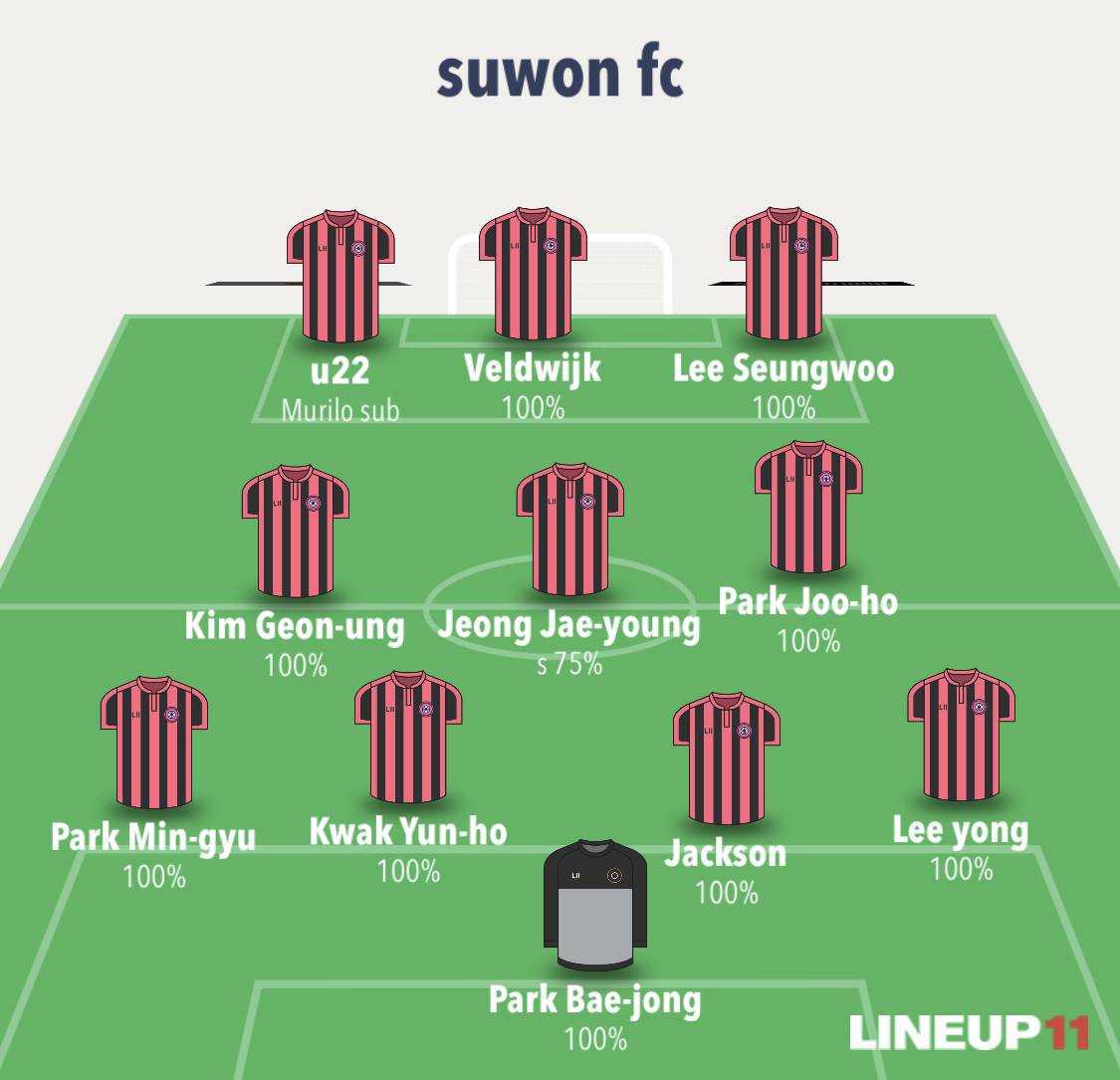 Set pieces: Lee Yong (Corners) Murilo (FK) Kim Hyun (PK)
Lineup confidence 80% Lee Seung-woo will start according to the manage but that means two other players will come on after 15 minutes most likely Murilo/Veldwijk/Jeong Jae-young/Kim Seung-jun. Other than that the team is pretty settled with the manager rotating one or two players weekly
FC Seoul vs Seongnam
Result prediction- 2-0 Seoul should have enough to see off Seongnam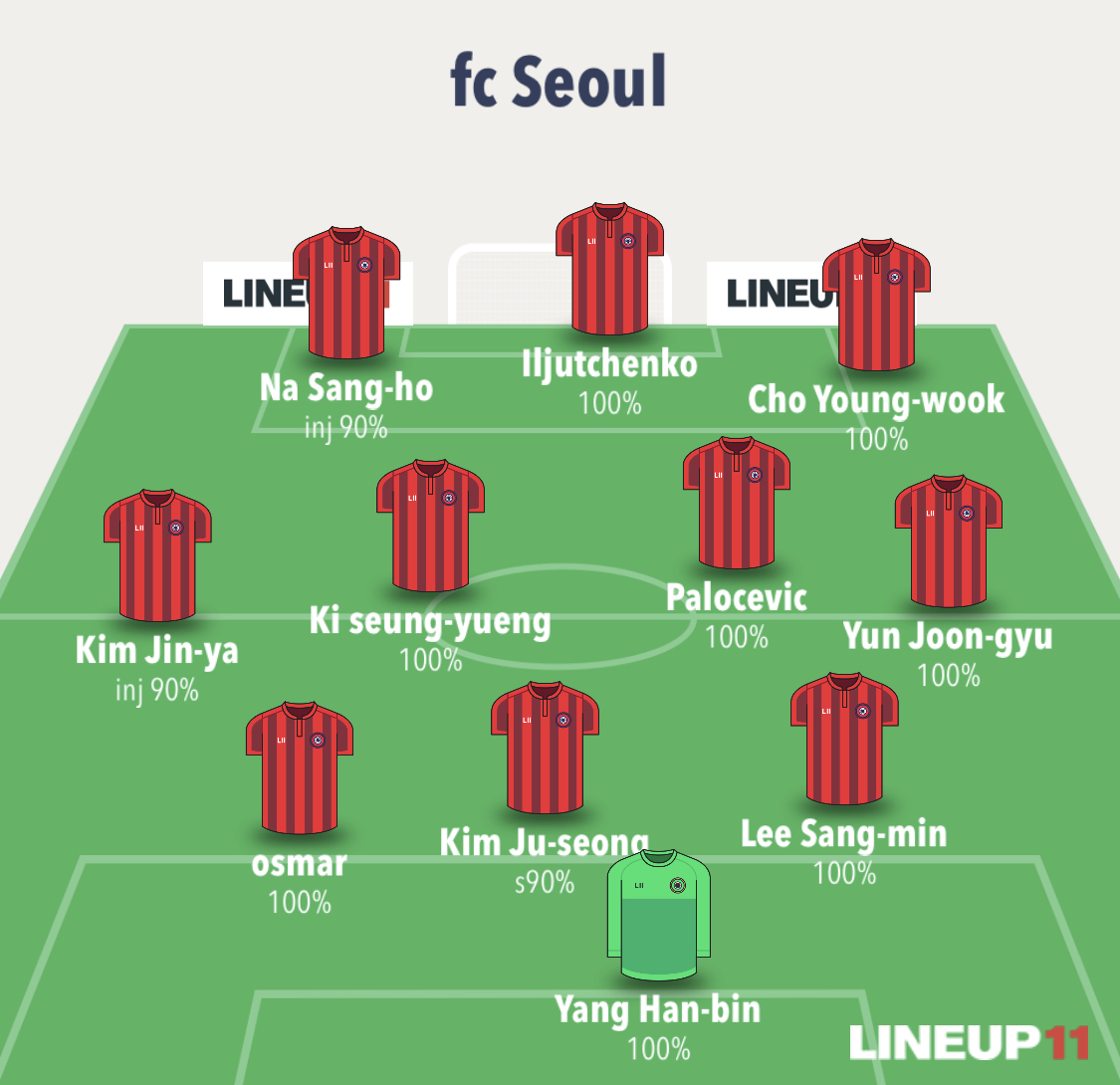 Set pieces: Na sang-ho (Corners) Palocevic (free kick) Na Sang-ho (pk)
Lineup confidence 85% on paper we should see the strongest Xi available but reports of players playing with all sorts of injuries mean we may see some rotation. However, they need to get over the finishing line and this is the game to do it so the likes of Lee Sang-min, Yun Joon-gyu, Kim Jin-ya and Na Sang-ho who are all carrying knocks should play. With Ki returning to the Xi with Iljutchenko.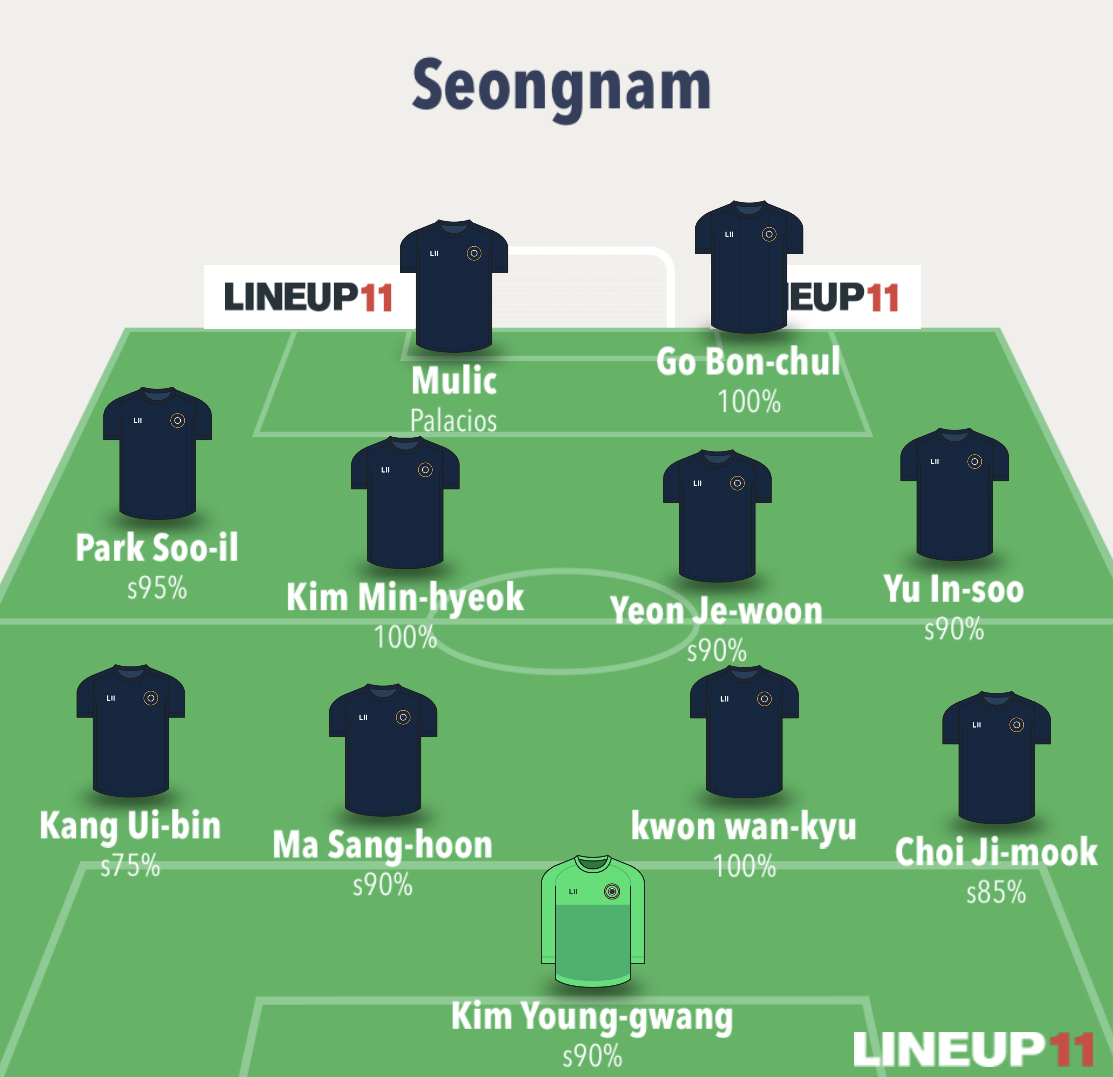 Set pieces: Goo Bon-chul (Corners) Mulic (free kick) Mulic (pk)
Lineup confidence 60% Formation changes 15 minutes into the match seems to suggest this lineup but not a confident pick and will be glad to see the back of Seongnam next season with Gwangju offering up more predictable lineups.
Daegu vs Gimcheon
Result prediction: 1-1 Nothing to play for here really with GImcheon all but confirmed to be in the playoffs as the manager wants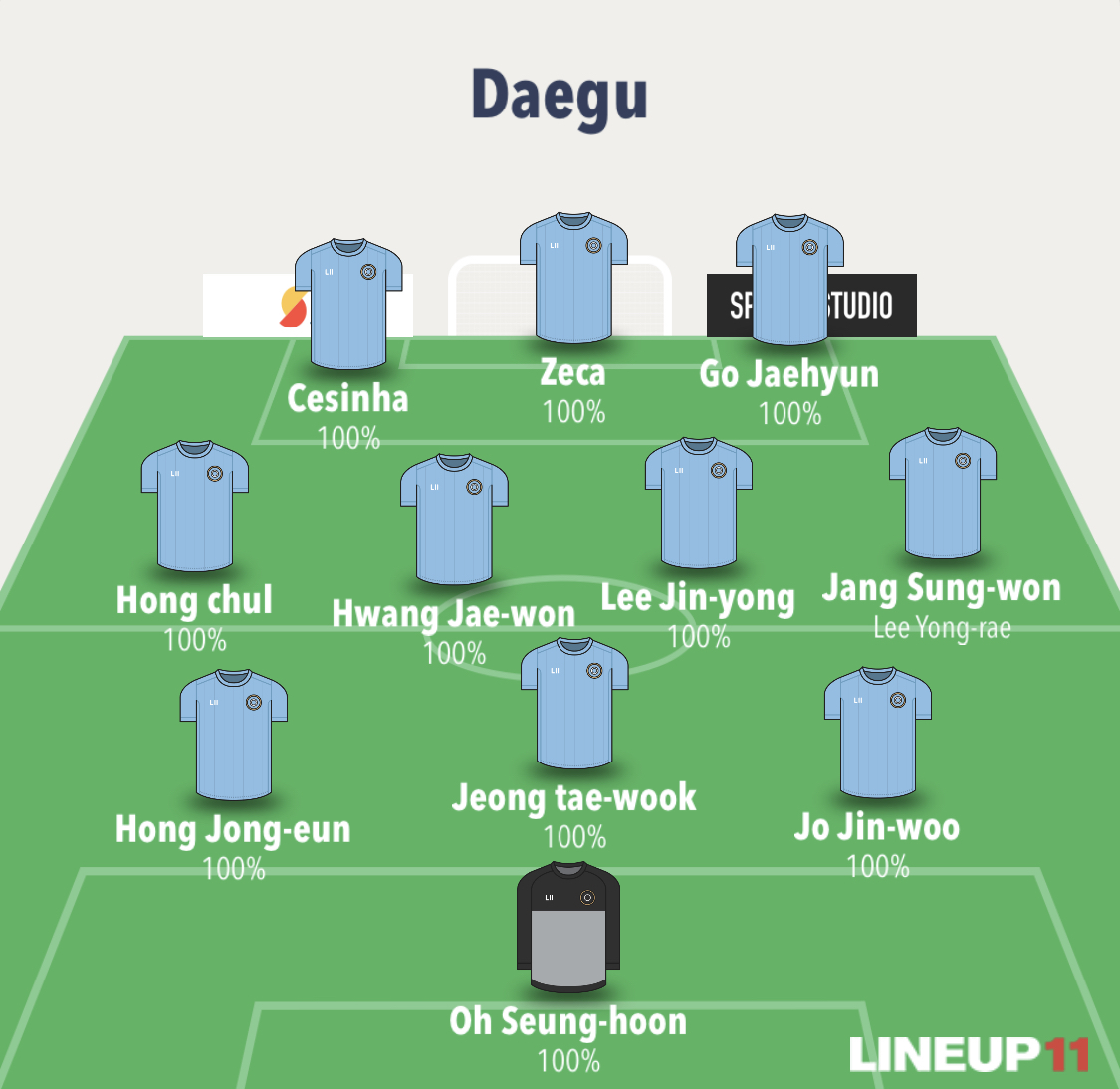 Set pieces: Cesinha (Corners) Cesinha (free kick) Cesinha (pk)
Lineup confidence 70% Zeca returns and the team being safe means they are at risk of one or two changes to bring in some of the fringe players. Although, it's the last home game so will want to send the fans away happy and play the best Xi so hard to say.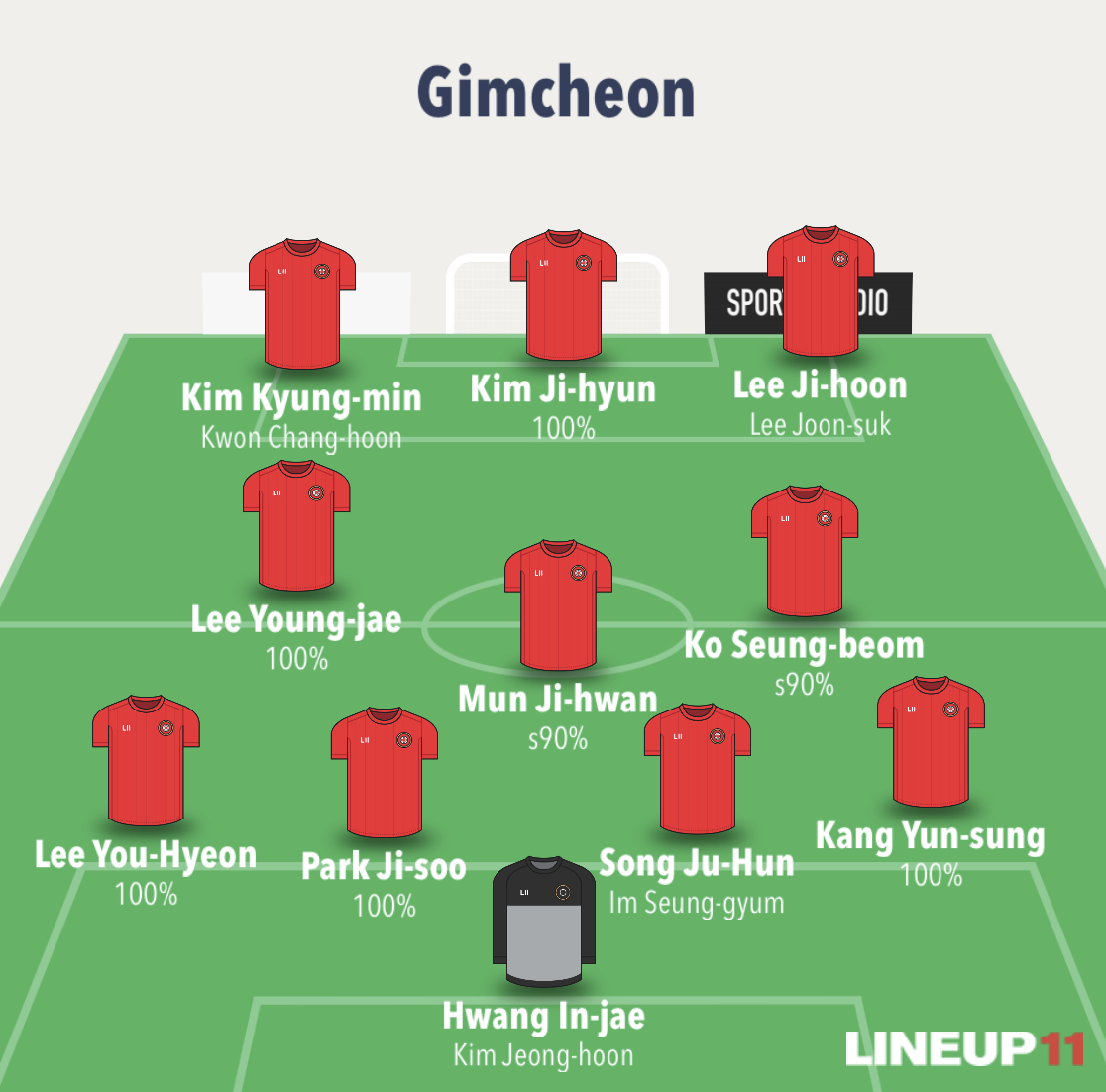 Set pieces: Lee young-jae (Corners) Lee (free kick) ?? (pk)
Lineup confidence 85% team selection hinges on one thing who the U22 player is if it's Kim GK then Kwon Chang-hoon and Kim Kyung-min probably start if its Lee Ji-hoon then Hwang In-jae GK starts. Song Ju-hun seems the preferred CB choice as well.
Enjoy this post?

Buy Kleaguenglish a coffee