Prediction wk2- GW248
U22 rule reminder: born 2000 or later - start 1 and bring 1 on = 5 subs

Start 2 = 5 subs

Start 0 = 2 subs

* most teams start only 1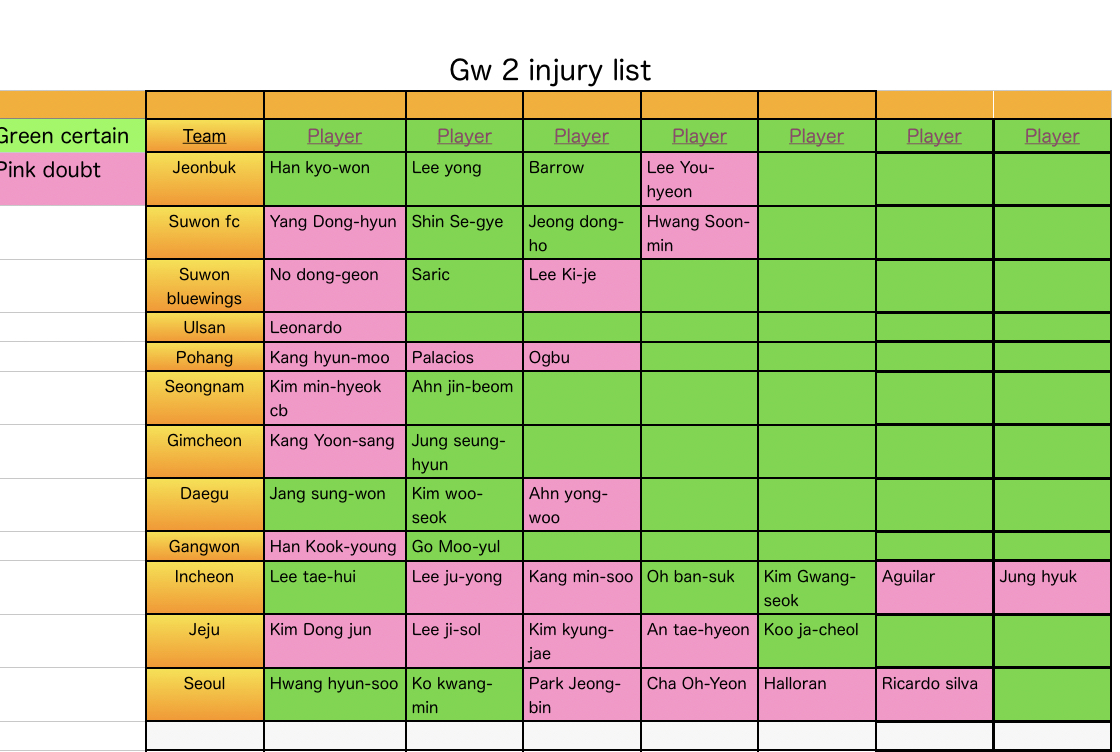 Please use the key below to judge who you think you should play or risk.
Key:
100% (with confidence but I'm not the manager)
s % (selection doubt - not sure will play but in the lineup)

Two names (not sure who will start)
Inj % (inj doubt - risky play but prob worth it)

Inj rep (inj replacement - both risky plays)

U22 % (u22 player could come off early)
Incheon vs fc Seoul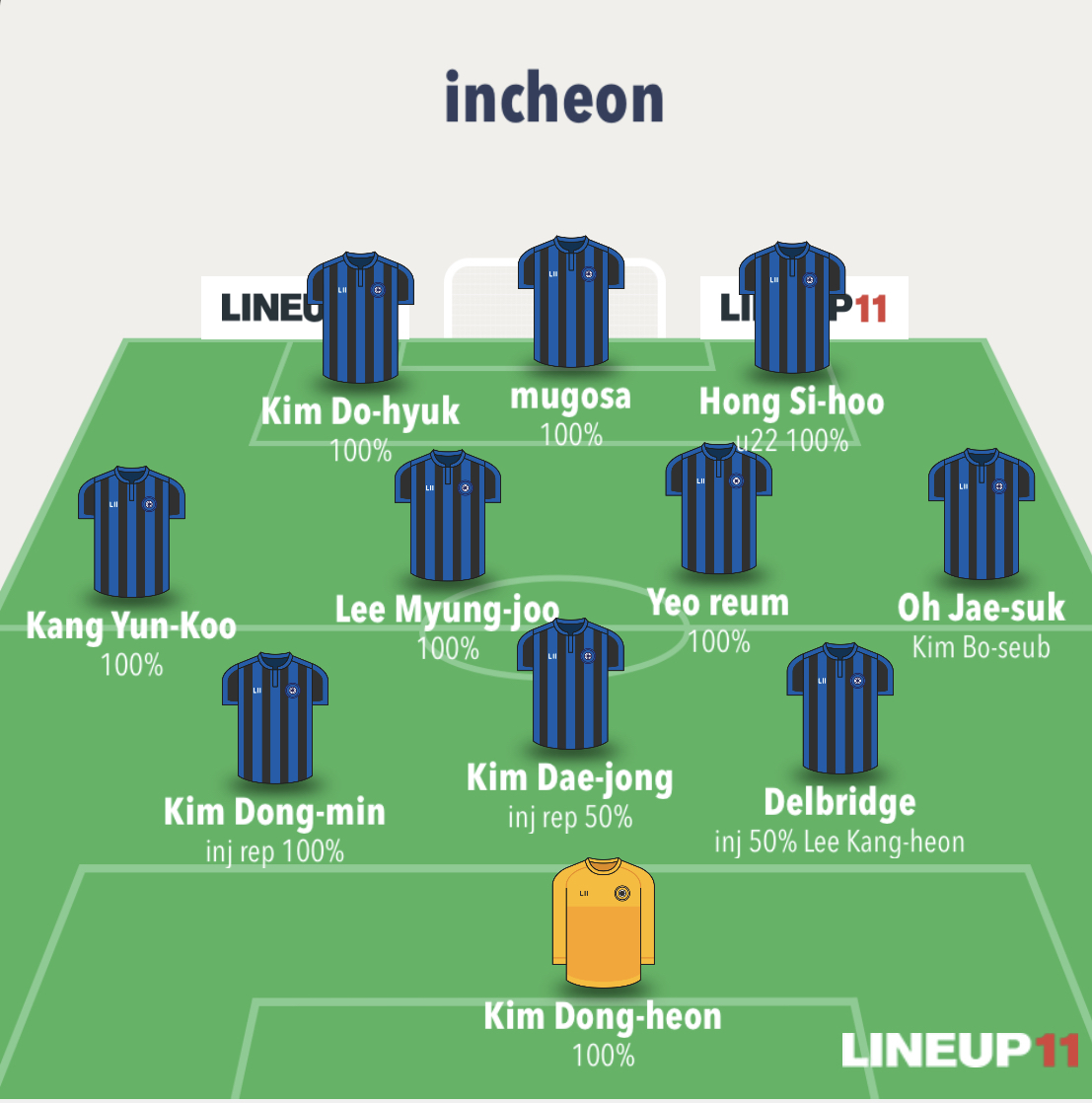 Lineup confidence: 80% Not expecting a number of the players absent last week to come back except for Oh Jae-suk who has returned to training and would be considered first choice but the manager may want to stick with Kim Bo-seub. Delbridge was a surprise absence last time as he was present for the majority of preseason but certainly a risk with Oh Ban-suk and Kim Kwang-suk not expected to play the opening 2-3 games. I would stay away from picking any defenders until the do return if you can.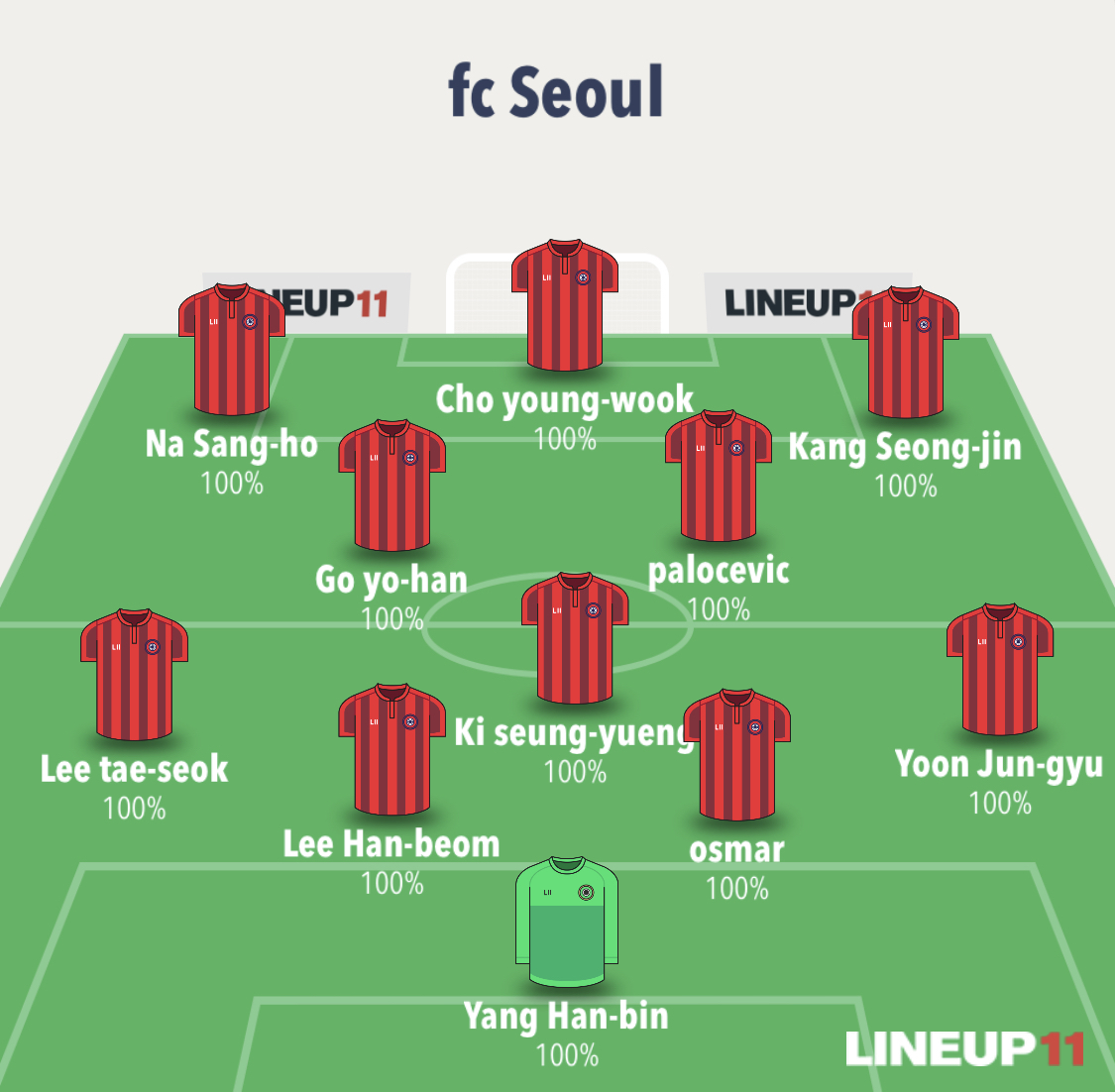 Lineup confidence: 100% - excellent performance last week and with Silva and Halloran still not match fit as the coach said this week I would think it stays the same. If there is any risk it's Ki Sung-yueng being rested because the Incheon pitch is so bad but I think the chances of that happening is negligible.
Suwon b vs suwon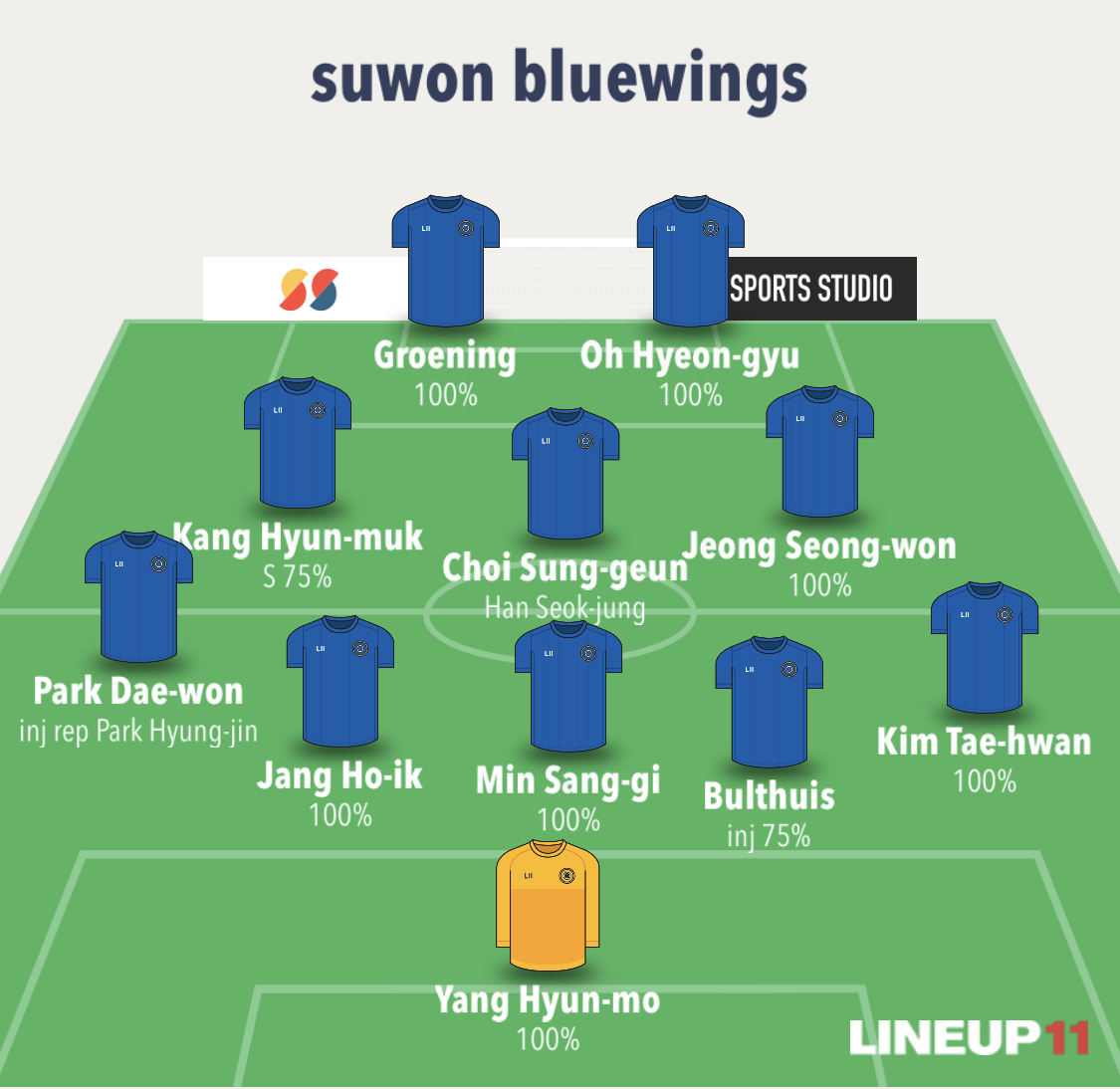 SUSPENSION (KIM Gun-hee)
Lineup confidence: 80% rumour of Lee Ki-je testing positive but I haven't been able to confirm it - he's seen with a bunch of teammates maskless a few days ago but if you want to be safe leave him out. Bulthuis should start but still building fitness. Believe Kang Hyun-muk is fit and see him coming in rather than Choi Sung-geun and Han Seok-jung who I don't think can really play together. Up front not many options with cards but Han Seok-hee could start on the bench and come on. No Dong-geon Gk is in training but apparently was last week so don't expect a change really.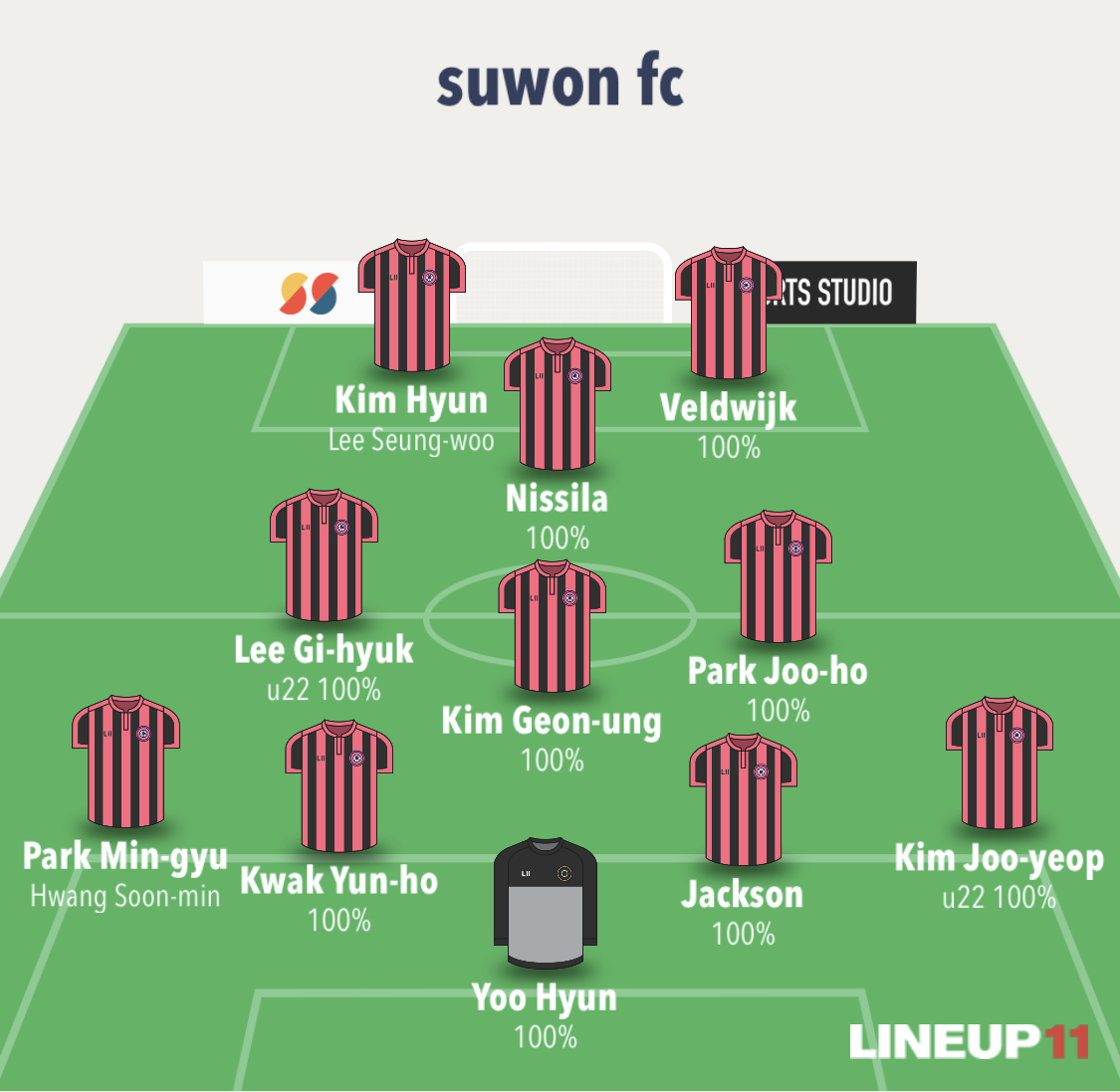 Lineup confidence: 85% Thought Suwon played well with Jeong Dong-ho not likely to feature and Murillo still building up fitness but will come on after 20 minutes. Left back if they continue with a back 4 is a hard one. Yang Dong-hyun is out injured apparently so Kim Hyun could start with Lee Seung-woo still building up fitness.
Seongnam vs Ulsan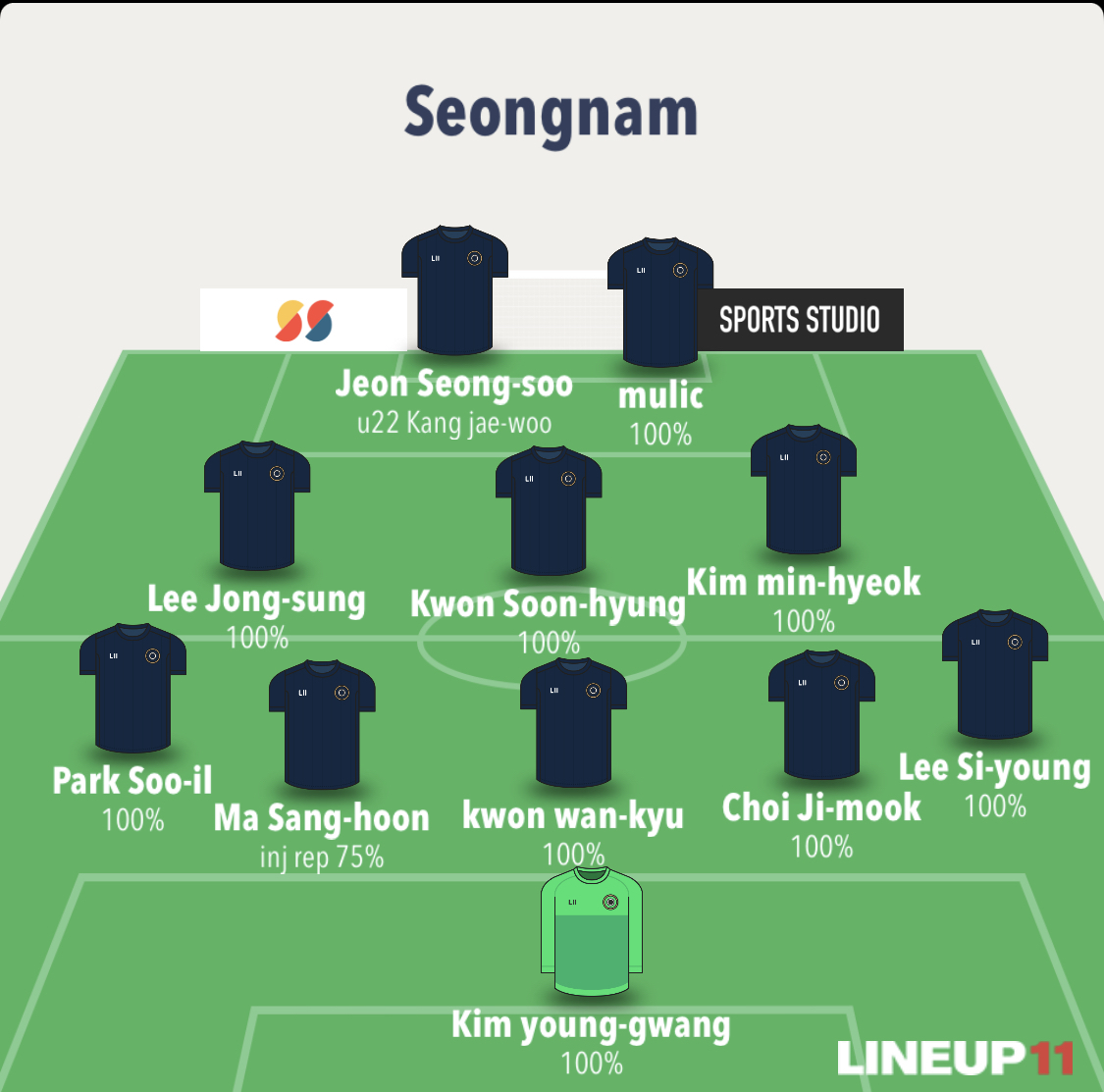 Lineup confidence: 90% Only real question is over Ma Sang-hoon and U22 player. Possible that Kwak Kwang-sun comes in for Ma after a shocking performance with Kim Min-hyeok CB still out injured.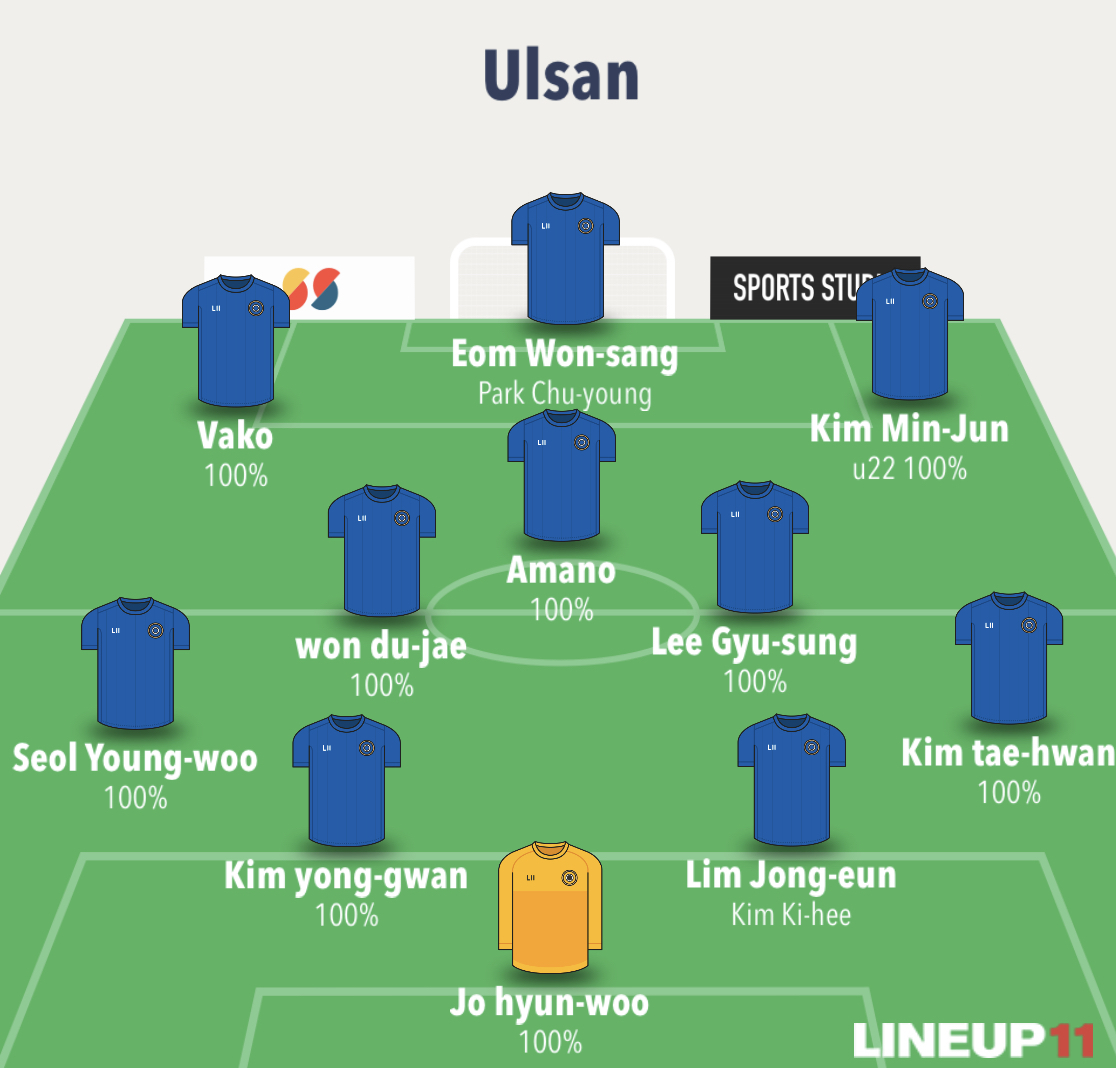 Lineup confidence: 90% -Park Chu-young not injured and depending on Eom's fitness as well and the way the team want to set up it's a choice in my opinion. Manager also left the door open for Kim Ki-hee to return with some of his comments so remains to be seen who plays at CF and CB.
Jeju vs Gangwon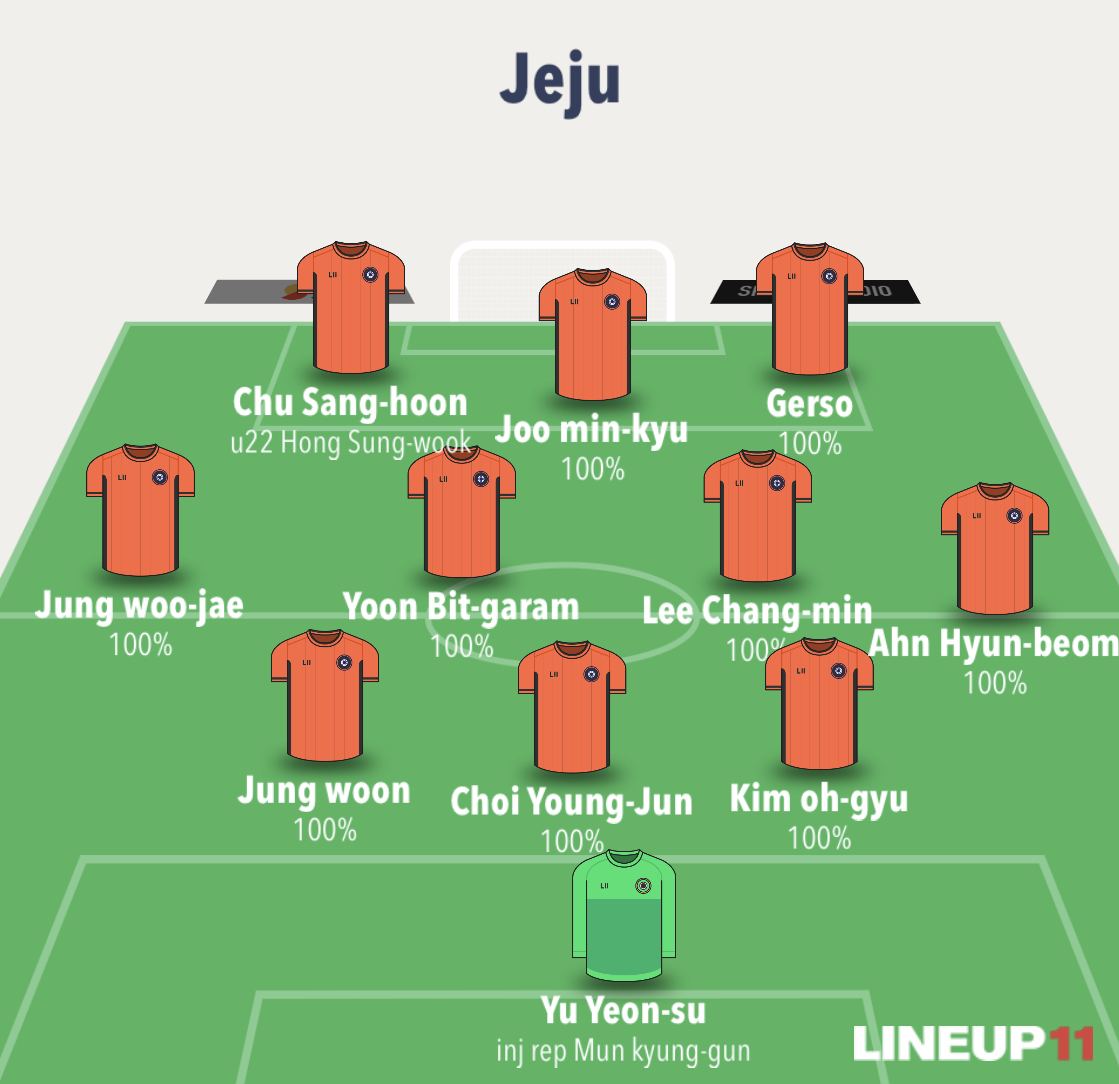 Lineup confidence: 85% - injuries to defenders as well as the big defeat last week means they might shake things up a bit. U22 position could be filled by their only other fit defender Hong Sung-wook and Choi Young-jun and Yoon bit-garam pushed further up the pitch. Kim Dong-jun has returned to light training but seems likely to miss this game with the manager said he won't return until March. I can't say Yu will start for certain just because he came on last week with a number of teams like Ulsan not putting what I considered to be first choice on the bench so it's a pick 'em I think between Yu and new signing Mun.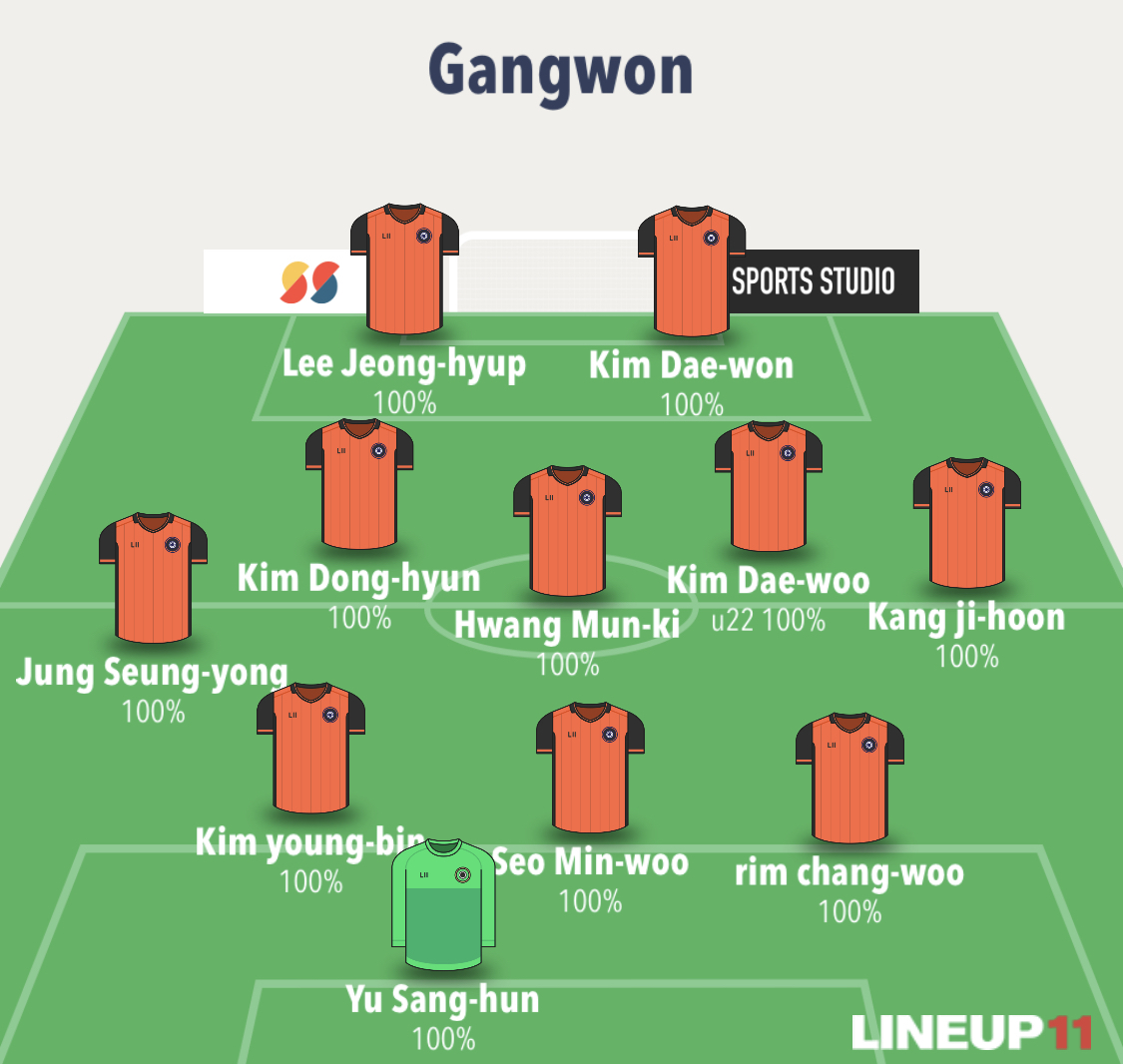 Lineup confidence: 100% - Can't see changes with the 2-0 win last week and generally a lack of depth - Seo Min-woo or Hwang Mun-ki the injury replacement for Han Kook-young. Expect Lee Jeong-hyup to be subbed off 60th minute or earlier for Dino and don't expect him to be the starting forward for much longer as he can't finish his dinner and never has been able to.
Gimcheon vs Pohang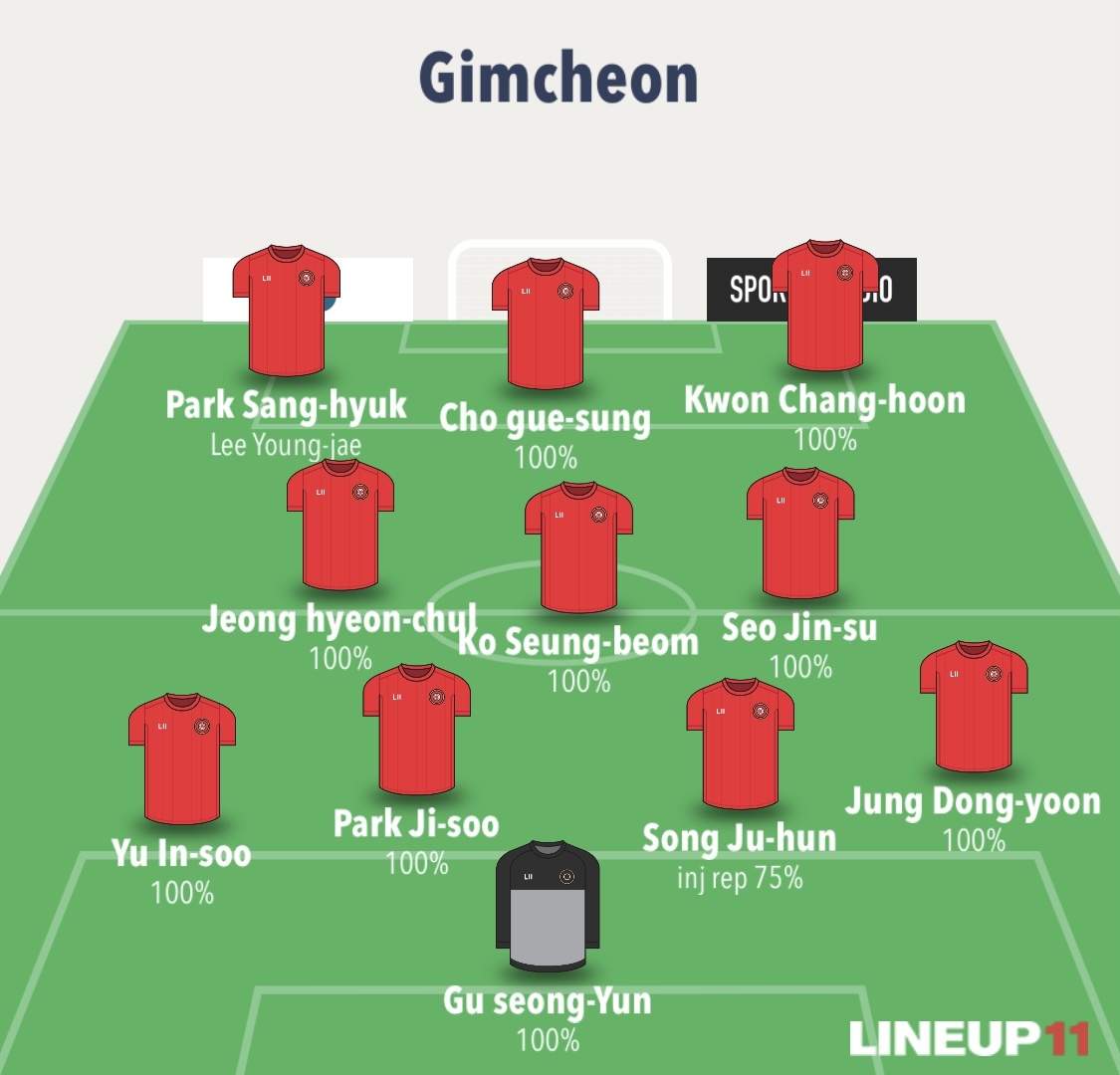 SUSPENSION: Ha Chang-rae
Lineup confidence: 95% - Injury and suspension at the back should see Song Ju-hun come in but Kim Ju-seong and Mun Ji-hwan are other options. Only selection doubt will be Park Sang-hyuk and Lee Young-jae with both getting minutes for sure but we might see Lee start this week.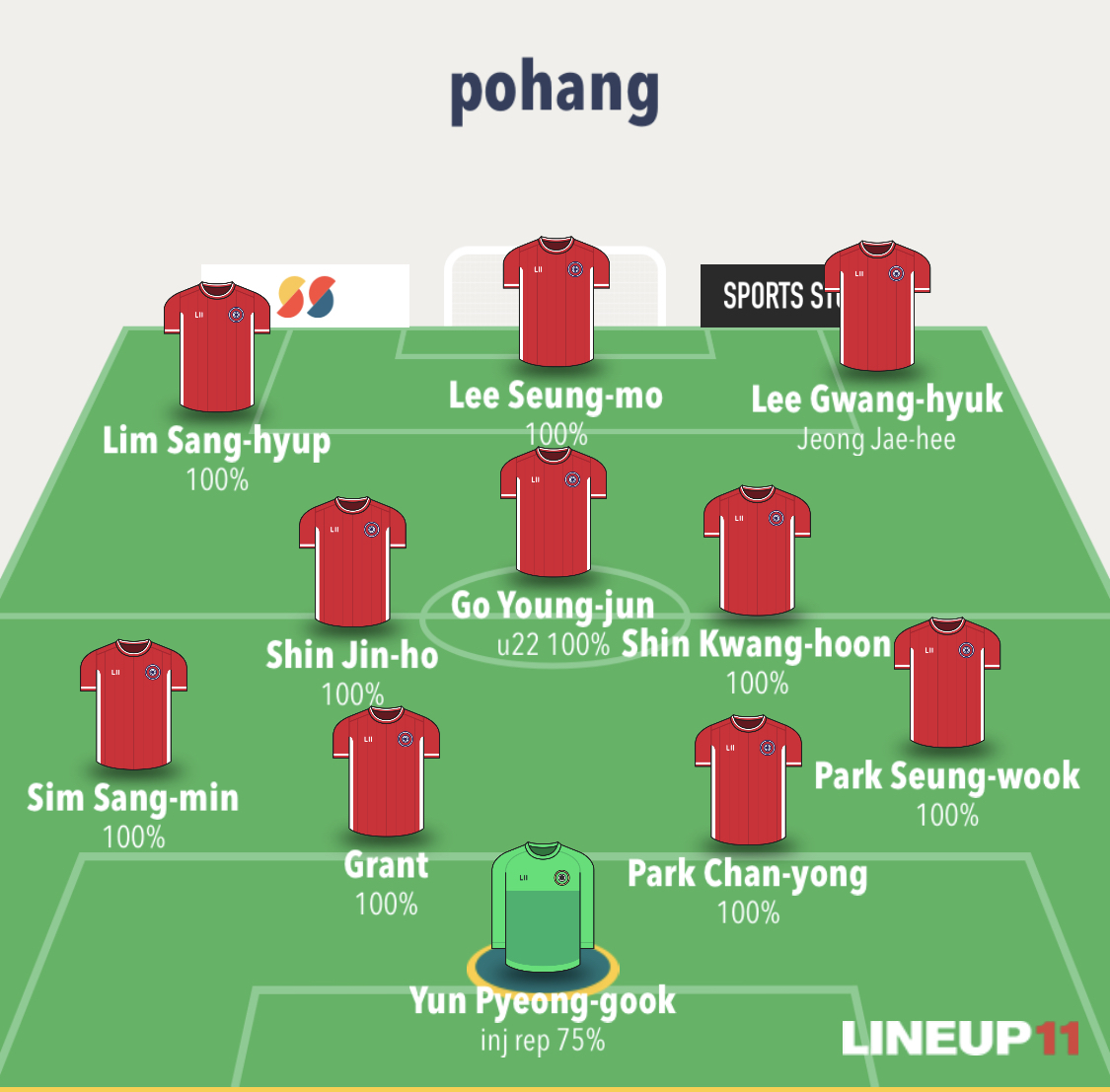 Lineup confidence: 90% - Kang Hyun-moo made the bench last week but Yun played very well in goal so expect him to continue for now. Go Young-jun will share U22 minutes with Lee Soo-bin while their foreign players aside from Grant still need more time. Lee did well last week but Jeong will be right behind him in getting minutes here I feel.
Daegu vs Jeonbuk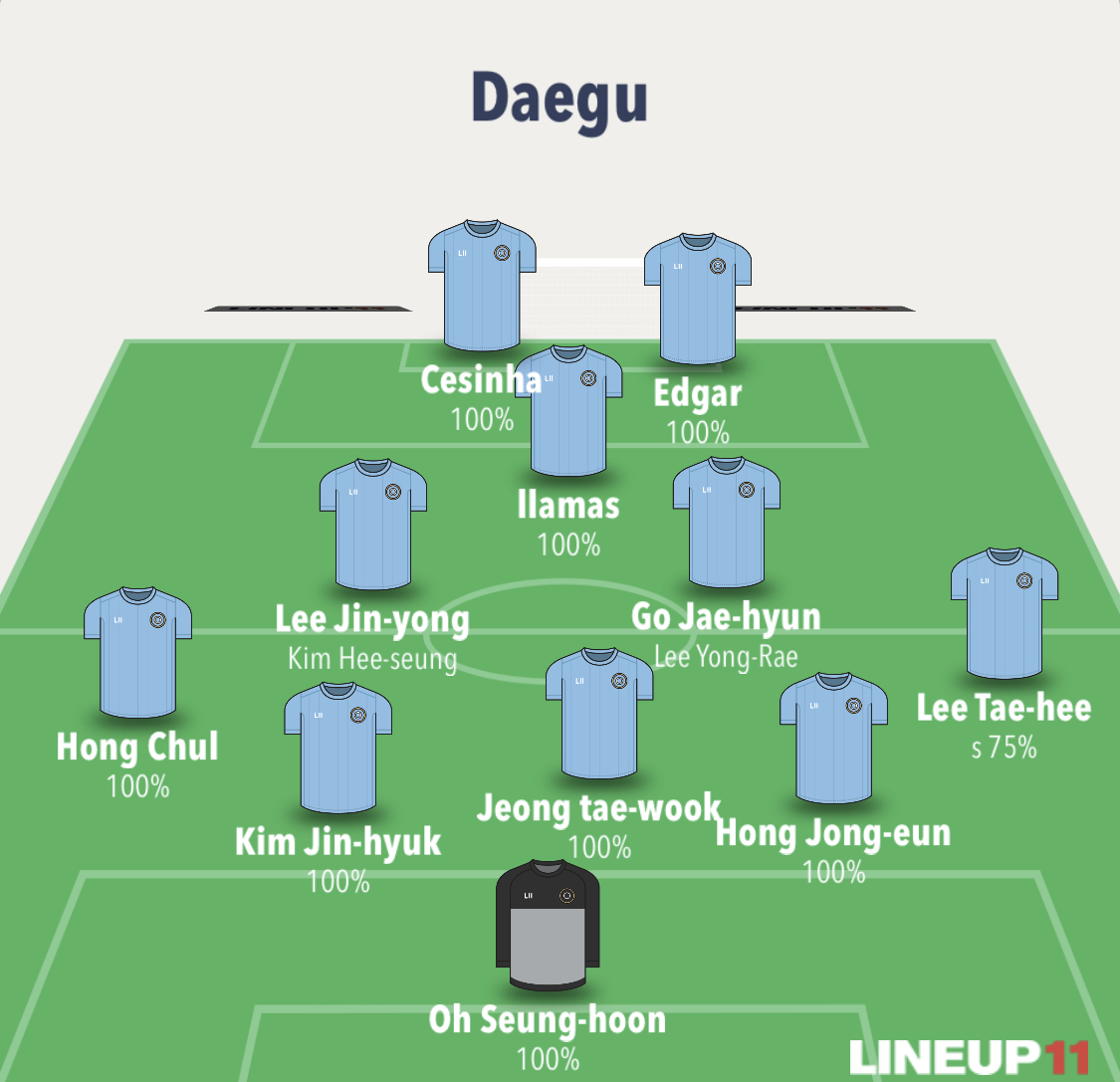 Lineup confidence: 90% - only issue is the U22 player with a surprise debut for our Yoof rookie Hwang Jae-won who did well but the midfield was quite poor last week so the U22 could move to Lee Jin-yong or Kim Hee-seung with Go Jae-hyun impressing as well.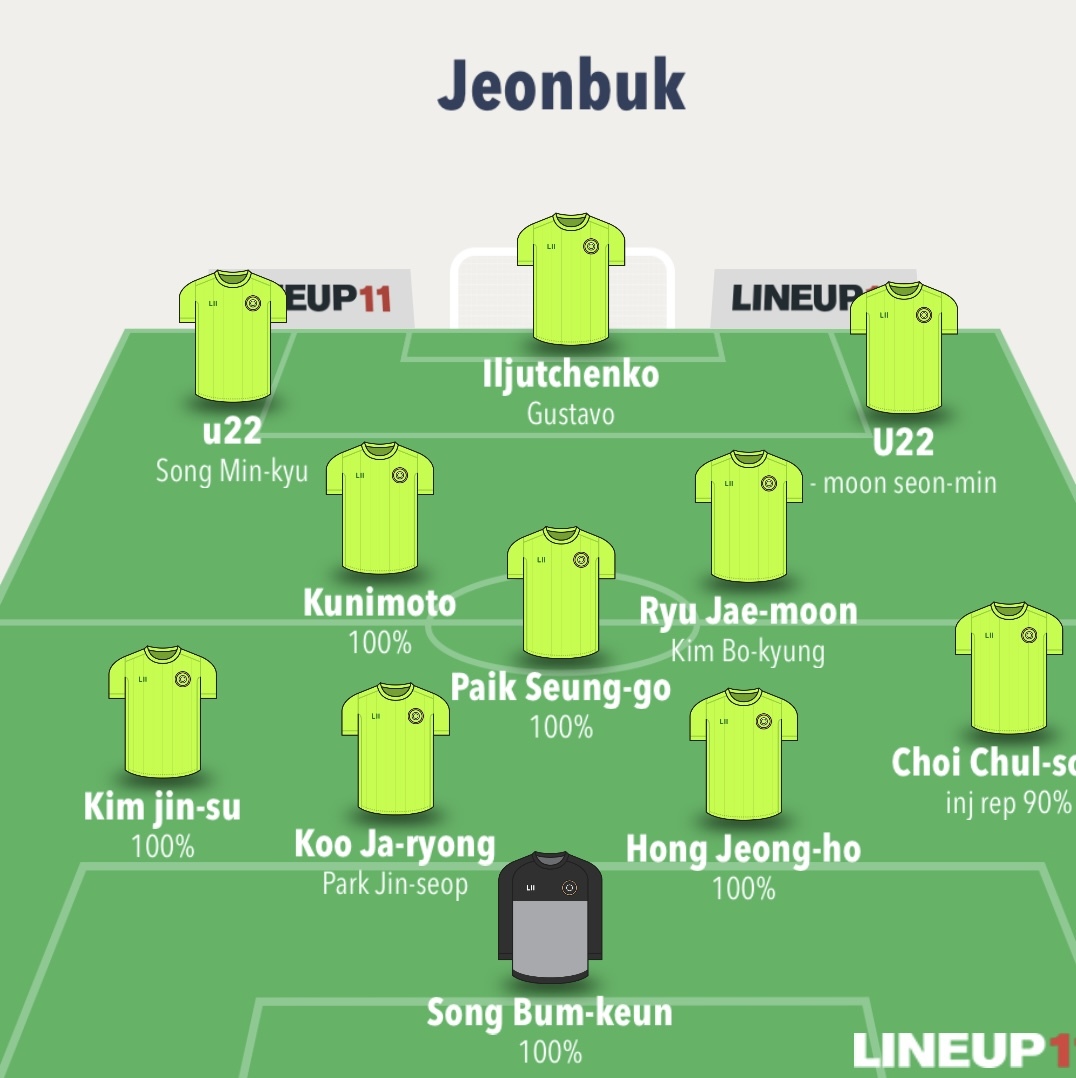 Lineup confidence: 90% - If the side continue with the two U22 wide players and early subs expect similar subs to last week with Moon Seon-min and Song Min-kyu both influential off the bench. Lee You-hyeon still out (poss. Covid) Choi Chul-soon will continue at right back with Koo Ja-ryong likely to keep the cb role. Ryu Jae-moon still seems favoured here too. TYPO for PAIK Seung-ho****
Enjoy this post?

Buy Kleaguenglish a coffee