#MondayMorninMunchies
Okay! It's time for #mondaymorninmunchies.
Corned Bread is an American staple! Skillet fried Corned Bread goes even further back to more primitive roots. Us "pale skins" originally learned processes and recipes for corn dishes from the Cherokee, Chickasaw, Choctaw, and Creek nations. Soon we devised recipes for using cornmeal in breads that were similar to those made of grains available in Europe and it became so popular that cornbread has been called the cornerstone of Southern American cooking. And I've had a few slices of cornbread in my day that really could have been from a cornerstone! (rim shot)
My last statement alludes to the fact that there are numerous variations on cornbread. Not all of them good. But ya' dare not say it out loud!! (rifle shot). Just eat, chew, swallow, drink LOTS of fluids, and repeat and to cover your actions, profusely complement the persimmon tea even if it tastes like tee tree oil.
Again there are also various types of cornbread too.... Baked, fried, ??steamed :0??. Cracklin' bread, Corn pone, Hot water cornbread, Johnnycakes, and Hushpuppies to name a few.
So, given so so many, here's my go at a recipe...
IngredientsIngredient Checklist
1 cup stone-ground yellow cornmeal or regular cornmeal
1 cup unbleached all-purpose flour or all-purpose flour
1 tablespoon baking powder
¼ teaspoon salt
¼ teaspoon baking soda
1 slightly beaten egg
¼ cup cooking oil
2 tablespoons sugar
1 ¼ cups buttermilk or sour milk*
3 tablespoons butter
Instructions
Step 1
In a large bowl, combine cornmeal, flour, baking powder, salt, and baking soda. Make well in the center; set aside.
Step 2
In a small bowl, whisk together egg, cooking oil, and sugar. Whisk in buttermilk.
Step 3
Place a 9- or 10-inch oven-going skillet over medium-high heat. Add butter. Heat until butter melts and starts to sizzle. Lift and tilt pan to coat side.
Step 4
Add egg mixture to flour mixture all at once. Mix until just moistened. Turn into a hot skillet. Bake in a 375 degree F oven for about 25 minutes or until a toothpick inserted near the center comes out clean. Cool slightly on wire rack. Serve warm. Cut into wedges to serve. Makes 8 servings.
*To make the sour milk:
Leave milk out on the countertop for 4 days... OR EVEN BETTER...
Place 4 teaspoons of lemon juice or vinegar in a glass measuring cup. Add enough milk to make 1-1/4 cups total liquid; stir. Let the mixture stand 5 minutes before using.
Recipe credits go to "Midwest Living"
Now it's YOUR TURN!!
DO YOU HAVE A FAVORITE CORNBREAD RECIPE? OR MAYBE A CORNBREAD VARIATION???
The recipe submission with the most likes will be pinned as an announcement until NEXT Monday.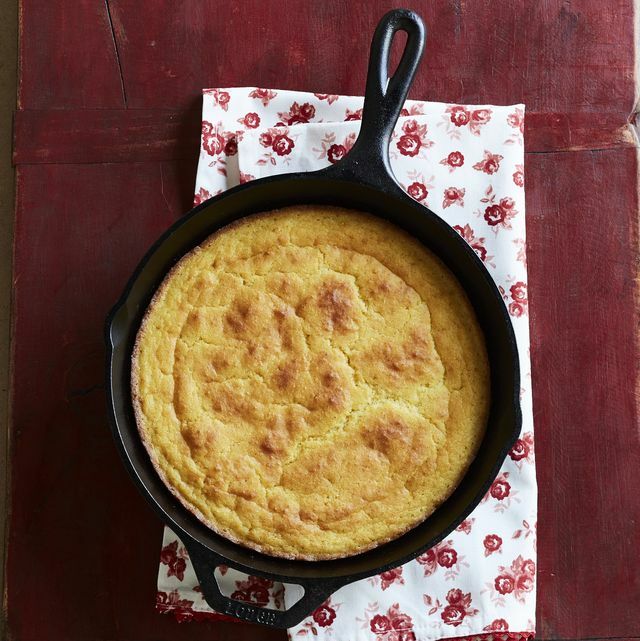 Enjoy this post?

Buy Friends of Moody's Ozarks Traveler's a coffee