Day 1-2: Delay Start - Dead Cow - Blown Tire
We took off out of San Jose California. Hugged my mom and drove off. We got on the freeway and the Check Engine light came on. It came on the day before, Keith had taken it to our amazing Sprinter van mechanic and he solved it. But now it came back on. The Mercedes vans are having a recall issue and we suspected that this was it. That would delay us at best several days, at worst several weeks since they will have to order the parts. We will have to be back in six weeks for various appointments, so we didn't have much room for delays.
We pulled over and called 3 different dealerships, made an appointment for Monday and decided to head out to Half Moon Bay to have a late lunch to rethink this trip. As we sat there enjoying the view of the coast line and the surf hitting the rocks, my cousin reached out from L.A. as he was following us on FB. He diagnosed the problem and sent us on our way. With check engine light on, we started our cross country road trip six hours behind schedule.
This was Keith Cuddeback staring at the Check Engine light. If he stared at it long enough he was going to figure out what's wrong n if we should keep going or not. 🤣😂🤪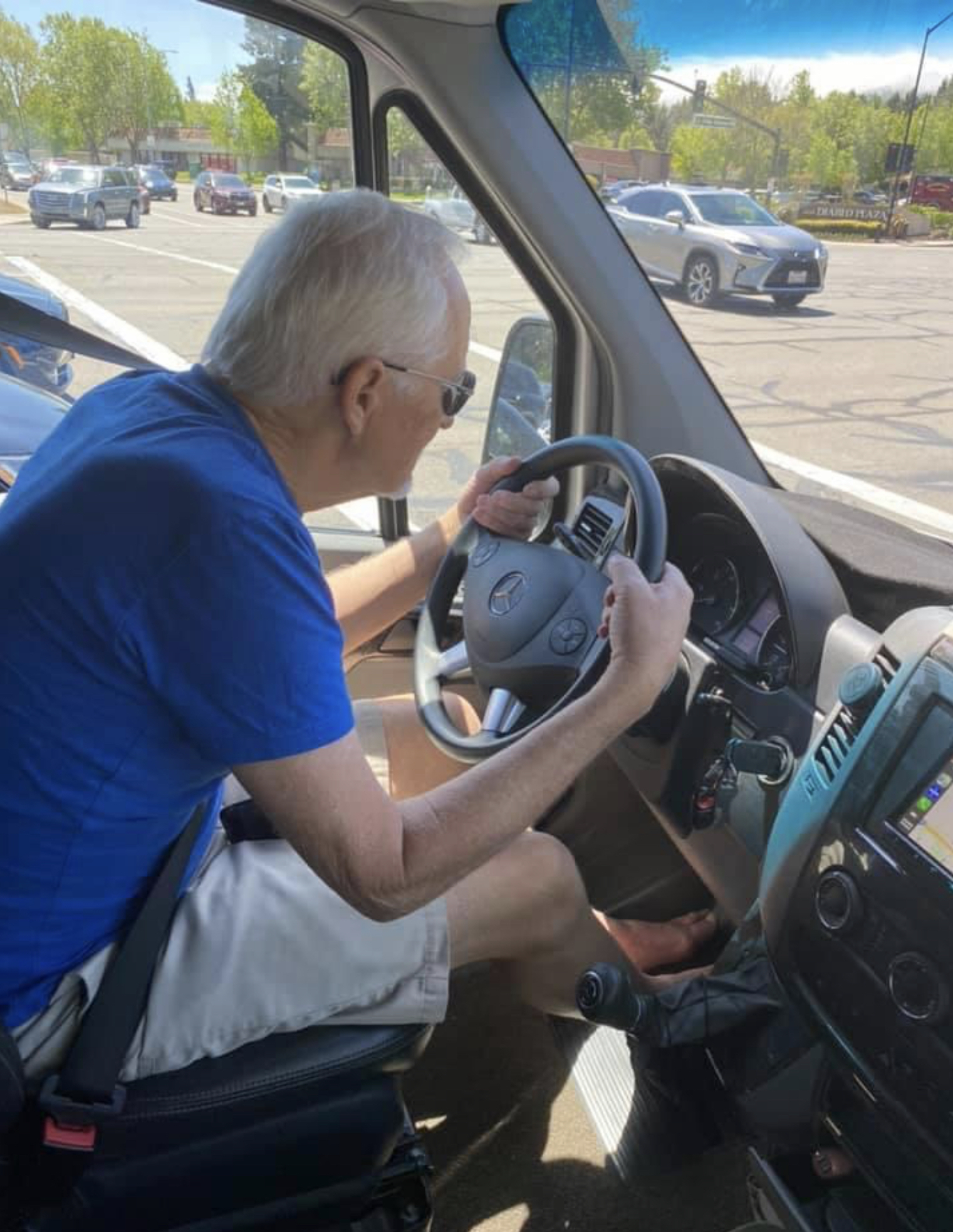 When we are road tripping we like to do wild camping, parking and sleeping on BLM lands where it is untamed and there is no one around.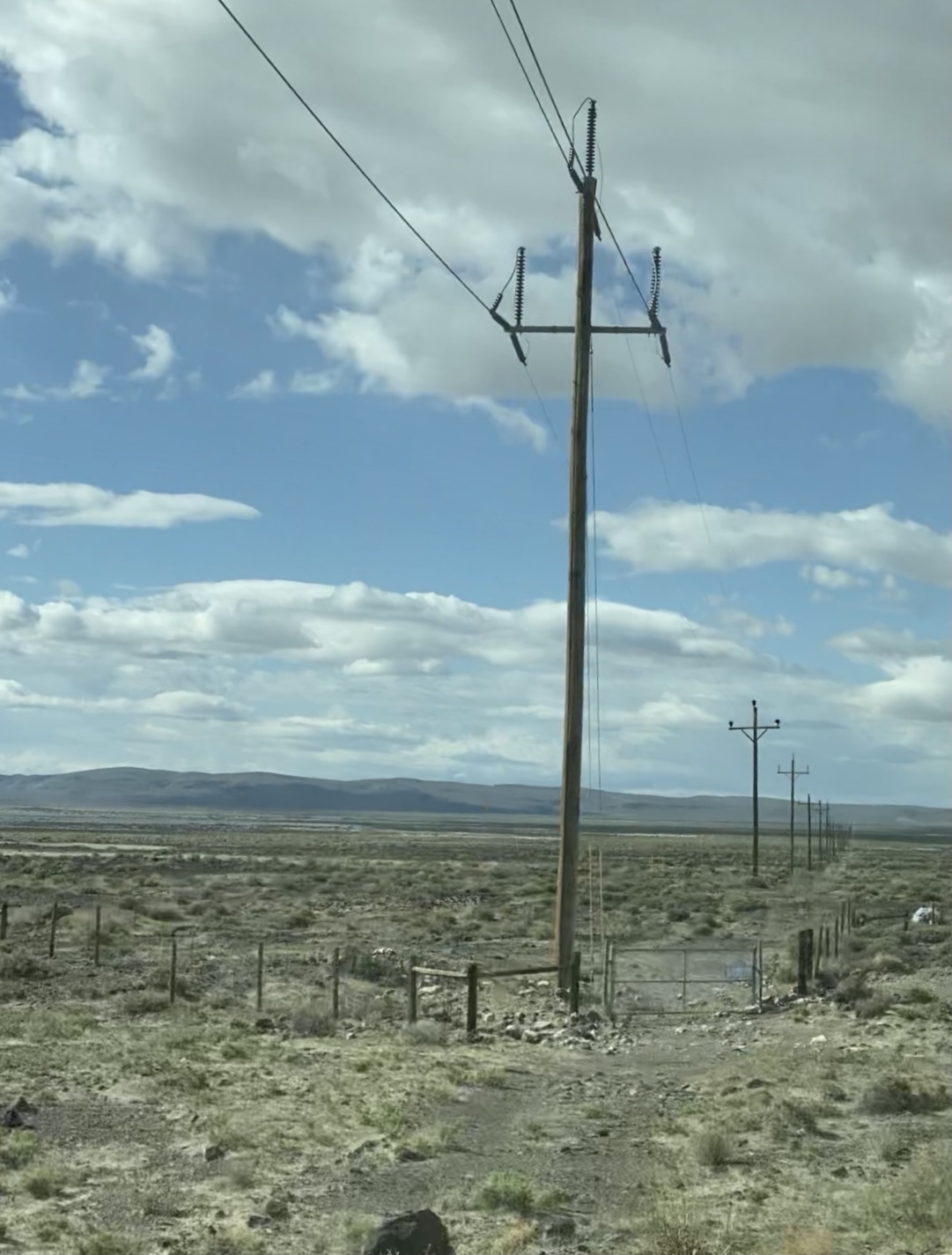 On our first night, we drove 4.5 hours to Fernly, Nevada. Keith found an isolated place on a wildlife refuge. It was pitch dark when we arrive. The first spot we chose was under the transmission line where we could hear the electric currents crackled overhead. So we move to a different spot. I noticed something dark and large like a boulder as I pulled into the spot, careful not to scratch our van by avoiding it. It turned out to be a dead cow when we shone the light on it. Not just a dead cow but one with its head cut off. My mind raced to figure out what happened. Your guess is as good as mine. It seemed sad though.
Was that an omen? Should we turn around? First the check engine light, now a dead cow with its head cut off?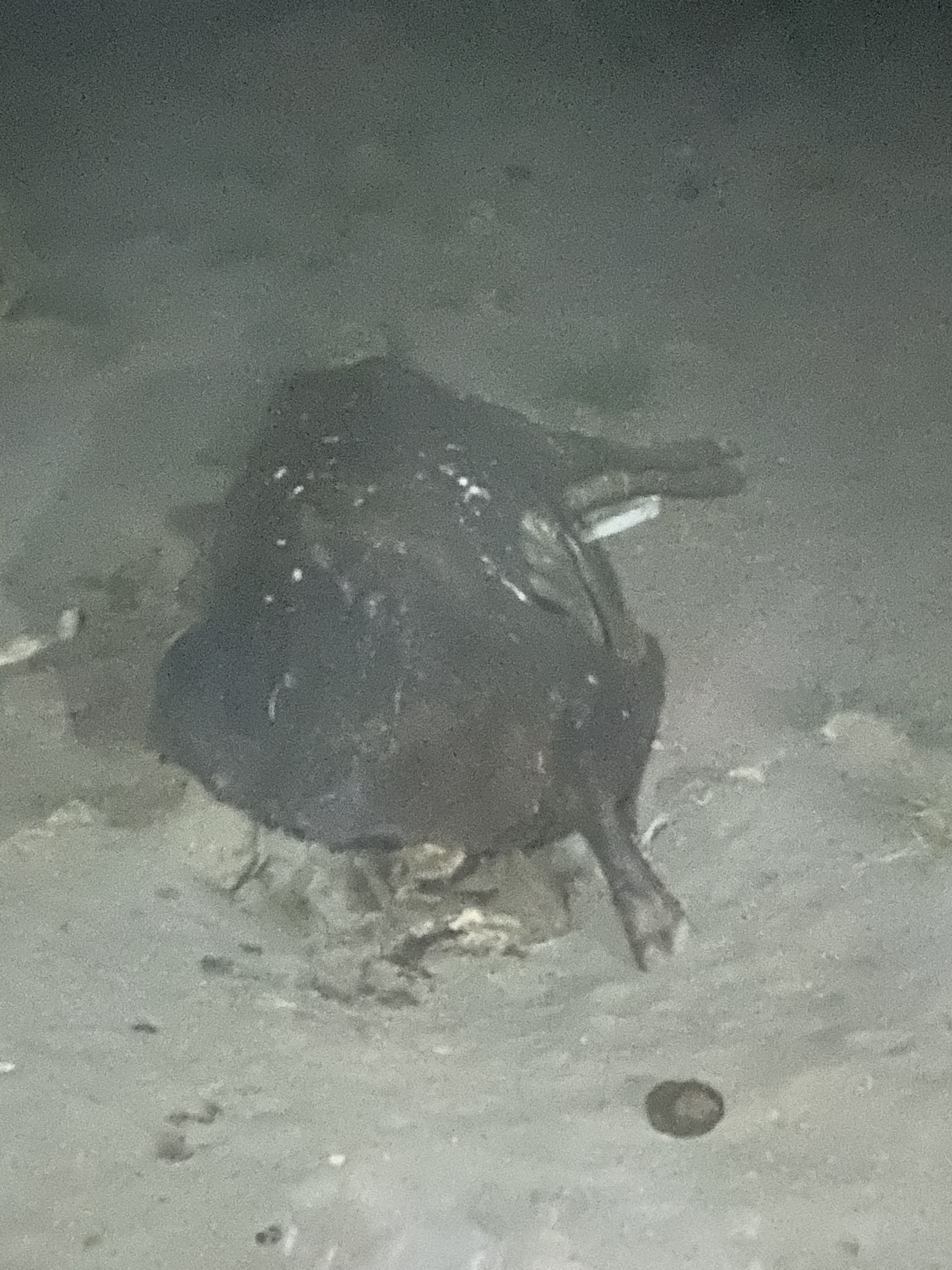 Day 2 we headed for Salt Lake, Utah, a 7 hour drive. It started to rain, but we pressed on. Half way there, my brother pulled up next to us and signaled to us to pull over. There happened to be a nice truck stop pull out. We looked at the back left tire and it was blown to pieces. Lucky for us that we have dual tires on back axle. We didn't feel a thing. We called AAA and they sent help. We had to wait about an hour for him to arrive. So we crawled onto our bed and took a nap.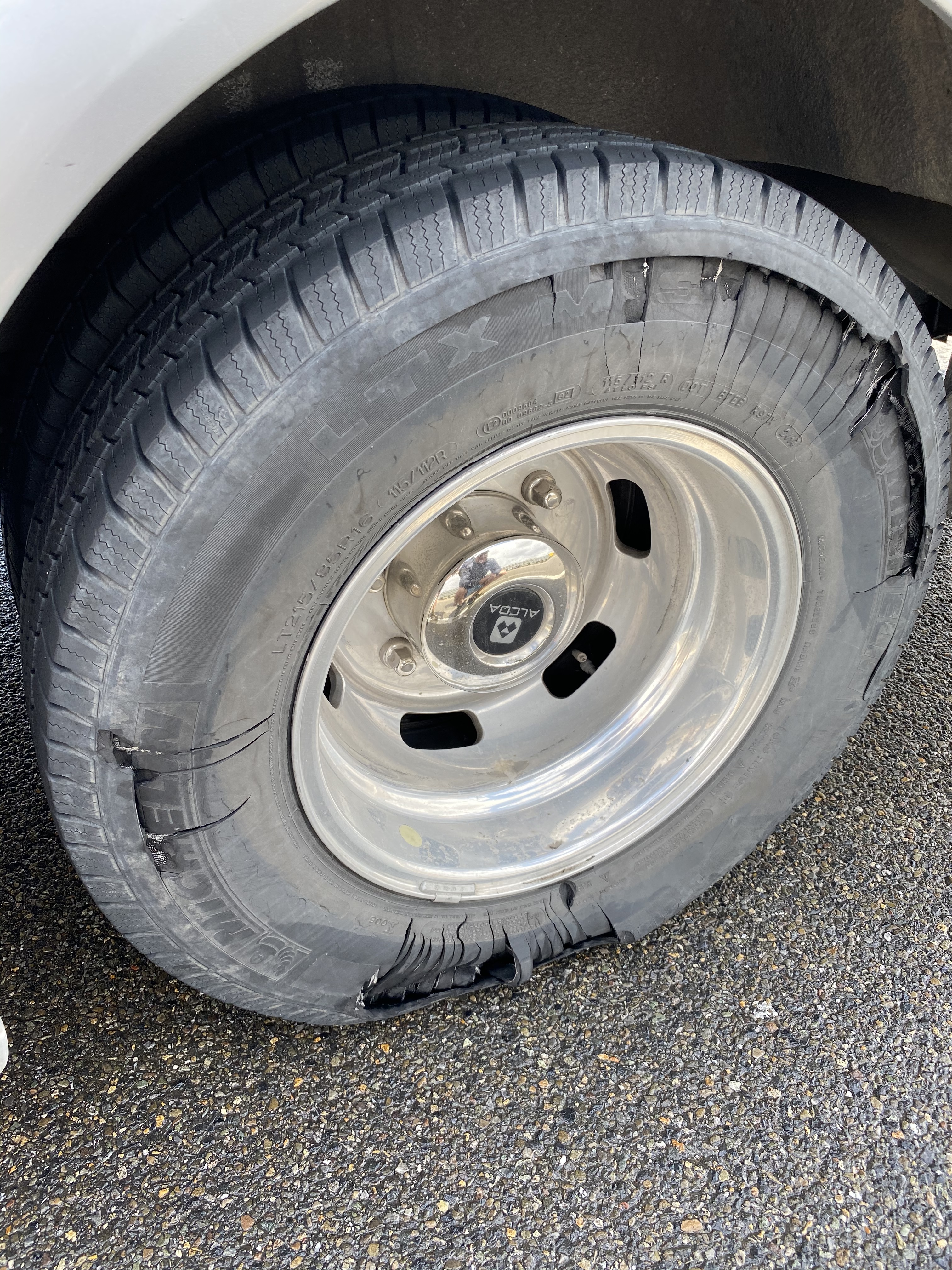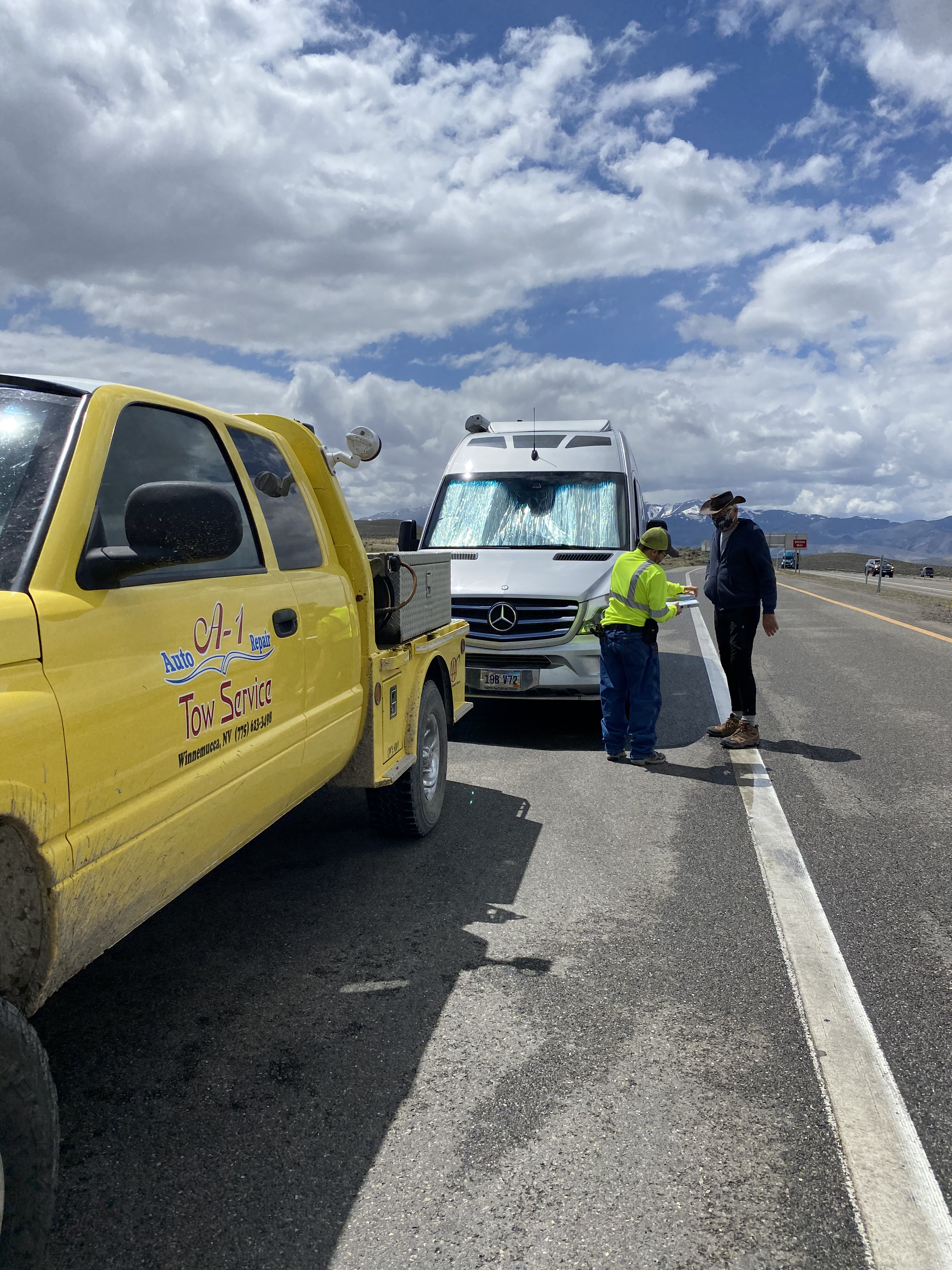 Note to self: Tires do get dry rot after 5-6 years. They do blow up. Don't be cheap. Replace them before you go on a big trip. 😂🤔

Point of the story?
I know this looks bad. 3 big signs. Perhaps we should have canceled the trip. But the truth was we felt at ease and cared for by all beings. Everything flowed easily. It was just a slight delay. No drama. No need to panic. We just flowed with it and be grateful every step of the way.
Ps. It stopped raining n dried up just in time for AAA man to replace the tire. Look at the clouds. They were ready to dump anytime.
I hope your adventures go smoothly. But when they don't it's OK. As long as you are safe, angels and helpers will come out to assist you. Watch the magic happen.
Enjoy this post?

Buy Mai Vu Coach - Bold Brave Women a coffee