Day 24A: Mel's Buggy Ride
I have two big curiosities that I have wanted to learn about for a very long time now. How do the Amish people live and how do farmers raise bison buffaloes? Basically anything I could learn about the Amish life and bison buffaloes delight me to no end.
Guess what? I got to learn about both of them in ONE day! I will write about the bison farming for Day 25, since they both deserve their own write up.
We made it to Berlin, Ohio, Amish and Mennonite country, just before the sun went down. I just love this country side, lots of green fields, simple farmsteads, and the clip clop sound of the horse drawn buggy prancing down a two way road.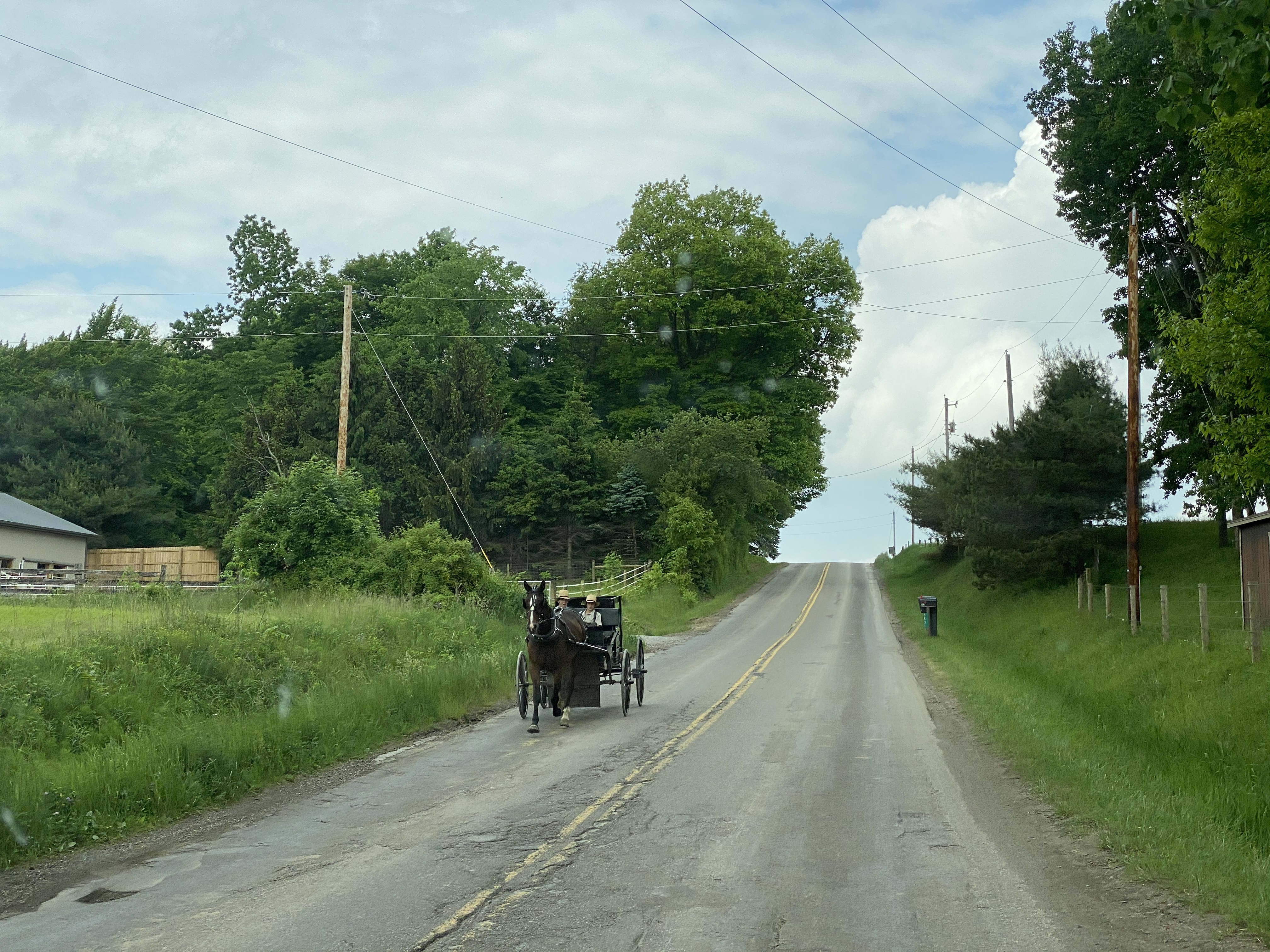 Looking at this picture, I can tell you that we are in a Mennonite part of town and not the Amish. Why? Too many electric wires. Amish houses do not have electricity or cars! Mennonites are more relaxed about having electricity and cars.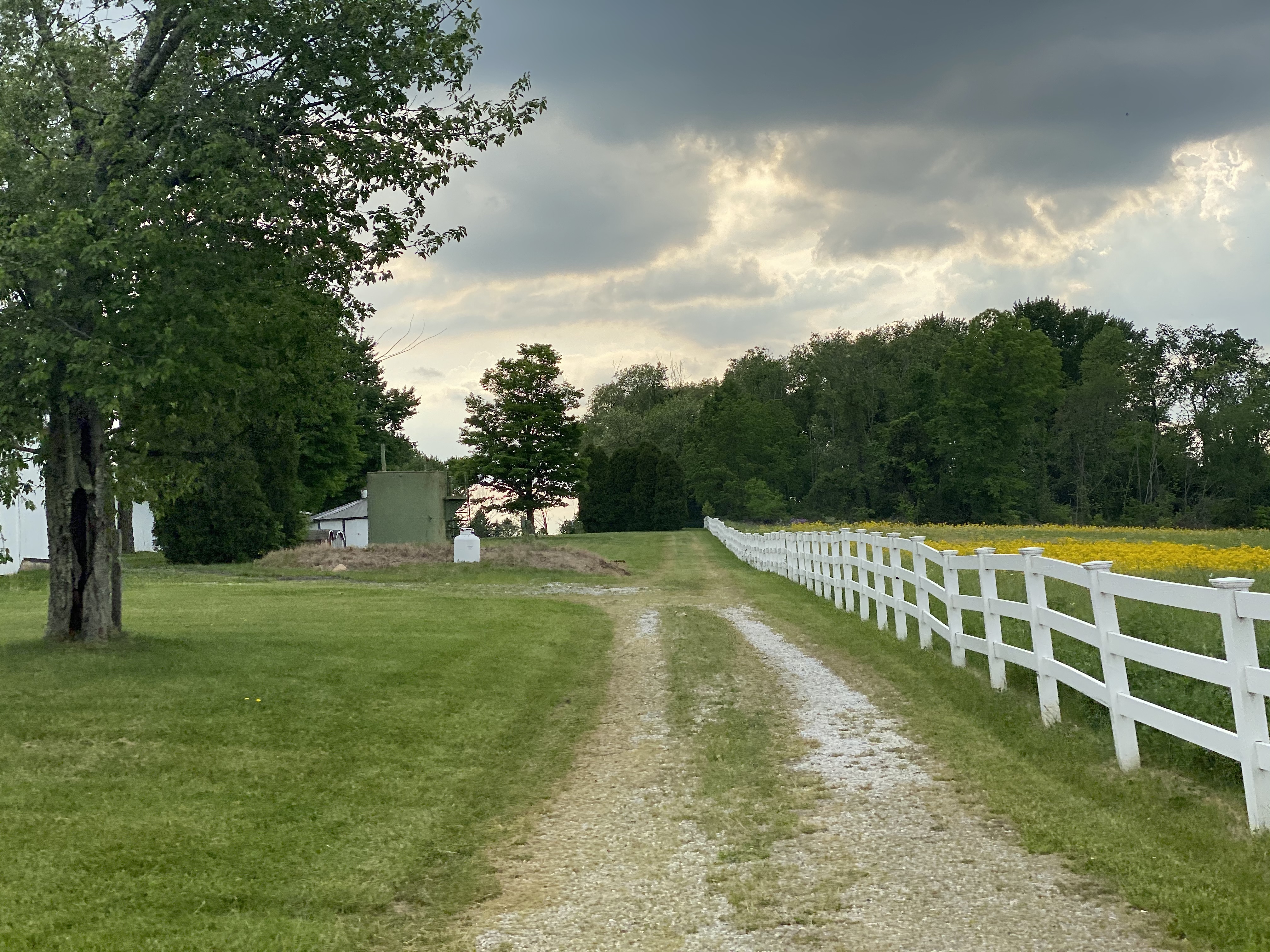 Amish yard.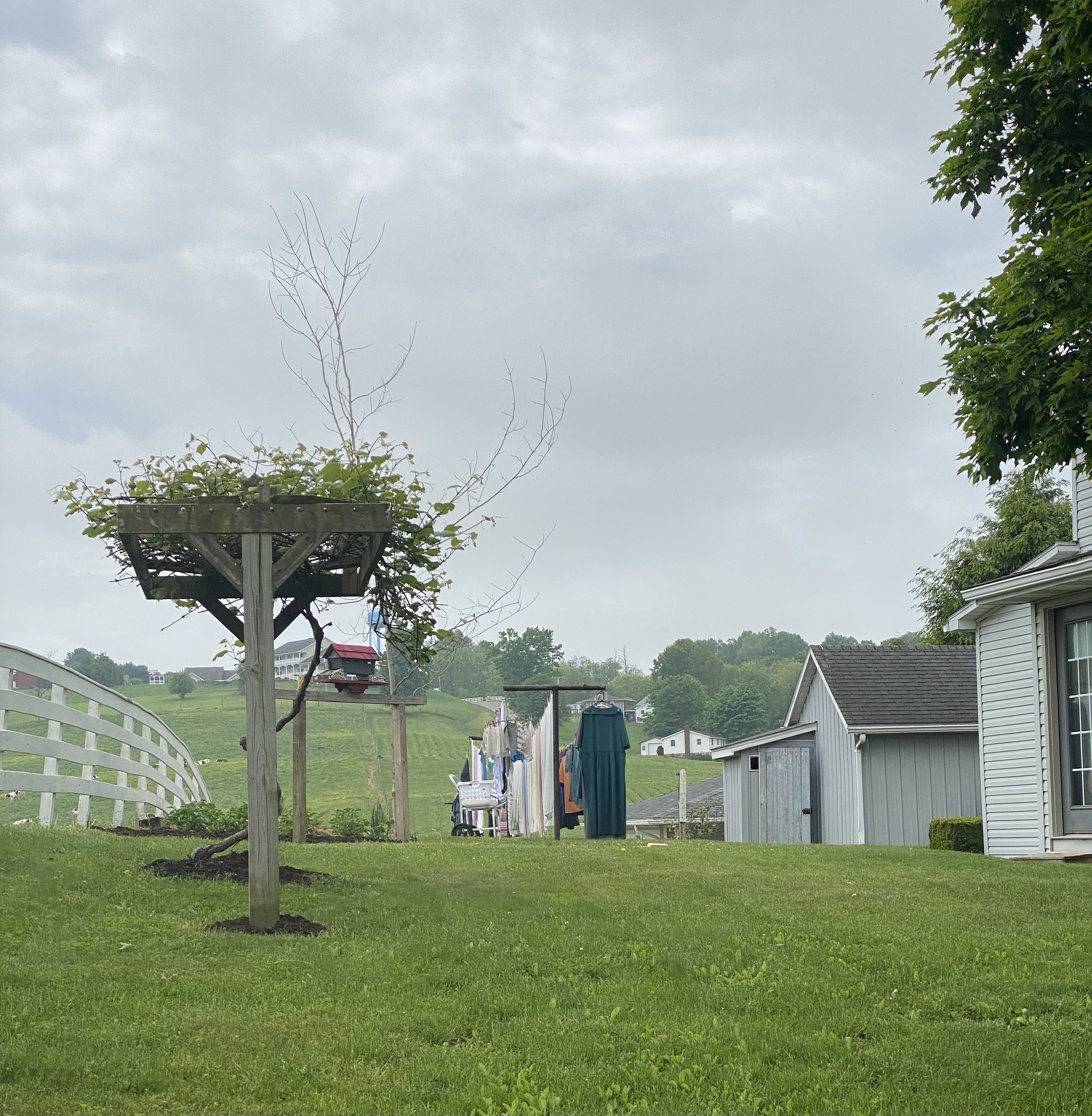 It's Monday, wash day. Note, no electric wire. They washed those clothes by hands or by the old Maytag washing machine.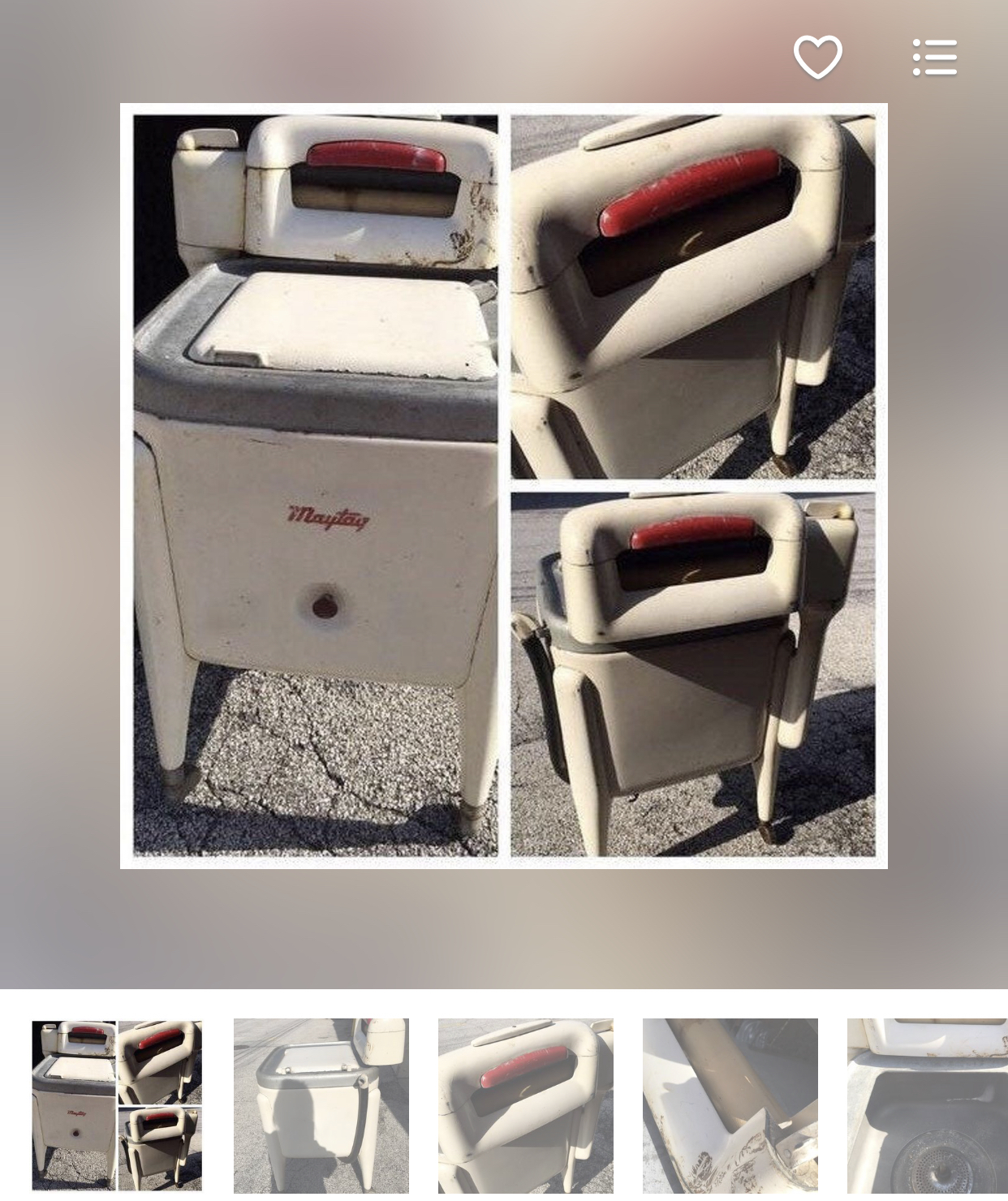 We tucked our vehicles in the parking lot of the Farmstead Restaurant and slept soundly. In the morning we went for a walk and discover a breakfast place that the locals went to. Boyd & Wurthmann restaurant was packed for a Monday morning. We ordered the house special: 2 eggs, your choice of ham or sausage, biscuit and gravy or buttered toasts, hash brown potatoes, and bottomless coffee, all for $9.99, the way it used to be. Keith loved it. I was thinking how do these people stay thin eating heart clogging food like this? I settled my brain with the excuse of once in a while, we just have to have one of these breakfast.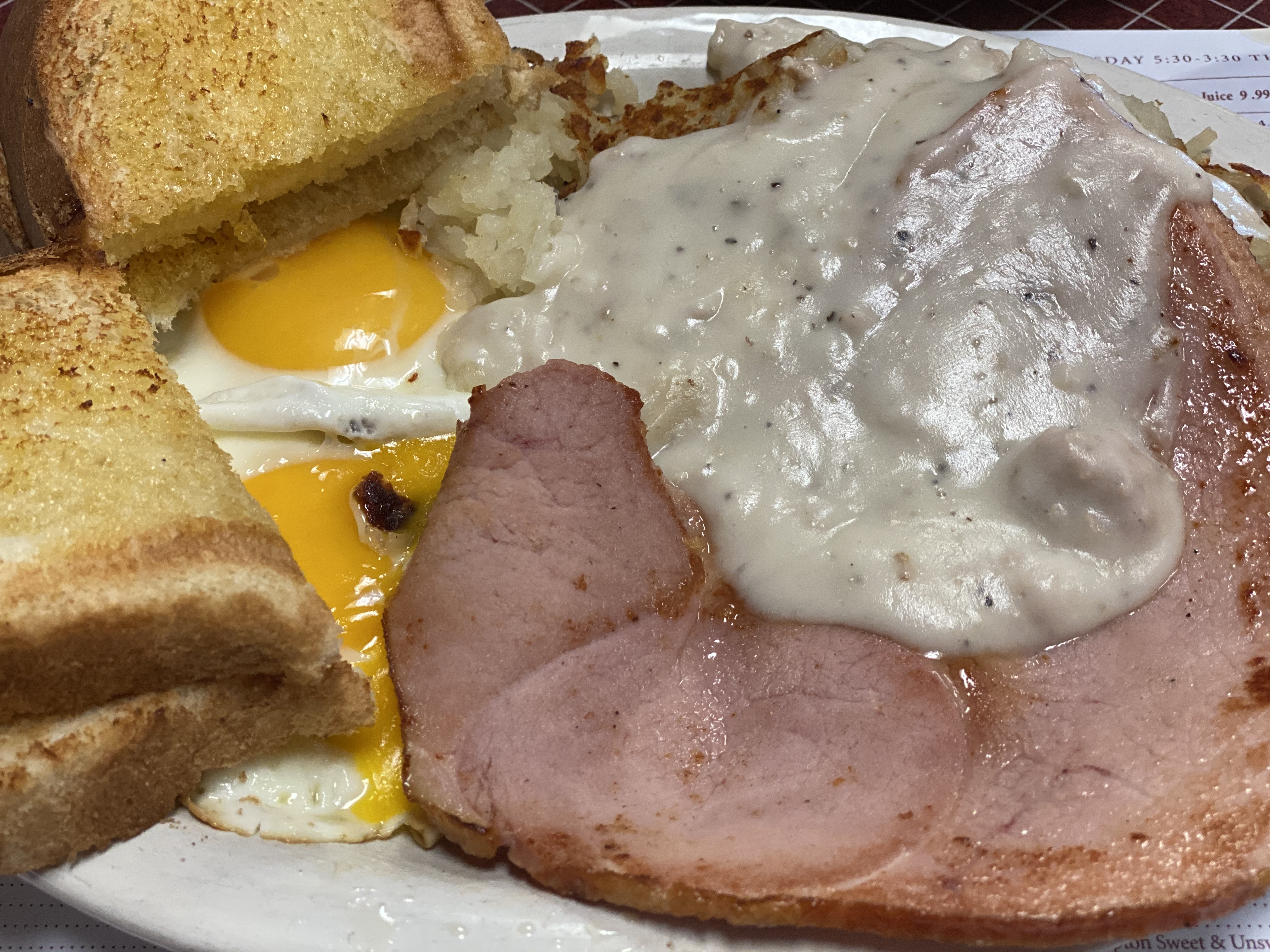 After breakfast, I succumbed to the luring signs of Mel's Buggy Ride, that were posted on every corners of every streets that we drove past in town. I wanted to talk to an Amish person and learn about their lifestyle. Mel was going to be that person!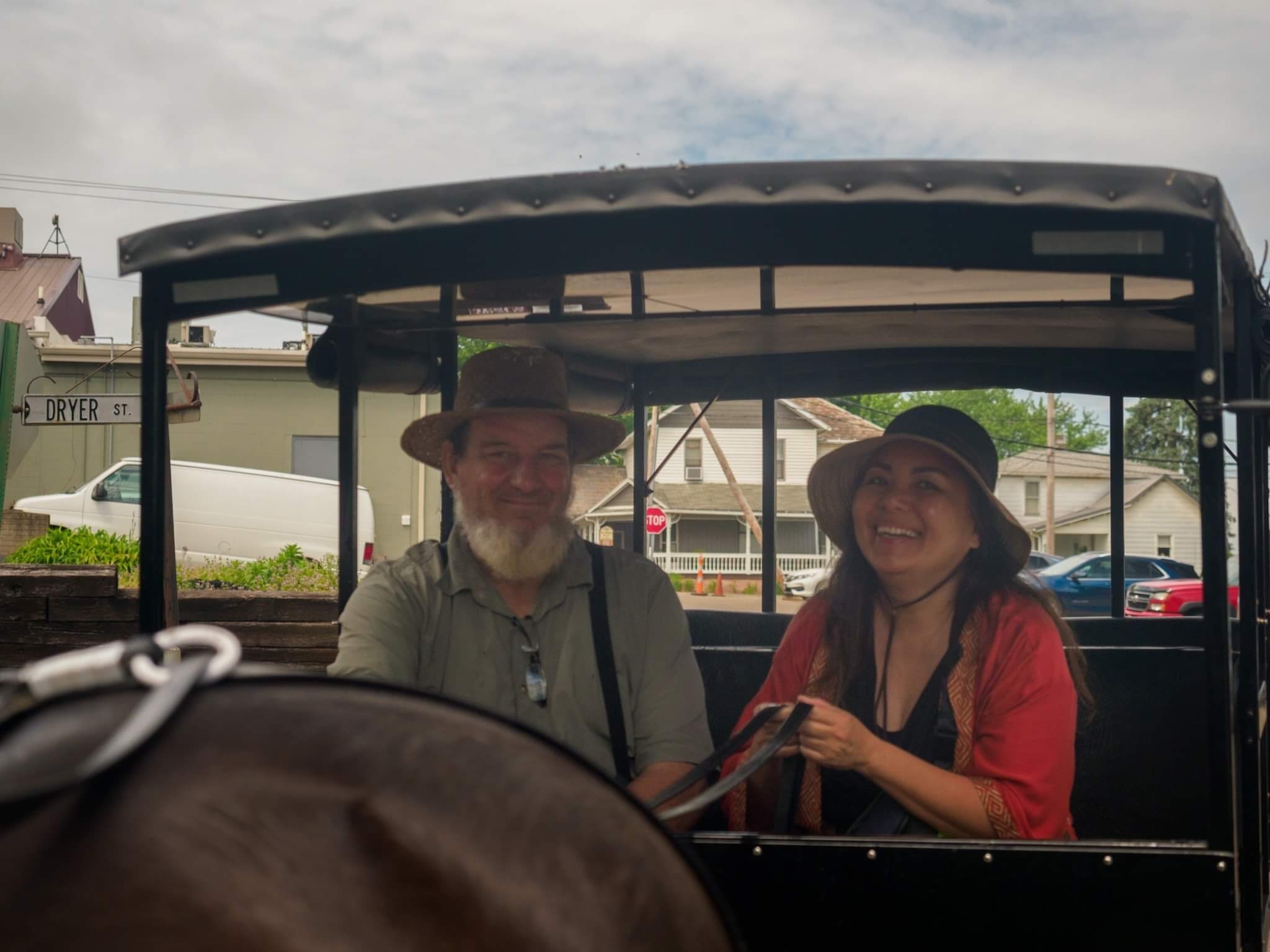 Mel started out grumpy but with my sincere inquisitive 🧐 mind, he quickly grew to like us. He is Amish, but wait a minute, he used a flip phone to do his business. Mel's buggy ride was quite popular. the phone was constantly buzzing. I had to include the picture of him on his flip phone. I mean, who uses a flip phone now a day?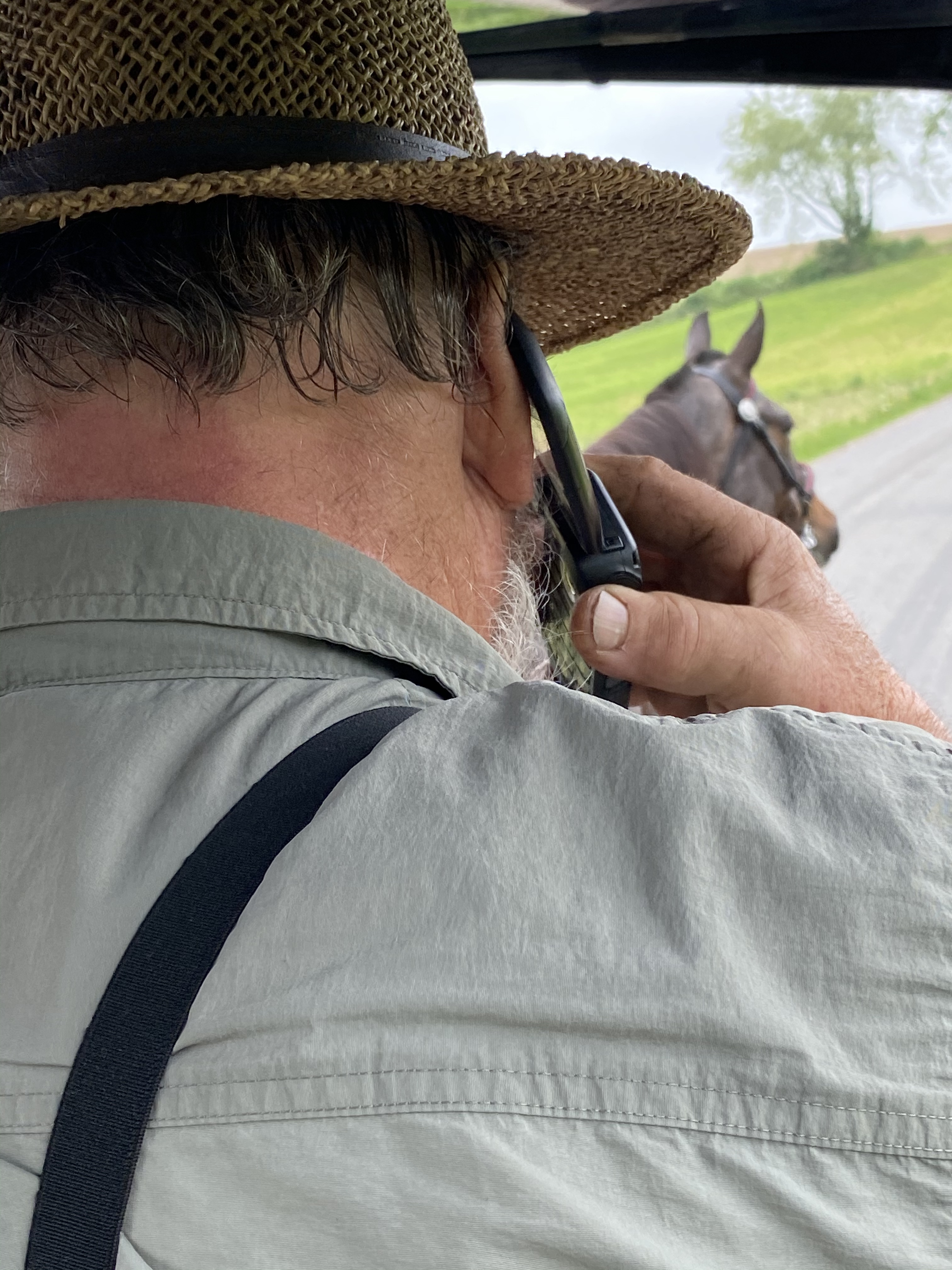 Mel gave us a one hour tour of the neighborhood. He told us about the difference between Amish and Mennonite, how they both had their churches and their own kind of insurance policy that helped everyone in their dire needs. He benefited from that when he hurt his leg a few years ago. The one hour didn't afford me enough time to ask deeper questions like the rate of sexual assault or abuse on women in the community. I did learn that the older parents would sell a piece of their land to their children, then they move into a smaller cottage in back and live onsite with them. There was no visible poverty, no homelessness. The women did look a bit white and bland in energy, but they had their community to hang with.
This was my most cherished shot of the day. We drove by this ice cream spot, and I took a snapshot from my iPhone. Wahoo! Caught it. I wish that trash can was not there. But I love the scene.
Oh yes, one tidbits: trump and his supporters tried to flip the Amish community in 2016 and 2020. They didn't fully fall for his bullshit. But there are some community members starting to believe in his crap. Luckily they still find trump's sexual misconduct objectionable and a clue to the man behind the noise. Let's hope that will hold.
Mel asked to check out our rig at the end of our ride. We became friends. I saw a little longing in his eyes of being able to gallivant around the country like us, going beyond where his horse and buggy could take him. I think he might be defecting soon. 😉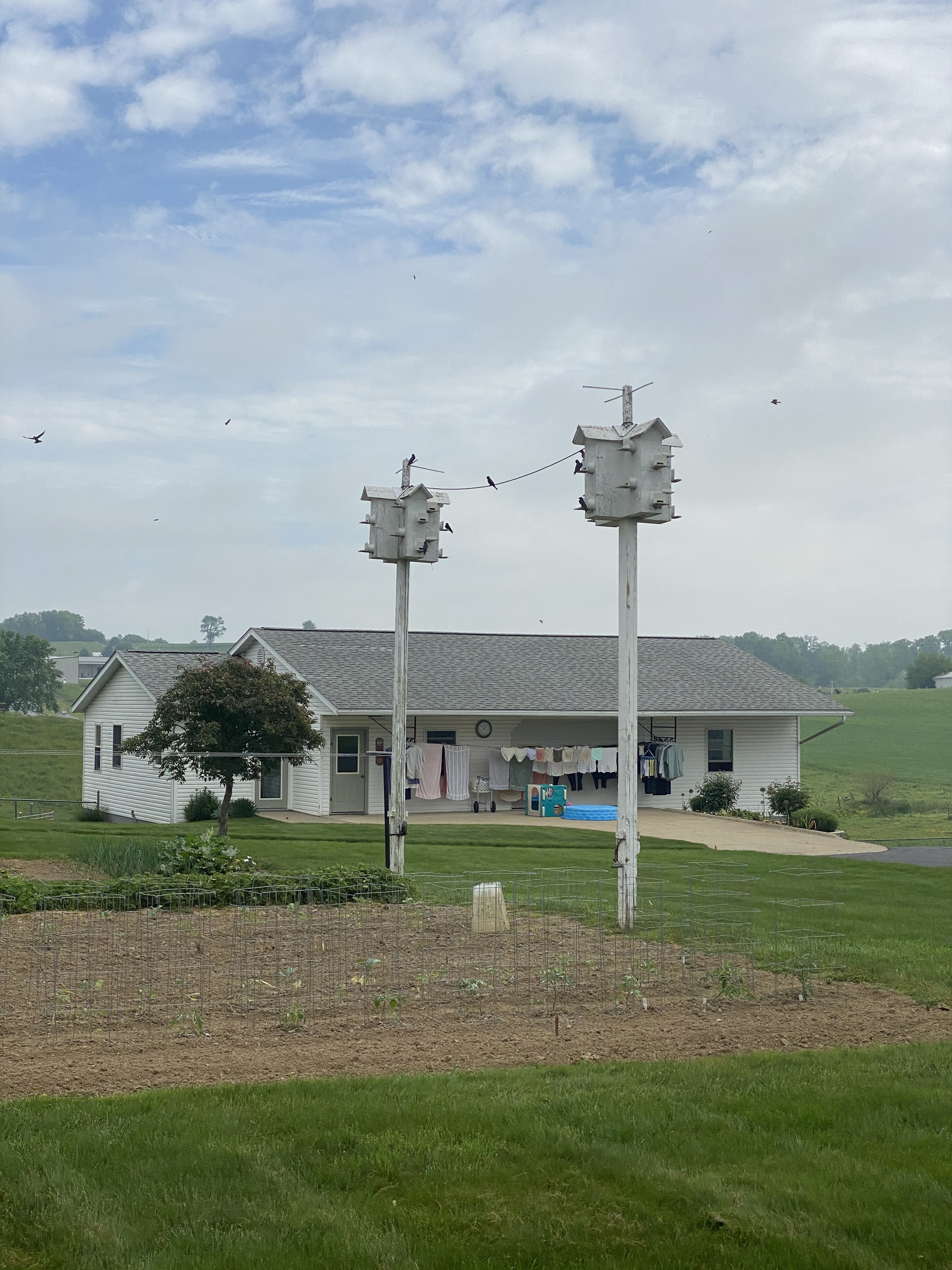 These are "condos" for the Purple Martin birds. They are migratory birds, wintering in Brazil, Bolivia, and parts of Peru, and Spring migrating in North America. These birds are preferred over the typical messy brown swallows.
Ps. I highly recommend Mel's Buggy Ride. It's very educational and fun. It felt VERY weird to be going at horse buggy speed after driving at 75-80mph everyday. I adjusted after about 15 minutes, then I relaxed into the clip-clop-clip-clop pace.
I left the Amish land with a little sadness and longing in my heart. It just felt so peaceful, clean, spacious, and easy. I know I am not seeing the full truth. But looking at San Francisco and our homeless tent city that are now stretched for miles throughout the Bay Area and comparing it to the landscape of Amish country in both Ohio and Pennsylvania, I have to wonder if there is a better way to be in community with each other.
Enjoy this post?

Buy Mai Vu Coach - Bold Brave Women a coffee