FS22 John Deere - Lanz 710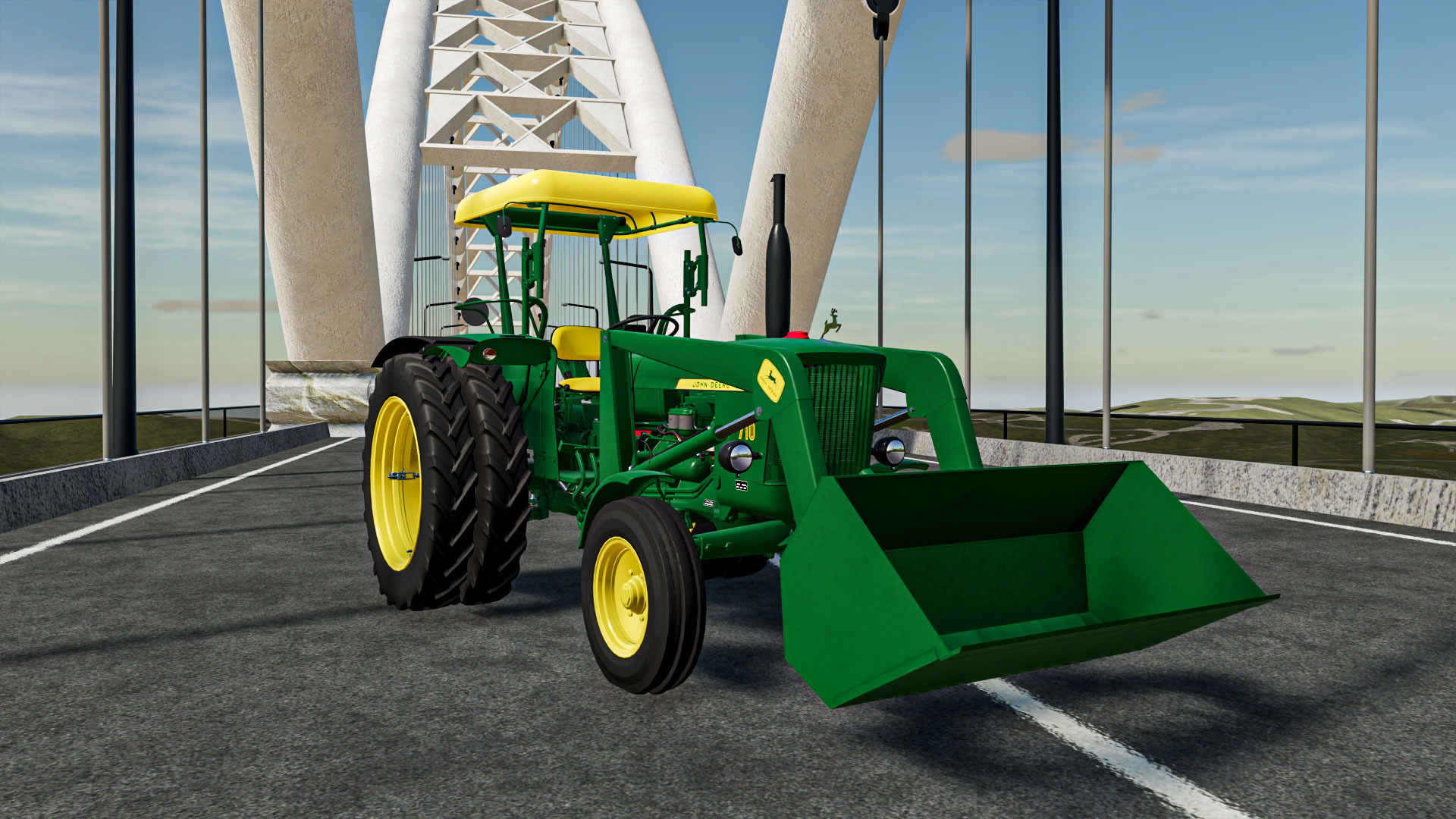 Introduced by John Deere-Lanz in 1965, the historic successor to the 700 model was built in Mannheim, Germany.
Meaning, the John Deere 710 was "made in Germany" and exported to North America.
With only a few thousand tractors produced between 1965 and 1968, the 710 model is a real classic.
Price: 7,500
Power: 50 HP
Speed: 25 KP/H
Weight: 2.3 Tonne
Fuel Capacity: 70 Litres
Front loader tools for the John Deere - Lanz 710
Bale Fork:
Price: 200
Weight: 100 Kg
Pallet Fork:
Price: 350
Weight: 150 Kg
Shovel:
Price: 500
Capacity: 400 Litres
Weight: 225 Kg
Changelog 1.0.0.1:
Mod renamed to "John Deere - Lanz"
XML and modDesc revisions
Fixed front wheel position
Replaced modern rear worklights with old design
Added functional dashboard lights: Engine Start, Lights, Hazzards
Added new wheel types, brands and configurations
Added new warning sign configurations
Added several "displayBrand" decals
Added multiple new colour options
Added selactable brand decal option
Added rear speed sign option
Added front lights color temperature options
Added cabin and new Roll Bar options
Hood/Bonnet revised in Blender to improve animation
Animated front wiper with Simple IC function
Added Front Loader option with hydraulic hoses
Added rear mudflap options with material type choice
Added option for modern or old front weight
Added Front Loader tools
Added Rear Fender option with material type options
Added Simple IC function to cabin window
Added animated fan belt
Added rear hydraulic connectors option
Updated front fender options
Revised torque scale of "tuned" engine option
Added mirror options
Added Hub color options
Added roof color options
Color options added to front loader tools
Material colour revised on various surfaces
Added support for Exhaust Extension: https://www.farming-simulator.com/mod.php?lang=en&country=ie&mod_id=248134&title=fs2022
Added engine configuration option (50 - 62 HP)
Added Front Weight options (560 - 1010 Kg)
Added Roll Bar option
Added additional rear worklights
Added US warning sign option
Added John Deere hood ornament option
Added front fender option
Added Aux. Seat options
Added Exhaust configuration option
Added additional wheel options
Added Exhaust color options
Added John Deere key chain
Added removable hood/bonnet via Simple IC
Added John Deere StrongBox™ battery decal
Added animated Exhaust flap
Improved overall decals quality
Adjusted material quality on various surfaces
Improved quality of dashboard decals
Engine rebuilt in Blender
Download Simple IC via this link: https://github.com/modelleicher/FS22_simpleIC/blob/main/FS22_simpleIC.zip
Credits: Giants Software, John Deere-Lanz, TSR, Chrisi136, T0b19am1ng, Farmari99, SleutjesModding, TomSky, Julian(OLdiModding), Vector Man, modelleicher (Farming Agency).
Blauea, Bremi456, SebCroteau, ls_oldtimer, Haubi, McKnightG.
Check Out All Membership Levels Or Support Us
PayPal Donation On: https://ko-fi.com/mygamesteam
Other Donations On: https://buymeacoffee.com/MyGameSteam
Enjoy this post?

Buy MyGameSteam a coffee