Krone BiG M 500 V1.0.0.2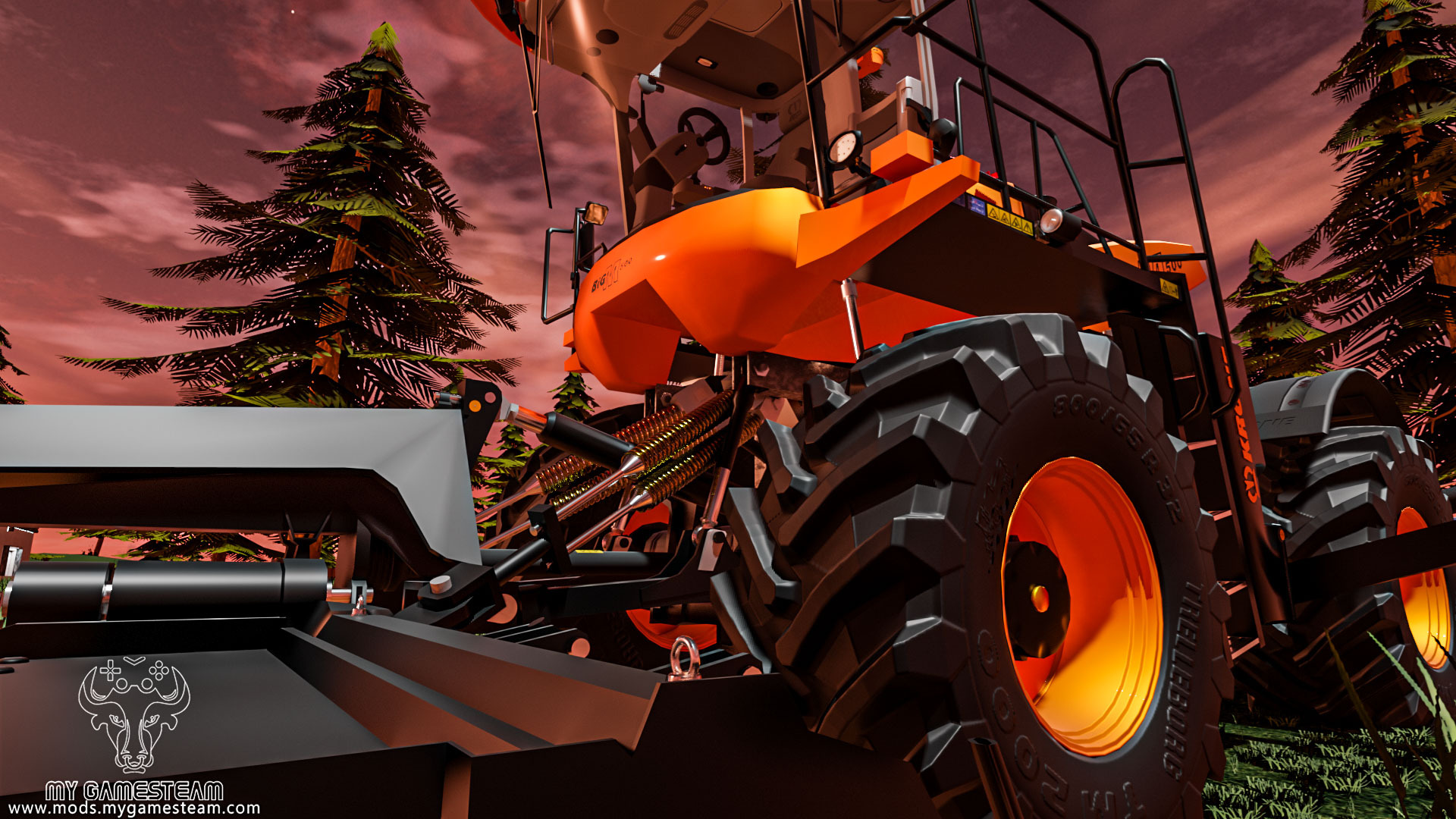 Krone BiG M 500:
Changelog 1.0.0.2:
→Added Fake Engine
→Added Wiring To All Working Lights
→Removed Lug Nut Color Option
→Added Opening Battery Storage Compartment (via Simple IC)
→Added US and EU Configuration
→Updated modDesc to Include Rear PTO Feature
→Revised In Cab Monitors and Decals, incl. New Startup Screen
→Added New 3D Model Elements to Interior and Exterior
→Added US License Plate
→Added New Pneumatic Hoses and Monitor Power Cables
→Added Full Color Configuration Options
→Added VIN Plate
→Added GPS Compatibility, incl. GPS Option in Shop
→Updated ModDesc Credits
→ISOBUS CCI 1200 monitors added to Cabin
→Base Price: 460,000
→Diesel Capacity: 900 Liters, DEF Capacity: 70 Liters
→Speed: 40KM/H, Reverse Speed: 20KM/H
→Engine: 520HP/382kW
→Working Width: 13.2 meters
→Working Speed: 20KM/H
→Tire Options: Choice of 4 types (Trelleborg, Michelin, Mitas, Nokian)
→Choice of Standard or Wide Tires
→Beacon Light Options
→Speed Sign Options
→US and EU License Plate Options
→Rim Color Options
→Hub Color Options
→Decal1 and Decal2 Color Options
→Primary and Secondary Body Color Options
→PTO Extension Option
→US and EU Configuration Option
→GPS Option
→Fully Animated Interior, incl. Seat Suspension, Ignition Key, Pedal, Buddy Seat, Armrest, Door, Wipers
→New Vehicle Sounds Added, incl. Simple IC Sounds
→Animated Engine Interior
→Front and Rear Mowers Fully Animated
→Many New Model Details Added, incl. Brand New PTO Sections and Brass Springs
→3D Model fully overhauled, interior and Exterior
→All FS13 Textures Removed
Simple IC Functions:
→Battery Storage Compartment
→Door
→Armrest
→Interior Light
→Ignition Key
→Buddy Seat
→Hazzard Lights
→Wipers
→Lights (3 stages)
→Beacons
→
Credits To: Giants Software, KRONE GmbH, Gheqor, Winston9587, Eagle355th, Aaron6446, Otis, Dince, Little Bear Modding, Andrei, Simsonschlosser, GalaxyLetsPlay.
Usxi7sd, Sadame, zVoxty, Tempu, Timber 131, Shippy, FS15Nexcraft, Jaison, Dimanix, Manuel Leithner, ifko [nator], Wobster, Zetor6245, PeterAH.
BPG modding, da-Hoffi, Stevie, Smety, iCookie, Osi, BW-LPG, DerBachl, Mr. Deez, Vydka, Becs Modding, No Naim [LSMC], Raptor, Desperados93, 01SorryLumpi.
Claasy, Fruktor, SFM, Sven777b, Sven18koehler, 3xitus, Daywalker, Samson locksmiths, Ivek, Arthur W., Shorty by Test Area, Adub Modding. Gamemods.
Qwertzuiopüasdfghjklöäyxcvbnm, EtxHdPete, AIERK modification, Leo630 ZockerStube, Sperrgebiet, Modelleicher (LS-Modcompany), GTXM mods, mod-scheune.
If anyone else is missing from the credits then please comment below and we will update the modDesc.
A big thank you in general to the community and apologies to anyone who may have worked on the Krone BiG M 500 over the years that feels they were not given adequate credit.
It is not our intention to deliberately leave anyone out of the credits.
This mod is free to be modified further, in fact...we encourage it!, while we have done our upmost to make the model as accurate as possible we still believe it could be improved further.
Special Thanks To TSR!
Follow Us On: https://www.buymeacoffee.com/mygamesteam
Now Available For Download: https://mods.mygamesteam.com/download/krone-big-m/
Enjoy this post?

Buy MyGameSteam a coffee