Magic wood‽
First, this goes out on Thanksgiving, 2021. Happy holiday! I hope you have a lot to be thankful for and that your list grows and grows. I am resisting any urges to write about this holiday and its history.
You're welcome! Here is something on a completely unrelated note.
Allow me to remind you that I have many posts that you have not received a notification about, should you want to read any other posts you've missed.
-

Burl or Burr as they call it in the UK is considered to be a desirable, exotic wood from which many of the most beautiful wooden creations are crafted. The grain of the wood presents as the epitome of a tree's ability to give an in-duplicable signature to its lifetime's experience. There are "eyes" to the grain. There are stormy swirls that seem to have inspired Vincent van Gogh's or Edvard Munch's iconic brushwork. There are imperfections and inclusions and deep, rich differences in color that gives it organic, pleasing contrast and depth. In older, high-end cars, many features were carved out of Burlwood. Shifter knobs, dashboard faces... It still couldn't be anything too large because Burl is a bit rare in the world of woodcraft. Most of the larger pieces of Burl, even in some of those old Rolls Royce classic cars are fake, but they had to be. Burl is almost impossibly hard to obtain in large enough specimens to carve face panels for an entire dashboard.
Many interior specialty painters learned techniques for painting faux-Burl back in the days when faux-marble was Haute (I am glad those days are over). Granted, achieving the appearance of authentic Burl was one of the most advanced and forbidding techniques. More often, the Burl wood or Burlwood fakes were printed versions that were thickly laminated with plastics. Sigh.
When we are children we learn a very nearly true, but fascinating bit of trivia that the rings in the core of a tree stump can tell its age. It has become a common inspiration for colloquialisms and jokes in several languages. A section of Burl has a different tale, though.
Trauma.
Burl comes from many varieties of trees. Pine, Walnut, Birch, Oak, Redwood. This list goes on and on.
This phenomenon naturally comes from distress, trauma, injury. A tree may be struck by lightning, antlers, bear claws, falling neighbor trees, tractors, branch breaks, lazy beaver teeth (from an abandoned "project"), insect infestations, rockslides. By the time a valuable Burl has been created, it will be much higher off of the ground than when the trauma happened because it takes years for this healing as the tree steadfastly grows.
Burl is beauty hidden within a scar.
Briefly touching on some technical aspects of the material, the tree, as it heals itself, sends out branches at the area. These small branches are concentrated and eventually fuse which is what causes the irregular graining and "eyes" in the swirly patterns. As a craftsperson, the gamble when using a (ethically) harvested burl is that it may have some unavoidable, secret surprises. Unfavorable discoveries in the carving process include structural irregularities where protrusions did not fuse or where bark became encased and has created geode-like voids in the material. Additionally, this material is easiest to carve with hand tools when it is fresh and still contains moisture. When it has dried, it is better suited for turning on a lathe. It is best to have wood well dried out before finishing because it will often dramatically change its shape in the process. Introducing oils like Linseed can alter the drying process but it promises to be no less dramatic, only slower. These changes often also reveal areas that were not fused and these result in cracks so, if you have carved your new coffee mug, you might end up with a hole or crack in the vessel and thereby a sculpture that cannot be used. If you have carved your new cheese board, you might end up with two smaller ones instead. In the process of crafting from this material, there are chemical, resin, or glue ways to combat potential failings due to inclusions, but, in my opinion, some techniques go too far in cheating the natural behavior and beauty of the material. I have an appreciation for the natural order of things, even decay.
I am writing this while admiring a fairly raw but rather old slab of ethically harvested Burl. By "ethically", I mean that the Burl was harvested from a tree that was downed by nature. This reasonably sized piece has been in "Hopkins storage" for around 35 years. It came from a Redwood tree that was alive before your great great grandparents were born. For a Redwood, this is a small Burl.

When I was growing up, my parents had a romantic adoration for Southern, coastal Oregon. We visited almost annually and we always stayed at the same place and year-by-year we explored different areas within reach of the hub of our modest, rented cabin in Yachats, Oregon. We visited Lighthouses, the headquarters of Pendleton Wool, Tillamook Cheese. We explored Sea Lion Caves and we feasted at Moe's (a sacred institution). My brother and I always loved an opportunity to spend our pennies on cheap, touristy crap whenever we could and our parents would always include an accommodating stop. I know that I still have an Oregon bicycle "license plate" with my actual first name (Dick) on it and I know they can't sell any such thing anymore which probably makes it some kind of collector's item. That's really funny if you hadn't grown up with the name.

Our father was super-friendly and he ALWAYS made friends wherever we went. He also had great ambition to continue learning about woodworking and collecting the tools to have a fully functioning woodshop. Often, my mother, brother and I would be left rolling our eyes at Dad's new connections with people and their long conversations. One such ended up in the acquisition of this Redwood Burl that has since been protected and saved for the "right" project. It was wrapped up and taken back to the Yachats cabin to then be protected with softer wrapping and gently placed in the luggage for the trip back to Denver. Once we were home, it was too precious to be turned into art without investing the time and learned skill to treat it with enough respect to let it realize its final form. For a long time, it was thoughtfully admired and inspected with reverence. Over the course of years, it represented a sacred possibility that hadn't yet communicated its purpose and it was eventually hidden away for that special day.
Due to life and circumstance, it was moved to deeper storage and it was forgotten.

We lost my dad to cancer 24 years ago.

This piece of wood has been waiting to be rediscovered. It has more than properly dried and climate/altitude adjusted. I recently rediscovered it, dusted it off, and took it back to the lab (my office) to have a closer look. It has been here for just a couple of days. It is riddled with natural, climate-influenced cracks but this development is informative. As it has fully cured and dried, I can trust areas that do not show fracturing or other natural faults. It is not as large as I remember but I was smaller then. I also acknowledge that its exaggerated importance may have equally affected my memory of its size. In short, it has the potential to not just be one thing but to be many small things. As it still holds the importance that I remember, I will dutifully honor this material's story and what I can respectfully add. For me, Burl or Burr is pleasingly symbolic of the value of the evidence of trauma and the abstract beauty in recovery.
Stay tuned.
Phelyx
(yes, Dick William Phelyx Hopkins)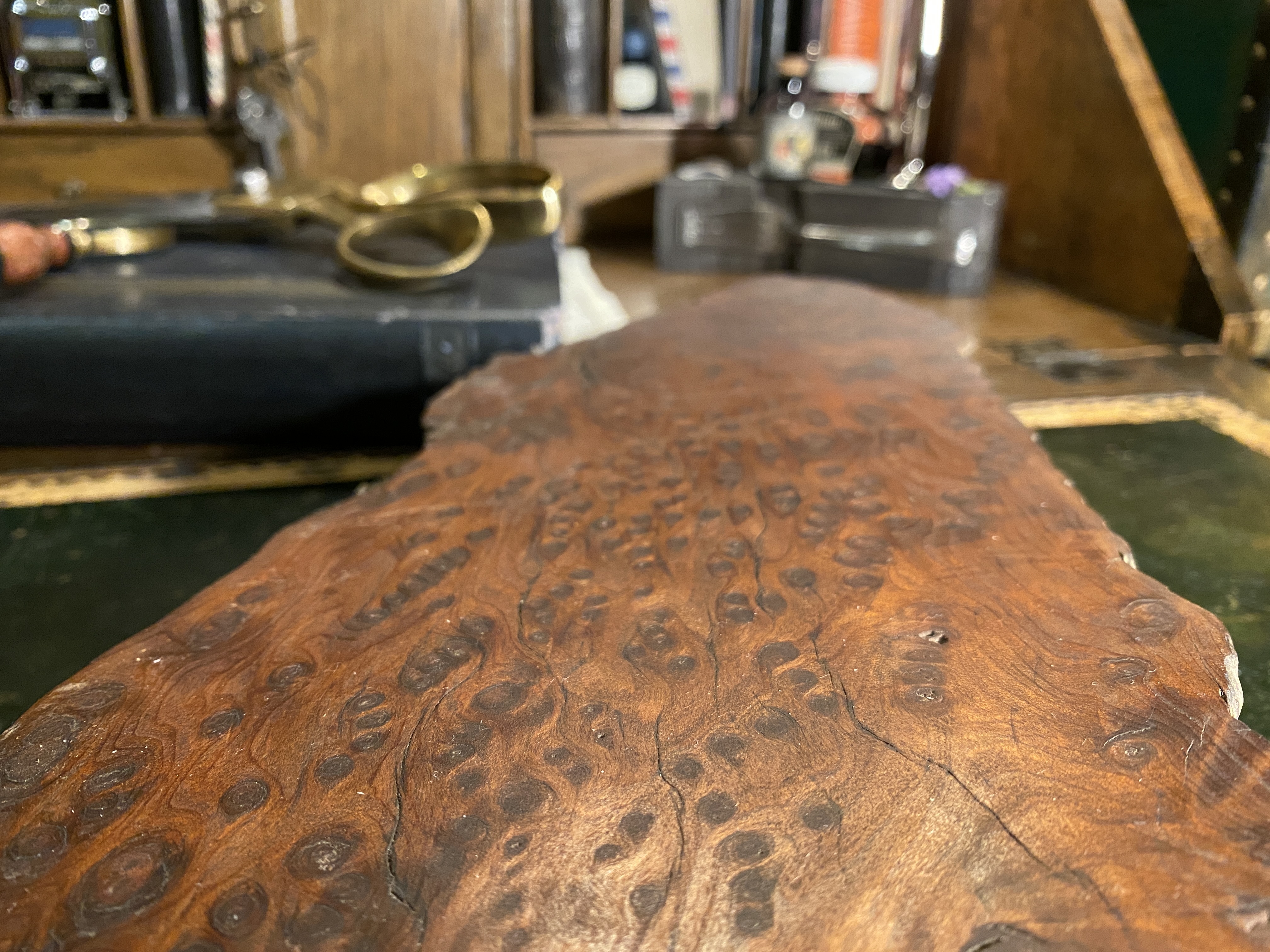 Enjoy this post?

Buy Phelyx Hopkins (Professor Phelyx) a coffee