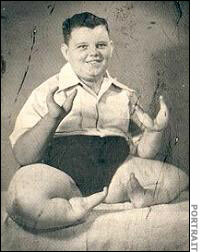 The following is not an LGBTQ related story, but it is an interesting True Crime Story.
Grady Stiles Jr was born into a circus family. Not the kind of family one might say "Not my monkey's, not my circus." This was a real circus performing family. Grady Jr was born into the family with a birth defect very common to his lineage. Ectodactyly is a condition also called Lobster Claw Syndrome. This condition was something that was in his genetic code and others in his family also had been inflicted with it. The family didn't look at the defect as a curse, they looked at it as an opportunity! At the age of 7, Grady Jr. became a circus attraction. If some of you watched American Horror Story's Freak Show, actor Evan Peters played a character loosely based on Grady Jr.
Grady Jr. was unable to use his legs to walk due to his deformity. He instead, pulled himself along with his lobster hands and arms, developing great upper body strength.
When Grady Jr. was an adult, he met and fell in love with another worker in his family's circus. Mary worked in the carnival part of the circus. Mary was married to another carnival worker at the time, but the man was physically and mentally abusive to her. Mary left her husband for Grady Jr., who at the time treated her very well. Six years into their relationship, Grady Jr. and Mary married. The couple had two daughters who ended up joining the travelling circus/carnival as well. One of the daughters was also born with Lobster Claw Syndrome. Over the years, Grady Jr. began to get balls deep in alcohol, and he was an angry drunk to boot! When soused he went into tirades of physical abuse towards his wife and daughters. One night after a binger he tossed his wife and girls out of their home. Which to me, would have been a blessing. Mary, not sure what to do, turned to another circus performer. Harry Newman. Harry was billed as The World's Smallest Man. Grady Jr. filed for divorce and got custody of his daughter's when Mary failed to show up to court. Not long later, Grady Jr. married another woman, it was a very short lived marriage. By now, the daughter not born with Lobster Claw Syndrome was in her teens. The girl fell in love with a young man. Grady Jr. didn't like the young man seeing his teenage daughter, with ice in his veins, Grady Jr. took a gun to the young man and shot him dead. The judge only sentenced Grady Jr. to 15 years of probation. The judge didn't feel the prison system was set up for prisoners with disabilities such as Grady's.
Mary left The Smallest Man in the World, because as we learned before, size matters...lol. She went back to Grady Jr. Big mistake Mary. Again the physical abuse started up, and if Mary or their daughters tried to fight back, Grady Jr. would tell them, "I've killed once and gotten away with it, don't tempt me to do it again!"
Done with Grady's bullshit, Mary and her stepson from a prior marriage concocted a plan. They paid out $1500 to a 19 year old circus performer, whose job it would be to kill Grady Jr. The hired assassin put three bullets in Grady Jr's head.
The assassin was arrested and put on trial. He was convicted for 2nd degree murder and sentenced to 27 years in prison, he also implicated Mary and her stepson in the crime. Mary's stepson was charged and convicted of first degree murder. He was handed a life sentence. Mary was arrested, charged and convicted of conspiracy to commit murder. She received a 12 year prison sentence. Mary said she was only protecting her family and now they are safe.
Funny how Mary didn't think about protecting her daughters from Grady Jr. when she didn't show up to family court and he was awarded sole custody of the girls.