⚖️See the Bigger Picture Before Making Decisions: Weekly Reading Aug 21 - 27⚖️
Hello everyone and welcome to the weekly reading for the collective! Today we are using the Disney Alice In Wonderland tarot by Minerva Siegel and Lisa Vannina. Let's dive into the reading!
⚖️⚖️⚖️⚖️⚖️⚖️⚖️⚖️⚖️⚖️⚖️⚖️⚖️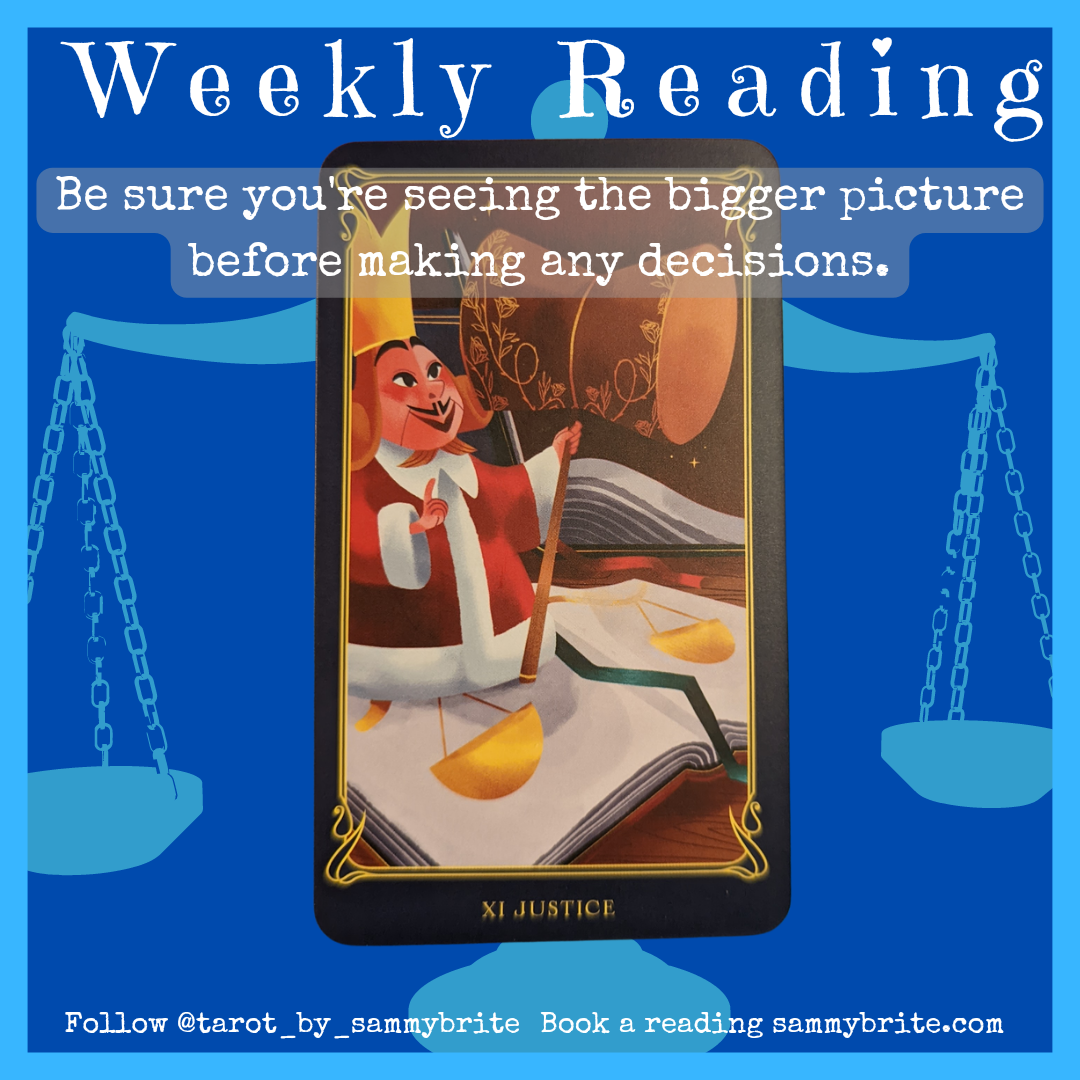 Today we drew Justice. The King of Hearts reminds his queen to watch her temper and suggests putting Alice on trial. So the trial (and chaos) ensues.
Remember to see the bigger picture before making any decisions this week. Being objective can be difficult when it comes to things (or people) you are passionate about or invested in. Justice encourages you to be fair and rational, just like our King of Hearts.
Make sure you understand the bigger picture and make sure you are seeing things in a healthy, balanced perspective before making any decisions.
Review the evidence that is right in front of you and go from there. Be skeptical but curious.
Another message I'm getting is to make sure you're balanced. Be sure you're balancing out the material and spiritual, movement and resting, the light and dark. This can be hard. Just make sure you're not overdoing or underdoing things in certain areas of your life. This would be a good time to take stock and review.
⚖️⚖️⚖️⚖️⚖️⚖️⚖️⚖️⚖️⚖️⚖️⚖️⚖️⚖️
And those are the messages I have for you. If this reading helped or resonated, please consider tipping me at my Cash App $tarotbysammybrite, my Venmo https://venmo.com/sammybrite or my PayPal https://PayPal.me/tarotbytate or click below 👇 and donate a 🍕. Pizza is code for life expenses, tarot and oracle decks, and supporting the BuyMeACoffee community. All tips and donations are greatly appreciated but never expected.
Sending love 💕 and gratitude 🙏 your way! Thanks for reading, commenting, subscribing, liking, sharing, tipping, and donating!
Enjoy this post?

Buy Sammybrite a pizza