The Scatterbrain Newsletter: August Edition!
Well, people, another month has come and gone, and I seem to have lost track of it yet again.
Where does the time go?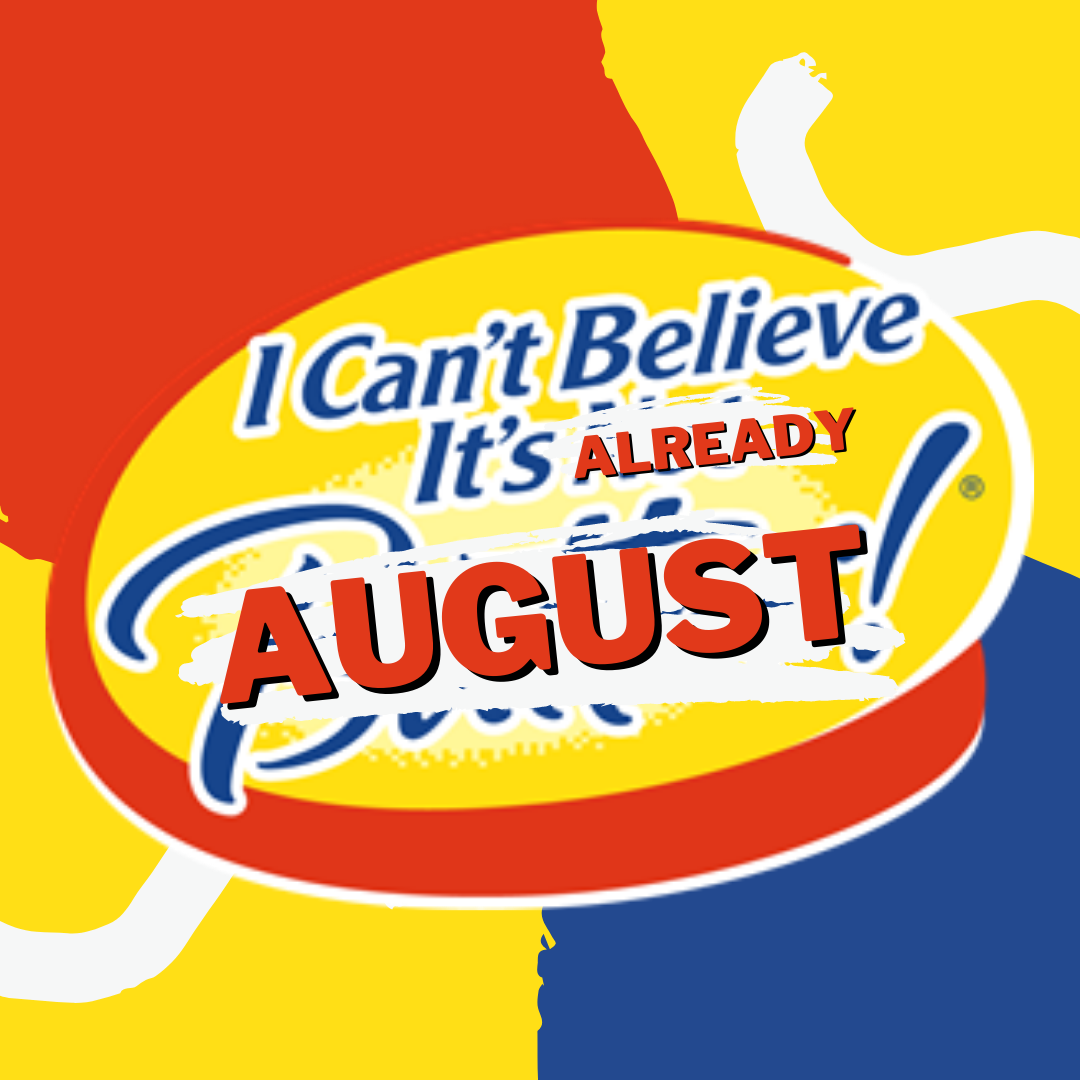 Now, you may be thinking to yourself,
What is this really terrible edit of the "I Can't Believe It's Not Butter" logo doing here? Has she lost her mind?
Well, sort of. As you may know (if you've been keeping up with me on Instagram), my iPad decided to take a little nap last week and not wake up. I'm taking it into the repair shop today to see if they can rescue all my files and bring it back to life, but in the meantime... The blog post needs a cover graphic, and this is the best I can do with my fat fingers and my tiny iPhone screen.
Here's hoping that by the time my next blog post rolls around, everything will be back to normal---or, at least, as "normal" as things usually get around here.
Meanwhile, let's take a look at all the fun holidays happening in August (in sad, boring, bullet-point format):
August 2: Coloring Book Day

August 8: International Cat Day

Also August 8: Bowling Day

August 11: Play in the Sand Day

August 12: World Elephant Day

August 19: International Bow Day

Also August 19: Potato Day

ALSO August 19: International Orangutan Day

August 23: Cuban Sandwich Day

August 24: International Strange Music Day

August 27: Banana Lovers Day

August 30: International Whale Shark Day
I guess on the 19th I'll be wearing a bow and eating potatoes with an orangutan... Not bad for a Thursday.
Have you signed up for the Sticker Club yet?
Don't forget that we now have three super-fun membership tiers to choose from, so you can hand-pick the Sticker Club experience that you want! Check out my recent blog post or my BMAC home page for more info.
And if you're signed up before the 20th, you'll get your very own (drumroll please)...
Houseplant Stickers!
Yep, the theme this month is one of my personal favorites (and one of my bestsellers). In addition to the super-special stickers that you pick for yourself, all you Sticker Club members will also get a set of cute-as-heck houseplant stickers!
For your previewing pleasure:
Other fun stuff going on:
The Taiwan Coloring Book is officially complete and available for purchase! You can get a digital copy right here on Buy Me A Coffee for only $5, or buy it on Etsy to get a real-life coloring book shipped right to your door! (More details in my last blog post--or just shoot me a message if you have questions.)

The world is opening up for us here in Taiwan, which means schools might be opening up soon... And if that's the case, I get to go back to teaching kids in September! Let the lesson planning begin.

It's rainy season again (finally!) and I'm loving every second of it... Especially after the almost-catastrophic drought we just had. Plus it means that little yellow mushrooms are growing in my plants and geckos are hanging out in my apartment. Win-win-win.

Oscar and I have been super busy planning a huge project for the near future... I can't say too much more about it yet, but I'll just say this: friends in Taiwan, start getting excited!
Well, people, that just about sums it up. Now I'm off to the iPad repair shop... fingers crossed that there's at least one miracle worker on schedule today.
Happy August!
Love,
Rosie at Scatterbrain Studios
Enjoy this post?

Buy Rosie at ScatterbrainStudios a coffee