MNTD. Helium Miners are finally coming to Europe and Canada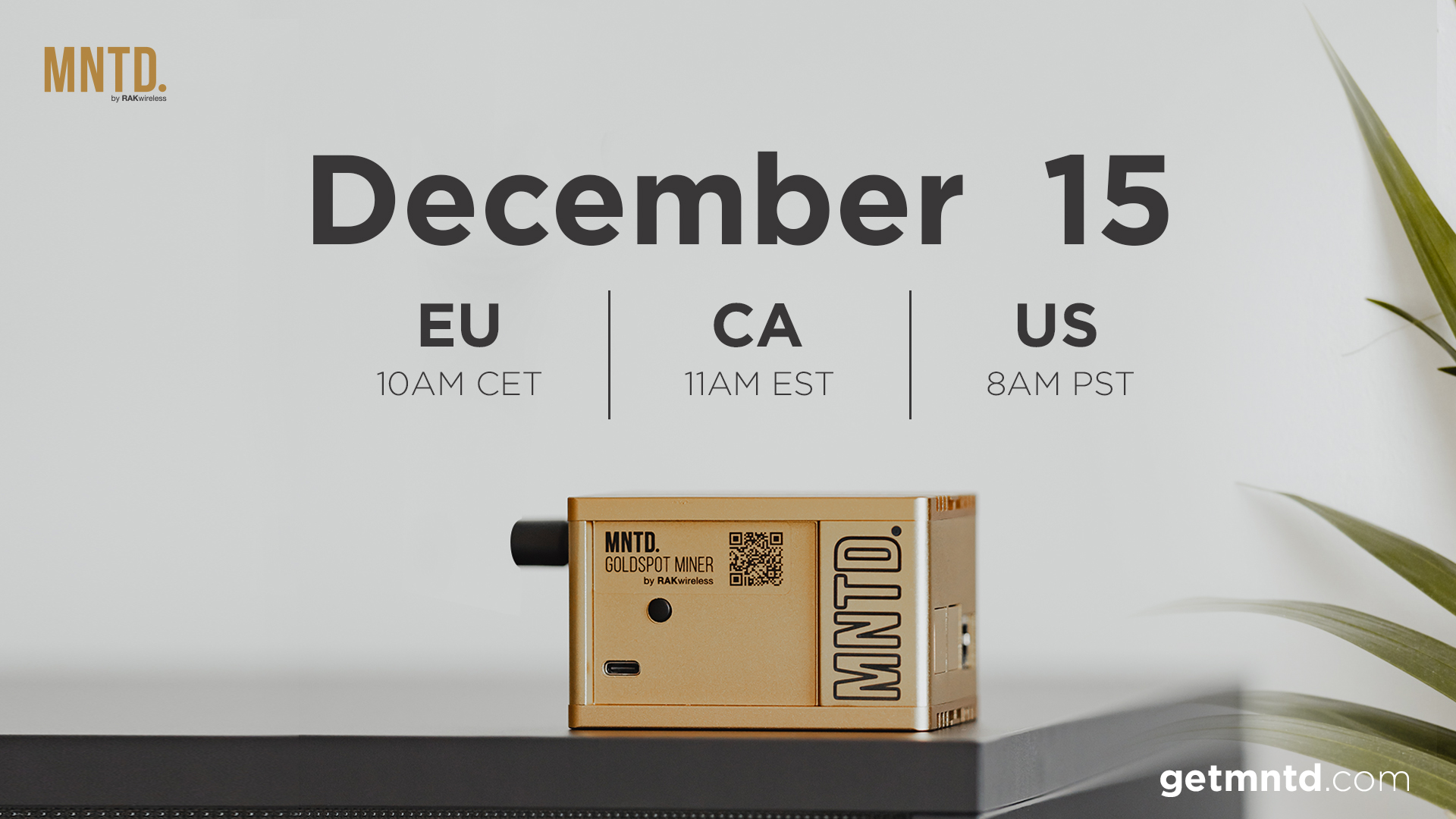 I have been waiting for this for quite some time now, and this week I'll finally get the chance to try to buy a couple of MNTD Helium Miners, yes!!!! 😎

MNTD next drop is coming to the EU, Canada, and the US on December 15, which is this Wednesday!
This will be MNTD fourth batch release of their awesome Blackspot and Goldspot miners.
It's been a long time coming, so I'm very excited to finally have this chance, and if you are looking for an inexpensive way to mine, then contributing to expand "The People's Network" even further across the globe and earn some $HNT along the way might just be the project you have been looking for.
If you're planning to make a purchase, here are some reminders to keep in mind:
Demand for these miners is crazy, so be ready to act quickly and maybe fight some bots.

Where to buy: https://getmntd.com/

Purchases may be made via credit card (Visa, Mastercard, Amex, Discover, and Diners Club) only.

Orders will be limited to two (2) units per order. And you should buy at least two, set one up at your house and the other at your neighbors, or family, or friends house that is in range in order to earn more $HNT.

Expected shipping timelines are 5-7 days in the US, and 9-12 days in the EU and CA, but due to the holiday season there could be some delays.

Which one should I get? Their mining performance will be the same right now, so if you want the best ROI go for the black, if you want to future proof your investment, as the gold has double of the ram (8Gb) go for the cool gold one. Still undecided? Buy one of each! :)
If you're in the US
The drop is live on Wednesday at 8 AM PST.

Miners will be sold in USD. Blackspot is available for USD 399; Goldspot at USD 479.

Customers in some (not all) US states will have to pay VAT on checkout.

Miners will ship from the US.
For Canada
The drop is live on Wednesday at 11 AM EST.

Miners will be sold in CAD. Blackspot is available for CAD 499; Goldspot at CAD 599.

Customers will be charged tax/duty/VAT upon checkout, as part of the shipping price.

Everything else will be pre-arranged. No extra steps!

Miners will ship from the US.
For Europe (UK is not part of Europe anymore 😞)
The drop is live on Wednesday at 10 AM CET.

Miners will be sold in EUR. Blackspot is available for EUR 349; Goldspot at EUR 429.

MNTD. will shoulder the import handling fee, but customers will be charged VAT and duties in import. Customers will be invoiced by FedEx or DHL upon delivery.

Upon purchase, you will need to enter your Tax Payer ID number.

Miners will ship from China.

Countries included: Austria; Belgium; Bulgaria; Cyprus; Croatia; The Czech republic; Denmark; Estonia; Finland; France; Germany; Greece; Hungary; Ireland; Italy; Latvia; Luxembourg; Malta; Netherlands; Poland; Portugal; Romania; Slovakia; Slovenia; Spain; Sweden.
The Helium Project

If by any chance you haven't heard about "The People's Network", you can learn everything about it here: https://www.helium.com/

Also, before you jump into HNT mining, make sure it will be worth it by checking out how much your neighbors are currently making by going into the Helium Explorer here: https://explorer.helium.com/, then click on the desired area and select one of the available miners on the left pane list, you should see something like this: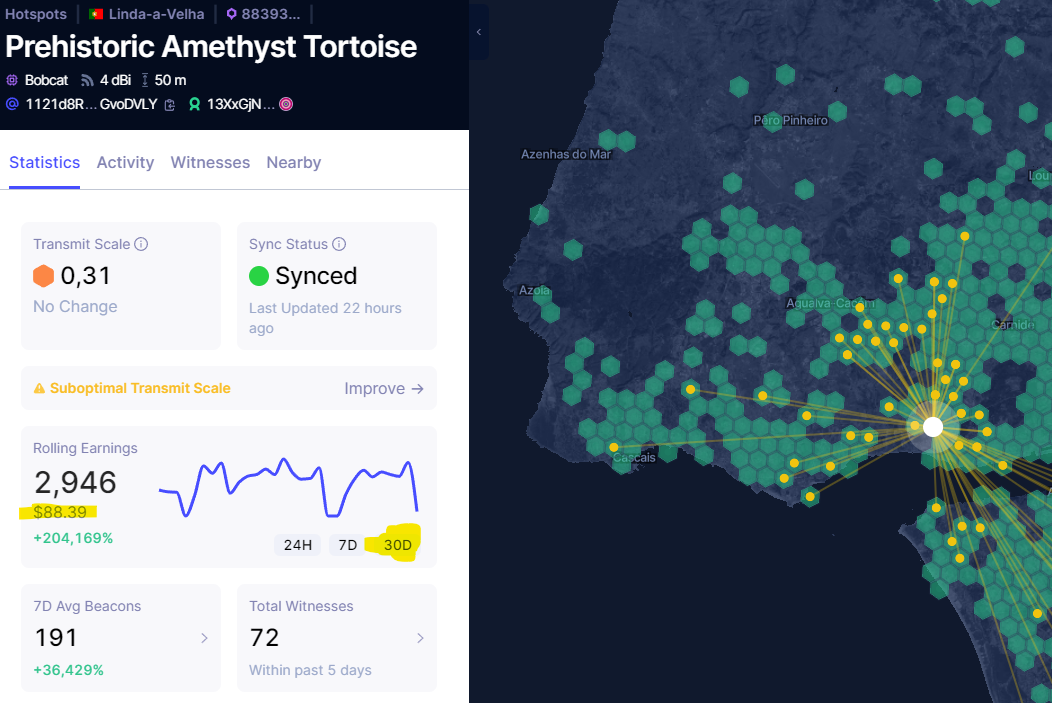 How are HNT tokens earned?

1. CHALLENGERS: 0.9%
Hotspots are chosen by the network to issue challenges, encrypted messages over the Internet, to a target group of Hotspots. Challenges are used by Proof-of-Coverage to validate wireless coverage. Hotspots can issue challenges from any location, not just to local Hotspots.
2. PROOF-OF-COVERAGE: 5.02%
Hotspots earn a share of HNT for participating in Proof-of-Coverage and validating their peer's wireless coverage. The amount each Hotspot earns depends on how often it is directly involved in Proof-of-Coverage activity.
3. WITNESSES: 20.08% (Now you understand why you need to buy at least two?)
Hotspots that monitor and report Proof-of-Coverage activity (beacons) of other Hotspots receive a portion of HNT depending on how much activity they've witnessed, and the reward scaling of the Challengee.
4. NETWORK DATA TRANSFER: 35%
HNT is distributed to Hotspots that transferred data from devices on the network. The amount of HNT is allocated proportionally based on the amount of data a Hotspot transferred.

So, if you are going to try to get your hand on a miner this Wednesday, good luck to you, I'll also be there trying my luck, and hope I can give you all some positive feedback about this adventure soon.

Until then, trade safe! 🤖
Enjoy this post?

Buy Sellium a beer