The Intro to Human Design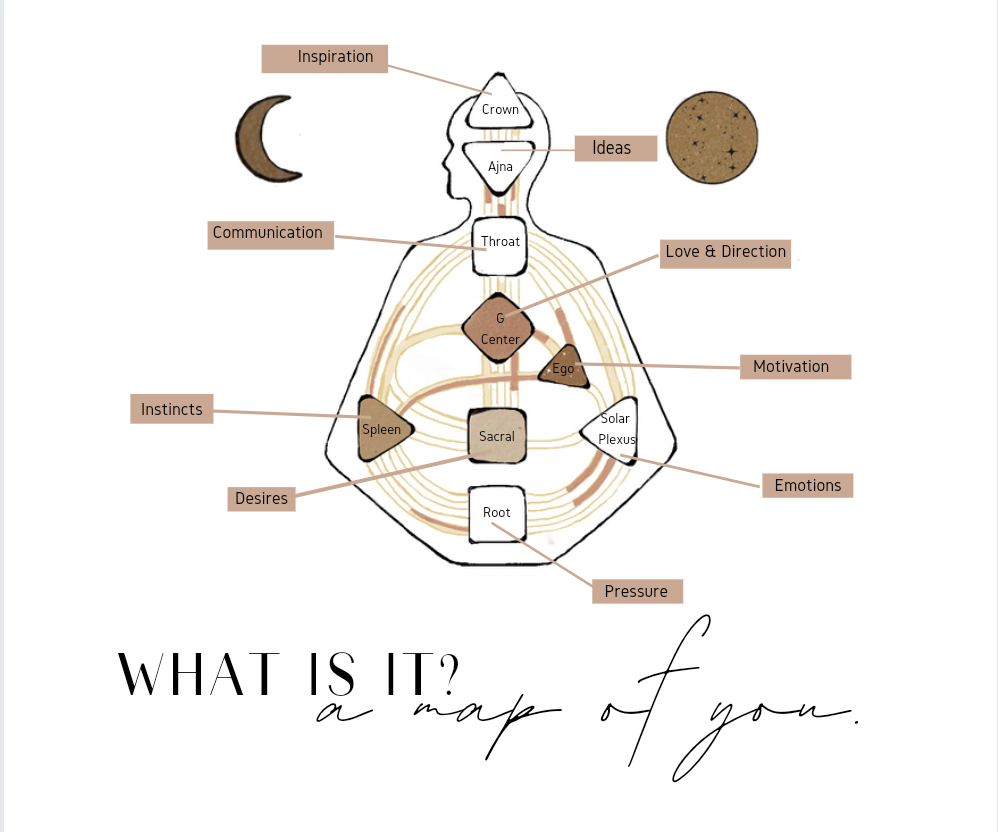 WHO YOU ARE NATURALLY, FROM BIRTH, IS EVERYTHING YOU NEED TO BE:
Human design is a system that combines many different wisdoms; conventional astrology, the Hindu chakra system, the Chinese I'ching, "the tree of life" from Kabbalah & your genetic gifts. It is equal parts a science and an esoteric art form. It was created to tell you: Who you came to be, What you came here to do, & What your higher potential looks like.

A MAP OF YOU:
This system was created to re-align you with who you came here to be.
There is actually nothing outside yourself that you're missing in order to be successful (in any definition of the word). The secret to living your dream life is to be exactly who you were supposed to be, not who society has conditioned you to be.
The biggest dis-service society does is try to homogenize us all. We were not meant to be the same. Each of us is unique-and you've probably felt this on a soul level at some point. And now we have a detailed roadmap to help us live out our unique design. Being "you" will give you so much freedom in every aspect of your life.
We are each born our highest & most real selves. But as we grow & experience external influences like family, friends, school etc, we are told what is and isn't an acceptable or optimal way to live. Without any regard for what is actually good for our design. Therefore becoming conditioned by society.
Human Design can help you explain the things you are naturally good at, and shed all the rest. We are unique & specialized and not meant to be assimilated to a conformed society. There are things you came here to be naturally amazing at. And if you lean into those unique gifts of yours, you will be met with more recognition. The universe will be able to show up for you in the way you've always wanted. You will find you are even more valued by others, because when you show up as your authentic self, you're aligned with the gifts you were meant to give to this life.
CONDITIONING:
What happens when we are conditioned?
We believe all we are taught about what it means to "Be" a human being. And what our role is in society. We do this in order to be accepted, loved, successful, & seen. But in reality there are certain things that were never appreciated in you that you are supposed to be expressing & embracing. And there are things you have been conditioned to believe, things you've learned about who you are "supposed to be"...but these things are NOT who you are supposed to be at all.
:::::YOU WERE BORN INTO A UNIQUE & ENVELOPING ENERGY:::::
THE SCIENCE BEHING THE SYSTEM:
We calculate your design chart by using the time, place and day you were Born. Human Design uses the science behind tiny subatomic particles called: Neutrinos. These particles come from the earth, space, the planets, everywhere..and contain specific bits of information and energies related to that time and place. These energies are imprinted on you at birth, and are integrated into you're already existing energies. This map of energies tell us the story of you and your genetic expression. Kind of like your own unique "energetic signature".
MY GOAL IS TO MAKE HUMAN DESIGN ACCESSIBLE FOR ALL!
I hope this gave you a good idea of what Human Design is, and why it might be the tool you've been looking for.
TO FIND YOUR FREE CHART: CLICK HERE https://www.myhumandesign.com/get-your-chart/
I offer chart readings to help you dive deeper into your design. My goal is to give you the details that you need to start implementing this tool into your daily life. Check out the "Extras" section for more info.
H.D. has allowed me freedom to appreciate my gifts, but also re-define the parts of me that society conditioned me to believe were "bad" or troublesome. It's also taught me how to show up in work, how to eat for my energy type, and even how to create healthier relationships. I can't wait for it to do the same for you.
xo,
Shay Labbé
PS: If you're curious about what all the gates ( the colored in lines) mean in your design, buy me a coffee and get access to all 64 gate definitions! Become a "Supporter" by clicking on "Support $5" below. You'll have instant access to all the gate descriptions here: https://www.buymeacoffee.com/ShayLabbe/the-64-gates and more, once you buy me a coffee. 🥰
Enjoy this post?

Buy Shay a coffee