Sims4 Gamer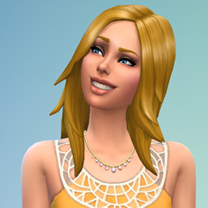 Sull Sull!! I am Loriane. My Sims4 gaming tag is Sim_Play_Loraine (you can find me on Origin with this game tag). I would like to I tell you a little about my past and current gameplay as well as my future goals.
I have been playing Sims since the first Sims 1 game launched way back when. If I say the year ill give away my age. LOL It has been my go to game for some R&R since I can remember and I have decided why not share my love of the game to others who also play.
For the most part I have only done a few builds in the Sims 2 and basically created my Sim self and family members. I have been playing with those Sims (forever literally Haha!) , but decided to spice up my gameplay. I have known about the Challenge gameplay but have never thought to take part in it till now. I have already started the Rags to Riches (aka R2R) Challenge. I am super excited to share with other Sim4 players how my Sim characters make it through the challenges I am about to embark on.
As for building, I would also like to start doing build videos to show off the creations I come up with. I have a few that I have already done but I have never created videos on them and have not uploaded them in the Sims4 gallery. I will be uploading those and future builds I do.
Mods are another thing I have not taken advantage of yet either; however, I have decided to begin using mods as some challenges such as the Decades Challenge require period clothing and furniture which is very hard to find in create-a-sim and build/buy.
I will be sharing the challenges that I am doing such as the R2R (already posted above) and I will be doing the Decades Challenge as well once the new Cottage Living Pack has launched (coming out July 22'nd and yes I pre-ordered). I believe the new features in Cottage Living will be ideal for this challenge.
My goal at the moment is to upgrade my computer to a gaming PC so that I can continue making YouTube content with ease. I am currently working with a computer that has minimal specs for running, playing the game and doing videos with. I am doing okay with that but, a gaming PC will me with a smoother gameplay experience and be able to produce better quality video's that I plan on doing in the future. Anything you can do to help me achieve this goal is appreciated.
Well that is all for now. I look forward to sharing my challenges and the builing creations I come up with while having fun playing my favorite game Sims4. Truly yours Sim_Play_Loraine. If you would like to follow my progress please follow me on:
twitter:
https://twitter.com/HelsleyLoraine
Facebook:
https://www.facebook.com/loraine.helsley
YouTube:
https://www.youtube.com/channel/UCmWqG1qCePxOtVK0dUkVQ
Website:
http://lorainehelsley.wordpress.com
Till the next time! Happy Simming Y'all!
Enjoy this post?

Buy SimPlayLoraine a coffee