LULU-EARTH SPIRIT-PANDORA'S BOX: WEDEKIND Stay at home & draw me. #POSESTELLSTORIES 28th o
Dear dear dear Artists & Friends, one secret before this mail ...
I woke up on Monday having in my mind a song by Queen and the image of "Tre Grazie" dancing together. I was in a real mystical dimension! Ah ah ah...and what about you? Did you dream about something related to our sessions? For example a big meeting with Botticelli, Leonardo etc...?
Well...it will be a pleasure to read about your dreams if you remember them!
Thank you as always for your beautiful friendship: Florence was beautiful too
and our time machine has been extraordinary! What a fab journey in Florentine Renaissance only in four hours!!!
Thank you so so so much again!
So as you know the main theme of last Sunday lifedrawingsessions was "Spring" and for my next lifedrawingsession on line by zoom Spring will continue to be one of the main themes, but thanks to another Art: my love...Theatre...'cause, frst of all I'm an actress and a model too.
As I told you at the end of the sessions Frank Wedekind, the German playwright Frank Wedekind, wrote in 1891 The Awakening of the Spring, changing the History of Theatre and Literature forever...
Frank Wedekind is also very very very important because he is LULU's father...yes Lulu...
I'm talking about the "Lulu" cycle, a two-play series—Erdgeist (Earth Spirit, 1895) and Die Büchse der Pandora (Pandora's Box, 1904)—centered on a young dancer/adventuress of mysterious origin, femme fatale or victim at the same time, performed in movies by the divine actress Louise Brooks directed by Pabst.
We can't forget to mention also Alban Berg's opera Lulu (1937), which is considered to be one of the masterpieces of twentieth-century opera...
...The beautiful Louise Brooks inspired also Valentina by Crepax becoming absolutely an icon of beauty and sensuality...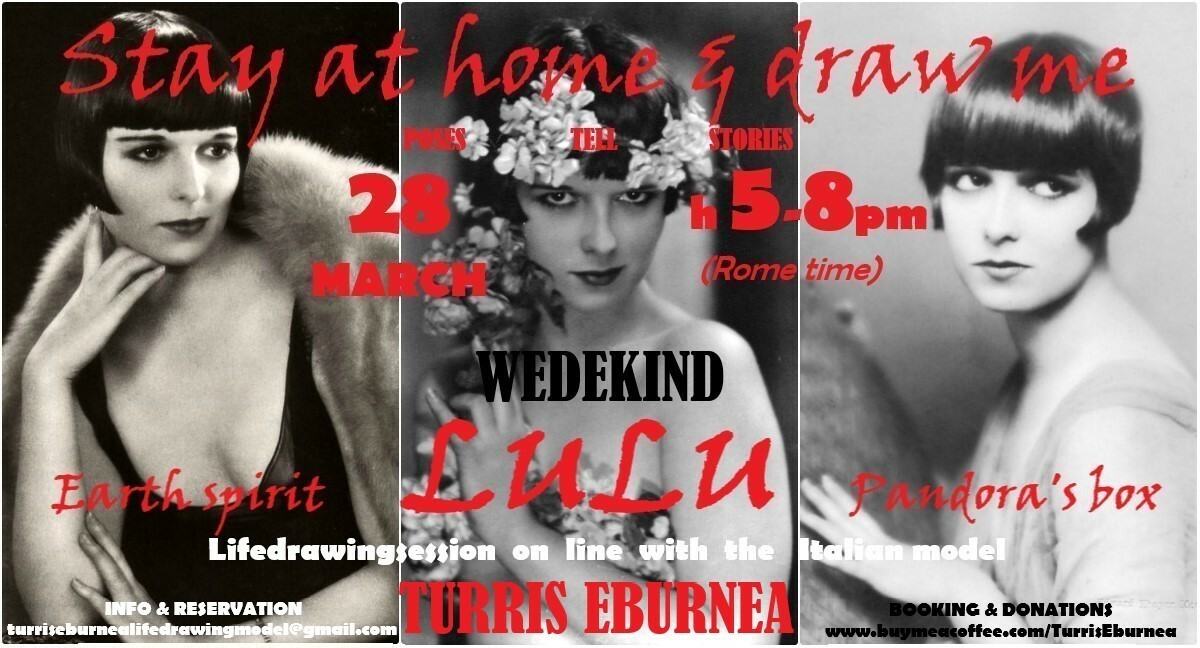 So as I did in other past lifedrawingsessions (Miele-Delta of Venus,Valentina etc...) I will pose telling stories which means recreating some of those plays' scenes...following Wedekind's dramaturgy...The atmosphere will be related to the first decades of 1900, but as you know I can't reveal all now...We need our time machine again...
Thank you for your attention...
So here you can read the info to book my
"LULU-EARTH SPIRIT-PANDORA'S BOX: WEDEKIND" Stay at home & draw me lifedrawingsession online:
28 th MARCH (Sunday) h 5-8 pm Rome time:
4 coffees needed here:
www.buymeacoffee.com/TurrisEburnea
If you want to share it, this is the facebook event:
https://www.facebook.com/events/275829734110744
Thanks a lot for your attention and book me soon!!!!!
Have a nice Tuesday!
Turris Eburnea & cat Magà!
Ps 1) In order to protect your privacy don't write your personal email address when you book the coffees in public messages
2) I will reenable the zoom waiting room, so I pray you to be on time.
https://www.instagram.com/turriseburnea_italianmodel/
https://www.facebook.com/groups/285428382487956
Enjoy this post?

Buy Turris Eburnea a coffee