HAPPY HOURS & GRAND VACATIONS, WHAT IS LAS VEGAS LIKE NOW?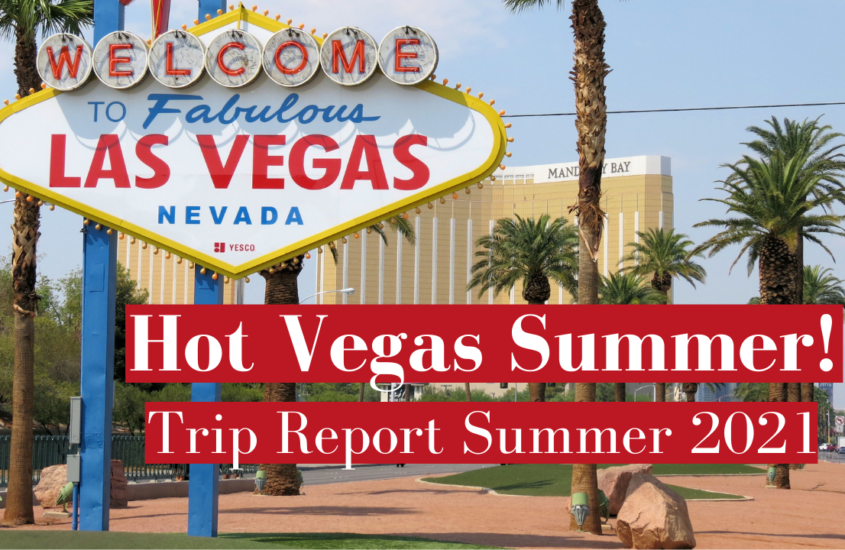 July 2021 Trip Report for Las Vegas
Our last time in Las Vegas was August 2020 when everything had just opened back up so this trip was quite different than last year! Almost a year from when we visited Las Vegas last summer there were a lot less of the draconian safety measures in place at Las Vegas hotels and Casinos. For example last August we had to wear a mask outside at the Mirage and Vdara pools and where watched by security on 2 min rotations. It was really uncomfortable, being watched non stop, and way overkill as it was enforced whether or not you were near anyone and in 110 degree heat!
Is Vegas Back?
This year Vegas was back during our trip! Masks were no longer required for vaccinated people and being highly recommended for non vaccinated people. Although a week later as I am writing this, Masks are back for everyone indoors, regardless of vaccination status due to the Delta Variants recent (July) uptick.
The thermal cameras at every entrance are gone, and no more big brother security types watching your every move at the pool. With that there are a ton of people having themselves a Hot Vegas Summer! It was reminiscent of pre covid times, but with a few caveats (more on that later).
Getting to Las Vegas
We began our Las Vegas Adventure in San Diego where we had spent the last two weeks housesitting and looking after the most adorable Goldendoodle ever! Look for a post about our adventures in San Diego soon! Since we had a ton of points with Southwest Airlines we used them to book our flight out of San Diego International Airport (SAN).
The airport was hopping but we made it though security in less than 5 min. Thank you Pre TSA! With our flight delayed about 10 minutes we still managed to arrive on time and without any crazy people on our flight too. Bonus! perhaps it was because we flew on a Wednesday? Either way we landed at 1:30PM.
We are big fans of earning points on our Chase Southwest Airlines Credit Card to use for trips like this one! In fact we used our points we earned from using our Chase Southwest Credit Card to cover one of our flights on our recent Tampa trip. Use our link to sign up and get a ton of bonus points to use on your next trip.
Ground Transportation to the Strip
With the forums abuzz with accounts of high transportation costs and long waits to leave McCarran International Airport (LAS) we were expecting to hire a private car, but as it turned out we only waited about 5-8 minutes for an Uber and it was $28 to Hilton Grand Vacations on the Strip. Which is inline with normal rates.
Enjoy this post?

Buy Wandering Hartz a glass of wine