The Darkness And The Doorway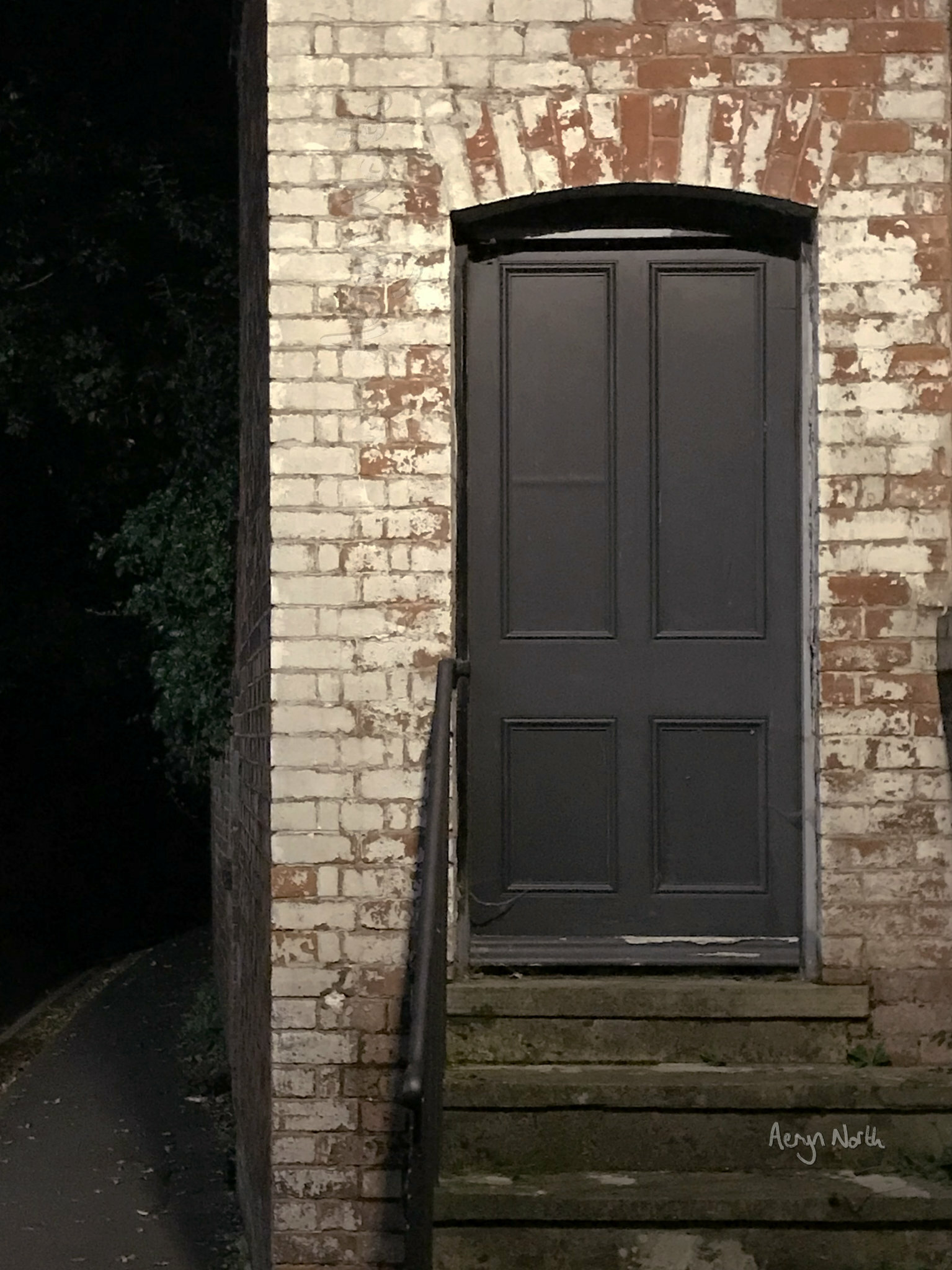 One morning a week or so ago, I woke really early and nature was calling me. I really wanted to go for a walk in the park, but I realised it was still dark and the sun wouldn't rise for some time.
I was hesitating, trying to decide what was best when I already knew. The call in my heart was so strong. I was itching to breathe the smells of the trees and sit by the water again, to spend some moments with the birds and the animals.
My park is beyond the side door of a house at the edge of the village, and a few moments walk further down a single track road, then under the railway bridge. A flood light from a local business always shines on the door and there are usually street lights lighting the road beyond.
Except this morning I could see it was only darkness beyond and the lights weren't on. I took a picture with my phone.
Another moment of hesitation. I was really starting to feel the fear.
I realised my mind was racing. It had begun when I awoke, and was swirling with stories of the terrible things that might happen to me in the darkness. Even in this sanctuary of nature that I love so much.
I asked. Am I in danger?
The answer was not what I expected. The danger lies only in your choice to bring it into your reality.
Therefore, I could choose fear, or I could face it.
I dug deep. I rationalised. I called in protection. I took action to manage my vibration. But I was still in fear. I was still asking my mind to be in control. This realisation was a like portal, and I gladly stepped through, back to my Self.
I whispered to my mind. I love you, and I've got you. An eternity of a few seconds later, I found myself – my mind – just letting go. Mind relaxed and I reassured it that I was with it and that we would walk this path together. I spoke with it, lovingly. What will be, will be. We cannot control the world. We cannot control others. We cannot make demands on the Universe.
So in this way I chose Joy, I chose to Love my walk in the darkness, I chose an Adventure!
I can be my own Light in the Darkness. And moment by moment by moment, actually Live Life.
A few minutes later, all this was completely forgotten as I revelled in the smells, sounds and quiet solitude of walking amongst the trees and being by water in the darkness. The sky gradually brightened and my mind was a happy passenger, no longer making demands and telling stories.
My fear that day was transformed into a healing experience. And a memory in a photograph.
When I look at the world, I see a lot of Darkness. Because in the reality of the world, darkness is real. And it's a reflection too, of the work I am doing inside of me. Loving it all out into the open. Coaxing my shadows, giving them all the time they need to accept my love, to trust me, telling them they don't need to fear (me) anymore.
This is an epic process. I want it to be done, and it is. But the journey plays out on the canvas of time, as a greater Me witnesses my own return home into the Light.
When I look inside of myself, in the end all I find is Light. It does look like darkness a lot of the time, hidden under layers of trauma and conditioned thinking, but it is there. I will keep excavating, facing my fears, revealing the truth of me. I don't want to be scared of myself anymore, jumping at my own shadow.
If it takes a lifetime, so be it.
2021 has been a journey. It's been about self love. And it's been about darkness.
So God bless the Darkness, thank you for showing me the way Home to the Light, and Love.
By Aeryn North 2021-09-23. Photo: iPhone 14 September 2021. #Doorway #Darkness #Fear #Shadow #ShadowWork #Healing #Light #Love #AbneyHallPark #Cheadle #Stories
Enjoy this post?

Buy Aeryn North a coconut latte