Knitting for Beginners: Learning the Basics
Class time: August 20, 2022 From 4-6 PM
Location: Second Shelf Beer CO (Atlanta, GA)
Visit Biddyknits.com/popup to register
Interested in knitting but don't know where to start? This is the class for you! During the workshop, you'll get acquainted with the basics of knitting, and make a drink coaster. (AKA "Mug Rug"). We will discuss which needles and yarn are right for the projects you want to make. As you knit, you'll learn how to cast on with ease, fix mistakes and achieve a clean finish with a simple bind-off. We will also learn about swatching and pattern-reading basics. Class attendees will also receive two free patterns to practice the new skills they learn. Get started on your Knitting Journey!
You will:
Learn the knit and the purl stitch.

Practice casting on and binding off.

Learn how to fix mistakes.

Discuss how to read a knitting pattern.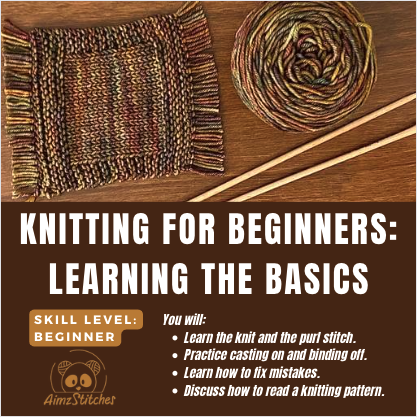 Skill Level: Beginner
Prerequisites: No prior knowledge of any kind is necessary, since I will teach you everything you need to get started.
Materials List: Worsted weight ball of yarn and the recommended needles for the yarn (often found on the label of the yarn).
Enjoy this post?

Buy AimzStitches | Amy Brucker a tea