What is The Alab Club?
Hi again 😁
I know this might be confusing especially if it's your first time here in this platform (don't worry, I'm new here too!) so let's take it one step at a time and let me share with you what I've learned so far.
During my month-long "break" last July, I have been searching for the perfect platform that could accommodate me as a creator without me having to sacrifice the quality and the focus that I need to be able to do what I have to do - which, right now, is the production of my debut album Liwanag//Dilim. I have been taking one-on-one sessions with Max The Laptop 💻 to do some research and found sites such as Patreon, Bandcamp, and Buy Me A Coffee (BMC).
To cut the story short, I went with BMC because I wanted something that I could set up right away. This platform was the easiest one, especially because it does not require you to create an account if you just want to support or buy me some coffee (or in my case, buy me some fire 🔥). However, if you do decide to join The Alab Club, you might need to sign up.
Now, what is The Alab Club?
The Alab Club is a membership plan I created for supporters and friends (like you!) who want to support me in a more sustainable way. We all know this path I've chosen is the road less travelled, so I am constantly seeking for ways to survive. For the past few months I have realized that I can no longer compromise my beliefs and my standards just to be able to fit in a world where I am meant to stand out. I may be less visible recently, but know that I am continuously burning with passion as I reach for my next goal: Liwanag//Dilim.
The Alab Club comes from the word "alab", obviously 😅, which is a Tagalog word for "fire". For me, alab is a symbol of my passion, my heart, and my soul. It fuels my will and my intention to deliver the message to those who need it the most.
If you wish to join The Alab Club, all you have to do is go to my BMC page and click the Join Button on the Membership Tab.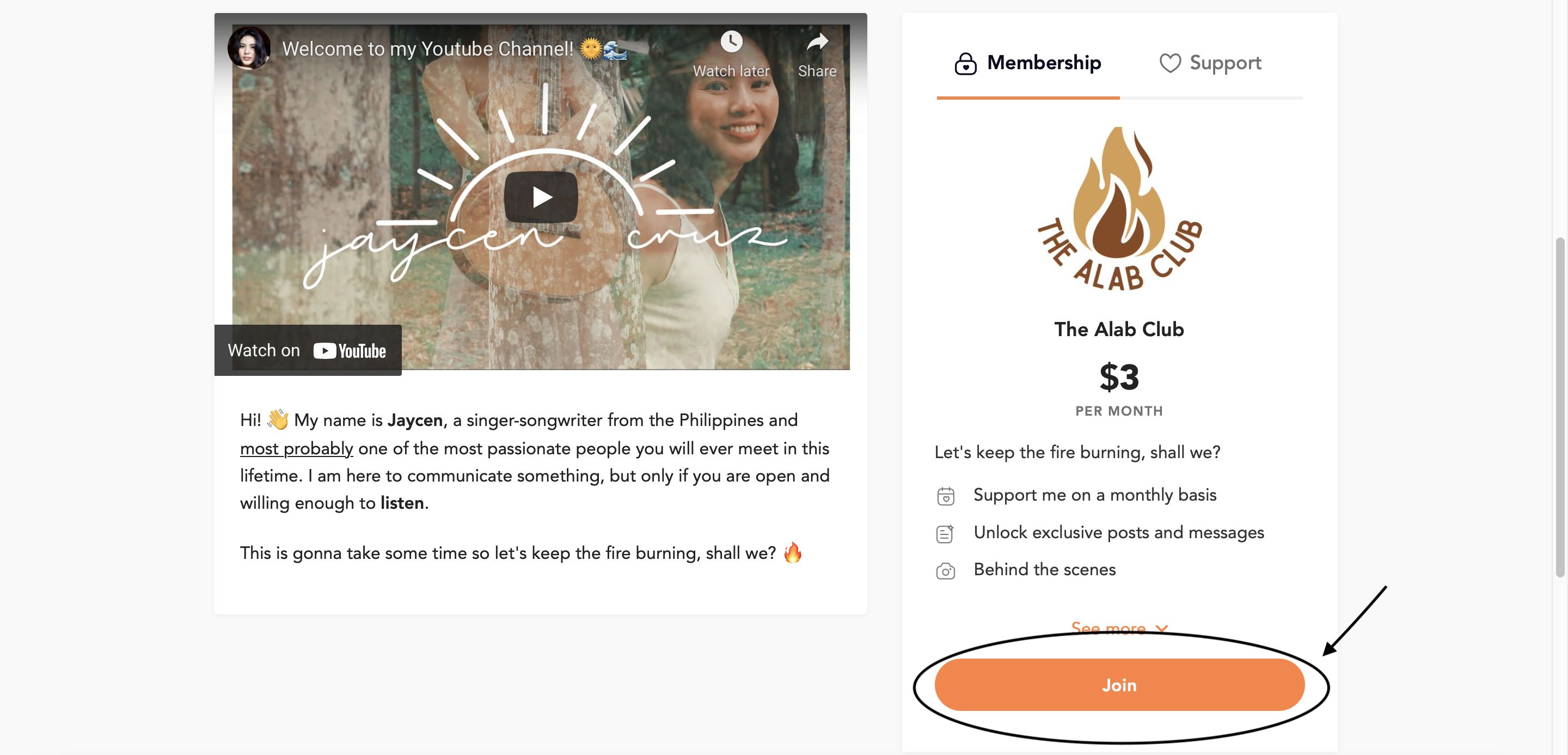 I set the fee to our magic number $3 per month (or $33 per year for more luck!) and I decided to put just one tier for everyone so there would be no hierarchy. We were all made equally anyway ✨
Important Note: I would just like to emphasize that there are two ways to support in this platform. You can join The Alab Club which is a monthly subscription OR you can simply buy me some fire (you can buy as many as you want!) in the Support tab. You can do both if you wish to do so 🙂 However, only The Alab Club members will have access to perks listed in the Membership Tab.
That's it for now! Don't hesitate to comment on this post if you have any questions 🧡
Peace and Love,
Jaycen 🌞
Enjoy this post?

Buy Jaycen Cruz a fire