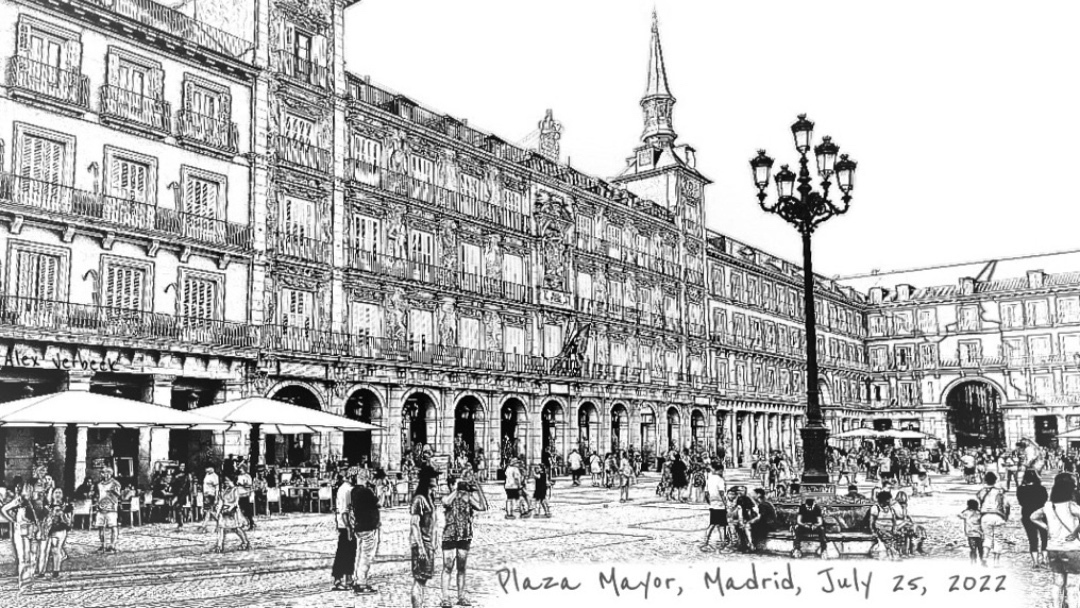 I'm on the Plaza Mayor in Madrid. The heat is intense, and like most people, I prefer the shade. I still look like a hiker, my shoes, zip-off pants, and unshaven appearance no longer make me a member of the Camino-tribe. Instead, I'm the odd one out in this mix between local elegance and foreign casualness.
I believe I'm the only one sitting on the ground, and the only one writing instead of taking selfies. I don't integrate; I observe, listen, and research. History is never far in Europe, and if you have a bit of imagination, you can see and experience the events of the past that took place at this square, which is one of the largest public squares in Europe.
This square has been the stage for coronations, executions, bull-fights, and markets. A series of fires were followed by subsequent restorations. And the name of the square has often changed: Plaza del Arrabal, Plaza de la Constitución, Plaza Real, Plaza de la República, and finally, Plaza Mayor.
I make another one of my Alexnotes. I have found that the process of creating these images prints a visual memory in my mind that lasts for many years.
—
Thank you all for your support that makes these posts possible. This is a public post. If you are not a supporter at Buy me a Coffee, please join and receive all updates in your email.
"Long ago, it must be, I have a photograph. Preserve your memories. They're all that's left you"