On March 24th, 1756, 𝗞𝗶𝗻𝗴 𝗙𝗿𝗶𝗲𝗱𝗿𝗶𝗰𝗵 𝗜𝗜 𝗼𝗳 𝗣𝗿𝘂𝘀𝘀𝗶𝗮 (Frederick II, Friedrich der Große or Der Alte Fritz) announced in Silesia that farmers should start planting potatoes. This decree is called "𝗞𝗮𝗿𝘁𝗼𝗳𝗳𝗲𝗹𝗯𝗲𝗳𝗲𝗵𝗹" or "𝗞𝗮𝗿𝘁𝗼𝗳𝗳𝗲𝗹𝗲𝗿𝗹𝗮𝘀𝘀" (potato order, edict).
Ten years before a similar decree was issued to the people of Pomerania because of a famine. Altogether, there were probably around 15 different 𝗞𝗮𝗿𝘁𝗼𝗳𝗳𝗲𝗹𝗯𝗲𝗳𝗲𝗵𝗹𝗲.
It took a while before the potato became the staple of German cuisine as it is now. Mostly because it wasn't clear to the people which part of the potato was to be eaten and how exactly to grow it.
But nowadays, you can't imagine Germany without all kinds of forms of potatoes: potato salad, fried potatoes (𝗕𝗿𝗮𝘁𝗸𝗮𝗿𝘁𝗼𝗳𝗳𝗲𝗹𝗻), potato pancakes (𝗞𝗮𝗿𝘁𝗼𝗳𝗳𝗲𝗹𝗽𝘂𝗳𝗳𝗲𝗿), potato dumplings, french fries (with mayo), salted potatoes (𝗦𝗮𝗹𝘇𝗸𝗮𝗿𝘁𝗼𝗳𝗳𝗲𝗹𝗻), boiled potatoes (𝗣𝗲𝗹𝗹𝗸𝗮𝗿𝘁𝗼𝗳𝗳𝗲𝗹𝗻, preferably with herring in a creamy sauce), potato au gratin (𝗞𝗮𝗿𝘁𝗼𝗳𝗳𝗲𝗹𝗴𝗿𝗮𝘁𝗶𝗻) and mashed potatoes. And probably a couple of regional varieties that I either forgot or don't know about.
What's your favorite potato dish?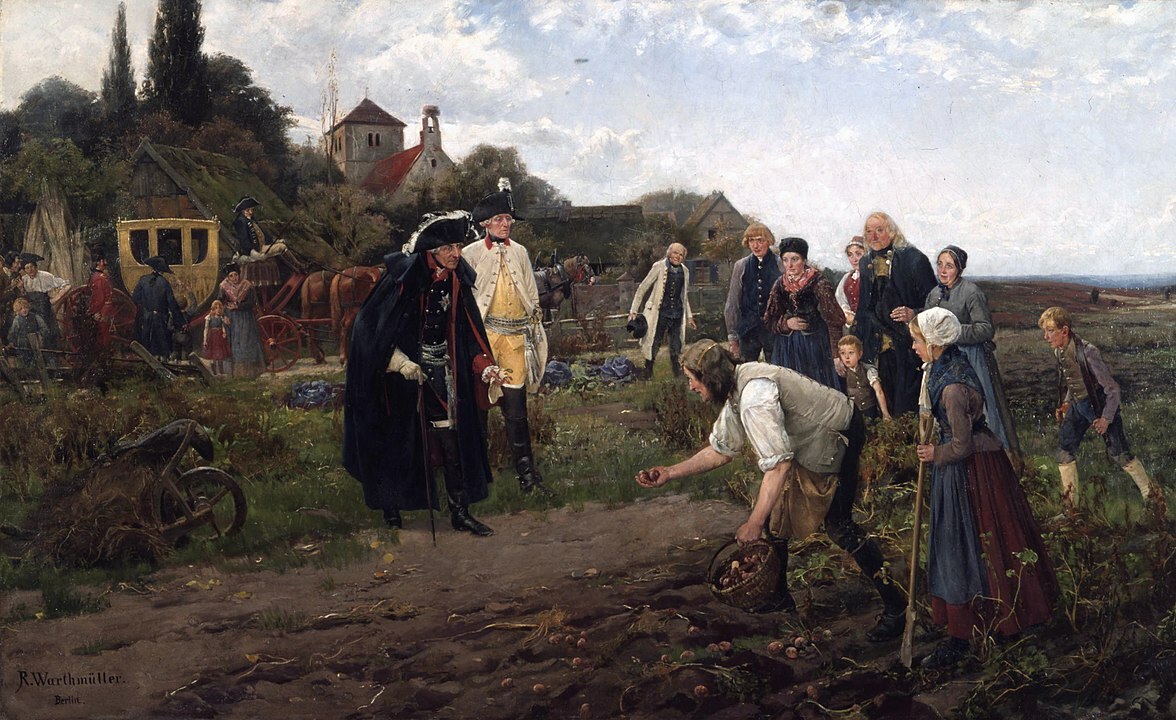 Photo: Friedrich II. inspiziert auf einer seiner Inspektionsreisen den Kartoffelanbau ("Der König überall", Gemälde von Robert Warthmüller, 1886). Frederick inspects the potato cultivation ("The King everywhere", painting by Robert Warthmüller, 1886), public domain.