If you live and work or have worked in Germany, you might have gotten a little extra cash along with your November salary, the 𝗪𝗲𝗶𝗵𝗻𝗮𝗰𝗵𝘁𝘀𝗴𝗲𝗹𝗱 or Christmas money.
While that sounds great, not everybody gets extra money. It is also not regulated whether an employer has to pay you, when or how much. It is a voluntary special payment (𝗳𝗿𝗲𝗶𝘄𝗶𝗹𝗹𝗶𝗴𝗲 𝗦𝗼𝗻𝗱𝗲𝗿𝘇𝗮𝗵𝗹𝘂𝗻𝗴).
Depending on the industry you work in, whether your company has a tariff commitment, how long you have worked there, and whether it is written in your work contract, you may receive no money at all or anywhere between 25-55% of your normal salary. It is normally paid with your November salary. (Most employees in Germany get paid once a month, at the beginning, the 15th or at the end of a month.)
In 2019, 53% of all employees received 𝗪𝗲𝗶𝗵𝗻𝗮𝗰𝗵𝘁𝘀𝗴𝗲𝗹𝗱 from their employers (72% in companies with tariff commitment) with a gross average of 2632 €. This special payment by employers is taxed as income and if you leave the company the following year before March 31st, you might have to pay it back.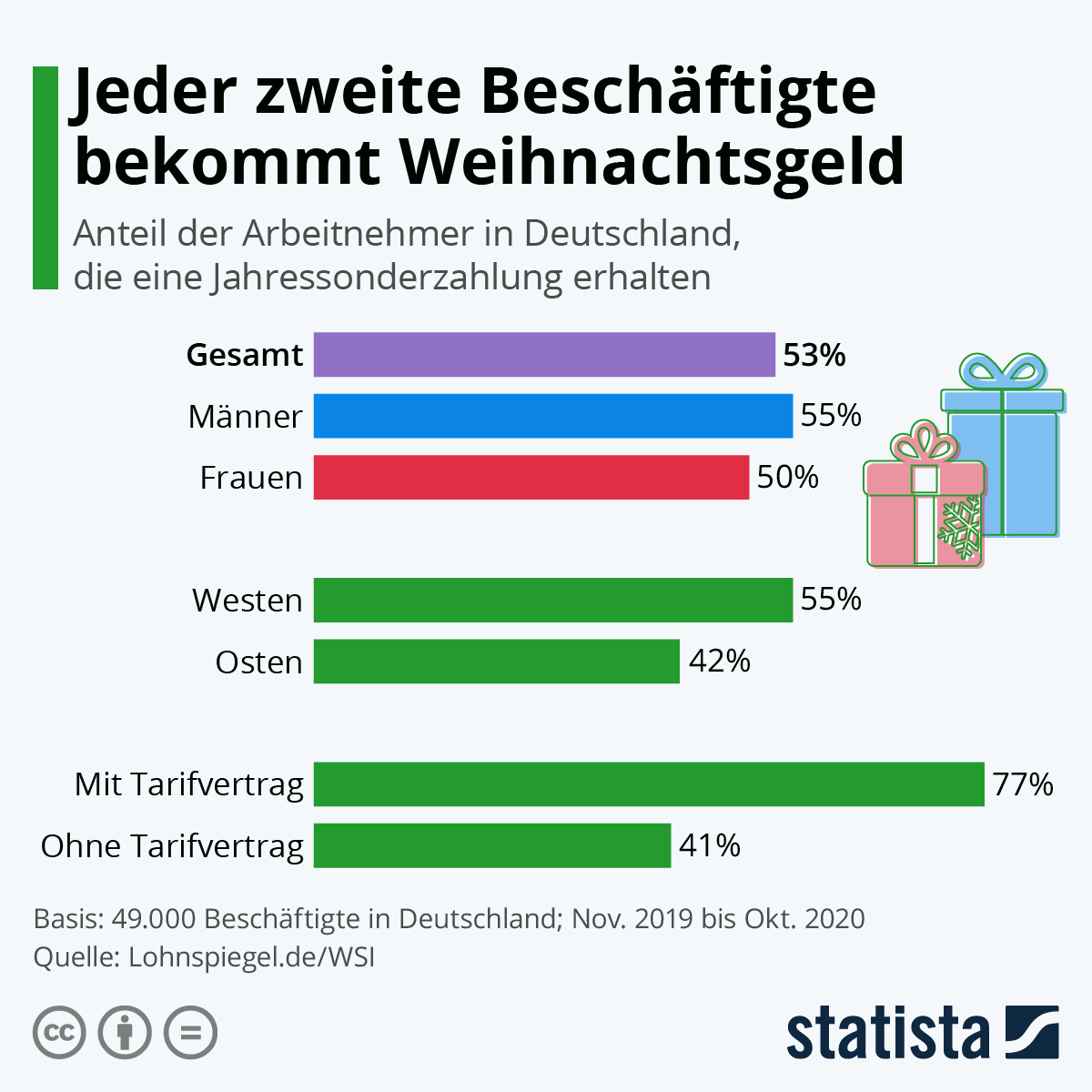 𝗪𝗲𝗶𝗵𝗻𝗮𝗰𝗵𝘁𝘀𝗴𝗲𝗹𝗱 is sometimes translated with "Thirteenth Salary". However, Germans also have the term 𝟭𝟯. 𝗚𝗲𝗵𝗮𝗹𝘁 but it's not the same as the 𝗪𝗲𝗶𝗵𝗻𝗮𝗰𝗵𝘁𝘀𝗴𝗲𝗹𝗱. The latter is a voluntary special payment by the employer to help with Christmas expenses and to ensure loyalty among employees. It can be as high as a normal salary but doesn't have to be.
The 𝟭𝟯. 𝗚𝗲𝗵𝗮𝗹𝘁 is one month's salary, paid normally also in November and is a year-end bonus that the employee earned throughout the year. It is contractually regulated and you don't have to pay it back if you leave the company by March the following year.
#weihnachtsgeld #weihnachten #christmasmoney #lebenindeutschland