The Best Racing Movies Of All Time
Introduction.
As car enthusiasts, we tend to try and find the best racing movies so that we can get that small amount of adrenaline that we might get behind the wheel of a JDM or Formula 1 car. Unfortunately, sometimes it's a little hard to find movies that we can enjoy.
Don't worry, because I'm going to be sharing the movies that all car lovers can fall in love with. Movies are a big part of our Automotive culture, not to mention our lives.
Watching a movie with the roaring or the sweet purr of a modified JDM, muscle car, or even Formula 1 engine gives a ripple of satisfaction through the body of any car enthusiast. I think everyone deserves a little joy and satisfaction in their life, so I'll list movies that you can watch to get that little shot of racing adrenaline.
Why Are These The Best racing Movies?
We all want movies that are technically accurate, realistic, and gripping. Something that tells a story so that we can learn something new. From Famous old racers and new racers, old and new cars, and stories of people who have shaped the car world as we know it.
That's what car enthusiasts demand and expect from racing movies, and that's why I picked these movies. It's not only about the cars. It's also about the story that it tells and what that story means to us all.
11 Of The Best Racing Movies.
There are many more racing movies, but I narrowed the list down to 11 that shaped the racing movie world. These are all the accurate and exciting films that will have you sitting up all night until you look at your watch and remember you have to work in two hours (and I speak from experience).
Ford V Ferrari (2019)
In this fantastic historical film, Texas-born Carroll Shelby (Matt Damon) and fearless Ken Miles (Christian Bale) are given the task by Henry Ford II to build a car that can beat Ferrari and dominate Le Mans. Overcoming Corporate intervention, Carroll and Ken work around the clock to create a vehicle that could change Ford and Le Mans forever.
At first, Tom Cruise and Brad Pitt were going to be starring in an original screenplay called: Go Like Hell by Jason Keller. The movie would be based and named after A.J. Bline's book, Go Like Hell; Ford, Ferrari, and their battle for speed and glory at Le Mans.
Created by well-known and beloved Carroll Shelby and Stubborn but Loyal Ken Miles, the '66 GT40 was a force to be reckoned with. With a 485hp 425.8 cu in V-8 engine and front and rear vented brakes, their creation turned the tides in the Ford company.
Need for Speed (2014)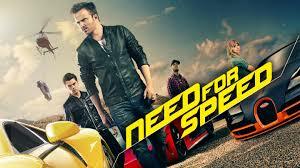 Mechanic Tobey Marshall (Aaron Paul) races muscle cars illegally in an underground street racing ring. Fighting to keep his garage open, he hesitantly pairs with his ex-girlfriend's boyfriend, Dino Brewster (Dominic Cooper), to build a mustang that Carroll Shelby himself was working on before he died in May of 2012. Soon after, Dino frames Tobey for a crime.
After two years of jail time, Tobey is determined to prove his innocence and take Dino down; his only chance is to beat him at a high-stakes street race. But to get there in time, he must travel across the country, break parole, dodge cops, and evade bounty hunters.
Inspired by the popular video game franchise, Need For Speed was able to create its own movie that incorporated the same illegal street racing, cops, bounty hunters, and reckless maneuvers we learned to love in the video game. Various makes and models of cars are involved in the movie, my personal favorite being the Koenigsegg Agera R.
From the '65 V8 Pontiac GTOs to the rare and beautiful V10 Lamborgini Elemento, the director, Scott Waugh, has strategically and masterfully blended our favorite cars into the film.
Rush (2013)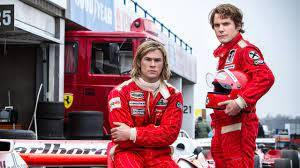 Set in the mid'70s, self-confident and abrasive English playboy James Hunt (Chris Hemsworth) and Calculating and assertive Austrian Niki Lauda (Daniel Bruhl) share an epic and intense rivalry in the world of Formula 1 (F1). Hunt and Lauda get involved in a scary incident while driving in dangerous cars and on hazardous tracks.
While pushing their minds and bodies to the absolute brink, the women in their lives, Suzy Miller (Olivia Wilde) and Marlene Lauda (Alexandria Maria Lara), can only watch with anxiety and horror as the men they love risk their lives on the turn of every track.
The great thing about this film is that it was based on a true story in the 70s when the most dangerous and heated rivalry occurred. The rivalry between Niki Lauda and James Hunt was unmatched until F1's 2021 season.
Ron Howard, the director of Rush, remade Niki Lauda's V8 Ferrari 312 T2 and even brought James Hunt's V8 McLaren M23-8 chassis that James used throughout most of his career, giving the movie a very authentic and realistic feel.
The Fast and The Furious (2001)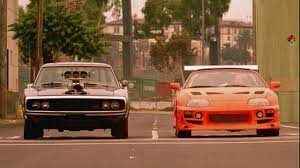 Dominic Toretto (Vin Diesel) enjoys the life of a mechanic and illegal street racer. Dominic takes Brian O'Connor (Paul Walker) under his wing when he and Brian get into an altercation with ruthless and skilled Johnny Tran (Rick Yune). Mia, Dominic's sister, also takes a liking to Brian.
His welcoming in the group goes smoothly. The only trouble is Brian is an Undercover cop tasked with solving a case involving dirty money and big-rig highjacking.
The movie was inspired by an article published in 1998 by Ken Li in the VIBE magazine. Ken's article "Racer X" told the story of a Dominican street racer by the name of Rafael Estevez. The article also focuses on Japanese car imports, customization, and the operations to crack down on illegal street racing in The Big Apple.
The Fast and The Furious focuses mainly on modified JDM (Japanese Domestic Market) cars such as Brian's, one of my personal favorites, the Nissan GT-R 2000, an RWD twin-cam 2.0-liter inline-six and Letty's Nissan 240 SX, a 220hp monster.
The Fast and The Furious: Tokyo Drift (2006)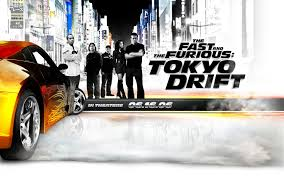 Talented teenage driver and mechanic gets into trouble with the law and gets sent to Tokyo, Japan, to live with his father. He quickly becomes infatuated with a new and dangerous racing form. But after falling for the girlfriend of the local champion and nephew of the Yakuza leader, he must take one last risk to save his life.
Tokyo drift also puts onto the table an introduction and backstory to Han (Sung Kang) to the rest of The Fast and The Furious franchise.
As expected, Tokyo Drift brings several well-known and loved cars such as a Modified 1997 Mazda RX-7, 2001 Nissan Silva S15 SpecS, 1967 Mustang FastBack, and Nissan Fairlady Z (z33). All of these cars are JDM cars, with the exception of the Mustang Fastback, Plymouth roadrunner, and 1971 Chevrolet Monte Carlo.
Senna (2010)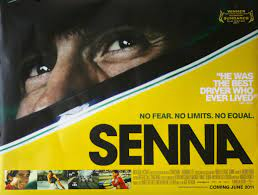 Brazilian Ayrton Senna is undoubtedly one of the most talented F1 drivers ever to grace the tracks and won 3 championships before his untimely death on May 1, 1994, at the Major Carlo Alberto Pizzardi Hospital Bologna, in Italy, at only 34 years of age. This documentary tells the story of the life and death of one of the greatest F1 racers.
The film focuses on Ayrton Senna's racing career in Formula One, from his debut in the 1984 Brazilian Grand Prix to his death in an accident at the 1994 San Marino Grand Prix, emphasizing his rivalry with his fellow driver Alain Prost.
Le Mans (1971)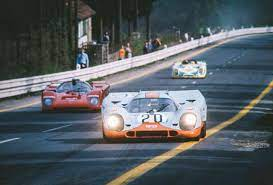 During the annual 24-hour endurance race in Le Mans, France, in the year 1970, this speedy drama follows Michael Delaney (Steve McQueen), a Porsche driver. Haunted by the fatal accident of his competing driver, Delaney must overcome the trauma.
To make things worse, Michael Delaney begins to fall in love with the driver's widow (Elga Andersen). The story focuses on the 24-hour rivalry between Michael Delaney and Ferrari driving Erich Stahler.
Both the Porche and Ferrari were total beasts during the 1970 Le Mans and after. The Porche 917, designed by Hans Mazger with a 4.5-liter, Type 912 Flat-12 engine, Rwd and weighing 1,808lb (820kg), was the dominator of the track that year.
Ferrari's 1970 512S, 4993.53cc 304.7 cu in DOHC 48 valve V12, with Rwd and weighing 1,851.9lb (840kg), was following close behind.
Born to Race (2011)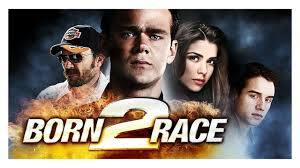 A rebellious teen named Danny Kruger gets sent to live with his father after an accident during an illegal drag race which causes Danny to lose a sponsorship for professional drag racing. The Father and son must bond and let go of any animosity in order to win a drag race with a mouth-watering prize.
Danny's 2004 Subaru Impreza Wrx STI was the star of the show and immediately caught my attention. Danny mentioned mods to his car throughout the movie, showing just how fast the Subaru was.
Pushing a 300hp, 2.5L turbocharged, double overbend cam flat 4 with an upgraded turbo and 200 shots of NOS, Born To Race shows the struggles of adolescence and the forgiveness of family.
Smokey and the Bandit (1977)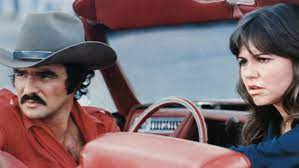 Big Enos (Pat McCormick) has one need to drink Coors at a truck show, but in 1977 it was illegal to sell Coors east of the Mississippi River without a permit. Truck driver Bo "Bandit" Darville agrees to pick up beer in Texas and drive it to Georgia within 28hours.
When Bo picks up a hitch-hiker Carrie (Sally Field), he attracts the attention of Sheriff Buford T. Justice (Jackie Gleason). Angry that Carrie won't marry his son, Sheriff Justice embarks on a high-speed chase after bandit through the country roads.
The inspiration for Smokey and the Bandit is actually a funny story that all started with a beer stealing maid. Hal Needham, the director of the movie, wasn't precisely a big beer fan, but he still kept a few Coors in his fridge, but bit by bit, he realized that beer started going missing.
He found out that his maid had been stealing two beers a day a little later. Needham then thought that "Coors would make a good movie plot" and after talking to a friend about it; Smokey and the Bandit series was born.
Starring in this iconic movie is one of my favorites. A 180hp V8 1977 Pontiac Trans Am. The film caused Trans Am sales to rocket in 1977, and to this day, fans of the film and Pontiac lovers have continued to rebuild and modify the beautiful cars.
Speed Racer (2008)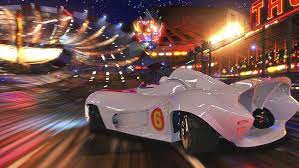 Speed Racer (Emile Hirsch) was born into the family business of race cars and is one of the track's best racers. Sitting at the wheel of his Mach 5, he consistently defeats his competition. When Speed turns down an offer from the head of Royalton Industries, he uncovers a secret.
Powerful moguls fix the races to boost profits meanwhile putting other racers in danger. Hoping to beat the executive, Speed daringly enters the same arduous cross-country race that killed his brother.
Speed Racer (also known as Mach GoGoGo) was originally an anime made in 1967 by Hiroshi Sasagawa. It was released in book form and made into an anime in September of 1967.
Speed Racer's car was totally fictional, but it was a mix of three different cars that we all love today. The Iconic Mach 5 was a genius mixture of a Ferrari 250 Testarossa, a Ford GT40, and 007's weapon equipped Aston Martin DB5.
Initial D (1998)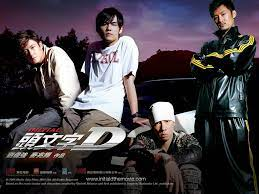 Initial D is the story of a young delivery boy in Japan who becomes a drift racing legend. Takumi Fujiwara is a high school student with an average and boring job as a gas station attendant and a not-so-average hand in the family business.
Initial D was initially based on a Japanese Manga but was then turned into an Anime after it became popular in Japan and the Americas.
Takumi's decked-out 128hp L4 DOHC Toyota Sprinter Trueno GT-APEX starred in the Anime that became a live-action in 2005.
Conclusion
We all know that some movies sacrifice realism for action, and as long as it isn't overwhelmingly inaccurate, that's okay. I have given you eleven movies that you can sit and enjoy with family, friends, or even yourself (There's no shame in wanting to be alone).
It's no secret that car movies are a big part of our life and culture, as I've initially said. And each of these movies has cars that you can fall in love with, from a 1977 Pontiac Trans Am all the way to a mix of a DB5 Aston Martin, Ferrari 250 Terrarossa, and Ford GT40.
And who are we kidding? It's about sound too. The way a car sounds is a big deal. What's the point of a car movie if you can't hear the roar or the gentle purr of a V8 or even better V12? These movies include sound that makes you feel like you are in that beautiful machine going over 150 mph.
Each movie is rated by my personal opinion, and I've watched a lot of racing movies, even the ones that only made it to 10% on Rotten Tomatoes. I can say that these are only a few of the good movies that have been made for us car lovers and shaped the car movie culture as we know it.
Enjoy this post?

Buy Anya Logan a coffee