Search my heart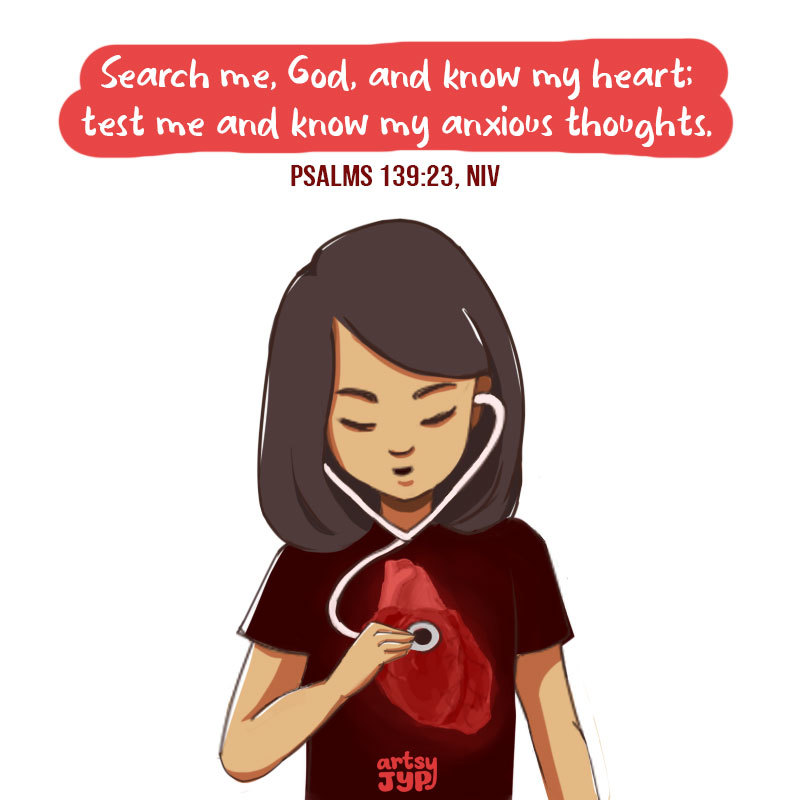 "The heart is hopelessly dark and deceitful, a puzzle that no one can figure out. But I, God, search the heart and examine the mind. I get to the heart of the human. I get to the root of things. I treat them as they really are, not as they pretend to be." (Jeremiah 17:9-10, MSG)

There are times I thought I know exactly what's in my heart but most of the time, I don't.

I know there's a depth in me yet to be revealed and discovered. But sometimes, it scares me. The thought of discovering the ugly parts of me scares me. I always try to be good, look good, and do the right things in the fear of getting lost, failing, or drifting away. Maybe that's the reason why I always struggle within myself - with my own thoughts.

Whenever I'm not okay, I always try to fix myself. I analyze the situation, my response, and why I'm not okay at the moment. I usually find a solution and be okay again. I do these before it gets worse. A part of me is glad I'm like this but I think I'm also missing the good things it entails. Because I'd rather solve my own problems, I missed opportunities to be ministered by the people who care for me, and I missed the opportunity to embrace the ugly part of me and just celebrate its discovery.

Discovering the ugly parts of me (you) leads to humility, transformation, gracious living, and the overwhelming thought of how vast God's understanding and love are despite knowing all parts of me (you) - the beautiful ones and the ugly.

You could be like me or not. But what I know is that we all have a heart issue, sometimes we're aware, sometimes we're not, and sometimes we don't like to discover.

What can I say? It's okay, dear. We're all on a journey of discovering ourselves and embracing our identity in the Lord. Part of that discovery is the revelation of the ugliest part of us. Let's thank God for revealing it to us little by little and transforming us into the person He wants us to become.

Learning about ourselves leads us to know how abundantly available God's grace and love for us. He sees us not on how we appear outside or who we pretend to be. He sees our hearts - the real us. He looks from what's inside of us. He knows that our heart is dark and deceitful yet He still accepts and loves us for who we are. He always makes Himself available for us. And if we are humble enough to admit it and ask for Him to change our hearts, He will lead us to an everlasting way of life.
Here's what I think: Though you may have some darkness in you, the goodness inside of you is more powerful, it lights up the darkness away. Because you are the light of the world, you will shine!

This is my prayer, "Create in me a pure heart, O God, and renew a steadfast spirit within me." (Psalm 51:10, NIV)
Enjoy this post?

Buy artsyjyp a coffee