Time to travel again?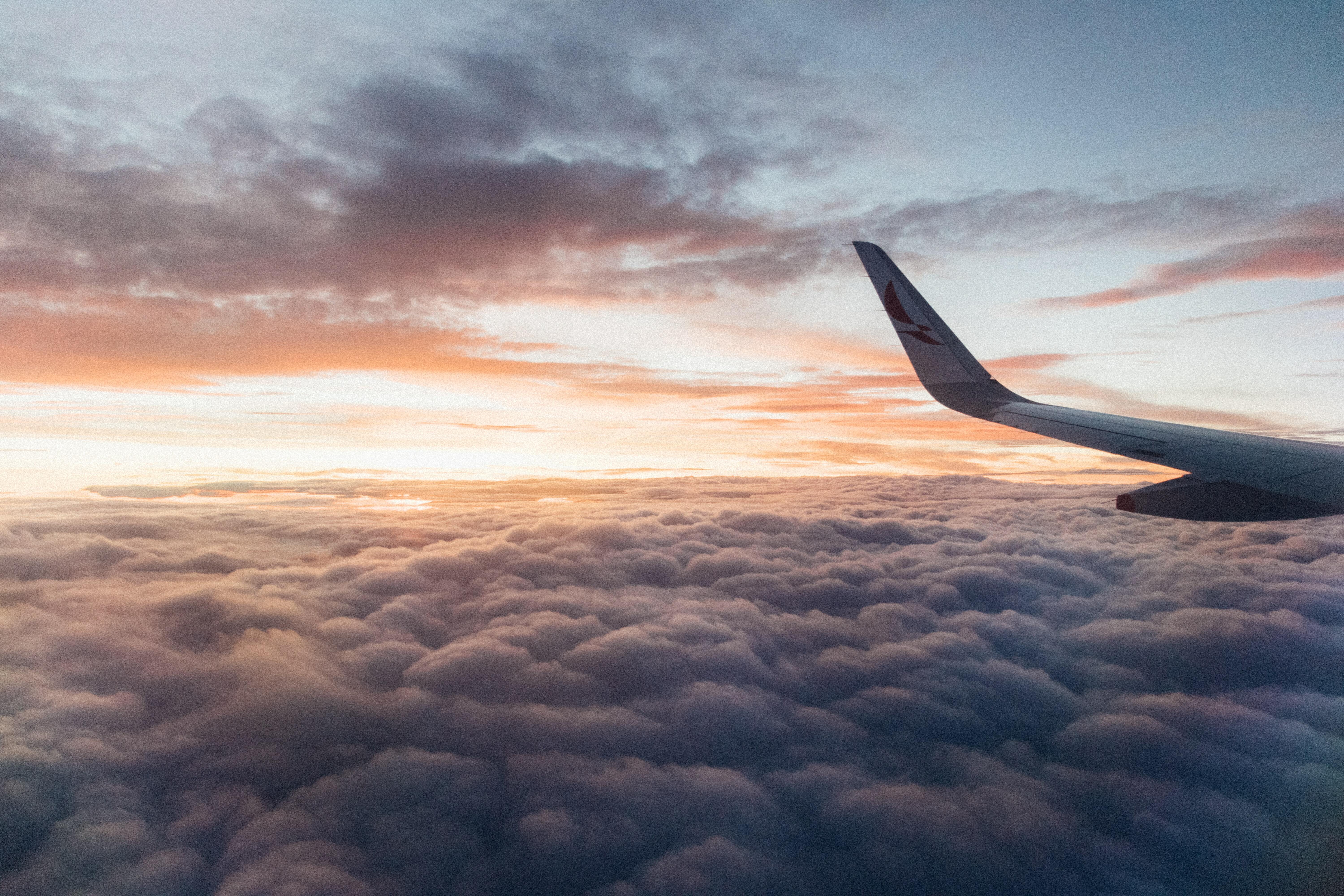 Photo by C. Cagnin from Pexels
A YEAR TO FORGET
Last year did not meet my ( or anybody's ) expectations when it comes to the travel plans I had carefully laid out, as I do every year. Booked summer vacation in Greece and planned trip to Thailand were supposed to be a crown of a very good year ( from a professional and personal perspective ), but also provide me with a well-deserved vacation.
These plans went flying out of the window when March '20 hit and the world shut its door to travel, taking with it all of my invested time and money to make it happen. Many of us went through exactly the same or very similar experiences thanks to the Coronavirus that spread across the globe and has since laid havoc on the travel industry which, in the first two months of the last year, was steadily marching towards reaching its historical peaks in many aspects. This drastically impacted the way we travel or perceive travel and the effects will be felt by all of us who are living to travel in the years to come. Definitely, a year to forget.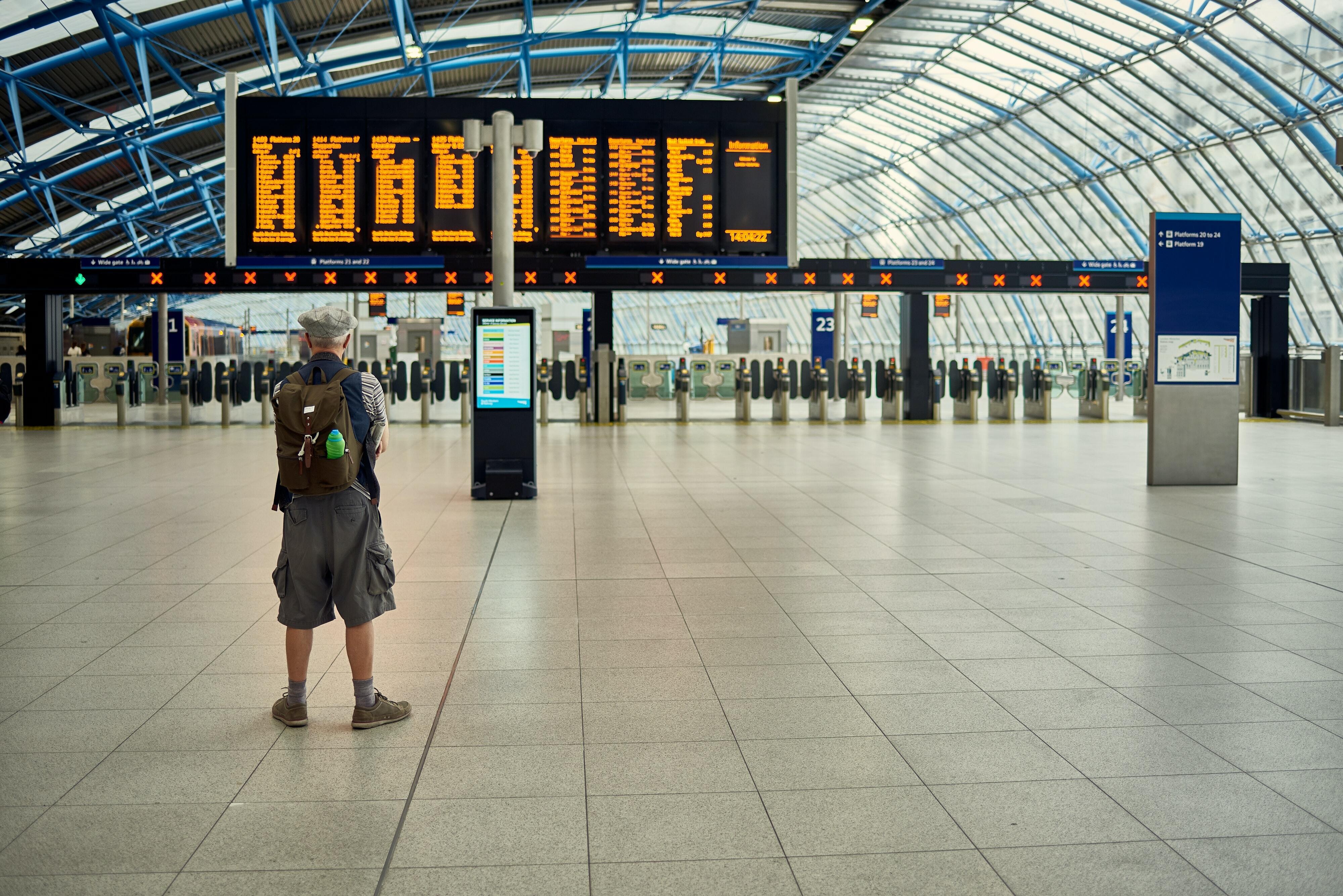 Photo by JJ Jordan from Pexels
Yes, travel has fundamentally changed, our vacations were ruined and we are no longer able to travel as freely as we used to. But there's no point in crying over spilled milk. Why?
Travel will bounce back. As a matter of fact, it is already on a good track.
THE RETURN OF THE TRAVEL
This period of one year and a couple of months felt very long. Too long. For me personally, most likely because of suffering from a severe lack of travel and constantly dreaming of my next flight booking - which never arrived. But it looks like we are slowly seeing the light at the end of the tunnel, as travel starts to pick up and take a more familiar shape. The confidence to book a trip is clearly showing an upwards trend and the travelers have adapted to the new rules of the market. This is globally driven by three key factors:
Global vaccine rollout

Gradual release of restrictions

Rise of the domestic travel
Global vaccine rollout
Since the first release, and until today - the rollout and administering of the vaccination has been moving pretty fast. It is quite fragmented, either on continent or country level, so there is no unified global approach to this topic and the rollout stats for Japan and United States could paint a completely different picture.
The world today, in total, sits at around 10.5% vaccination rollout on entire global population. You might imagine that this is quite a hard task, especially in APAC ( Asia Pacific ), which is heavily hit by the third wave during this year which makes it virtually impossible to increase the speed of rollout. But what is promising is the speed of rollout in North America and Europe, which might very easily lead to the first intercontinental travel bubble - maybe this summer already. Feel free to check the data yourself.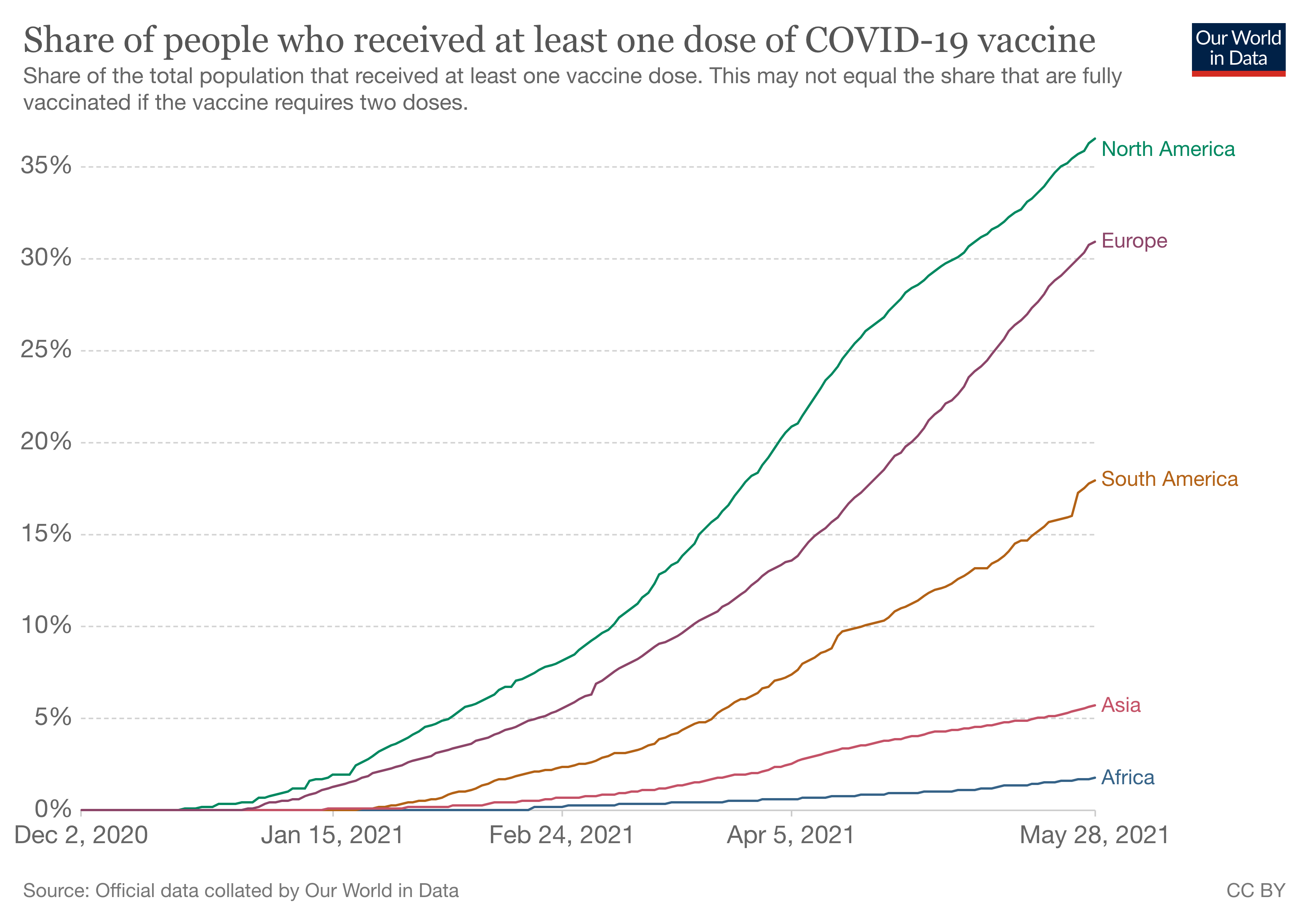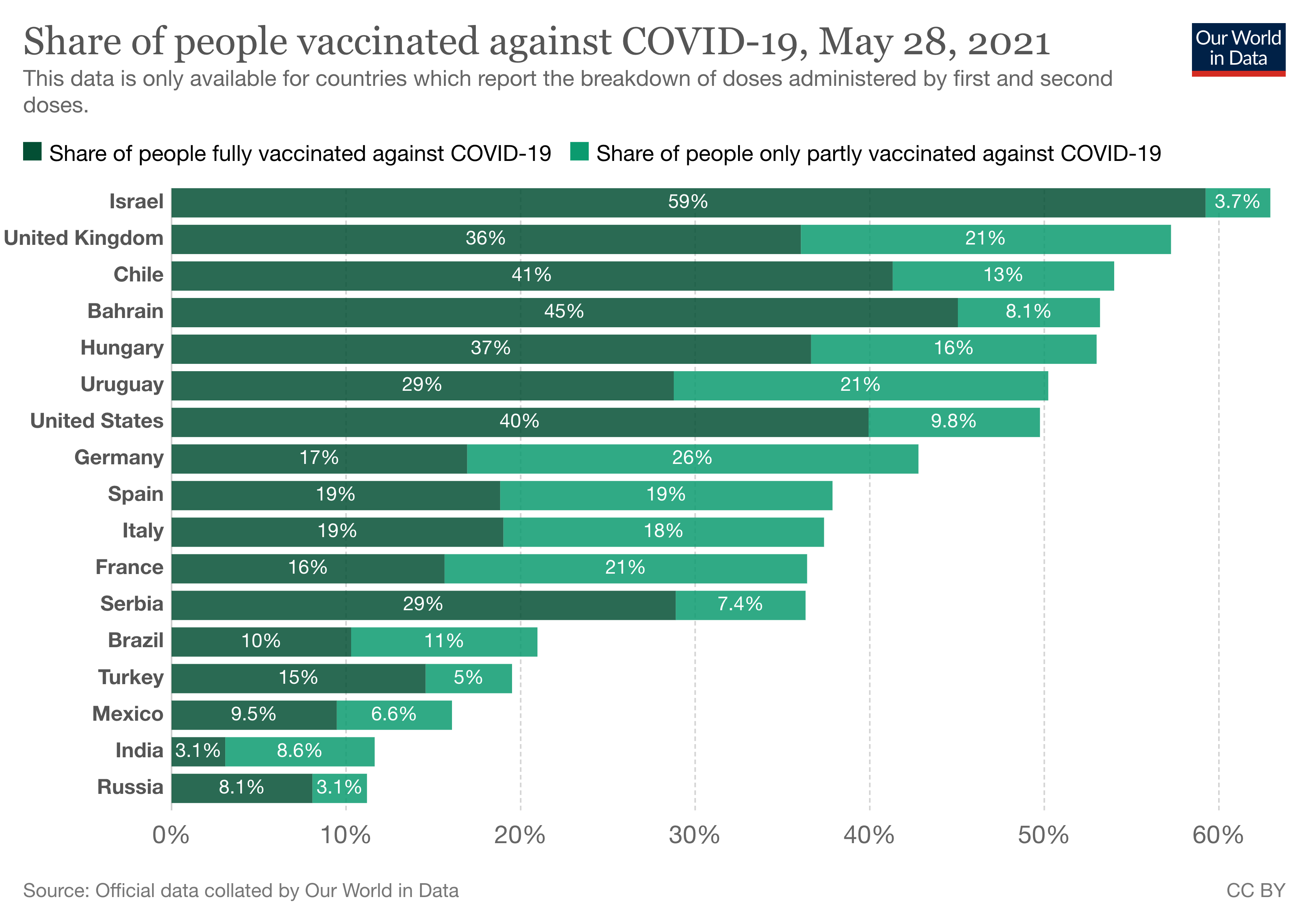 Gradual release of restrictions
With a big part of the word still being locked for any foreign visitors, unless you went through testing ( though not a guarantee of entrance for all countries ) process and came out negative, the spread of the virus was contained on a more localized levels. Countries used this period to utilize the distribution of the vaccines, especially ones whose economy has a stronger relationship with the travel industry, and which will eventually lead us to herd immunity.
What is herd immunity? When most of a population is immune to an infectious disease, this provides indirect protection - called herd immunity or herd protection - to those who are not immune to the disease.
For example, if 80% of a population is immune to a virus, four out of every five people who encounter someone with the disease won't get sick (and won't spread the disease any further). In this way, the spread of infectious diseases is kept under control. Depending how contagious an infection is, usually 50% to 90% of a population needs immunity before infection rates start to decline.
With North America and Europe moving to such immunity levels, we are potentially looking into a travel bubble between these two continents, as the rest of the world plays catch up. Traditionally, Europe was most visited by the North American tourists ( and vice versa ), excluding intra Europe travel, and they were driving a significant portion of each others travel industry income on yearly basis. Such a matter was recognized very early and first news about opening Europe to US travelers ( that have been vaccinated ) have been announced by the two governments earlier this year. The announcements came to fruition recently, as reported in Reuters, Brookings, and many more. This will start slowly driving travel back ( especially international ), allowing it to catch a long awaited breath of fresh air. Hopefully, it is also an indicator of the future agreements on movement of people in between many other continents and governments.
Rise of the domestic travel
The past year impact of Coronavirus on the global travel industry has been ( naturally ) followed by the rise of the demand in domestic travel. Even though travel was less "secure", to say so, people were still eager to travel, see new places, and experience new things. This is logical, in a way, since migration ( movement ) is embedded deep in the core of human beings with roots all the way to prehistoric times.
As the borders for international travel were closed, people adapted and started travelling within their own countries much more. OAG ( Official Aviation Guide of the Airways ) is one of the top global travel data providers, and they have been keeping a close eye on travel industry for decades - especially during the coure of the past year. Their data strongly supports the demand growth in domestic travel, but also the recovery of the air travel industry in general.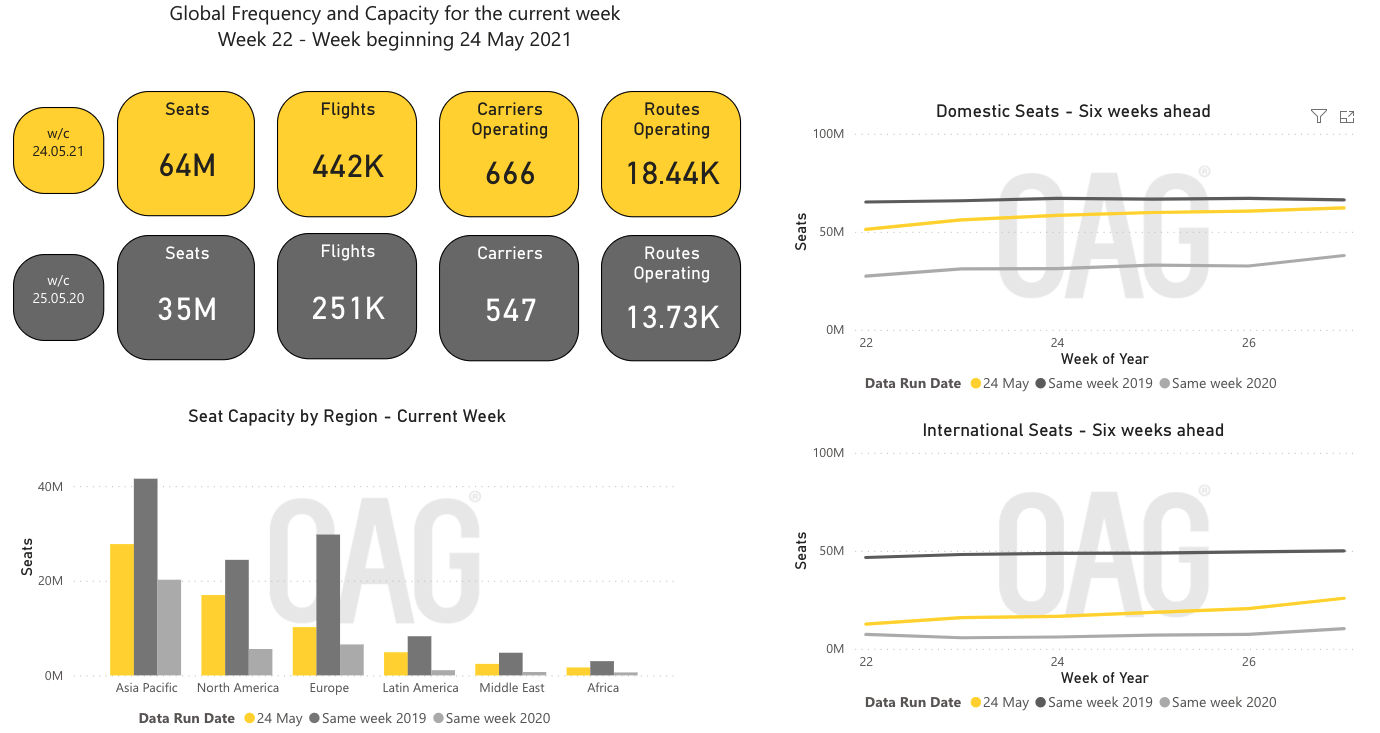 Such a trend was repeatedly reported in many regions ad countries all over the world, by some of the most prominent names in the travel industry - like Amadeus or Ctrip.
Conclusion
Travel will bounce back, and it will bounce back stronger and smarter. Carried by the unfortunate events of Coronavirus, travel is evolving, adapting, and becoming more immersed into the customer sentiment and needs. From the customer perspective changes that will follow will most likely be positive since the companies, that were very comfortable in their positions, started to recognize much more that they depend on the customers, not only on themselves or on their influence and brand recognition. The customers also evolved. Learning curve about the industry, and the curiosity to try new things and technologies has brought spotlight to many different, previously "neglected" aspects and segments of travel. This opens the door for travel industry companies to compete again for the customer and not be an ecosystem where only a handful of brands heavily dominate the market.
Travel exists since humans exist, and history has thrown numerous challenges in its face. But travel evolved, adapted, and came out better. This, in my humble opinion, is exactly what will happen over the course of the upcoming year.
What I like to say is that we will see Travel 7.0.
Travel 1.0 was everything before horse, 2.0 was horse carriage, 3.0 was the invention of cars, 4.0 was airplanes, 5.0 was commercial flights, 6.0 was the internet. Some cultures believe and believed in the past that seven is a very lucky number and I truly believe that it will be the case with Travel 7.0 as well.
✈️ TRAVEL HACK OF THE WEEK✈️
When you are booking a return flight for your vacation, make sure to check the price of two separate one-way flights ( try with two different airlines as well ). This method is also known as hacker fares, and they might be much cheaper in some cases - especially for international travel. Buying two one-way tickets instead of a return ticket could easily save you money, and the price difference can be more than 20%! That is quite a saving, and even with the ( small ) extra work needed it definitely pays off. If you're willing to put in the extra effort, you'll save some budget to spend on something else on your trip. Maybe a nice dinner, souvenir, or a local guided experience - the choice is yours.
Make sure to check it next time you plan to book a flight!
🎉 DEAL OF THE WEEK 🎉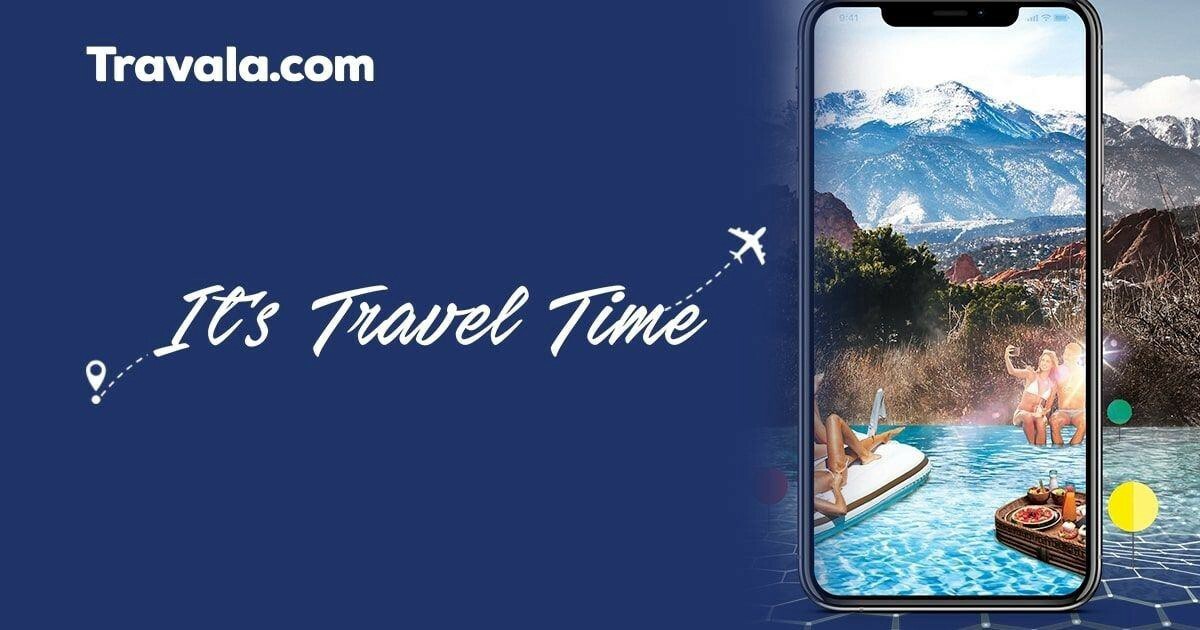 Travala is a great gem I have discovered quite some time ago and this is the first time I am publicly recommending it ( for a reason ). They have been going under the radar of many people, especially during the last year when travel was the least of our problems. But their team obviously pulled up their sleeves and went to work, growing their community and improving their product without much noise, bragging, and online exposure.
At Travala.com, we connect travellers with one of the world's largest selection of incredible places to stay, including everything from hotels, apartments, villas and hostels to 5-star luxury resorts. The Travala.com platform currently offers over 3,100,000 travel products from Hotels to Homes, Flights and Activities covering 90,124 destinations in 230 countries and territories, and with prices up to 40% cheaper than mainstream travel booking platforms.
On the surface, Travala might look like just another OTA ( Online Travel Agency ) among many, many others. But if you take a look under the hood and read about it a bit more - it becomes more than obvious that this is not the case. Travala is doing something innovative, exciting, and very refreshing in an industry that got sleepy in the last decade, with very few true technological innovations and disruptions ( I will talk about some of them in my future reports ) taking place.
So what is it that makes Travala different? For one, they are a cryptocurrency-friendly platform and you can pay for your travel with cryptocurrency ( other, more traditional, payment means like a credit card is also available ).
We pride ourselves on being the leading cryptocurrency friendly accommodation booking platform. Pay for your stay anywhere in the world seamlessly using your favourite cryptocurrency.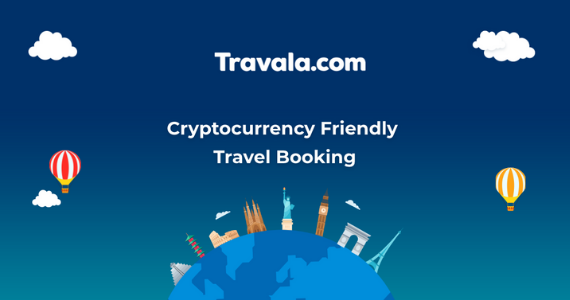 The cryptocurrency market is currently sized at above 1.4 trillion ( yes, you are reading it correctly) USD, and with the highest being above 2 trillion USD. That is an enormous market ( which is becoming more and more mainstream as blockchain technology grows, develops, and is adopted in practical examples - such as Travala ) with huge potential and audience.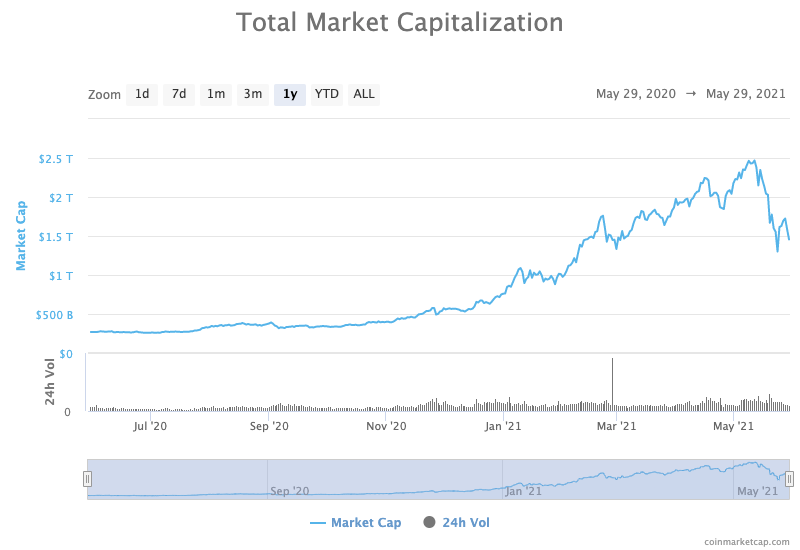 Travala is where travel meets the future. And don't be fooled, because blockchain is the inevitable future of technology - including the travel industry. Quoting some interesting parts from the About us section on their website.
Travala.com has grown from a small start-up to the world's leading blockchain-based travel booking platform trusted by thousands of customers worldwide as their preferred online travel agency.

...

We have successfully created a frictionless travel booking experience that incorporates next generation blockchain technology and tokenised incentives.

...

Travala.com's vision is to align travel booking with the ethos of decentralised technology. That being, promote accessibility to anyone, anywhere, offer censorship resistant and peer-to-peer transactions, and build open-source technology controlled by software and governed by users.
Among other advantages that Travala has, it is worth pointing out that it is a heavily customer-oriented and transparent platform. The portfolio of products and services that they offer directly to the customer ( excluding travel-related products ) as complementary and free, and which all bring direct benefit, is extremely promising.
To ensure that you always get the best price guarantee, we will match or beat any competitor's price. If you book a stay or an activity on Travala.com and find a cheaper price on another website, you can claim a refund for the difference up to 24 hours before your check-in date at the property or the start time of the activity.
Travala.com Concierge is a premium, personalised service for high-net-worth travellers. With our first-class service and a dedicated team that boasts a combined 50 years' experience, you'll feel like a star from the first contact to the moment you step off your flight.

Membership ( completely free ) perks
The Travala.com membership entitles you to certain benefits inaccessible to the public and non-members. Below are some of the advantages:
Save up to 40% with member prices

Unlock givebacks up to 2% for each booking

Have a chance to get discount vouchers that apply for certain room offers

Buy/ Redeem Travel Credits and have the flexibility for travel plans and payment options

Faster payment for bookings with built-in Travala Wallet
For me personally, it was a no-brainer and I have my account on the platform for a long time. I will be covering Travala in more detail in my future reviews and reports since there is so much more to analyze and explore.
If you are interested to join Travala community on the journey to become the next big thing in travel, please do so by becoming a member and using their platform. You can use my REFERRAL LINK and be eligible for a 25 USD giveback after you complete your first booking over 200 USD value. On top of that, Travala will award you with 10 USD in Travel Credits which you can use for your booking and I will get 25 USD as well. That means you can easily get back 17.5% of your 200 USD booking value - which is an incredible offer that puts Travala as a clear winner in my first Deal of the Week section.
If you enjoyed reading this, feel free to support me and earn your chance to win a reward in a monthly travel voucher giveaway. A total of 25% of all received support will go into the pool for the giveaway(s)!
Stay safe and travel the world! 🌎
AryaTheBestest
Enjoy this post?

Buy AryaTheBestest a vacation