Review: Free Sample

Overnight Session
Inventory: Short

Trapped: Longs

Range: $3900 - $3862.50 (37.50 points)

Closed: Below Open
---
Cash Session
Inventory: Short

Trapped: Longs

Range: $3887.50 - $3850 (37.50 points)

Closed: Below Open
---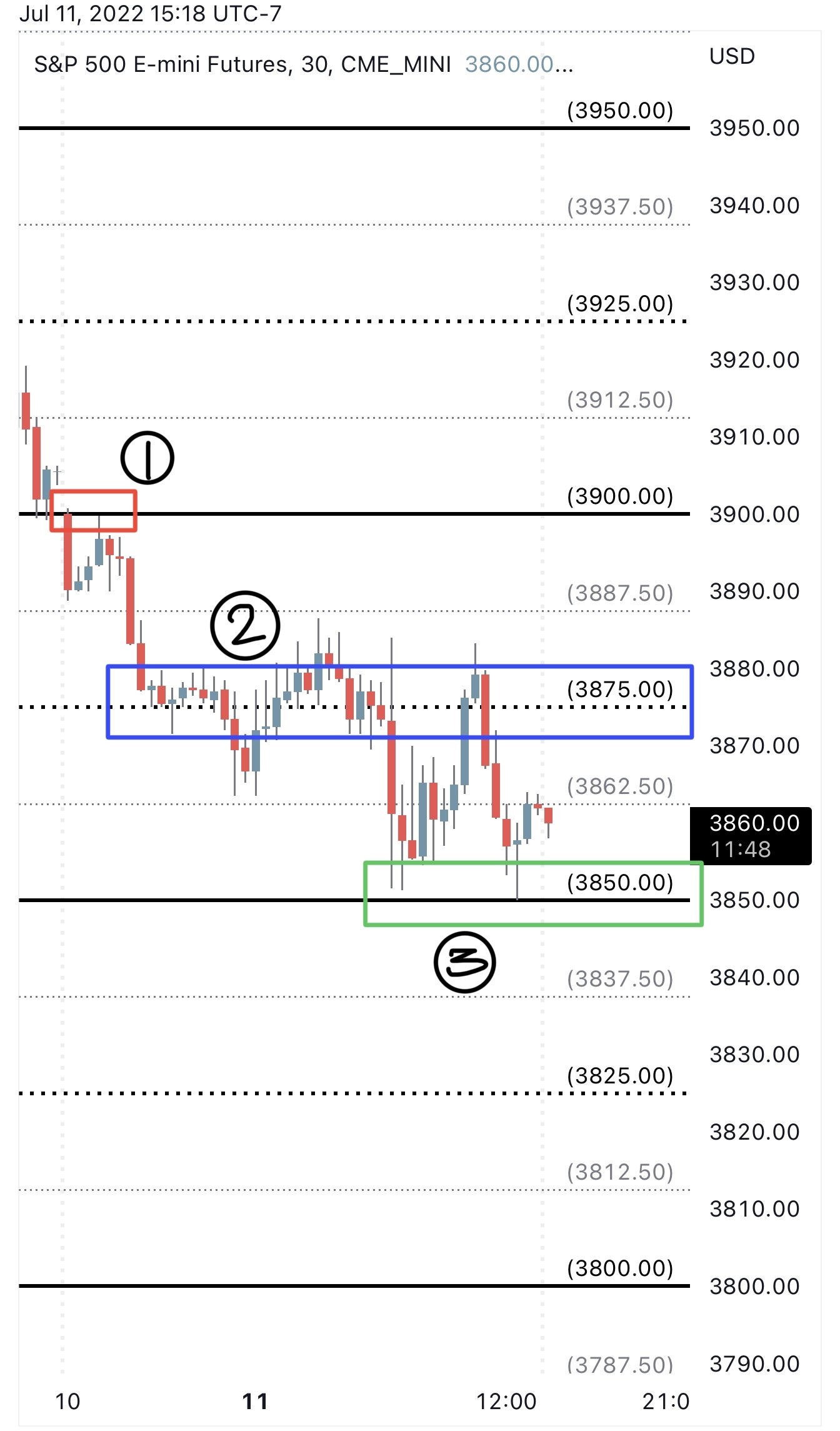 ---
Review
Overnight inventory was 100% short (red box, labeled 1) because the majority of trades transacted below Friday, July 8th's close. Price couldn't trade above Friday's close because there was too much supply so Shorts bid lower for a (more) profitable trade.
Trapped Longs from Friday were liquidated around $3875 (left-side of blue box, labeled 2) but couldn't trade below $3862.50 initially as Shorts front-ran each other by covering for a risk-off trade before supply came in and pushed price lower below $3862.50 when the market opened for the cash session.
Supply was limited and turned off just above $3850 (green box, labeled 3) where bids were found and Shorts front-running each other to cover, especially when B-Period couldn't break below A-Period, causing a poor low, thus rotating price higher to search for supply.
Price balanced between the $3862.50 - $3850 range for about the first 3-hours, creating a b-shape volume profile — acquiring inventory before marking price up above $3875 for an hour then selling off back down to $3850.
---
Want More?
If you're interested in educational content and end-of-day/week/month reviews, become a supporter and donate $5 one time, two times or however many times you're feeling generous.
If you're interested in educational content, reviews and daily trade plans before market opens everyday, become a member for $30/month (that's $1/day).
Enjoy this post?

Buy Ary a round