We-Learn Wednesday: May 4, 2022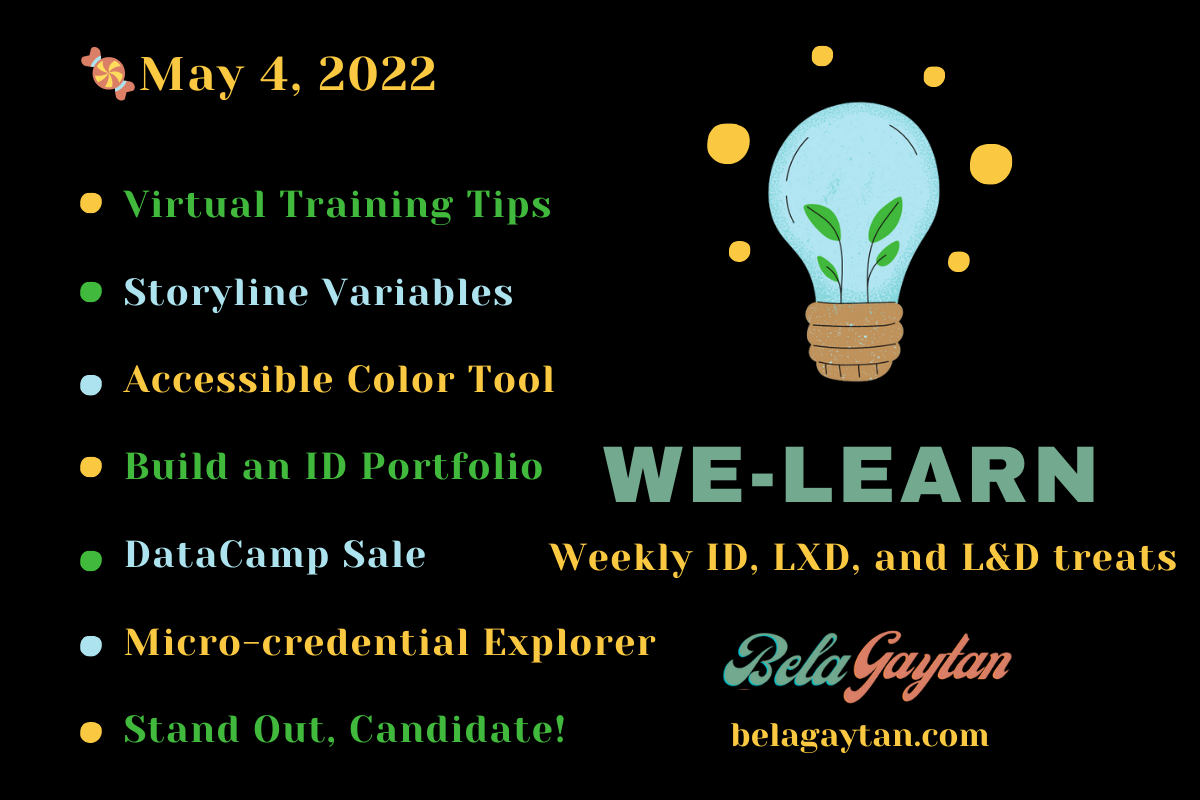 This week's We-Learn Wednesday sweets: virtual training webinar, Storyline variables workshop, accessible color tools, building an ID portfolio, DataCamp courses, micro-credentials, and standing out as a job candidate. Bonus: Star Wars recourses!
May the 4th be with you! It's a pretty epic We-Learn Wednesday here with some bonus goodies, in celebration of May 4th nerdiness! Enjoy!
If you have any resources or events you feel would be helpful to the community, be sure to contact me with the details so I can share the goodies with everyone!
Note: Clicking on the titles below will take you directly to the resources being offered. I've also included the links in the description, as well as other helpful links you may be interested in checking out.
You may also read this and support me on my website as well as in the We-Learn Wednesday Newsletter on LinkedIn.
The lovely Kassy LaBorie is at it again! On May 10th from 11:30am – 1pm Eastern Time, she will be hosting Irresistible Virtual Training sponsored by ATD Kentuckiana Chapter!
Attendees will walk away from this webinar ready to use:
3 virtual learning activity examples

1 "never fail" debrief strategy to reflect on, validate, and encourage learning

1 job aid to assist you to make your own virtual learning activities
I hope to see you there!
My good buddy, Tim Slade, has uploaded an EPIC 1+ hour how-to workshop on getting started with variables in Articulate Storyline to his YouTube channel! In it, he explains:
What are variables?

Types of variables

3 Steps for working with variables

Using a text variable to let the learner enter their name

Using number variables to perform calculations

Using true/false variables to create custom locked menus
Powered by Learn UI Design, the Accessible Color Generator allows you to input two colors so that you can ensure you have enough contrast to meet AA and AAA Guidelines for accessibility. They also offer a cool free color cheatsheet! I love this, as I am red-green colorblind and a simple quick check at the beginning of a project could save folks from using inaccessible color choices.
Connie Malamed, the eLearning Coach, has put together a 7-step list of how to build an instructional design portfolio with lots of great tips and ideas. Step 7 is crucial and one that I wish a lot more people would implement!
Since 2014, Digital Promise has been building an impressive collection of micro-credentials. Once you launch the micro-credential explorer tool, you can hone in on your desired areas by choosing your audience, topic, type of evidence, stack name, and/or education standard!
If you've been job hunting lately, you'll notice that a lot more positions are wanting experience with data and for candidates to be data-driven… even in instructional design and learning & development! During the month of May, DataCamp's annual sale is going on where you save up to 60% off a yearly subscription! With over 375 courses from Python and SQL, to spreadsheets and Git, there is so much to learn and they offer certificates, too!
The Great Resignation is real, my friends! I resigned from two different jobs during the pandemic, so I have had my fair share of job hunting (and frustrations)! One thing that is really important is to stand out from the other candidates when applying for a position. Salesforce Pros share some effective tips on how to make a great impression and grab the attention of hiring employers and recruiters.
Image courtesy of Sportskeeda
Did you know there is a complete website dedicated to Star Wars Day?!?! I had no idea! I've combed through the site and am tossing out a few of my favorites below!
Image description: On the left of a black background is the date, May 4, 2022, followed by the seven topics of this week's resources: Virtual training tips, Storyline variables, accessible color tool, build an ID portfolio, DataCamp sale, micro-credential explorer, and stand out, candidate! On the right half is a pale blue light blue bulb with a plant growing inside (the logo for Bela's website) with yellow dots surrounding it. Beneath is "We-Learn, Weekly ID, LXD, and L&D treats" along with "Bela Gaytan" and "belagaytan.com" in green, coral, and yellow colors.
Enjoy this post?

Buy Bela Gaytan, M.Ed. a coffee