We-Learn Wednesday: November 3, 2021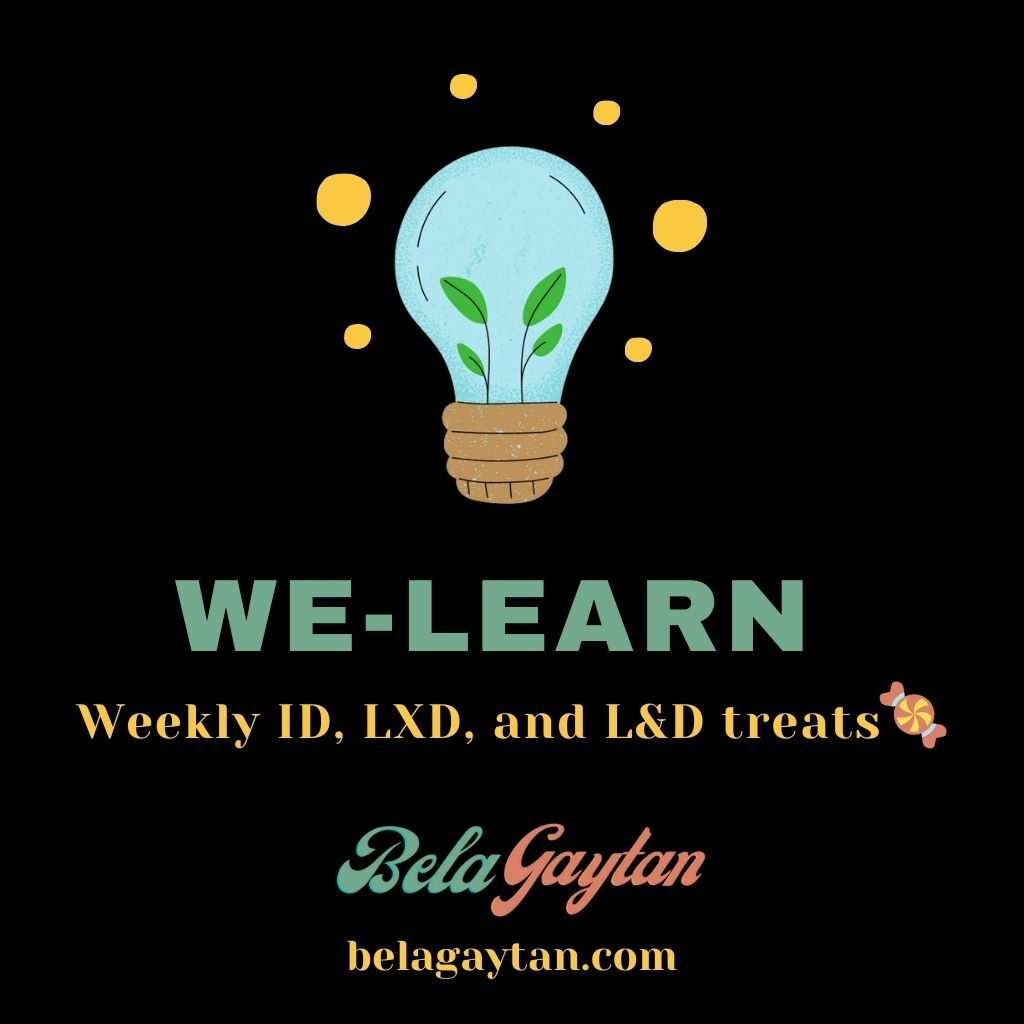 This week's sweets: Design Thinking, boosting productivity, UI design principles, LGBTQ tech events, onboarding freelancers, and eLearning storyboards!
Hey gang! It's Wednesday, which means another We-Learn Wednesday goodies drop for everyone! ❤ Enjoy the treats below! 🍬🍭🍫
If you have any resources or events you feel would be helpful to the community, be sure to contact me with the details so I can share the goodies with everyone!
Note: Clicking on the titles below will take you directly to the resources being offered. I've also included the links in the description, as well as other helpful links.
You may also read We-Learn Weekly posts on belagaytan.com.
Ramunas Balcaitis has written a wonderfully informative article on the Stanford d.school model of Design Thinking. The five stages of Design Thinking in the d.school model are: empathize, define, ideate, prototype, and test.
Tiago Forte was a guest on the Mindvalley Podcast recently, where he spoke with Vishen Lakhiani about the 4 essential productivity tools every professional should have in their toolkit.
Renee Fleck of Dribble outlines 10 fundamental UI design principles to know. This is an excellent resource for anyone creating content of any type!
Queer, inclusive, and badass Lesbians Who Tech have put together Debug Summit 2021: a virtual summit for techies and leaders solving big problems. Past speakers have included Stacey Abrams, Megan Rapinoe, Kamala Harris, Raquel Willis, Jen Wong, and more!
Emma Klosson of SweetRush has written a fantastic article on eLearning Industry. In it, you will learn how to successfully onboard freelancers to nurture cohesive and productive teams.
Join Out in Tech for Demos & Drinks on November 10 to discover game0changing and epic projects Out in Tech members are working on. Curated by Out in Tech and Automattic, the series of events will showcase demos by brilliant LGBTQ+ innovators.
Tim Slade dives in and shares his overview on written versus visual eLearning storyboards in this video. He also discusses how to determine which type is best for your eLearning projects.

Image description: a black background displays a light blue lightbulb with a plant growing inside (the logo for Bela's website) with yellow dots surrounding it. Beneath is "We-Learn, Weekly ID, LXD, and L&D treats" along with "Bela Gaytan" and "belagaytan.com" in green, coral, and yellow colors.
Enjoy this post?

Buy Bela Gaytan, M.Ed. a coffee